An easy recipe for pumpkin steel cut oats you can make in your Instant Pot pressure cooker or on the stove top (instructions for both ways are included!).
These pumpkin oats are perfectly spiced with those familiar fall flavours we all love, and it's a great choice for breakfast on chilly mornings.
This page may contain affiliate links. Click to learn more.
For this recipe, I went back to my Apple Spice Instant Pot Steel Cut Oats recipe and modified it slightly to come up with this vegan gluten-free pumpkin steel cut oats recipe.
Since buying my Instant Pot last fall (this is the one I bought if you're looking to get one too!), I've tried many different recipes and some have become regulars on the weekly rotation (you can find many of them in this list of Instant Pot Vegan Recipes and you can also check out this list of the best vegan IP cookbooks.
But out of all those recipes, pressure cooker steel cut oats is one of my favourite things to make.
If you haven't tried steel cut oats yet, you must! Steel cut oats are filling, warm, and so nice to have for breakfast on a cold morning.
If you're gluten-free, be sure to look for the gluten-free symbol on the bag because not all steel cut oats are gluten-free. This is the one I buy and recommend.
My preferred method for making pressure cooker steel cut oats is with my Instant Pot because they're simpler to make than stove top steel cut oats. You will get the same tasty result, but with the Instant Pot, there is no constant stirring and checking.
With the Instant Pot, and I know I say this every time I share an Instant Pot recipe, you add your ingredients, stir, put the lid on, set the timer, and then walk away. It will beep you when your recipe is done.
Set it and forget it. THAT is the beauty and convenience of using the Instant Pot to make meals.
Of course, I realize not everyone has an Instant Pot, and that is okay, because as mentioned above, I've also included directions on how to make my pumpkin steel cut oats on the stove top!
In this case, this steel cut oats pressure cooker recipe is not an instant recipe, each method, stove top or Instant Pot, will take you the same amount of time for the finished recipe to be done.
Any time you make an Instant Pot recipe, pumpkin steel cut oats included, you need to account for the amount of time the pot takes to come to pressure and come down from pressure.
So even though the cooking time is only 10 minutes, those two things combined will bring your preparation time, from beginning to end , to about 45 minutes.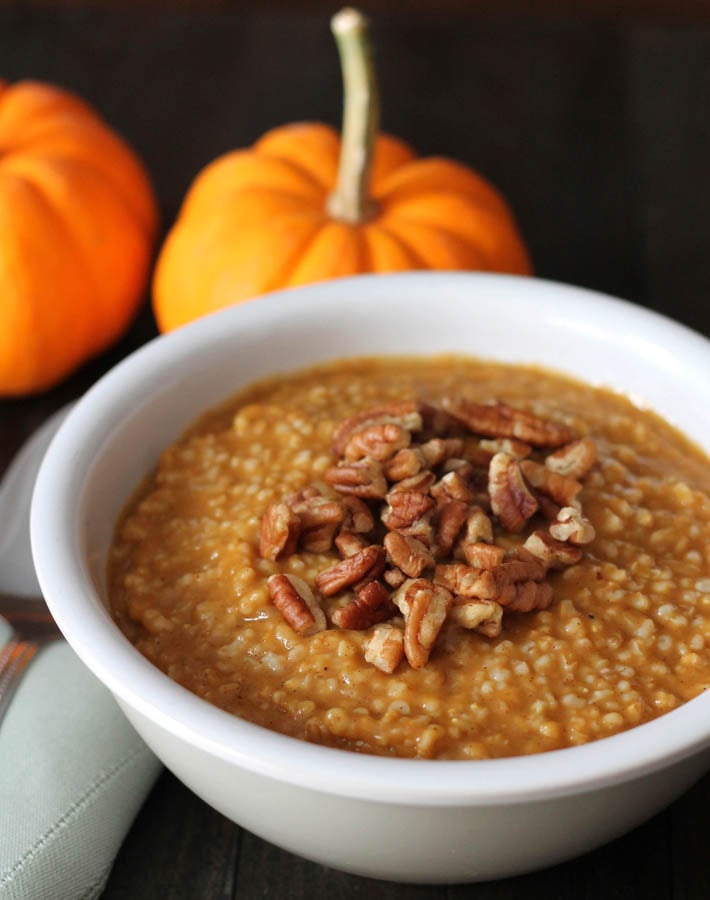 If you make this steel cut oats pressure cooker recipe, let me know by tagging me on Instagram or by commenting below.
If you like this vegan gluten-free breakfast recipe, you may also like these:
How to Make Pumpkin Steel Cut Oats