This page may contain affiliate links. Click to learn more.
Not long ago, I was gifted with a package of vanilla pods. Up until that point, I had never used them, but I had seen them used many times on cooking shows and in recipe books. According to those shows and books, vanilla beans are bursting with vanilla flavour. Lucky for me, I had to make some coconut whip to use as a topping for some recipes I was working, so it was the perfect opportunity to use my first vanilla pod. Hello, vanilla bean coconut whipped cream!
That part about vanilla beans bursting with flavour? It's true, whatever you add the seeds to will have a fresher and more "lively" vanilla flavour. Vanilla pods, you have a new fan!
If you've never made coconut whipped cream before, it's a great vegan whipped cream alternative for those who don't/can't eat dairy. When made right, it's just as creamy, fluffy, and decadent as dairy-based whipped cream. Just with a coconutty twist!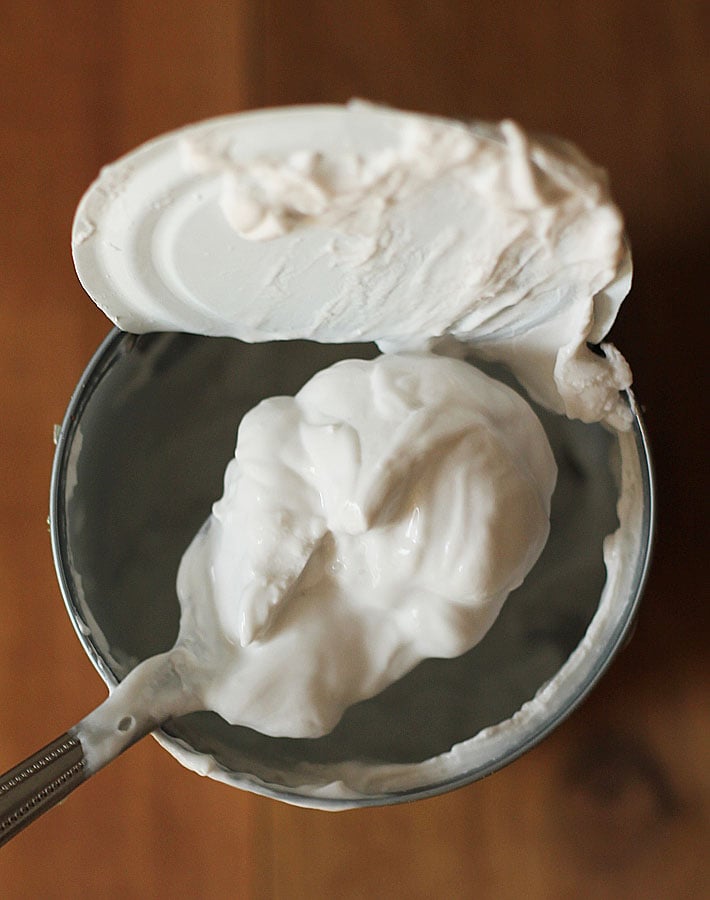 Vanilla bean coconut whipped cream can be used any place dairy whipped cream would be used, see below for a few ideas on how you can use it.
After whipping, use right away or keep in an airtight container the fridge for a few days.
And a bonus to using a vanilla pod over extract? Look at all those little vanilla seeds in the coconut whip!
Coconut Whipped Cream FAQ
What is the Best Coconut Milk Brand for Coconut Whipped Cream?
In order for this recipe to work well, you need to buy the purest coconut milk brand you can find. There shouldn't be any additives and/or preservatives in the ingredients list (things like sugar, carageenan, sulfites etc).
When there are extra ingredients, the separation between the water and cream may not happen and the taste may not be great. I have found that brands with guar gum listed in the ingredients (coconut, water, guar gum) can also work well, but they have been hit and miss for me.
There are many good brands to use out there, so have a look around your natural food store or the natural foods section of your grocery store. Check out Trader Joe's, Whole Foods as well if you have one close by.
My go-to is Native Forest Simple Unsweetened Classic Organic brand) (If using the Native Forest brand, note that they recently changed their coconut milks. The type I used to once recommend is now very hit and miss and I find that it no longer whips up nicely. The Simple version I link to above and below will make you a nice coconut whip). I also like Native Forest because they don't use BPA-lined cans.
If you cannot find the Native Forest brand, this one by Thai Kitchen also works well.
What Does Coconut Whipped Cream Taste Like?
Like coconut! You do have to like coconut since it is the dominant flavour.
How to Sweeten Coconut Whipped Cream?
Sweetening your coconut whipped cream is optional, it's great without sweetener, but if you do want to sweeten, I recommend using pure maple syrup or powdered sugar, to taste.
How Can I Make My Coconut Whipped Cream Thicker?
If your coconut whip is still on the runny side after whipping (this happens sometimes, especially if some of the coconut water from the can mixed in with the cream or if you get a bad can, which also unfortunately happens from now and then) add tapioca flour, one teaspoon at a time, to thicken it up.
I was given this tip when I posted about my runny coconut whip on Instagram. A few commenters came to my rescue. And it worked!
This recipe will only work with full fat canned coconut milk. It will not work with light canned coconut milk or coconut milk drinks in cartons or tetra packs.
If you've never used vanilla pods before, read this article for a step-by-step walk through on how to get the seeds out, it's very easy!
If you don't have a vanilla pod, it's OK, you can still make this recipe! Just replace it with 1 tsp of pure vanilla extract.
Keeping the coconut cream cold is important to it whipping up nicely. You'll need to move quickly after taking it out of the can and putting it into the mixing bowl. I usually chill the mixing bowl for about a half hour before whipping, which helps a lot.
Use it to top desserts like pumpkin pudding, pie, or any dessert that calls for a topping.
If you like this post, you will also like my roundup of Vegan Substitutes for Common Kitchen Staples.
How to Make Vanilla Bean Coconut Whipped Cream
Now that you have your vanilla bean coconut whipped cream, you can enjoy it on so many desserts and drinks:
Like on pie! (my Quick and Easy Vegan Pumpkin Pie is pictured below)
…to top hot drinks like a vegan gingerbread latte, decadent vegan hot chocolate, or decadent vegan peppermint hot chocolate:
…or on waffles! (my easy vegan gluten free gingerbread waffles are picture below)
Enjoy!