A little piece of unsolicited advice from me...you must try this recipe for vegan gluten free sweet potato bread! It's loaded with chocolate (or the add-in of your choice!), warm, fragrant spices, and lots of flavour.
Not only is this recipe easy to make, it also makes a welcome addition to your brunch or afternoon tea. It's also the perfect hidden veggie treat for school lunches or after-school snacks.
If you want something a little different than banana bread, then this is the recipe to try.
I've been sharing quite a few recipes that call for sweet potato lately. The reason? I love cooking and baking with it, don't you? It adds a little natural sweetness, it allows you to cut back on the oil in a recipe, and the added bonuses are that it's a hidden veggie for picky eaters AND it also adds such nice colour to your finished treat.
Before you read on, be sure to check out just a few of my other sweet potato recipes:
Ingredients for Vegan Sweet Potato Bread
The ingredients for this easy vegan gluten free recipe are simple. The only one you may not be familiar with, if you haven't baked vegan recipes before, is the flax eggs, which is a used as an egg replacement (that's it at the bottom left in the picture below).
You can click this link to learn more the amazing vegan flax egg. and you can also read my vegan gluten free baking tips.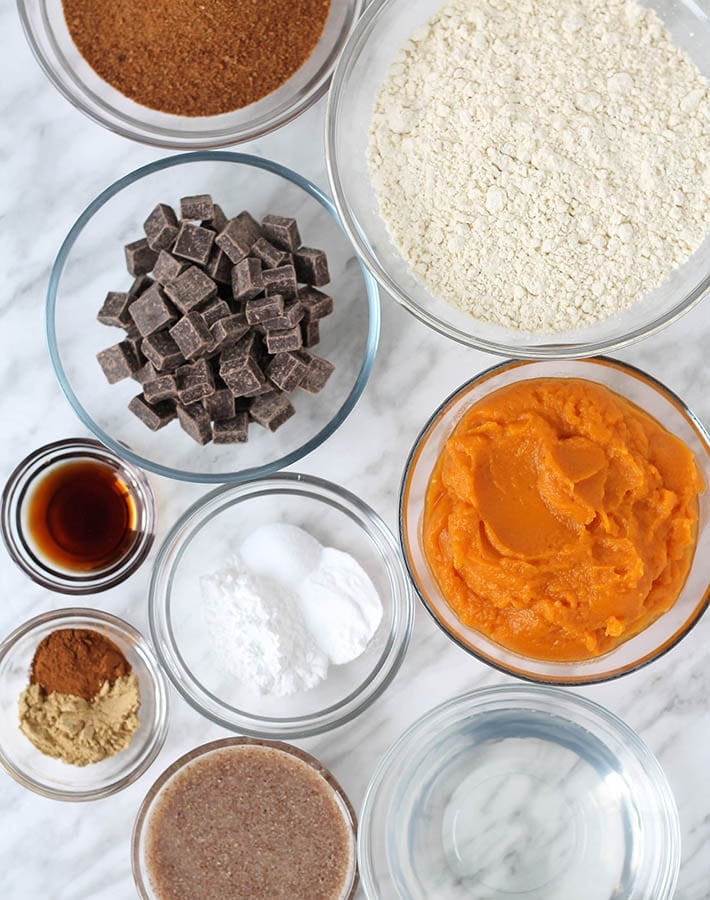 How to Prepare the Sweet Potato
You can use leftover sweet potatoes for this recipe, just puree them with a food processor or blender and you're ready to go. If you aren't starting with leftovers, you can bake a couple, especially for this recipe, or you can also make Instant Pot sweet potatoes.
It's important that you blend them, since sweet potatoes can be stringy. You don't want any of that stringiness in your finished loaf.
How to Make Sweet Potato Bread
The first steps are to mix all of the dry ingredients in one bowl, mix all the wet ingredients in another, then combine the two mixtures.
You'll then add your add-in of choice. I chose to go with chocolate chunks for the bread shown in the pictures.
Next, fold in the chocolate (or other add-in) and pour the batter into your baking dish. Sprinkling some chocolate on top, like I did, is totally optional.
You'll then bake your sweet potato loaf, remove it from the oven, let it cool and then it will be ready for slicing and devouring!
Add-Ins for Your Sweet Potato Bread Recipe
I usually go with vegan semisweet chocolate, either chunks, as shown in the pictures, or chocolate chips, because look at that picture below of all those gooey, melty chocolate pieces!
I like to use an add-in that has some sweetness of its own because the loaf by itself is not very sweet, so adding chocolate or dried fruit brings the sweetness up to a level that makes it just right.
Here are some options if you don't want to use chocolate:
raisins
dried cranberries
chopped nuts (like walnuts or pecans)
Another option is to leave out the add-ins and just make it plain. But keep in mind what I mentioned above about the sweetness level, if you decide to go this way.
Can I Use a Different Flour?
I've only tested this recipe with Bob's Red Mill Gluten-Free All-Purpose Baking Flour (the one with the red label, not the blue label), so if you do decide to use a substitute flour, proceed with caution since there is a chance that the gluten free blend you use may not give you a good result.
And note that without making some huge modifications, coconut flour will definitely not work in this recipe , so I would not use it at all.
Can I Use a Different Oil? Or Omit the Oil
There's a small amount of coconut oil in this recipe to make the gluten free sweet potato bread more moist, but if you don't have coconut oil, you can use another liquid oil that does not have a strong flavour, such as avocado or safflower.
If you're oil free, to make this a more healthy sweet potato bread, you can replace the oil that's called for with some plain, unsweetened applesauce, or more sweet potato puree. The loaf will end up a little less moist but still delicious. And instead of greasing your baking dish, you can use a non-stick baking dish or line with parchment paper.
Can I Make Ahead and Freeze?
Yes, you can. Just be sure to tightly wrap the loaf and store in something airtight. Fully thaw before slicing.
If You Make This Easy Sweet Potato Bread...
...please leave me a comment below, letting me know how it turned out! You can also share a pic with me over on Instagram.

And if you like this vegan gluten free sweet potato bread, you may also like these other delicious vegan gluten-free bread recipes:
How to Make Gluten Free Sweet Potato Bread
Gluten Free Sweet Potato Bread
Gluten free sweet potato bread that's loaded with chocolate and warm, fragrant spices. Not only is this recipe easy to make, it's also vegan and filled with flavor.
Instructions:
Preheat oven to 325°F (165°C)

Grease a 5" x 9" (1.5 quart) loaf pan.

Prepare your flax eggs by whisking together ground flax seeds and water. Set aside to thicken.

In a medium bowl, whisk the flour, baking powder, baking soda, salt, cinnamon, and ground ginger together.

In a large bowl, mix the sweet potato puree, coconut sugar, melted coconut oil, vanilla, and flax mixture together.

Pour dry ingredients into wet ingredients and mix well to combine.

Fold in the chocolate chunks or chocolate chips.

Pour into greased loaf pan.

Bake for 50 minutes to 1 hour or until a tester comes out clean. See note below.
Recipe Notes:
Please read all of the helpful tips and info above before making this recipe.
Baking times will vary slightly, depending on your oven and the type of bakeware you use. I use a glass loaf dish when making this recipe. Start checking around the 50 minute mark.
2 medium sized sweet potatoes will give you the 1 ½ cups of pureed sweet potato needed for this recipe.
It's important to know that different gluten-free flour blends use different ingredients and ratios, so results can vary if you substitute. I've never used any other brand of flour to make this recipe (other than Bob's Red Mill with the red label, not the blue! Click that link to see the correct one), so please know that your results may not be the same as mine if ingredients are substituted.
This recipe will NOT work with coconut flour.
Nutrition info listed below is for 1 of 12 slices and is only to be used as a rough guide. Click here for more info on how nutrition info on this website is determined.
Nutrition Info:
Serving:
1
slice
|
Calories:
264
kcal
|
Carbohydrates:
42
g
|
Protein:
4
g
|
Fat:
10
g
|
Saturated Fat:
7
g
|
Sodium:
281
mg
|
Potassium:
89
mg
|
Fiber:
4
g
|
Sugar:
21
g
|
Vitamin A:
3150
IU
|
Vitamin C:
0.8
mg
|
Calcium:
730
mg
|
Iron:
2.3
mg
Did You Make This Recipe?
If so, please share a picture with me on Instagram! Tag @delightfuladventures and hashtag #delightfuladventures. I can't wait to see!