This is the best, no-fail way to make Instant Pot Sweet Potatoes!
This page may contain affiliate links. Click to learn more.
If you love fluffy, smooth, and silky sweet potatoes, this is the quickest and easiest way to make them so they always come out just like oven-baked sweet potatoes.
And a bonus: Pressure cooker sweet potatoes finish slightly quicker than baking them (unless you're making HUGE sweet potatoes!). See all the details below that you'll need to make the best Instant Pot Sweet potatoes.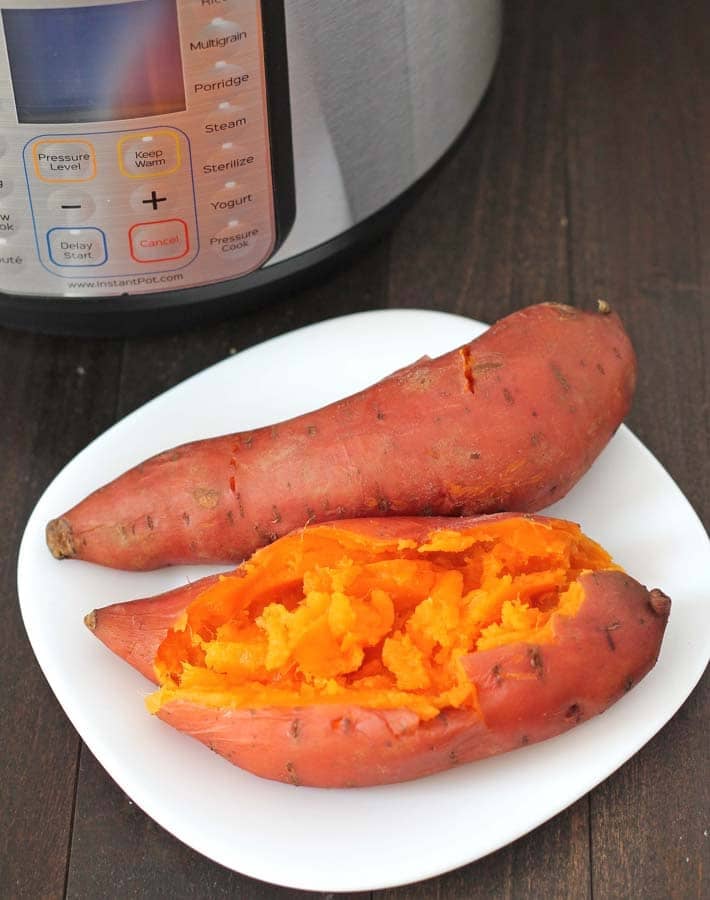 Have you ever owned a kitchen appliance that you use so much, you wonder why you didn't get it sooner?
That's how I feel about my Instant Pot. (This is the one I have…if you buy one, I'm pretty sure you're going to love it, too!)

I use my Instant Pot several times a week and it has fit right into my kitchen and meal-making plans. I didn't realize how much I loved it until recently, when I had a warranty issue and I had to wait for a replacement to be shipped to me.
It was the longest wait, ever. (Okay, it wasn't really that long…I'm just impatient because I missed using it!)
Thankfully, things are back to normal in my kitchen and I'm back to making all of my favourite Instant Pot Vegan Recipes!
One of those recipes happens to be Instant Pot sweet potatoes!
What's better about cooking sweet potatoes in a pressure cooker?
I prefer to make my sweet potatoes this way for a few reasons:
In almost all cases, it's quicker.
I don't have to heat up the kitchen and use way more electricity by turning the oven on to bake one or a few sweet potatoes.
If timed correctly, there's no checking to see if they're done. Set it and forget it and they come out perfectly every time!
How long should sweet potatoes be pressure cooked?
That depends on the size of your sweet potatoes. The potatoes you see in the images in this post are medium-sized and took 16 minutes, with natural release, to fully cook.
The same timing rule for baking sweet potatoes applies to pressure cooking sweet potatoes: smaller will take less time, larger will take more. These are the times I ended up with after testing:
Small Sweet Potatoes – 12 minutes, with natural release
Medium Sweet Potatoes – 16 minutes, with natural release
Large Sweet Potatoes – 22 minutes, with natural release
Extremely Large Sweet Potatoes – 28 minutes, or more, with natural release
Once your Instant Pot has naturally come down from pressure, check each sweet potato by poking with a fork. If the fork slides through, then they're good to go.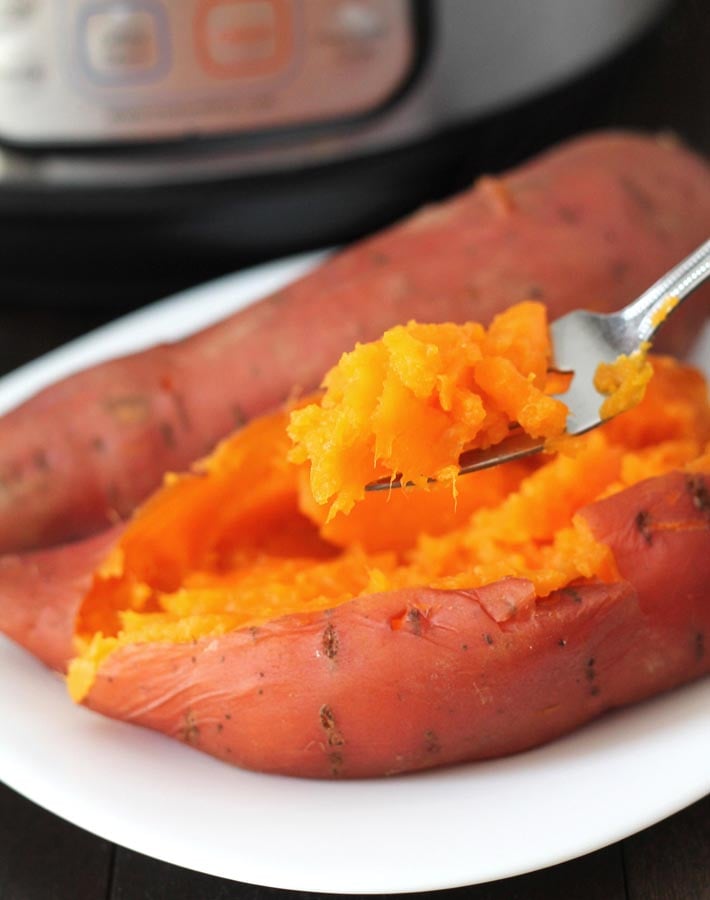 Do I have to poke holes in my sweet potatoes before pressure cooking?
I have never done this and have never had a problem. If you'd like to do this, go ahead, it won't hurt or change anything.
Can I pressure cook regular potatoes using this method?
Yes, all steps will be the same, but the timing will be a little different, depending on the size of potatoes you're making. If you're a little hesitant to guess on the timing for regular potatoes, this is a good step-by-step to follow for Instant Pot Potatoes.
How can pressure cooker sweet potatoes be served?
You can do so many things with them!
One of my favourite ways to serve Instant Pot sweet potatoes, and one of my favourite lunches, is splitting them, fluffing the insides, and topping with whatever I have on hand, like I do with my vegan stuffed sweet potatoes.
I like to also top with leftover lentil sloppy joe mixture (also made in the Instant Pot!) or my lentil sweet potato chili, vegan lentil Bolognese sauce, or this spicy quinoa chili, along with freshly diced avocados, cilantro or parsley.
You can also top with hummus or any other fresh vegetables and herbs you have around.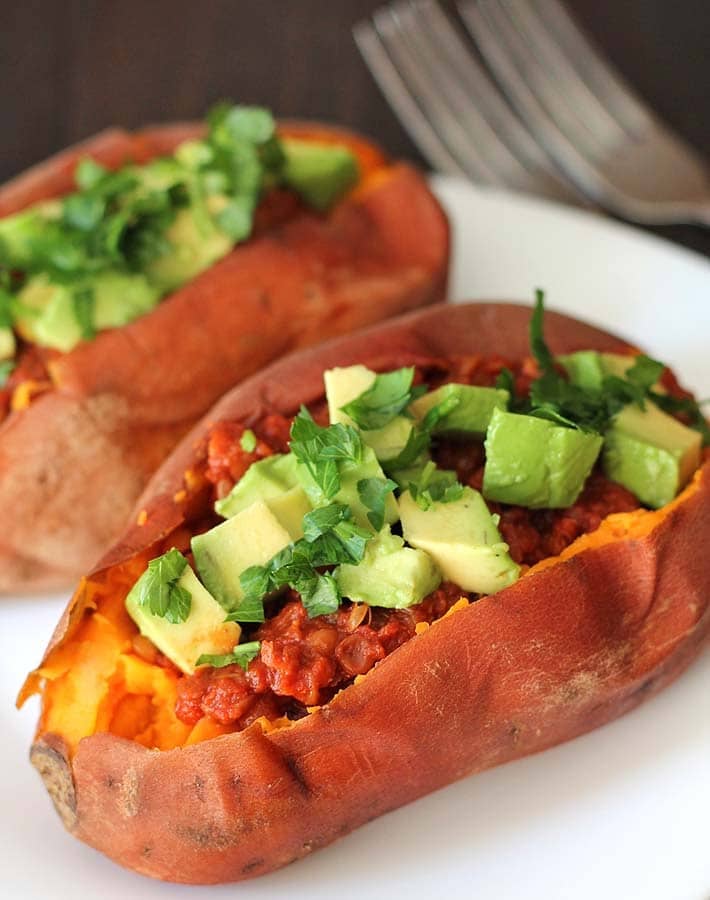 You can also remove the insides from the skin and mash them (be sure that your potatoes have cooled before doing this!) and use them for:
a topping for shepherd's pie
holiday casseroles
future recipes (fully cool, separate into 1 cup portions, add to freezer-safe bags or containers, and freeze).
and so much more!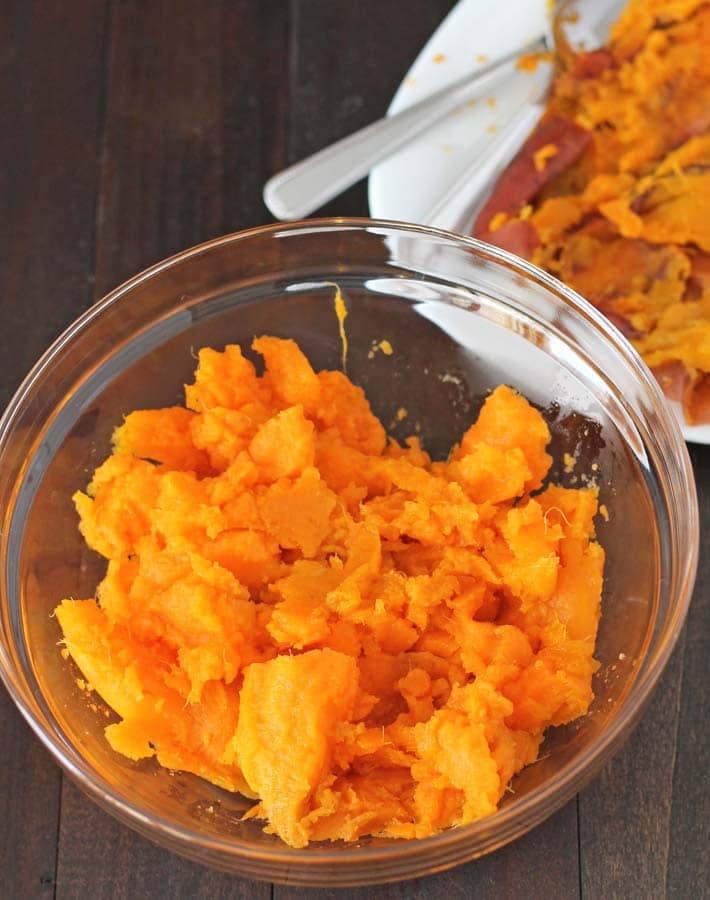 Tips for Success:
It's best to pressure cook sweet potatoes that are all similar in size so they will all cook properly. If you can't do this, set the time based on the largest sweet potato.
Keep in mind the time your pressure cooker will take to get to pressure and come down from pressure, before starting.
If you're a little worried that your sweet potatoes will not cook through because they're on the larger side, add an extra 5 minutes to the times mentioned above and below. If your sweet potatoes are extremely large, you can cut them in half before placing into your Instant Pot.
After they have finished, if a fork does not slide through your sweet potatoes when poked, put them back in the Instant Pot, add another 1/4 cup of water to what is already there and pressure cook for another 5-10 minutes.
The same amount of water is to be used whether you are making 1 sweet potato or 4.
You will need to use the trivet that came with your Instant Pot for this recipe. Be sure that the water is not touching your sweet potatoes while they're sitting on the trivet or your potatoes will not turn out fluffy, they will be watery and mushy)
So that's a lot of info for some simple sweet potatoes, isn't it?! I promise you it's not hard or complicated, I just wanted to give you all of the info you'll need to ensure that you end up with perfect, fluffy pressure cooker sweet potatoes, every single time.
If you have a question about something I didn't cover, please ask below.
If you like this step-by-step for Instant Pot sweet potatoes, you may also like these other Instant Pot recipes:

And if you're looking for even more Instant Pot recipes, check out this list of the best vegan Instant Pot cookbooks.
How to Make Instant Pot Sweet Potatoes