A quick, easy, and decadent vegan maple caramel sauce that you'll want to put on everything from ice cream, sticky toffee pudding, pancakes, waffles, and more!
This page may contain affiliate links. Click to learn more.
Earlier this year, I went to a cooking demonstration by Chef Lynn Crawford at the Museum of Agriculture.
At the time, it was maple season and the theme for the evening was, of course…maple! All of the recipes she made including maple, including a maple caramel sauce she drizzled over a maple sticky toffee pudding.
At the end of that evening, all attendees were given a printout of the recipes she made so we could try them at home, if we wanted to. I knew I wanted to make a vegan version of her maple caramel sauce, and I did!
Chef Lynn's version is quite different when compared to what I've put together here. Hers contained real butter, maple syrup, heavy cream, no sugar…and no cooking!
On my first try, I bought some vegan butter, which I never use because the brands I have access to, I just don't like. But I thought, it's going into a vegan caramel sauce, so it will be fine. I was wrong!
The flavour of that vegan butter was the only thing I could taste in the finished sauce, so try #1 was a big fail.
Try #2 involved using way less vegan butter and adding in some coconut sugar in addition to the maple syrup and coconut milk and again, even though I drastically cut back on the vegan butter, the flavour of it was still quite dominant.
So, try #2 was another fail. Plus, even though I love using coconut sugar in my creations, it just didn't work well here, for me.
On to try #3…this time I omitted the vegan butter entirely and opted for a small amount of coconut oil in its place, and that was the magical combination.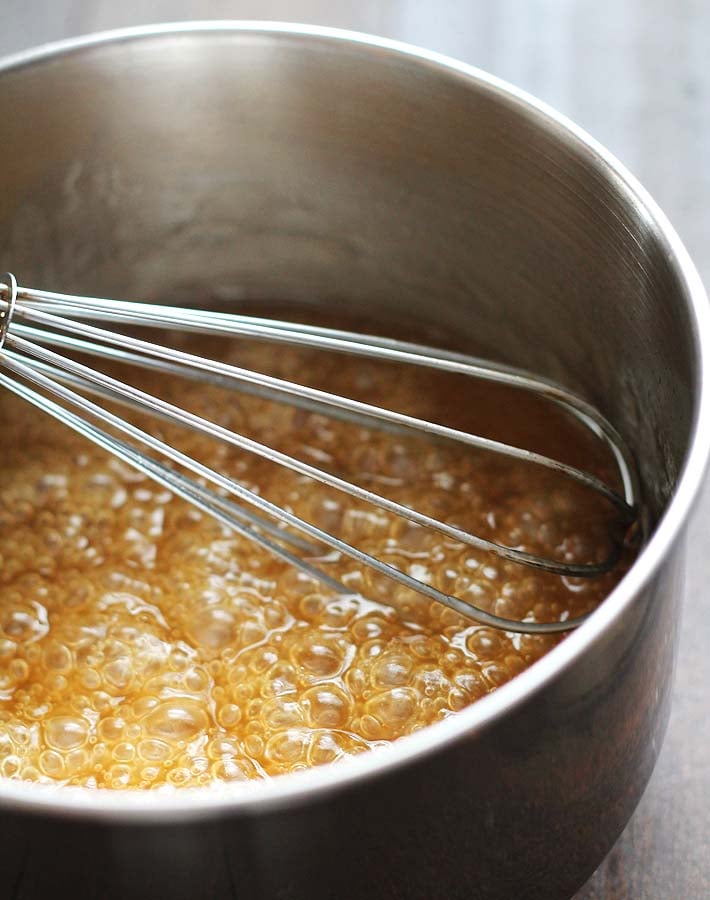 The result was a smooth, creamy, dairy free caramel sauce that was so delicious, I couldn't stop "taste-testing!"
This recipe is easy (you just need four ingredients!) and quick.
Quick, as in it just takes FIVE minutes of active cooking time. Once it's done on the stove, you need to be patient as it cools down and thickens up so you can give it a taste and dig in.
Don't even try to taste your vegan caramel sauce too early and singe your taste buds. Like I did. Oops.
When it's ready, there are so many things you can do with it, like:
You can also serve it as a dip for things with contrasting flavours. Like sour green apples which work so well when paired up with the sweetness of the maple caramel sauce:
Or you can dip something salty, which also works very well with the sweetness of the sauce, like pretzels: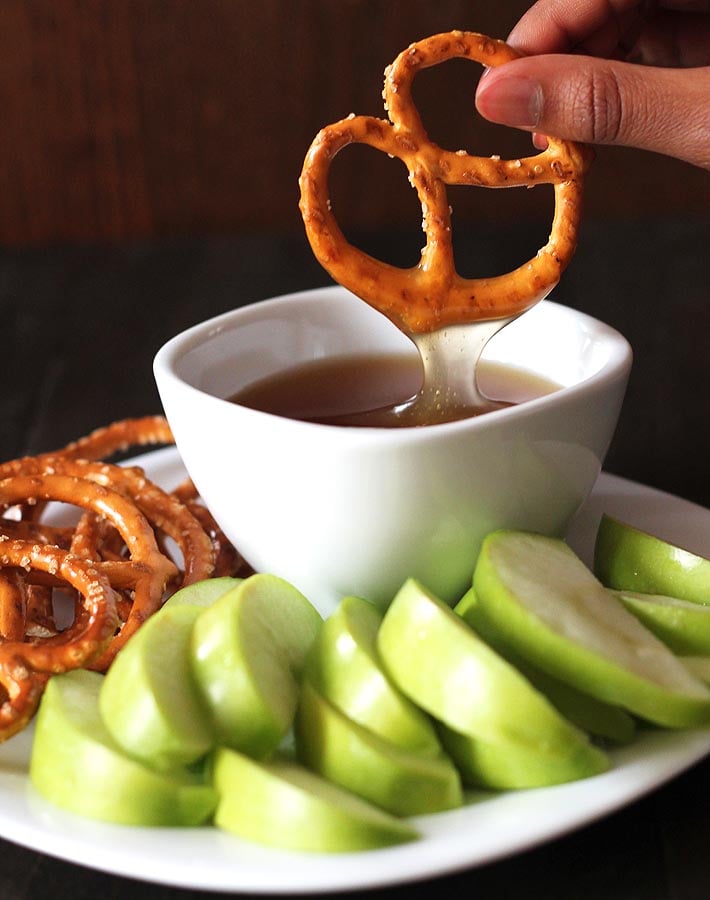 And speaking of salty, you can totally make your maple caramel sauce, "salted" maple caramel sauce.
Mmm…salted caramel sauce… see the recipe notes below on how to do that!
One more thing…you will need to refrigerate any unused sauce. When you're ready to use it again, you'll find that it has hardened and crystallized a little.
Not to worry, just warm it up for 10 second intervals (stirring after each interval) in the microwave and it will be back to how it was before and ready to be devoured. If you don't have a microwave, it can be re-warmed on the stove.
If you like this dairy free caramel sauce recipe, you may also like these:
How to Make Maple Caramel Sauce