Breakfast can't get any better if it includes these fluffy, delicious gluten free sweet potato pancakes that also happen to be vegan! These easy-to-make pancakes are spiced perfectly and will fit right in on your brunch or breakfast table.
This page may contain affiliate links. Click to learn more.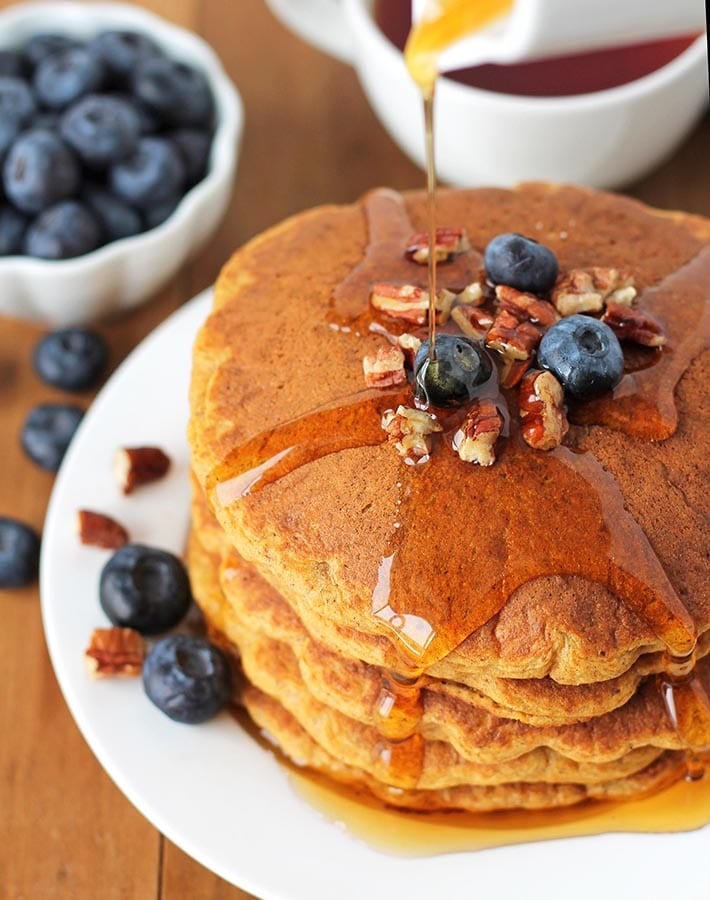 So….that picture above…
Doesn't it make you want to get up and make these easy vegan sweet potato pancakes RIGHT NOW? That's how I feel when I look at it.
I love pancakes, and so does my family, so I'm always coming up with new variations of my easy vegan gluten free pancakes. Like that recipe, these gluten free sweet potato pancakes are quick to make and just so, SO good. Plus, they're very easy to make, as you'll see below.
How Do I Make Vegan Sweet Potato Pancakes?
(Note: I've outlined the step-by-step here, but find the full recipe, ingredients, and directions at the end of this post.)
First, you'll whisk together all the dry ingredients, then whisk all the wet ingredients together. Next, pour the wet ingredients into the dry ingredients and mix. After those simple steps, you'll have your batter all ready to go.
I like to use a ladle to add the batter to the pan. I still use a cast iron pan for pancake making (yes, I'm making them one by one!), but use a griddle if you have one. I really need to get one of those to make my pancake cooking process quicker! (I'm eyeing this one!)
Let each pancake cook for a few minutes on each side and when done, you'll have a batch of golden, vegan gluten free sweet potato pancakes ready to be served.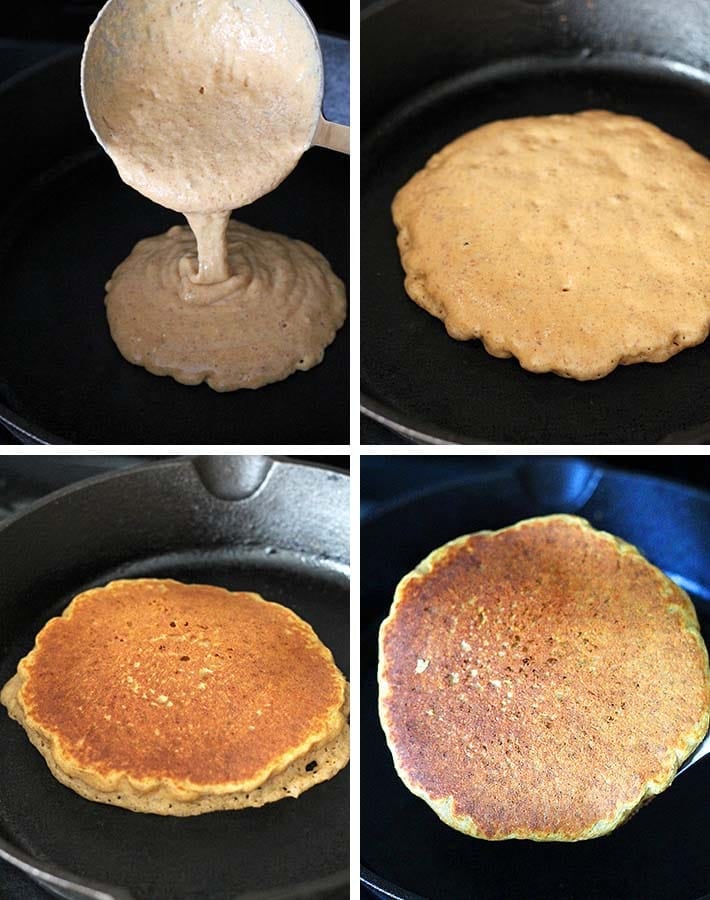 Sweet Potato Pancake Toppings
You can top them with whatever you like, but my favourite way is with fresh blueberries and sometimes, if I have them, toasted pecans, like in the pictures. And of course, maple syrup…because what are pancakes without maple syrup?!
Here are some other topping ideas, try all of them to see which one you like best!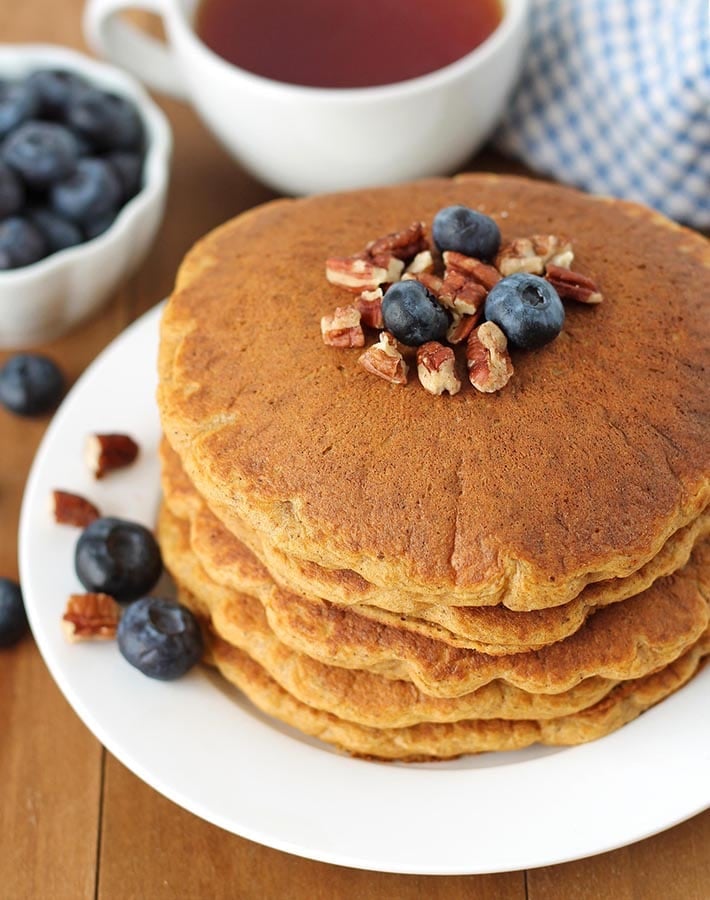 Preparing the Sweet Potato
If you aren't starting out with sweet potatoes that are already cooked, you can make Instant Pot sweet potatoes, or you can roast a few in the oven the day before, cool them off, and refrigerate.
Before adding them to your wet ingredient mixture, you'll need to puree them since sweet potatoes tend to be stringy. You don't want any strings in your pancakes!
You can also use leftover sweet potatoes for this recipe.
Leftover baked sweet potatoes can be used in many ways (like in my vegan sweet potato muffins, sweet potato pudding, or gluten free sweet potato loaf!), so if you have some, make a batch of leftover sweet potato pancakes…your family will thank you and you'll clear up some space in the fridge 🙂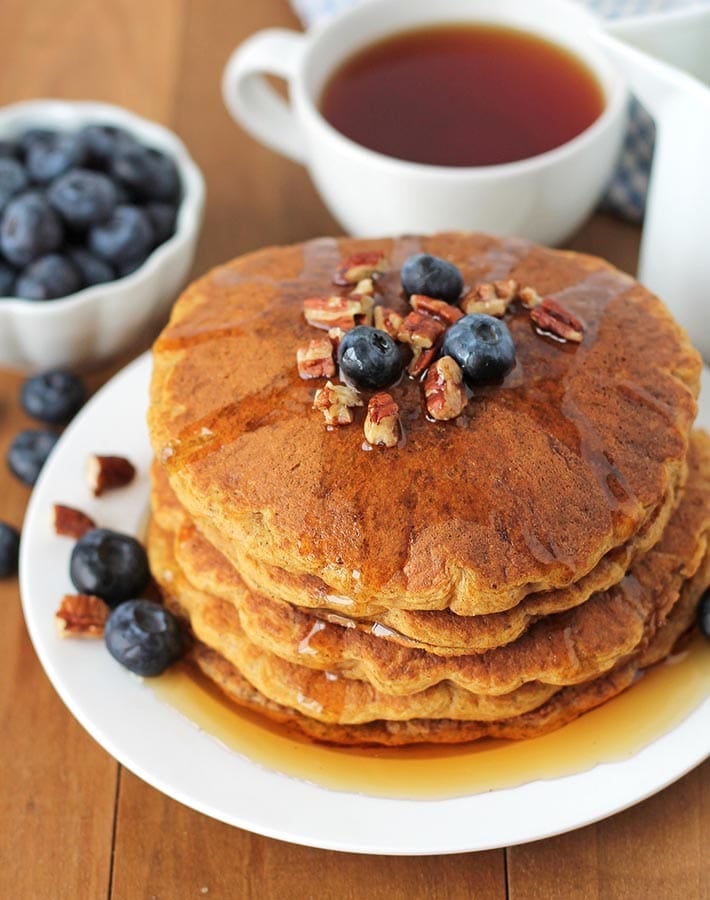 Can Pumpkin or Squash be Used Instead of Sweet Potato?
I get this question often about my vegan sweet potato muffins, so I thought I'd answer this here in case you don't have sweet potato on hand but you need to fix a pancake craving right away 🙂
I have a recipe for vegan gluten free pumpkin pancakes, so if you prefer to use squash, you may want to try that recipe instead of this one.
If you still want to stick with this particular gluten free sweet potato pancake recipe, you can use squash, just be sure that it's roasted and pureed well.
These pancakes are not overly sweet on their own, so if you prefer sweeter pancakes, you may want to add an extra tablespoon of maple syrup to the batter (in addition to the two already called for).
The sweet potatoes are naturally sweet and add a bit of sweetness, but with squash you won't get that.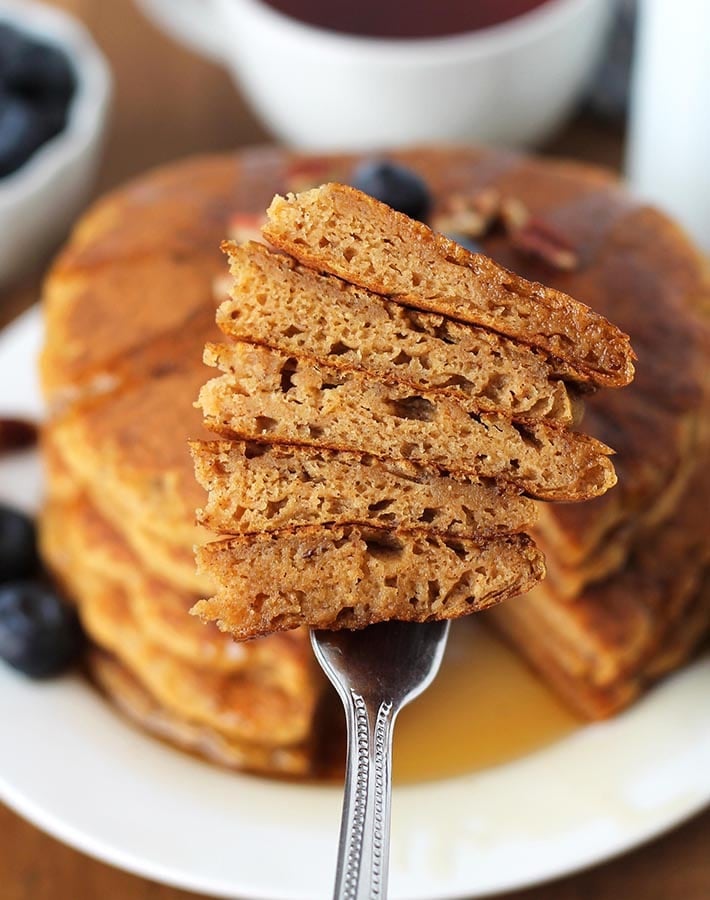 Are These Vegan Gluten Free Pancakes Fluffy On the Inside?
You may think that because they're vegan AND gluten free that it's impossible for them to be fluffy. But, as you can see from the picture above, that's not the case.
Despite being egg free, dairy free, and gluten free, they're indeed, very fluffy. Just like pancakes should be.
Can This Batter Be Used to Make Waffles Instead?
I have not tried that with this batter, but if you do want sweet potato waffles, I have a separate recipe for those that you can find here.
If you make these pancakes, let me know in the comments below or post a pic to Instagram and tag me!
You can also help me to help others find this vegan gluten free pancake recipe by pinning it to your recipe board on Pinterest! You can do that by clicking here.
If you like this recipe for simple vegan sweet potato pancakes, you may also like these other pancakes:
And if you like vegan gluten free waffles for breakfast, I have recipes for those, too!
How to Make Gluten Free Sweet Potato Pancakes