I apologize in advance for the amount of these maple glazed almonds you're going to eat when you make them! They're crunchy, slightly sweet (but not too sweet), and they have a hint of cinnamon and nutmeg that isn't overpowering, giving these maple cinnamon almonds the ideal balance of flavours.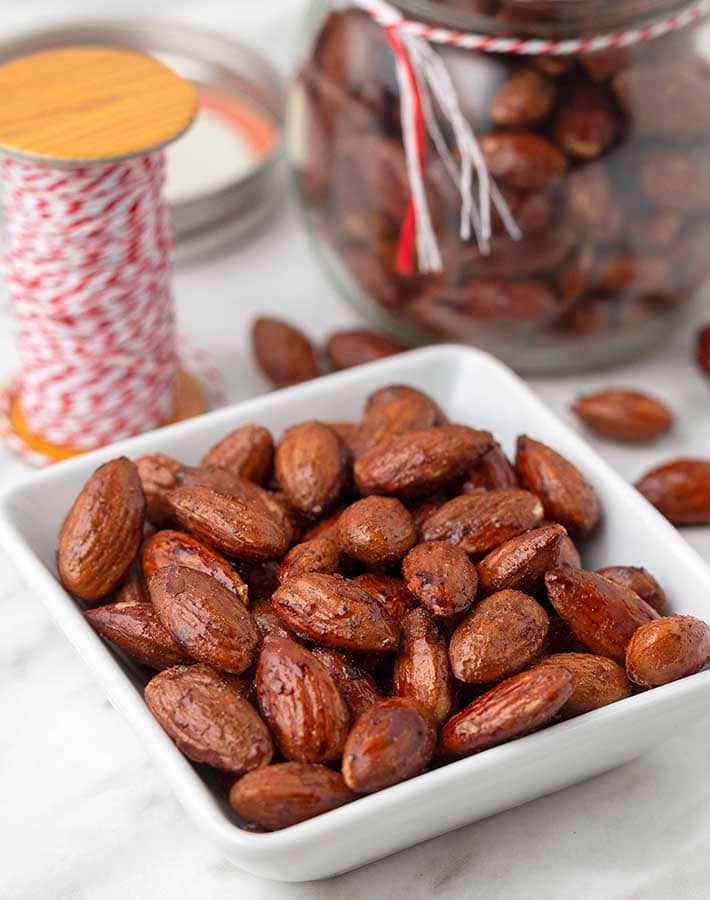 These maple glazed almonds were inspired by almonds I was served at the now closed vegan Ottawa restaurant, Café My House.
During this particular visit, the amuse bouche they were serving that night was "holiday-spiced almonds." Sadly (or happily?) I inhaled them so fast, I didn't have time to savour and try to figure out what those holiday spices were, exactly.
All I remember was how good they were and deciding that I needed to make my own version.
My version is an easy vegan snack to make for snacking on at home, or even to make for parties or potlucks. Maple spiced almonds are also a great idea to make and give as edible holiday gifts. You can even chop them up and use them as a salad topper!
Ingredients for Maple Roasted Almonds
These maple almonds are made with no eggs and no oil. Those ingredients are typically used in roasted almond recipes to get the spices and seasonings to stick.
For this recipe, all you need is FIVE simple ingredients, and the ingredient used to make everything stick to the almonds is pure maple syrup.
How to Make Cinnamon Spiced Almonds
(Note: I've outlined the step-by-step for this maple roasted almonds recipe here, but find the full recipe, ingredients, and directions at the end of this post.)
There are only a few steps for this very easy recipe, and it comes together quickly (which is good because you're going to want to make them a lot!)
You'll start by whisking the maple syrup, spices, and salt together. Mix until everything has combined together.
Next, you'll pour that mixture over the almonds and then mix so all of the almonds are coated.
After that, place the almonds in a single layer on a parchment lined baking sheet and bake.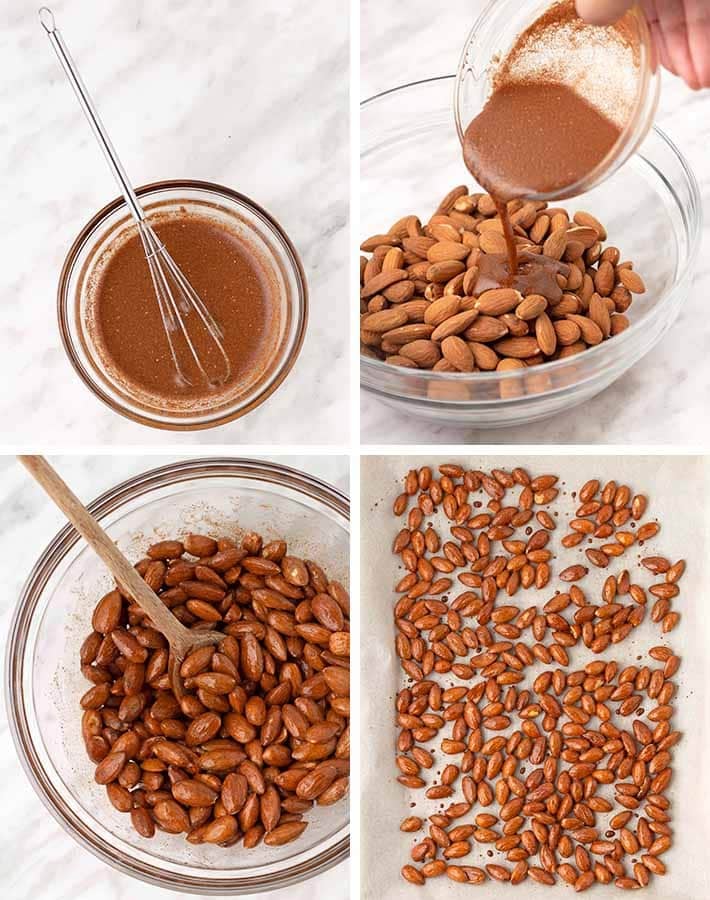 After the almonds have finished baking, allow them to cool completely on the baking sheet, and after that, you can place them in a covered for snacking.
Can Different Spices Be Used?
The spice mixes for these sweet spiced almonds are limitless. You can go salty and sweet, sweet and spicy, smoky and sweet, just salty, just sweet...whatever you feel like.
You can play around with different combos to see what you like.
Can a Different Nut Be Used?
Yes, you can try a different nut other than almonds, but if you do, be sure to keep an eye on them as they roast, since different nuts have different roasting times.
The Perfect Edible Gift
As mentioned above, you can buy a bunch of pretty glass jars, make a big batch of this maple glazed almonds recipe (you can double or triple it as needed!), fill each jar with almonds, wrap each jar with a little festive twine, and attach a label to the string.
Who wouldn't want to receive that as a gift!? (Peppermint Bark and Mint Truffles also make great edible gifts!)

Why Did My Almonds Turn Out Chewy?
Okay, so if you're like me and you always want to immediately dig into your treats the minute they come out of the oven, you're going to think there's something wrong with this recipe.
There isn't.
It's very important to wait for these almonds to cool completely. If you don't wait, you'll burn yourself and experience soft and chewy almonds that should be hard and crunchy.
I know from experience, because I did that the first time I made these!
The almonds will be soft when they come out of the oven and will remain like that until they have completely cooled.
So be patient. If you do sample one before it has cooled, know that the cooled almonds will not be soft, they'll be perfect and crunchy, as they should be.
And Speaking of Chewy Almonds...
If you live in a place where the climate is warm or if the room you're storing them in is warm, then store your jar of maple syrup almonds in the refrigerator.
This will prevent them from sticking together in a big clump and it will also keep them crunchy.
Did You Make This Recipe? Or Do You Have More Questions?
If you made this cinnamon roasted almonds recipe, please leave me a comment and rating below and if you have further questions that I did not answer, please also ask below, too.
If you like this recipe, you may also like these other vegan maple recipes:
Maple Glazed Almonds
This cinnamon almonds recipe is perfect to make and serve as party snacks, to bring to a potluck, to give as edible holiday gifts, or just for snacking on at home. These maple almonds are made with no eggs, making them vegan. They're slightly sweet, with a hint of warm cinnamon, plus, they're easy to make and once you eat one, you won't be able to stop!
Servings:
8
(¼ cup each serving)
Instructions:
Preheat oven to 325°F (165°C)

Prepare a baking sheet by lining with parchment paper. Set aside.

Combine maple syrup, cinnamon, nutmeg and salt together. Whisk well so spices are incorporated well into the syrup.

Pour over almonds and stir. Make sure all almonds are coated well.

Place in a single layer on baking sheet.

Bake for 20 minutes.

Remove from oven and let cool on sheet.

When cooled completely, put into an air-tight container.
Recipe Notes:
Please read all of the helpful tips and FAQ above before making this recipe.
Always use freshly grated nutmeg for the best flavour. Click here to learn more.
Store leftovers in an airtight container. If the area you are storing them in is warm, place the container in the refrigerator so almonds will not stick together.
Other nuts may be used in place of the almonds, but note that baking time may need to be adjusted accordingly because other nuts roast faster. Keep an eye on them to be sure they don't roast too much and burn.
Nutrition info listed below is based on one ¼ cup serving of the recipe prepared as written. Nutrition info is only to be used as a rough guide. Click here to learn how nutrition info is calculated on this website.
Nutrition Info:
Serving:
0.25
cup
|
Calories:
191
kcal
|
Carbohydrates:
11
g
|
Protein:
6
g
|
Fat:
15
g
|
Saturated Fat:
1
g
|
Sodium:
18.3
mg
|
Potassium:
218
mg
|
Fiber:
4
g
|
Sugar:
5.7
g
|
Calcium:
77.9
mg
|
Iron:
1
mg
Did You Make This Recipe?
If so, please share a picture with me on Instagram! Tag @delightfuladventures and hashtag #delightfuladventures. I can't wait to see!
This was the first recipe published on Delightful Adventures! It was originally published back on December 10, 2014 and it was updated in November 2019 with new images and some new text.
The original images (I didn't know a whole lot about food photography back then! 🙂 )