This Slow Cooker Butternut Squash Sweet Potato Carrot Soup recipe was originally published December 12, 2014, images were updated October 2017.
This page may contain affiliate links. Click to learn more.
To me, cold weather + soup = comfort. Isn't a nice, warm soup the perfect thing to eat on a cold, fall or wintery day?
Especially when it's a soup made in the slow cooker and especially when it's this easy Butternut Squash Sweet Potato Carrot Soup.
Any time I can throw ingredients into my slow cooker in the morning and have a healthy supper 90% ready and waiting for me in the evening is a huge bonus added to my day
(This curried cauliflower sweet potato carrot soup and this recipe for lentil sloppy joes are other great slow cooker recipes!).
I love cooking, but I know you'll agree with me when I say that there are some evenings when I would just rather not.
Do you feel the same some evenings?
Those are the evenings this soup is perfect for.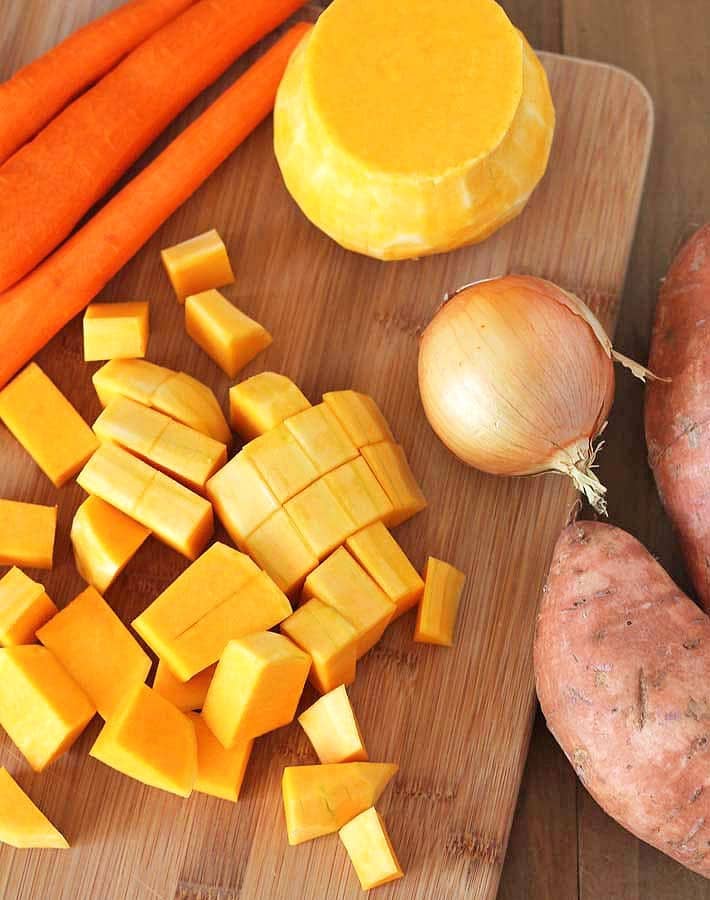 Peeling butternut squash used to once scare me. Anyone who has peeled one with a knife knows EXACTLY what I am talking about. Skip the knife and peel with a vegetable peeler!
The first steps that go into making this soup is adding the veggies and broth to your slow cooker.
Next, once everything is cooked, you add the coconut milk, the spices, a touch of maple syrup (yes, maple syrup!), and salt.
The types of spices used in this butternut squash sweet potato carrot soup recipe, in addition to the maple syrup (the same blend used in my maple spiced almonds recipe!), may make you think you're going to end up with a soup that tastes more like dessert.
You will not.
The spice blend and maple syrup adds a distinct "warmness" to the soup. Does that even make sense? I can't think of any other way to explain it. You'll have to make it yourself to taste it for yourself!
And in case you're wondering, the coconut milk does not leave a coconut flavour but rather, it makes the soup extra smooth and creamy.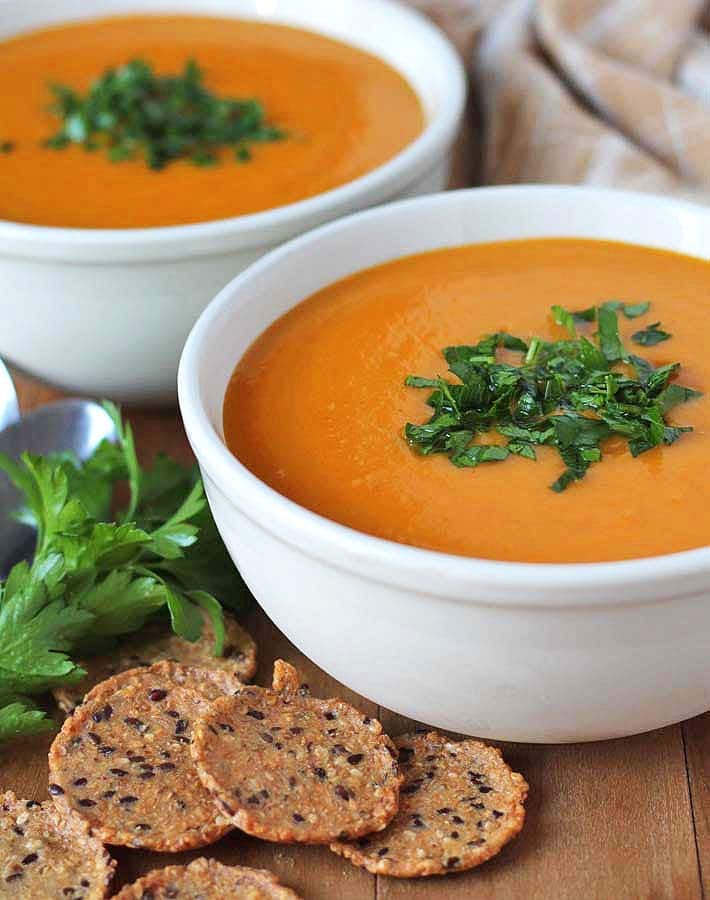 I hope you love this soup and make it as often as I do when the colder months come around.
Check out more delicious things you can make in your slow cooker and if you like this Slow Cooker Butternut Squash Sweet Potato Carrot Soup recipe, you may also like these:

And if you make it, share a picture with me on Instagram! I'd love to see! I'm @delightfuladventures over there and my hashtag is #delightfuladventures.
Oh, and the crackers shown in the images above are nice to have on the side with soup for a little crunchy texture.
I received a lot of questions about them after I published my Garlic Herb Vegan Almond Cheese Spread recipe, I had included them in those images as well.
These crackers are both vegan and gluten free and they are by a brand called Mary's Gone Crackers, you can find them here.
If having crackers with your soup is not your thing, I recommend these Whole Grain Vegan Spelt Rolls. They would be perfect to have on the side.
How to Make Vegan Slow Cooker Butternut Squash Sweet Potato Carrot Soup