Wholesome vegan baked oatmeal filled with pieces of warm baked apples and spices. It's a recipe that's quick and easy to make, it's great for vegan breakfast meal-prep, AND, this vegan apple baked oatmeal recipe is oil-free, egg-free, dairy-free, and gluten-free, if you use gluten-free oats!
If all of that that didn't make you want to make this recipe right away, you should also know that you can bake it in a dish and slice your baked oats, or you can make it as vegan baked oatmeal cups by baking in a muffin pan. You can also customize your add-ins. All the details are below!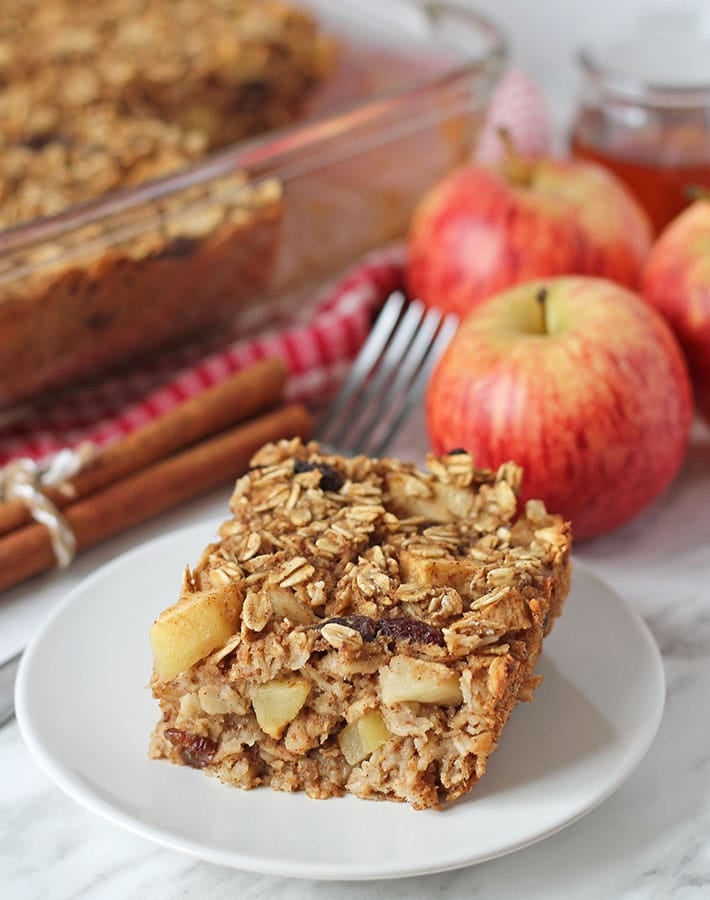 I think you'll agree that the best fall flavours are cinnamon, spices, apple, and pumpkin.
Each fall, I like to add a few more apple and pumpkin recipes to my website, this year, the first recipe happens to be vegan baked oatmeal with apples and spices.
Apples and pumpkin are two things I love baking and cooking with. Have you seen some of my other apple recipes?
Those are just a few examples of my contribution to the world of delicious apple recipes, if you want to see all of them, click here and if pumpkin is more your thing, you can click here to see my pumpkin recipes!
Today, it's all about apple cinnamon baked oatmeal that you can serve warm or cold, plain or with toppings, and you can bake it in a baking dish or in a muffin pan.
Ingredients for Apple Pie Baked Oatmeal
This recipe is simple, there are no unusual or hard to find ingredients, you can see them all below. To keep these baked oats vegan, you'll be using non-dairy milk and flax eggs.
Be sure to not chop the apples too large or too small, keep them similar to the size shown in the images below.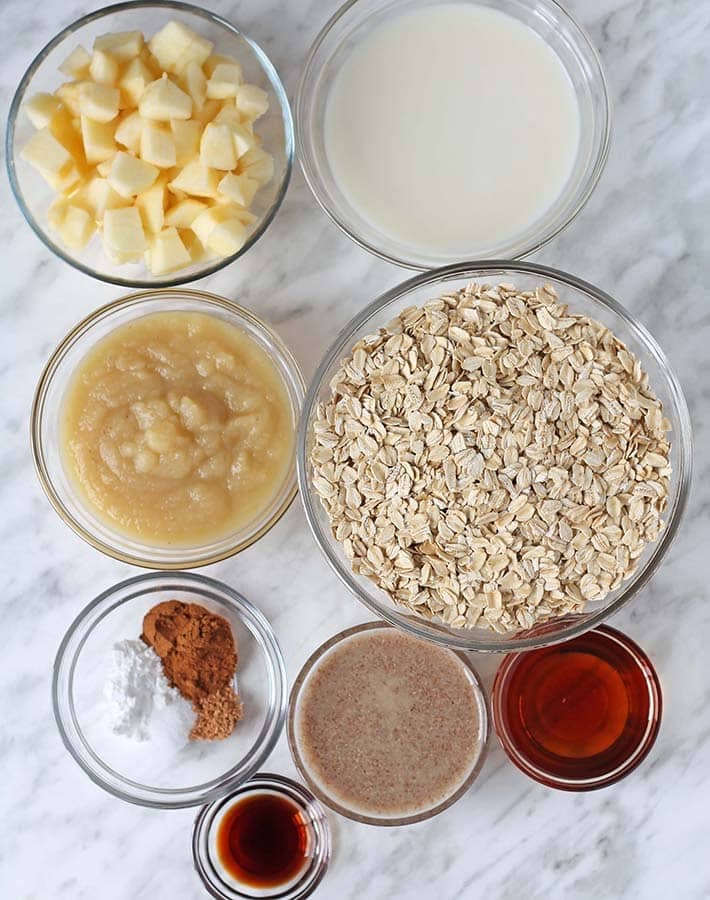 What Kind of Oats Should I Use for This Recipe?
You'll need to use old-fashioned rolled oats, no substitutions, gluten-free rolled oats if you're gluten-free.
You do NOT want to use quick-cooking / instant oats (the recipe will be too mushy) or steel cut oats (the oats will not cook through). (But if you have some steel cut oats to use up, check out my banana and apple steel cut oat recipes!)
What Type of Apple Should I Use?
Use your favourite type of apple, I tend to stick with Gala, but any type of firm apple that's good for baking will work.
How to Make Baked Apple Oatmeal
(Note: I've outlined the step-by-step for this easy vegan baked oatmeal recipe here, but find the full recipe, ingredients, and directions at the end of this post.)
It's easy! First, mix the dry ingredients in a large bowl, mix the wet ingredients in another bowl and then combine the two.
The mixture will be very loose / runny but the longer it sits, the oats will absorb the liquid. A little absorption is okay, but don't let it sit so long that all the moisture soaks into the oats, work quickly to get it into the oven as fast as possible.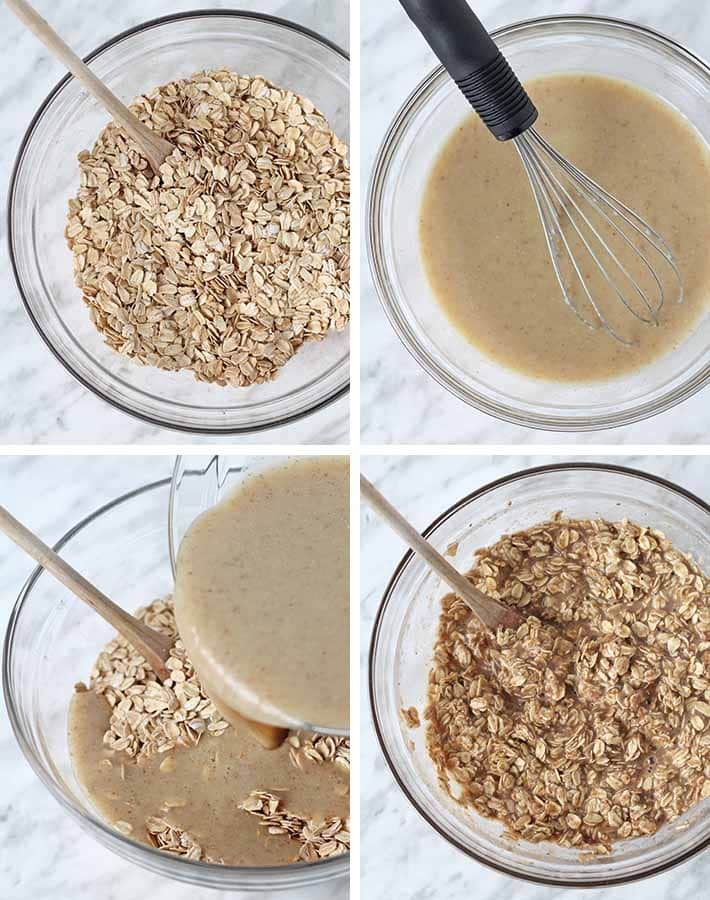 Can This Baked Oats Recipe Be Made Ahead of Time?
No, as mentioned above, the oats will absorb the liquid the longer it sits, so if you want to save time, what you can do is mix the dry ingredients and set aside in an airtight container and mix the wet ingredients and place in the refrigerator in another airtight container.
When you're ready to make it fully, chop the apples, give each mixture a stir, add the wet ingredients to the dry, stir in the apples, and any optional add ins, and go from there.
Add-Ins for Healthy Baked Oatmeal
Since this is a recipe for baked apple oatmeal, you're going add chopped apples. After adding the apples, you can stop there, but if you want a little extra added natural sweetness, you can choose to add some raisins, like I did for this batch.
If you want a little contrast in texture, chopped nuts are also great to add in, but this is an optional addition.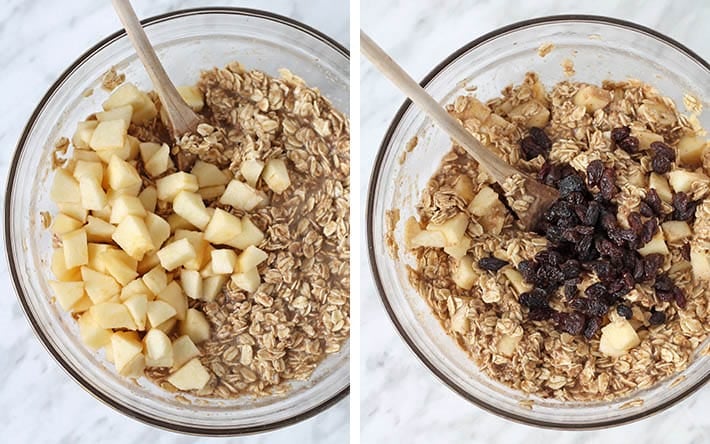 Oatmeal Casserole OR Apple Cinnamon Baked Oatmeal Cups?
It's up to you! When making it for myself and my husband for meal-prep, I'll make my easy baked oatmeal in a baking dish. When I make it for my kids, they like it as oatmeal cups.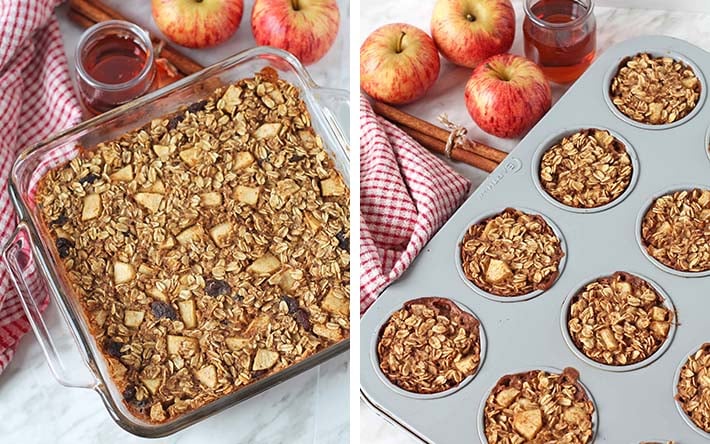 No matter how you choose to bake this recipe, as a baked oatmeal casserole or baked oatmeal cups, note that the baking times for both are different, all the details are in the recipe directions below.
What's the Texture Like?
Before I started making baked oatmeal, I didn't think I'd like it. I love oats, I love fruit, so what could be wrong with baked oatmeal with fruit? I thought I wouldn't like the texture. But I was wrong.
The texture is not fluffy and light like cake or a muffin, it's more dense and solid. If you like oats and fruit mixed with warm spices, you're going to love this delicious, filling and hearty oatmeal breakfast casserole.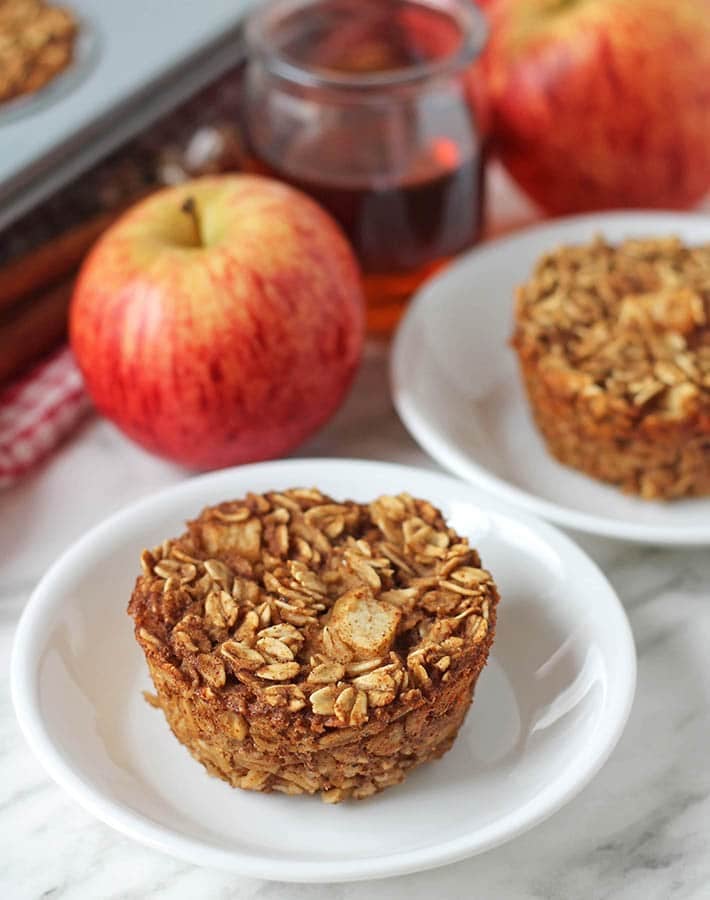 How to Store Gluten Free Baked Oatmeal
If you aren't going to serve it right way, make sure it's fully cooled off, slice, place in an airtight container, and store in the refrigerator for up to 5 days.
You can also freeze it for up to a month, just be sure to wrap each slice or cup and store in an airtight container.
When you're ready to serve, thaw overnight in the refrigerator and warm up in the morning in the oven or microwave. You skip warming it up and serve it cold, but I recommend warming it up.
How to Serve Eggless Baked Oatmeal
This recipe is not overly sweet, but to me, it's sweet enough with the little bit of maple syrup the recipe calls for, the applesauce, and the chopped apples. If you choose to add raisins, you'll have a little more.
I find that those ingredients contribute enough sweetness, so I prefer to eat my apple baked oatmeal plain.
However, if you prefer a little more sweetness, you can top with maple syrup, like in the picture below.
You can also make it a little fancier by topping with any of the following:
fresh berries
vegan yogurt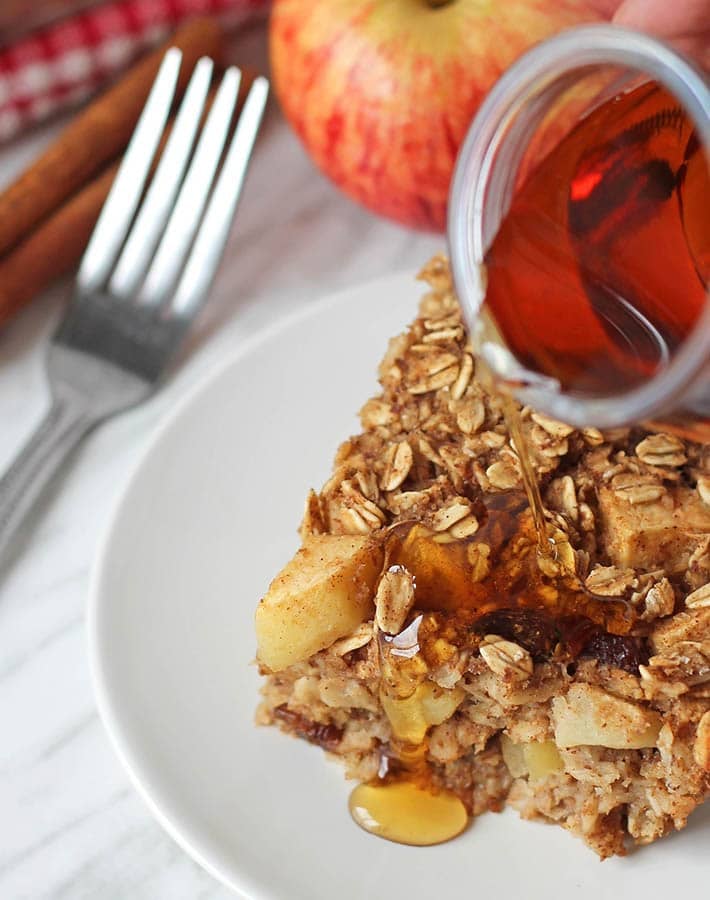 If you make this recipe, let me know about it in the comments below. You can also share a pic on Instagram and tag me so I can see!
You can also help me to help others find this baked oatmeal recipe by pinning it to your recipe board on Pinterest,
CLICK HERE TO PIN IT NOW!
If you like this recipe, you may also like these vegan gluten free brunch recipes or these other vegan gluten free breakfast recipe ideas:
How to Make Vegan Baked Oatmeal