Since apples are in season and it's fall, I thought I'd try out a new recipe: Vegan Gluten Free Apple Cinnamon Waffles. Lucky for me, they were a hit on the first try…something that doesn't always happen around here 😉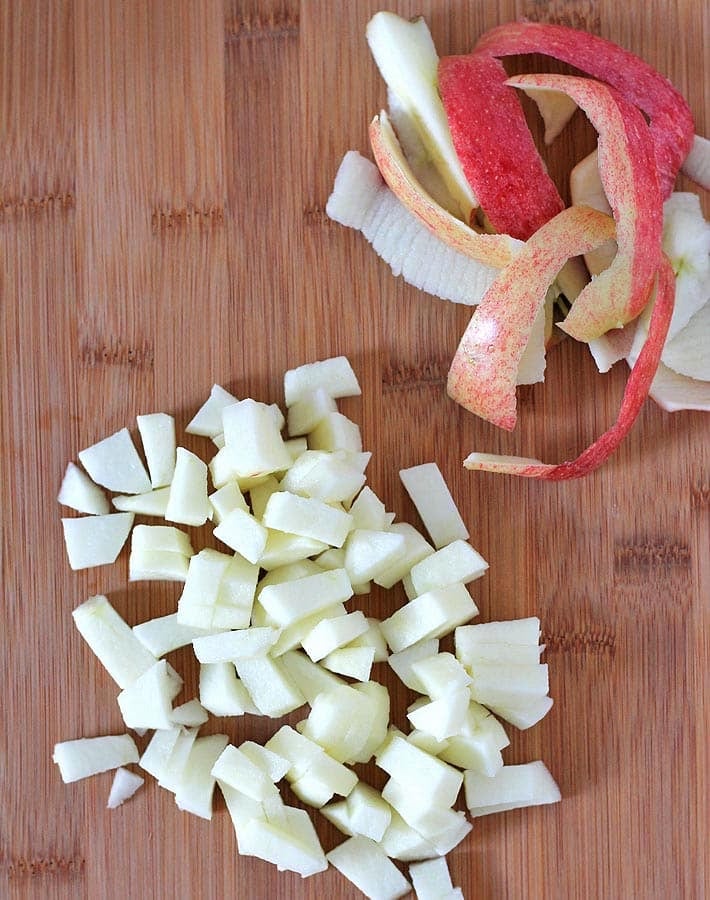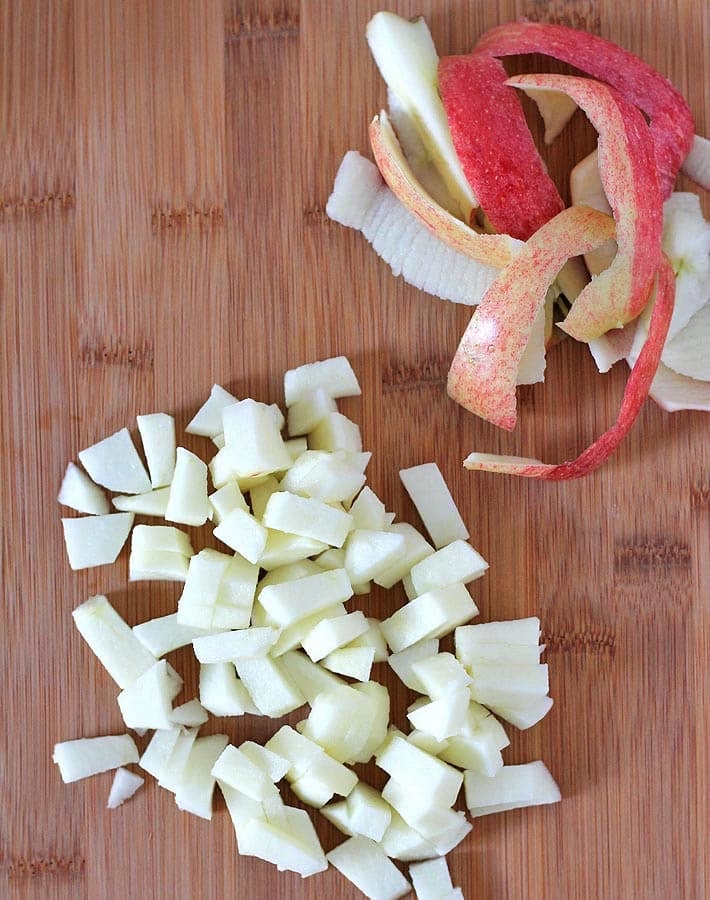 Have you ever been apple picking? Every year, I always say to myself that this is the year we're going to go apple picking. But then things get in the way, we get busy, and apple picking season comes and goes in a flash. Right now, we're at the tail end of pick-your-own season and it probably won't end up happening. Again. Next year? I hope so. Think of all those apple recipes waiting to be made with all the apples we'd pick!
I tend to forget that fall is so much more than pumpkin recipes (if you do want pumpkin recipes, you can find a few over here!). I lean towards the pumpkin side because pumpkin just happens to be in many of my favourite fall recipes, but there are so many possibilities with apples too.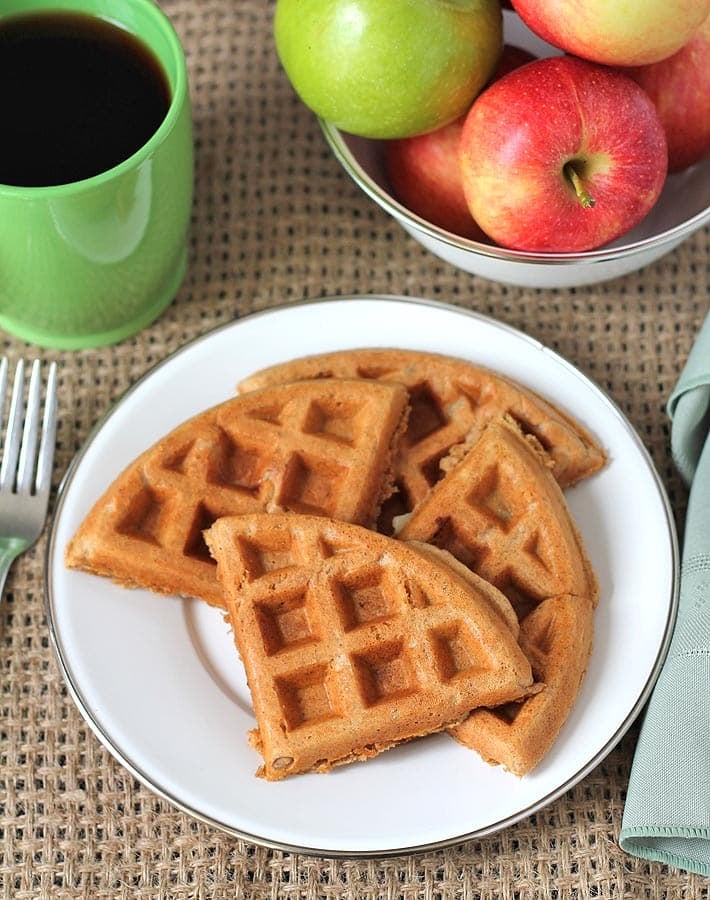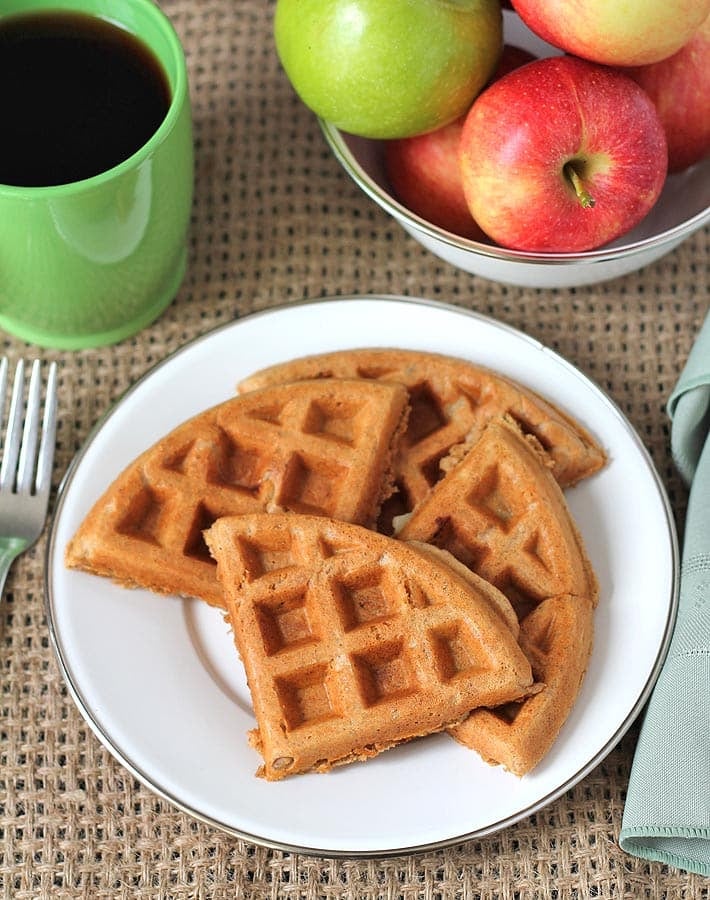 I used my plain waffle recipe as a base for this recipe, made a few additions and changes, and this is the result! Vegan gluten free apple cinnamon waffles that are crispy-on-the-outside-soft-on-the-inside with bursts of sweet apples and spicy cinnamon in every bite. Perfection.
I used a gala apple in this recipe but I think any apple, your favourite kind, would work well too.
If you make these for breakfast (they're great for lunch or supper too!) share a pic on Instagram and tag me! I'd love to see them! And if you like these waffles, you may also like my apple raisin cinnamon rolls too!
This page contains affiliate links. Click to learn more.
How to Make Vegan Gluten Free Apple Cinnamon Waffles
Vegan Gluten Free Apple Cinnamon Waffles
Delicious vegan gluten free apple cinnamon waffles that are sweet, perfectly spiced and perfect for fall (or any time of year!)
Cuisine:
Gluten-Free, Vegan
Instructions
Turn oven on to "warm" setting or to 200F to keep your finished waffles warm and crispy (see link to directions for this tip above).

Turn on waffle maker to desired temperature setting. Setting will vary depending on your waffle maker and how you prefer your waffles.

Whisk almond milk, coconut oil, vanilla, ground flax seeds, maple syrup, and applesauce together in a medium-sized bowl, whisking enough to incorporate the flax seeds. Let sit for 5-minutes.

Whisk flour, baking powder, baking soda, cinnamon, and salt together in a large bowl.

Slowly add wet ingredients to the dry ingredients, mixing well until incorporated.

Add in chopped apples and stir.

Ladle enough waffle mixture into your waffle maker so the bottom of the waffle maker is filled. Close waffle maker and cook according to your maker's directions.
Recipe Notes
This recipe makes 4 standard sized round waffles.
These waffles freeze very well. Simply cool the waffles after they have been made, cut into quarters, and freeze. When ready, heat in your toaster, oven, or toaster oven.
It's important to know that different gluten-free flour blends consist of different ingredients and ratios, so results may vary if you use a different blend than what I've used here. I have never used any other brand of flour to make these waffles (other than Bob's Red Mill Gluten Free All Purpose Baking Flour), so please know that your results may not be the same as mine if ingredients are substituted.
Nutrition Facts
Vegan Gluten Free Apple Cinnamon Waffles
Amount Per Serving (1 g)
Calories 343
* Percent Daily Values are based on a 2000 calorie diet.
Click here for more delicious vegan, gluten free breakfast ideas!
Save
Save
Save
Save
Save