This page contains affiliate links. Click to learn more.
The first time I tested this recipe, my littlest one proclaimed that this is what she is going to pick to have as her birthday breakfast. Yes, these vegan gluten free lemon blueberry waffles are THAT good. And that was after testing the recipe for the first time!
They were delicious that first time I made them, but to me, they weren't "perfect." So I made a few slight changes and ended up re-testing two more times before I was happy. They are now the most requested waffles around here and are still what the little one is planning to request for her birthday breakfast!
Lemons and blueberries make such a great combo, especially in waffles. The lemon adds a nice lemony, mouth-watering flavour, while the blueberries add little bursts of blueberry sweetness. It's also a very "spring-like" combo, don't you think?
As I write this, it's currently February and blueberries are so not in season where I live. This is my way of bringing a little spring into dreary February. Spring- and/or summer-like things are always welcome here. I've already gone there with my berry filled banana berry granola yogurt parfait! When I see fresh berries, it's hard to resist. I love them!
As you can see in my pics, I was able to find some fresh berries to use as garnish, but in the waffles, I use frozen, wild blueberries. I recommend using those in this recipe because they're smaller than fresh, regular berries so you can fit more into the waffle. I also like using them because they're less juicy and they'll make less of a mess in your waffle maker. Keep in mind though, that no matter what type of blueberries you use, you will get some blueberry stickiness to clean up after you make them. The waffle maker I use (and love!) is teflon-free, non-stick, so that makes cleanup a little easier, but if you can't find frozen wild blueberries, try to use smaller fresh blueberries rather than the larger ones.
If you've been following along for a while or if you've done any poking around on my website, you'll know that I love coming up with breakfast recipes and different waffle recipes. This is the actually the fifth waffle recipe on this site (you can see all the others here). And there is more to come, I just have to space them out a bit, I don't think it would be a great idea to give you a bunch of waffle recipes in a row. But they're coming, so look out for them! In the meantime, enjoy your vegan gluten free lemon blueberry waffles!
How to Make Vegan Gluten Free Lemon Blueberry Waffles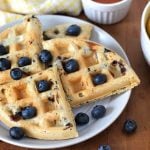 Vegan Gluten Free Lemon Blueberry Waffles
This recipe for Vegan Gluten Free Lemon Blueberry Waffles is bursting with delicious, tangy, sweet lemon flavour. They're perfect for breakfast or brunch!
Instructions
Turn on waffle maker to desired temperature setting. Setting will vary depending on your waffle maker and how you prefer your waffles.

Whisk almond milk, coconut oil, vanilla, ground flax seeds, maple syrup, and lemon juice together in a medium-sized bowl, whisking enough to incorporate the flax seeds. Let sit for 5-minutes.

Whisk flour, baking powder, baking soda, salt, and lemon zest together in a large bowl.

Slowly add wet ingredients to the dry ingredients. Mix well until all ingredients are incorporated.

Ladle enough waffle mixture into your waffle maker so the bottom of the waffle maker is filled. Sprinkle 1 tablespoon (per waffle) of the frozen berries on top of the batter. Close waffle maker and cook according to your maker's directions.
Recipe Notes
This recipe makes 4 standard sized round waffles.
These waffles freeze very well. Simply cool the waffles after they have been made, cut into quarters, and freeze. When ready, heat in your toaster, oven, or toaster oven.
I recommend using frozen wild blueberries in this recipe. Frozen because they are less juicy and will make less of a mess in your waffle maker. Wild blueberries because they are smaller than fresh, regular berries. If you can't find frozen wild blueberries, try to use smaller fresh blueberries rather than the larger ones.
It's important to know that different gluten-free flour blends use different ingredients and ratios, so results will always vary when you use different blends. I have never used any other brand of flour to make these waffles (other than Bob's Red Mill), so please know that your results may not be great if ingredients are substituted.
Save
Save
Save
Save
Save
Save
Save
Save
Save