An easy blueberry compote that can be used to top all of your favourite desserts like ice cream and cheesecake and even breakfast dishes like pancakes and waffles. This delicious, summery berry sauce is simple to make, and can be made with fresh or frozen berries. Read on for all the details!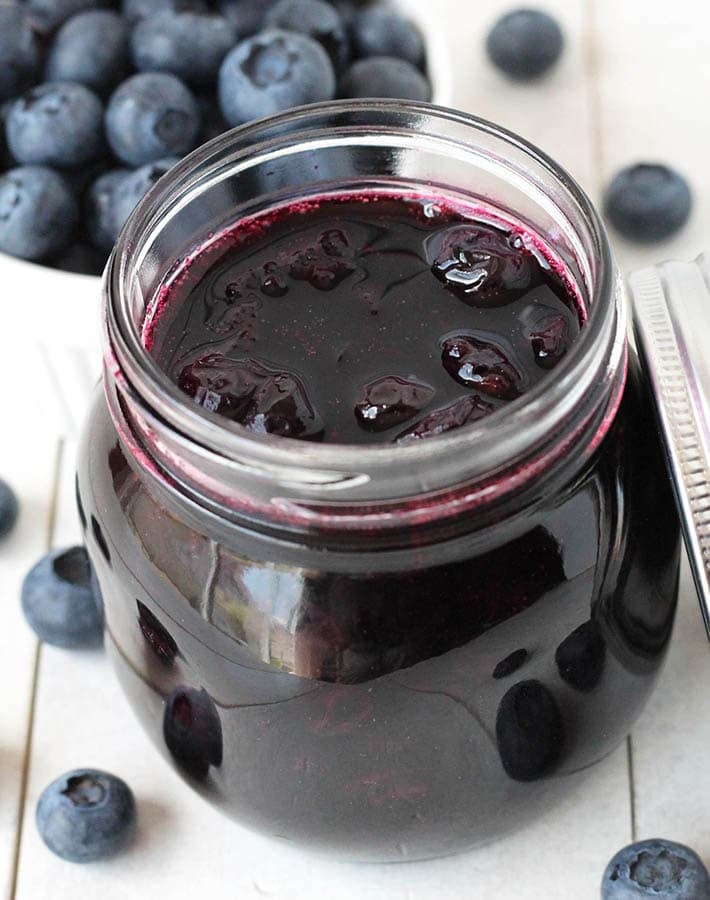 Desserts are always delicious on their own, but when you add a topping to it, (like I suggest in most of my dessert recipes!) you just take that dessert over the top.
A few toppings I love are my raspberry sauce, strawberry sauce, peach sauce, and my cherry sauce, both pair perfectly with so many desserts, like this decadent chocolate tart! There's also maple caramel sauce and of course, coconut whip that goes with almost everything.
And then there's this easy blueberry compote I'm sharing with you today. It's a sweet, delicious blueberry sauce with a hint of fresh lemon flavour that also pairs well with so many desserts and breakfast favourites.
What's the Difference Between Blueberry Compote and Blueberry Sauce?
Before writing this post, I wasn't sure myself. So I did a little research and couldn't find anything to differentiate the two toppings. They are both the same thing, these names are just different ways of referring to it. So I went with blueberry compote for the title (but I still refer to it with both names!).
How to Make It
(Note: I've outlined the step-by-step on how to make this vegan blueberry compote here, but find the full recipe, ingredients, and directions at the end of this post.)
So, the title of this recipe says it's easy, and I promise you, it's VERY easy to make!
All you need is FIVE ingredients. Add half of the blueberries and all of the other ingredients to a small pot. Bring to a boil and then lower the heat and simmer.
After a little time, add the rest of the blueberries (I do this so there are two different textures of berries in the final sauce), simmer again for a few more minutes, and then remove from the heat.
You'll then stir in the lemon juice, and let it cool. Pour the berry sauce into a jar and refrigerate for it to thicken.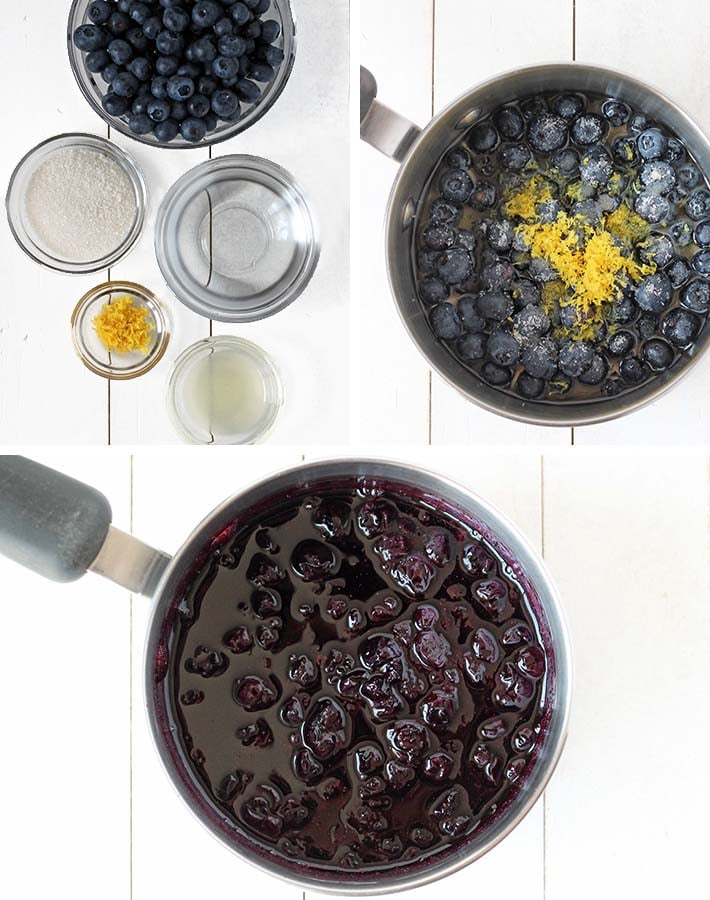 How to Thicken Blueberry Sauce Without Cornstarch
When you look up how to thicken blueberry compote, the most popular method is to add cornstarch to the sauce while it's simmering, but I prefer to cook the juices down and then refrigerate to thicken it naturally.
What is the Final Consistency Like?
While the sauce is simmering, it's going to be VERY watery and you're going to wonder if you made a mistake somewhere or maybe if I made a mistake with the recipe.
Don't worry, this is totally normal.
Even after you take your easy blueberry sauce off the heat and stir in the lemon juice, it's still going to be watery. That is also normal.
The real magic happens after the sauce cools and you refrigerate it. Keep it in the fridge for at least 24 hours and when you check on it again, you'll find a sauce that has thickened, significantly.
The final consistency is going be slightly thick, but still with some runny syrup, it won't be thick like a sauce that was thickened with cornstarch.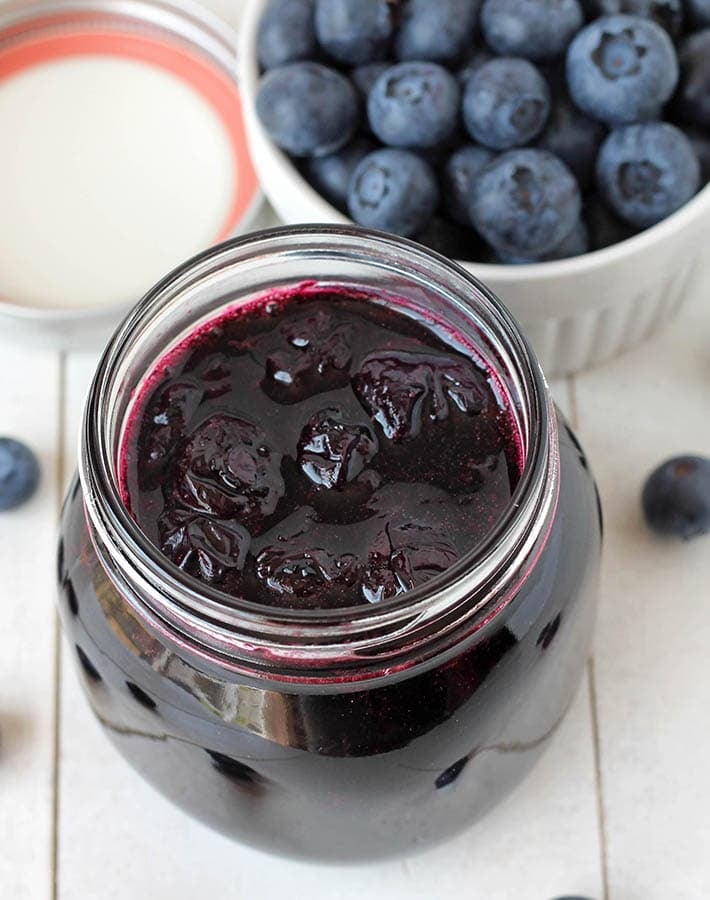 Can Frozen Blueberries Be Used?
Yes, you can use either fresh or frozen blueberries to make this blueberry sauce recipe. I prefer to use fresh blueberries because they have better flavour but frozen berries make a great sauce, too!
And no need to thaw or make any changes to the recipe, just add the frozen blueberries directly to the pot and proceed.
How to Serve Fresh Blueberry Sauce
So, what is compote used for? SO many things! It can be used any time you want to enhance a dessert, breakfast, or brunch item.
You can use...
You can serve the sauce warm, after it's cooled off before refrigeration, if you don't mind a runnier sauce, or you can wait to serve after it has thickened. Serve it cold or warm it up slightly.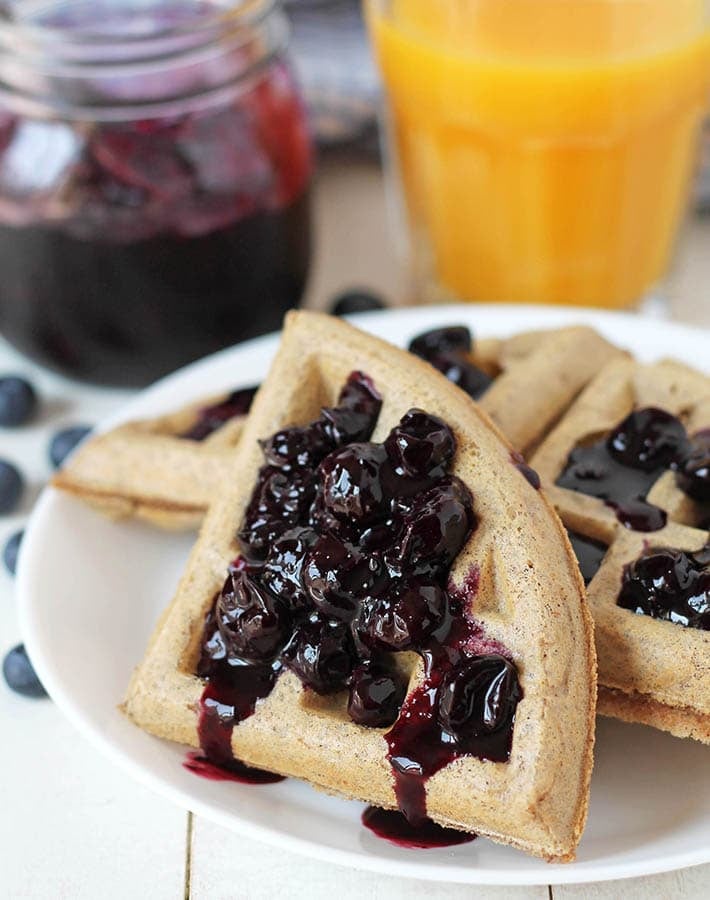 How Long Will It Keep?
When stored in the refrigerator in an airtight jar, it will keep for up to 2-weeks...if it lasts that long!
When you're ready to serve, either serve it cold or warm it slightly in the microwave or on the stove. Be careful not to heat it too much, or it will be too hot to serve right away (you wouldn't want to drizzle piping hot sauce over an ice cream dessert!)
Can I Use a Different Sugar, Or Omit It?
I use organic cane sugar to make this sauce because it has a neutral flavour. I have not tried to make it with any other sugar, but I'm sure that other dry sweeteners would work. If it's not a neutral tasting sugar, keep in mind that the flavour will be affected.
I would proceed with caution with liquid sweeteners like maple syrup or agave. I have not tested with any, but I do know that the recipe would need to be altered to account for the extra liquid. Since I haven't tested with them, I cannot give specific instructions on how to do so.
And yes, you can choose to make this a sugar free blueberry compote by omitting the sugar the recipe calls for, especially if you're using fresh blueberries since they are sweeter than frozen.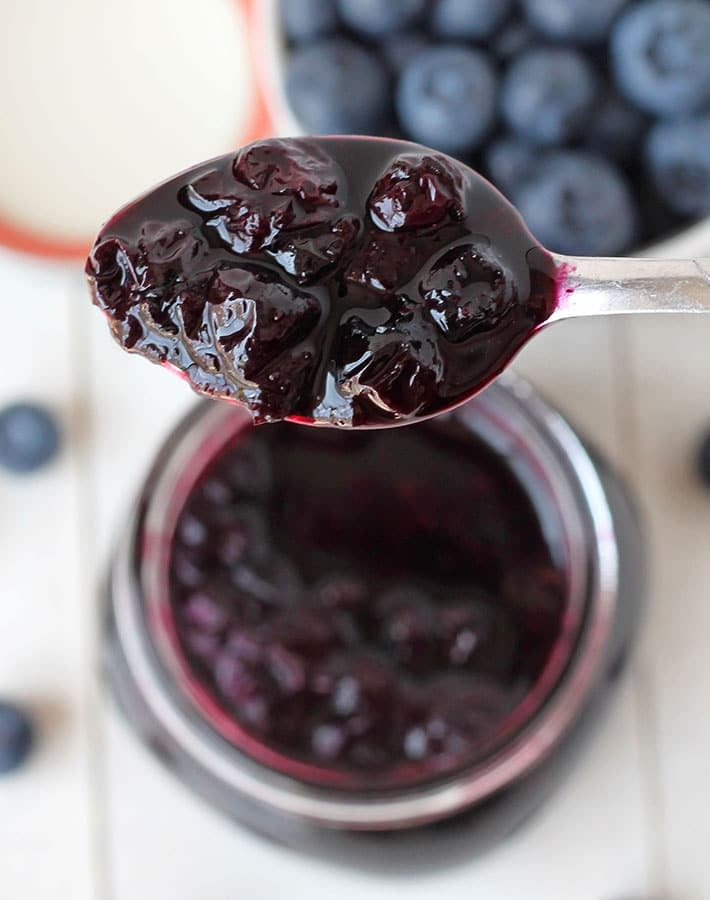 If you like this fresh blueberry compote recipe, you may also like these other vegan blueberry recipes:
If you make this recipe, please let me know about it in the comments below!
You can also help me to help others find this recipe by pinning it to your recipe board on Pinterest. Click here to pin it now!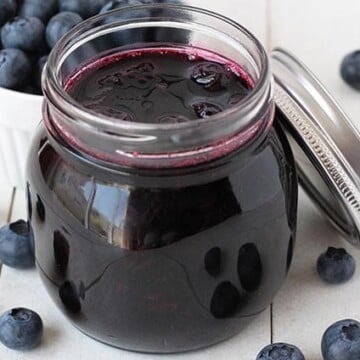 Print Recipe
Easy Blueberry Compote
An easy blueberry compote recipe that can be used to top all of your favourite desserts, pancakes, and waffles. This berry compote is simple to make, and can be made with fresh or frozen berries.
Ingredients:
2

cups

blueberries

¼

cup

water

2

tablespoons

sugar

1

teaspoon

lemon zest

1

tablespoon

lemon juice
Instructions:
Add 1 cup of blueberries, water, sugar, and lemon zest to a small pot.

Bring the mixture to a boil and then reduce heat to medium-low. Simmer for 10 minutes, stirring occasionally.

Add the remaining cup of blueberries to the pot and continue to simmer for another 8 minutes.

Remove pot from the heat and stir in lemon juice.

Cool and place in a glass jar. Refrigerate overnight to thicken.
Recipe Notes:
Please read the helpful info and Q & A above before making this recipe to ensure success.
This recipe makes 1 cup of blueberry sauce.
If using frozen blueberries, there's no need to thaw them before making the sauce, simply add them to the pot frozen and proceed.
Store leftover blueberry sauce in an airtight container, in the refrigerator, for up to 2-weeks.
Nutrition info is based on 1 serving (2 tablespoons). Nutrition info is only to be used as a rough guide. Click to learn how nutrition info is calculated on this website.
Nutrition Info:
Serving:
2
tablespoons
|
Calories:
33
kcal
|
Carbohydrates:
9
g
|
Sodium:
1
mg
|
Potassium:
32
mg
|
Fiber:
1
g
|
Sugar:
7
g
|
Vitamin A:
50
IU
|
Vitamin C:
5
mg
|
Calcium:
30
mg
Did You Make This Recipe?
If so, please share a picture with me on Instagram! Tag @delightfuladventures and hashtag #delightfuladventures. I can't wait to see!