These easy-to-make Mini Vegan Gluten-Free Pumpkin Muffins are the perfect treat for fall—or any other time of year. Enjoy them with a latte or on their own!
This page may contain affiliate links. Click to learn more.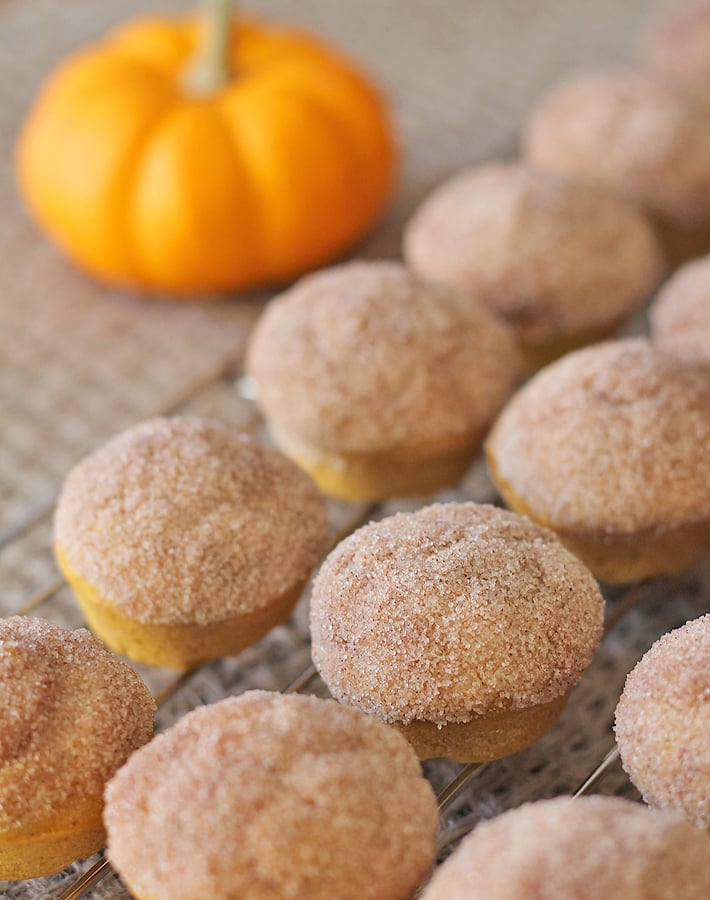 I've finally accepted the fact that long, hot, sunny summer days are gone (for now!) and short, cool, (mostly) gloomy fall days are here (for now).
This time of year always takes me some time to adjust (I'm a summer girl, through and through), but the things that make it a little easier are the return of slow cooker recipes, apple recipes, and of course, pumpkin recipes.
One of those pumpkin recipes that has been making the summer to fall transition easier are these sweet little bites—pumpkin spice mini muffins (that also happen to be vegan AND gluten-free!)
I'm not the only one who has a hard time saying goodbye to summer, right?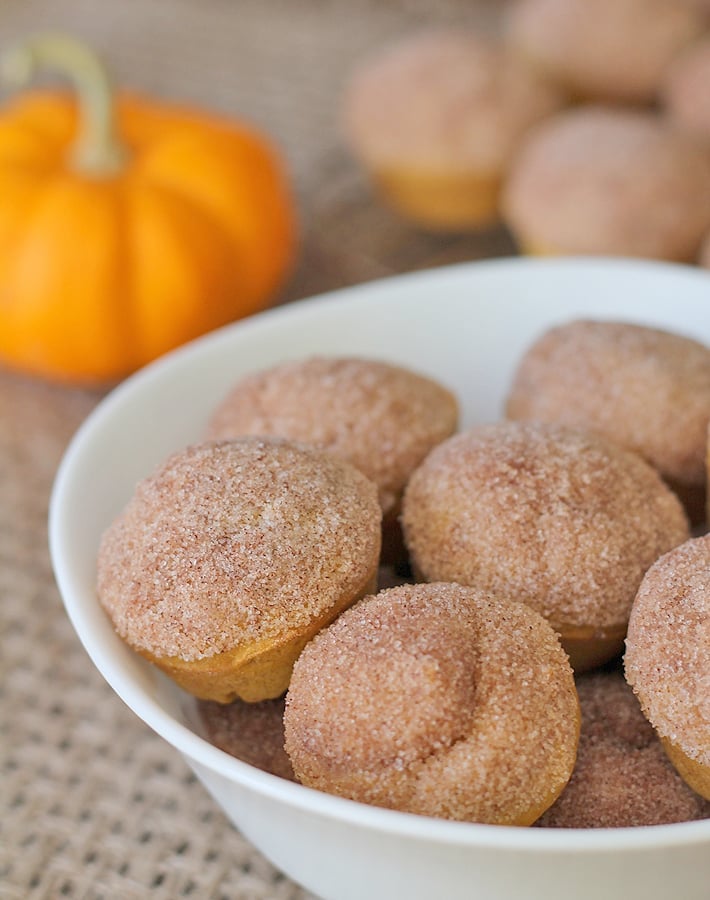 These pumpkin spice mini muffins are an adaptation of my old fashioned cake doughnut mini muffins recipe—a popular treat in my home. But now that pumpkin season is here, I thought I'd give that recipe a little autumn makeover by swapping out some ingredients for fall flavours.
And what says fall flavours more than pumpkin and pumpkin spice? I can't think of anything else. So…here we are!
TIP: Skip the canned pumpkin and learn how to make homemade pumpkin puree (it's really easy!).
Mini vegan gluten-free pumpkin muffins are perfect for school snacks, at-home snacks (with a delicious hot drink!), a nice food gift to say thank you to someone, or even your contribution to a get-together with friends…they're good for any occasion, really!
And the best part? No one will be able to tell that these treats are vegan or that they're gluten-free. Try it, you'll see!
When you make your pumpkin spice mini muffins, be sure to store them in an airtight container and eat them up within 2-3 days. They're best enjoyed when fresh.
And if "mini" muffins aren't your thing, check out my vegan gluten free pumpkin spice muffins. They're a little different than these, but just as delicious and a bit larger!
Before Making This Recipe…
I've receive a few messages from a couple readers saying that this recipe did not turn out for them because the batter was very thick. The batter should not be thick or like cookie dough, it should be like a regular muffin batter.
Here are some tips to ensure that your gluten-free pumpkin muffins turn out perfectly:

Please do not substitute the flour I recommend with coconut flour. Coconut flour is not an easy flour to work with and this recipe will not work if you use it.
The only flour I've tested this recipe with is Bob's Red Mill Gluten Free All Purpose Baking Flour. <– Click that link to see what it looks like. You can buy it through that Amazon link or look for it at your store. Don't use the Bob's gluten-free flour with the blue label, it does not work the same as this one. If this specific flour is not used, your results may not be the same as mine.
Note that the non-dairy milk and pumpkin puree call for 1/2 cup (milk) and 1/4 cup (puree) PLUS 2 tbsp. Please don't miss those extra 2 tablespoons of each ingredient, or your recipe will not work.
Be sure that all ingredients are measured correctly.
Okay! So now that those tips are out of the way, it's time to get baking! Enjoy!
If you like this gluten-free pumpkin muffins recipe, you may also like these:
How to Make Mini Vegan Gluten-Free Pumpkin Muffins