Rich, moist, fluffy and super chocolaty gluten free vegan chocolate muffins loaded with dark chocolate chips. If you love chocolate or you have an intense chocolate craving, these are the perfect, easy vegan gluten free muffins for you!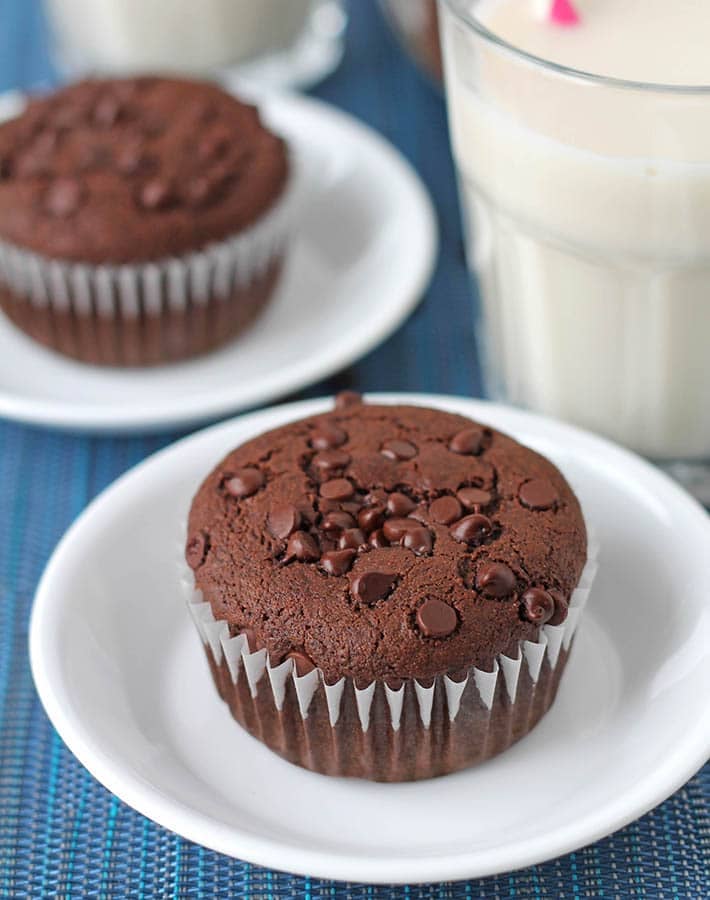 Don't you love chocolate desserts and treats in all of their glorious forms? One browse through my recipes and you'll know that I'm a fan. My recent vegan chocolate tart recipe is the ULTIMATE in chocolate desserts, so be sure to check that one out.
I also shared my recipe for gluten free chocolate zucchini muffins a while back, another amazing chocolate recipe you need to try. It's also the recipe I used as the starting point for these gluten-free vegan chocolate muffins that have become an instant hit in my home.
It took me a couple tries to get the recipe just right, but it's now perfect and ready to share with you!
How to Make Gluten Free Vegan Chocolate Chip Muffins
(Note: I've outlined the step-by-step here, but find the full recipe, ingredients, and directions at the end of this post.)
The first step, like all of my muffin recipes, is to prepare your muffin pan by either greasing it or lining with muffin cups. This time, I made them using muffin cups, but I have made them both ways and the muffins always turn out the same.
After that, mix together the dry ingredients and the wet ingredients separately, then combine the two.
Next, you'll add in the semi-sweet chocolate chips, a very important ingredient ( 🙂 ) and then stir once again.
You'll then divide the batter evenly into the muffin pan. I like to use an ice cream scoop for this step (this is the one I have).
If you don't have a scoop, you can use a tablespoon. The important part here is to make sure that each muffin cup has roughly the same amount of batter so they all finish baking at the same time.
Next, is an optional step, and that is to sprinkle some mini chocolate chips on top of each muffin, which would turn your double dark chocolate gluten free muffins into triple chocolate muffins 🙂 Again, this is optional, so feel free to skip.
You'll then bake your muffins and when done, you will have 12 gluten free chocolate muffins that are dairy-free, egg-free, allergy-friendly, fluffy, moist, super chocolaty, and…irresistible.
And look at that picture below! That's vegan gluten-free baking at its finest 🙂 How could you not want to add the extra chocolate chips on top? They bake right into the tops and take these gluten free muffins over the top in the chocolate (and taste!) department.
And speaking of chocolate chips, I get a lot of questions about which brands are allergy-friendly and vegan so I try to always include the following info with recipes that contain them.
What Brands Make Vegan Chocolate Chips?
There are a few brands out there that make vegan chocolate chips, but they may not always be labelled as vegan or were not intended to be made vegan, they just happen to be vegan, "accidentally."
Most high quality dark chocolate chips are vegan, but always check the ingredients list to be sure. You'll want to look out for dairy ingredients.
Here in Canada, President's Choice decadent semi-sweet chocolate chips are vegan and very easy to find (it's what I used in this recipe for the regular and mini chips), and there's also Enjoy Life, or Kirkland Signature at Costco.
In the US, you can use Enjoy Life, Kirkland Signature from Costco, or check Whole Foods, or Trader Joe's.
Can I Use a Different Gluten-Free Flour?
I've only tested this recipe with Bob's Red Mill Gluten-Free All-Purpose Baking Flour (the one in the red package, not the blue), so proceed with any substitutions with caution as I can't say from experience if others will work.
If you're not gluten-free and you're looking to make vegan chocolate muffins, all-purpose flour will likely work in place of the gluten-free flour. If you find that the all-purpose flour batter is a little thick, you can thin it with a little extra non-dairy milk.
Can I Use a Different Sugar?
I use coconut sugar in these gluten free and vegan chocolate muffins, which is my go-to in the majority of my recipes, but if you don't have it, you can swap it out for brown sugar.
Can I Use a Different Oil for This Recipe? Or Can the Oil Be Omitted?
I use extra virgin coconut oil which does have a slight coconut flavour, but it does not come out in the muffins at all. You can substitute with a different oil, it just needs to not have a very strong flavour that will affect the muffins.
If you are oil-free, you can replace the oil with unsweetened applesauce, but please note that your muffins will be drier and not as moist.
If using applesauce, I also recommend not using regular muffin wrappers and baking either directly in a high-quality non-stick muffin pan, in silicone muffin cups, or in parchment paper liners, which will all be naturally non-stick. Since the recipe will have no oil, you won't be able to remove the wrappers easily and they will stick.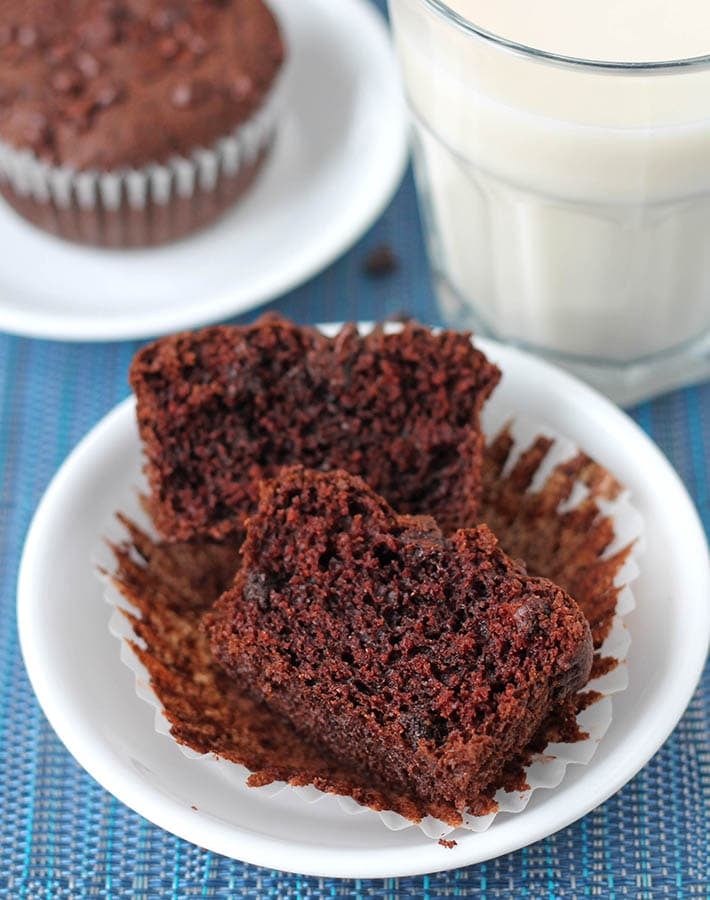 Note: This recipe can also serve double duty as cupcakes! Simply omit the chocolate chips from the batter and on top and frost with my vegan chocolate buttercream frosting for a delicious treat!
So if you make this recipe (and I think you should!), please let me know. You can do that by leaving a comment and rating below and you can also share a pic with me on Instagram!
You can also help me to help others to discover this recipe by pinning it to your recipe board on Pinterest.
If you like this recipe for vegan gluten free chocolate muffins, you may also like these other easy gluten free muffin recipes:
Print Recipe
Gluten-Free Vegan Chocolate Muffins
Rich, moist, fluffy and super chocolaty gluten-free vegan chocolate muffins loaded with dark chocolate chips. This is the perfect treat to fix an intense chocolate craving
Instructions:
Preheat oven to 350° F (177° C).

Line a muffin tin with liners or generously grease the inside of each muffin cup with coconut oil.

In a small bowl, prepare your flax eggs by whisking together ground flax seeds and water. Set aside to thicken.

In a large bowl, whisk the flour, cocoa, baking powder, baking soda, salt, and coconut sugar together.


In a small bowl, mix the milk, melted coconut oil, vanilla, and flax mixture together.

Pour wet ingredients into dry ingredients and mix well to combine. Fold in chocolate chips.


Divide batter into the 12 muffin cups. If using, sprinkle each muffin top with mini chocolate chips.

Bake for 15-18 minutes or until toothpick inserted in the middle of the largest muffin comes out clean.
Recipe Notes:
Be sure to read the info above before making the recipe.
It's important to know that different gluten-free flour blends use different ingredients and ratios, so results will always vary if you substitute. I have never used any other brand of flour to make this recipe (other than Bob's Red Mill (Amazon link) with the red label, NOT the blue label), so please know that your results may not be the same as mine if substitute with another gluten-free flour blend.
This recipe will NOT work with coconut flour.
Brown sugar may be used in place of the coconut sugar.
Leftovers will keep for 3-4 days and are great warmed up in the microwave for a few seconds.
Nutrition info is based on 1 muffin and using the recipe as it is written, no mini chocolate chips on top, and is to be used only as a rough guide. Click here to learn how nutrition info is calculated on this website.
Nutrition Info:
Serving:
1
muffin
|
Calories:
240
kcal
|
Carbohydrates:
34
g
|
Protein:
3
g
|
Fat:
11
g
|
Saturated Fat:
8
g
|
Polyunsaturated Fat:
1
g
|
Monounsaturated Fat:
1
g
|
Sodium:
150
mg
|
Potassium:
103
mg
|
Fiber:
3
g
|
Sugar:
20
g
|
Calcium:
30
mg
|
Iron:
2.7
mg
Did You Make This Recipe?
If so, please share a picture with me on Instagram! Tag @delightfuladventures and hashtag #delightfuladventures. I can't wait to see!