Making these vegan gluten free strawberry muffins is one of the best ways to use fresh strawberries! They turn out light and fluffy, plus, they're quick and easy to make. They're also great to serve at brunch or to enjoy as snacks (or even at breakfast!).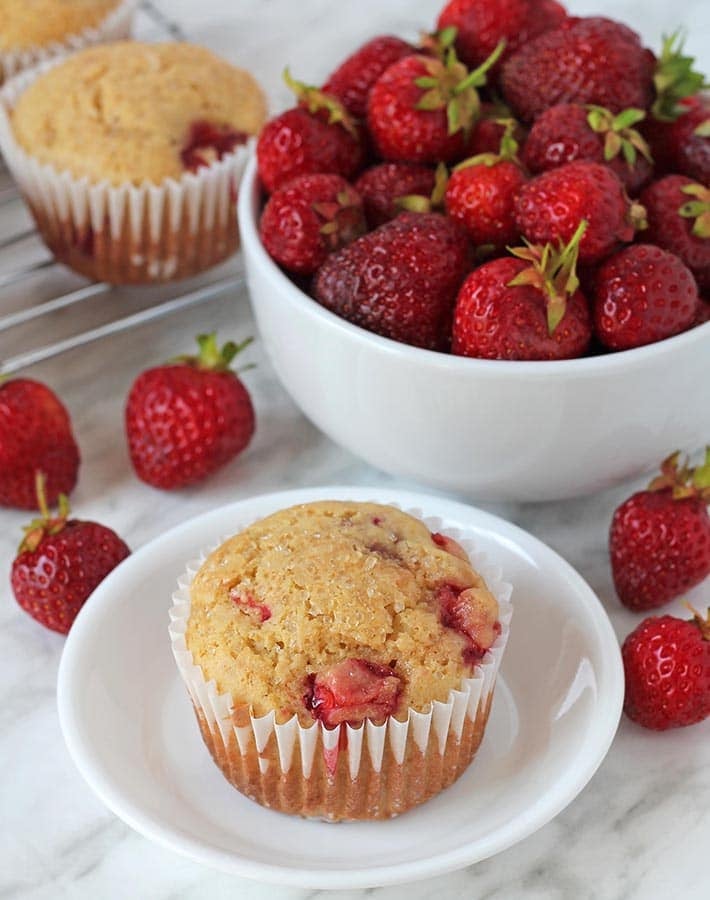 If you follow me on Instagram, you would have seen in my stories that my annual strawberry picking outing took place, and, as usual, I came home with A LOT of strawberries.
Many of them were enjoyed as-is, but I did manage to bake a few things with them before they disappeared.
I always come up with a few new vegan gluten free strawberry recipes with each year's haul. One year, I made strawberry cheesecake bites, another year, I made 4-ingredient strawberry jam, and this year, I made these gluten free strawberry muffins and I think you'll love them. They're fluffy, moist, and packed with summery strawberry flavours.
How to Prepare the Strawberries
Before you start, you'll need to get the strawberries ready. Start by washing them, removing the stems, and chopping them into eighths (a little less for smaller strawberries), see the picture below.
Can Frozen Strawberries Be Used?
I know some of you will ask this, so I'll give you my recommendation based on experience.
I highly recommend that you only use fresh strawberries because they will give you the best flavour and texture AND result in better muffins, overall.
However, if it's the middle of winter, or another time when you can't find them fresh, and you're craving muffins and this vegan strawberry muffin recipe is the only thing that will fix it, frozen can be used as a substitute.
To get the best possible result, thaw your strawberries completely on paper towels, pat away all extra moisture (this is important because any extra moisture can mess up the recipe!), and then chop as shown below.
But again, fresh strawberries are best for this recipe.
Ingredients You'll Need
The ingredients are simple; you can see them all in the image below.
The only ingredient you won't see in that picture, that I used, is the turbinado sugar I sprinkle on the top of each muffin. It's an optional ingredient, but I like to add it to give the muffins a sweet crunch with each bite.
Note that I use golden flax seeds to make my flax eggs and organic cane sugar instead of my regular go-to brown flax seeds and coconut sugar.
I did this because I wanted to keep the colour of the muffins light, but if you only have brown flax seeds and coconut or brown sugar they'll still work perfectly, your muffins will just turn out darker in colour.
Can I Use a Different Flour to Make These?
To keep these vegan strawberry muffins gluten free, the flour I use (and use for many of my other recipes) is Bob's Red Mill Gluten-Free All-Purpose Baking Flour (the one in the red package, not the blue package). If you want to use a substitute gluten-free flour blend, proceed with caution since I have not personally tested it.
If you're new to gluten-free baking, be sure to read all of my vegan gluten free baking tips.
How to Make Them
(Note: I've outlined the step-by-step here, but find the full recipe, ingredients, and directions for my vegan strawberry muffins at the end of this post.)
I always say how easy my recipes are and this one is no exception! It starts off like all of my other muffin recipes, by mixing the wet ingredients in one bowl and the dry ingredients in another bowl.
Combine the two and then gently fold in the chopped strawberries you prepared earlier.
Next, you'll divide the muffin batter into 12 equal portions in your muffin pan. I like to use a scoop for dividing the batter, this is the one I have. It's actually an ice cream scoop but it doubles as a great muffin scoop, as well!
The third step you see below, sprinkling each muffin with turbinado sugar, is optional, but it does add a nice crunch to the muffins.
After a quick bake, your muffins will be ready. Let them sit in the muffin pan for a few minutes and then remove and place them on a cooling rack.
How to Store Them
Because of the moisture from the strawberries, they will only keep for up to two days, in an airtight container, at room temperature.
If you still have leftovers after two days (we never do!), place them in the refrigerator where they will keep for another few days.
Can You Freeze Them?
You can! Once they have fully cooled, wrap them up tightly so they're airtight, place in a container or freezer bag and freeze. They will keep in the freezer for up to three months.
When you're ready to serve, thaw at room temperature. You can even take it a step further and warm them up in a toaster oven or microwave.
Can They Be Made In a Mini Muffin Pan?
Yes, you'll need to bake them for less time, though. They will finish in about 9-11 minutes.
Did You Make These Muffins?
If you did, let me know! Leave me a comment and rating below or you can post a pic to Instagram and tag me (I'm @delightfuladventures)
You can also help me to help others find this gluten free strawberry muffins recipe by pinning it to your recipe board on Pinterest!
Click here to pin it now!
If you like this check out all of my other muffin recipes, and here are some other recipes you may also like: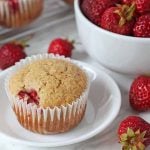 Print Recipe
Gluten Free Strawberry Muffins
Making these gluten free strawberry muffins is one of the best ways to use fresh strawberries. They're light and fluffy, plus, they're quick and easy to make!
Instructions:
Preheat oven to 350° F (177° C).

Prepare your

flax eggs

by whisking together ground flax seeds and water. Set aside to thicken.

Line a muffin tin with liners or generously grease the inside of each cup with coconut oil.

In a small bowl, whisk together the flour, baking powder, and salt.

In a medium bowl, mix the coconut oil, sugar, applesauce, vanilla, and flax eggs together until blended.

Slowly add the dry mixture to the wet mixture and stir until combined. Fold in the strawberries.


Using a spoon or a large scoop, divide batter into the 12 muffin cups.

If using, sprinkle turbinado sugar on top of each muffin.


Bake for 18 minutes or until toothpick inserted in the middle of the largest muffin comes out clean.

Let muffins cool in muffin pan for a few minutes and then remove and place them on a cooling rack.

Recipe Notes:
Please read all of the FAQ info above before making this recipe.
It's important to know that different gluten-free flour blends use different ingredients and ratios, so results will always vary if you substitute. I have never used any other brand of flour to make this recipe (other than Bob's Red Mill Gluten Free All Purpose Baking Flour (Amazon link) with the red label, NOT the blue label), so please know that your results may not be the same as mine if substitute with another gluten-free flour blend.
This recipe will NOT work with coconut flour.
Frozen strawberries can be used for this recipe, but fresh are preferred. If using frozen, thaw them fully and pat them dry, then chop before folding into the batter. See info above for more info.
Any type of neutral flavoured oil can be used in place of the coconut oil, such as avocado or safflower.
Store leftovers in an airtight container. See above for more storage info.
Nutrition info is based on 1 vegan gluten-free strawberry muffin. Nutrition info is only to be used as a rough guide. Click to learn how nutrition info is calculated on this website.
Nutrition Info:
Serving:
1
muffin
|
Calories:
161
kcal
|
Carbohydrates:
23
g
|
Protein:
2
g
|
Fat:
7
g
|
Saturated Fat:
5
g
|
Sodium:
117
mg
|
Potassium:
32
mg
|
Fiber:
2
g
|
Sugar:
10
g
|
Vitamin C:
14.9
mg
|
Calcium:
470
mg
|
Iron:
0.7
mg
Did You Make This Recipe?
If so, please share a picture with me on Instagram! Tag @delightfuladventures and hashtag #delightfuladventures. I can't wait to see!