Vegan gluten free pumpkin spice muffins that are so easy to make and SO delicious, you'll want to make them year-round—not just during the fall!
They can also be made just vegan if you aren't gluten-free!
When I was in high school, my friend Christa's mom would bake pumpkin spice muffins, amongst other things (she is a great baker!). I remember being so excited when I'd go over after school and she had just baked a fresh batch.
Those muffins were AMAZING, and obviously memorable since I still think of them after all these years. They were spiced perfectly, they were loaded with chocolate chips, and they were my favourite thing to eat when I visited their house.
Over the years, I've tried to re-create them and I think I've hit the mark with these vegan gluten free pumpkin spice muffins. The major difference between these and the pumpkin spice muffins from my high school days is that these are vegan and gluten-free. But you wouldn't even know it.
They're fluffy, flavourful, perfectly-spiced, and so good, you'll want to make them ALL THE TIME!
If you're not gluten-free, I've got you covered because I've tested this recipe with regular, all-purpose flour as well, and that flour substitution works wonderfully.
So feel free to try this recipe either way, you can't go wrong with either version.
Because these muffins are a favourite in my home, I make them year-round—not just during the fall.
This is all thanks to some smart pre-planning in the fall when I make and freeze a big batch of homemade pumpkin puree (it's so easy!).
You can learn how to do it too, learn How to Make Homemade Pumpkin Puree.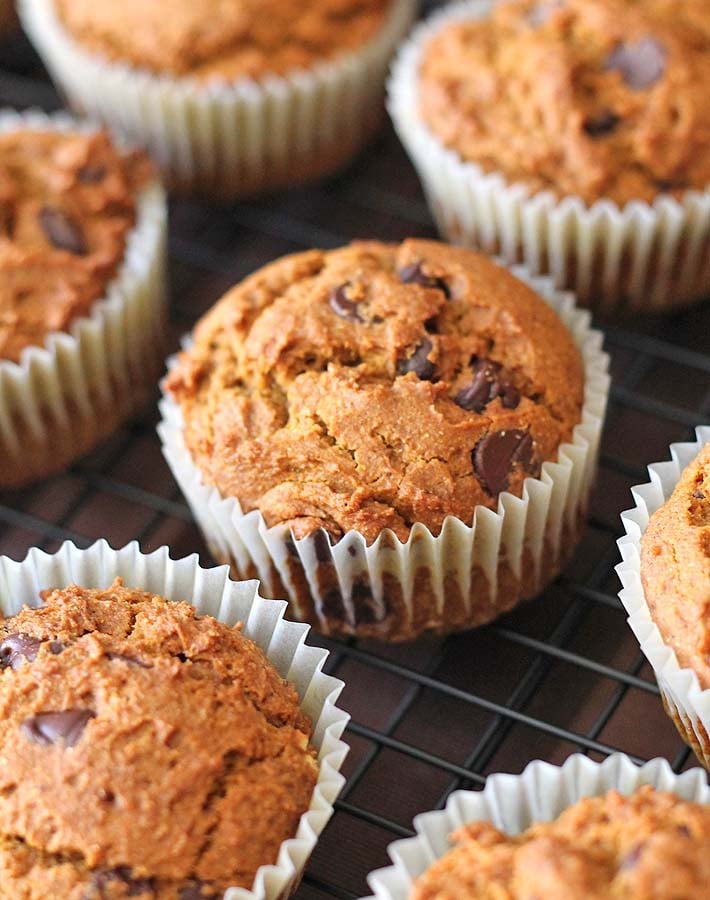 When it comes to the add-in for your vegan gluten free pumpkin spice muffins, you can go with either raisins, chocolate chips, or nuts (chopped pecans or chopped walnuts).
For the batch in the pictures, I went with semi-sweet chocolate chips, my family's favourite, but if you do use raisins, try using this raisin trick.
If you haven't baked a vegan recipe before or a vegan gluten-free recipe, you may be wondering what the texture will be like and if it will be different from a non-vegan or non-gluten-free recipe.
If so, have a look at this picture:
I hope the picture answers those questions! These muffins turn out soft, moist, and fluffy every time if you follow the recipe as it is written. Just as perfect as any regular non-vegan or non gluten-free muffin.
Before you make this recipe, have a look at how easy they are to make in the video found either above or on the side (if you're on desktop) or below in the recipe card (if you're on mobile):
Did you watch? It's not complicated at all, right? If you make them, please leave me a comment below or share a pic on Instagram and tag me (I'm @delightfuladventures!)

You can also see the video on Facebook so you can share it with your friends or you can pin it on Pinterest to save for later.
If you like this recipe, you may also like these, too:
Note: For those of you who have asked about the scoop I use in the video this is the one I use to put the batter into the muffin pan!
And finally, for those wondering about the flax eggs in this recipe, read this post to learn how to make them and everything else you need to know about using them as an egg replacement in vegan baking: How to Make a Flax Egg (A Vegan Egg Substitute for Baking).
How to Make Vegan Gluten Free Pumpkin Spice Muffins
Print Recipe
Vegan Gluten Free Pumpkin Spice Muffins
Vegan gluten free pumpkin spice muffins that are so easy to make and so delicious, you'll want to make them year-round—not just during the fall. These muffins can also be made with regular flour.

Instructions:
Preheat oven to 350°F (177° C).

Prepare your flax eggs by whisking together ground flax seeds and water. Set aside to thicken.

Line a muffin tin with liners or generously grease the inside of each cup with coconut oil.

In a medium bowl, whisk together the flour, baking powder, baking soda, salt, cinnamon, nutmeg and ginger.

In a large bowl, mix the pumpkin puree, coconut sugar, coconut oil, vanilla, and flax eggs together. Stir until blended.

Slowly add the dry mixture to the wet mixture and stir until combined.

Using a spoon or a large scoop, divide batter into the 12 muffin cups.

Bake for 18-20 minutes or until toothpick inserted in the middle of the largest muffin comes out clean.

Let muffins cool in the muffin pan for a few minutes and then remove and place them on a cooling rack.
Recipe Notes:
It's important to know that different gluten-free flour blends use different ingredients and ratios, so results will always vary if you substitute. I have never used any other brand of flour to make this recipe (other than Bob's Red Mill Gluten Free All Purpose Baking Flour (Amazon link) in the red bag, NOT the blue bag), so please know that your results may not be the same as mine if substitute with another gluten-free flour blend.
I've tested this recipe with all-purpose flour and it works great, so if you aren't gluten-free, you can use regular flour as a 1:1 substitute for the gluten-free flour.
This recipe will NOT work with coconut flour or any other single gluten-free flour, it must be a blend, the one mentioned above for the best results.
Make sure to measure your flour correctly.
If you do not have the three separate spices needed for this recipe, replace them with 1 tablespoon of pumpkin pie spice.
Any type of neutral flavoured oil can be used in place of coconut oil, such as safflower or sunflower.
Brown sugar may be used instead of the coconut sugar.
To freeze, once they have fully cooled, wrap them up tightly so they're airtight, place them in a container or freezer bag, and freeze. They will keep in the freezer for up to three months. When you're ready to serve, thaw at room temperature.
Make your own pumpkin puree instead of buying the canned stuff. Click here to see how easy it is and how to do it yourself.
Nutrition info is based on one muffin made with chocolate chips and using the recipes as written. Nutrition info is only to be used as a rough guide. Click to learn how nutrition info is calculated on this website.
Nutrition Info:
Serving:
1
muffin
|
Calories:
244
kcal
|
Carbohydrates:
26
g
|
Protein:
3
g
|
Fat:
14
g
|
Saturated Fat:
9
g
|
Sodium:
176
mg
|
Potassium:
12
mg
|
Fiber:
3
g
|
Sugar:
8
g
|
Calcium:
20
mg
|
Iron:
2.2
mg
Did You Make This Recipe?
If so, please share a picture with me on Instagram! Tag @delightfuladventures and hashtag #delightfuladventures. I can't wait to see!
This post was originally published January 5, 2015, images were updated September 2017.