Soft, fluffy, Vegan Gluten-Free Chocolate Zucchini Muffins that taste just like rich chocolate cake! These easy-to-make dark chocolate zucchini muffin treats will satisfy all of your chocolate cravings.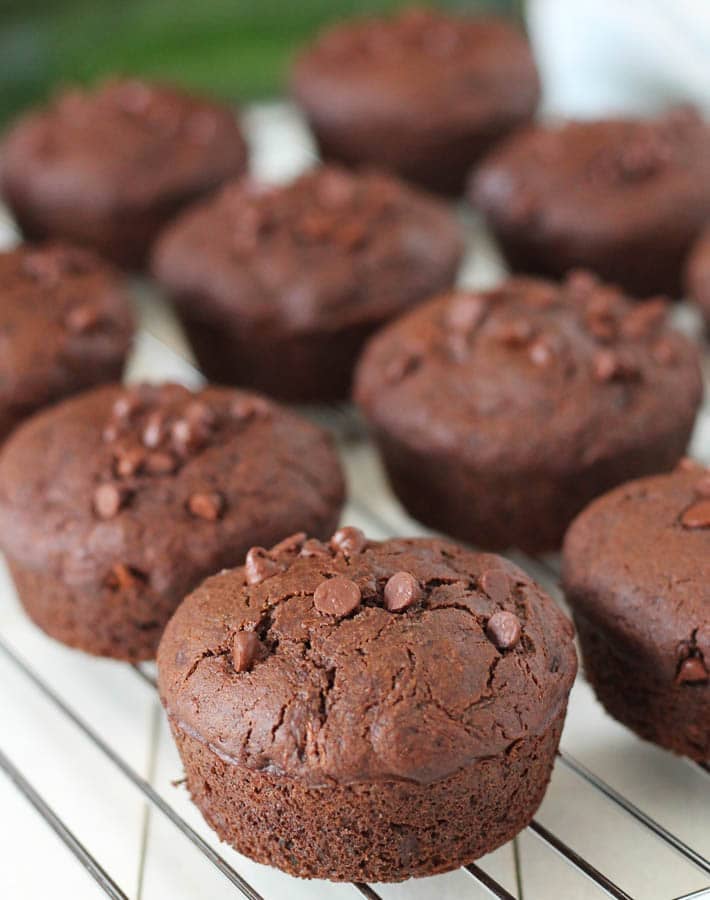 Zucchini and chocolate? Together? In a muffin?
YES! And you will love it.
If you're worried about the taste, the texture, or little ones turning their noses up, there's no need to worry. You won't taste or see the zucchini in these muffins, at all, if you shred it the way the recipe instructs (see recipe notes below).
So this recipe gets bonus points for hidden veggies. (Also see below for a view of the inside of the muffins.)
When zucchini is added to baked treats, if made correctly, it adds a moistness that makes what you're baking taste like it's extra rich and decadent (like in my gluten-free banana zucchini bread!). When you add in chocolate, multiply that decadent richness by 100.
I mentioned above that these vegan double chocolate zucchini muffins taste like cake. That was my first thought when I took my first bite. They taste just like a perfect chocolate birthday cake.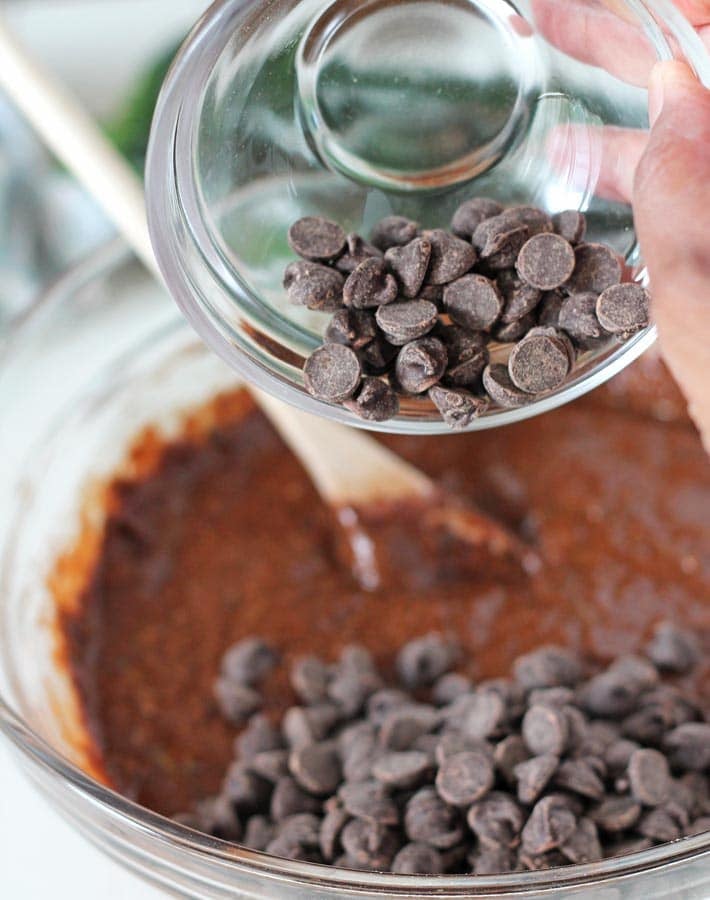 This recipe contains two forms of chocolate: cocoa powder and chocolate chips in the batter, which I guess would make them vegan double chocolate zucchini muffins!
If you want to reach level 10 in baked chocolaty treats, then you'll want to add the third optional chocolate component to the recipe: mini chocolate chips sprinkled on the tops of the muffins.
If you add the optional mini chips, like I've done in the pictures above and below, you'll have yourself triple chocolate zucchini muffins. There's nothing wrong with adding a little extra chocolate when you can 🙂
And the best way to enjoy your vegan gluten free chocolate zucchini muffins?
I like to have them while they're still a little warm so the chocolate is melty. I also like to enjoy them with a cold glass of almond milk.
YUM. It's really one of the best ways to treat yourself and others.
At this time of year in Canada and the US (I'm writing this in August), zucchini is in season, easy to find, very inexpensive, and can be found everywhere: the farmers markets, the grocery stores, and if you have one, your garden!
Something smart to do during zucchini season is to freeze fresh zucchini so you have it on hand, any time you feel like making a recipe (like, gluten free chocolate zucchini muffins!) that calls for fresh zucchini in the middle of the winter…or any other time of year.
If you haven't prepared zucchini for freezing before, it's easy! Read this post about how to freeze zucchini. It will walk you through how to do it, step-by-step, so you can whip up these gluten free chocolate zucchini muffins any time you want.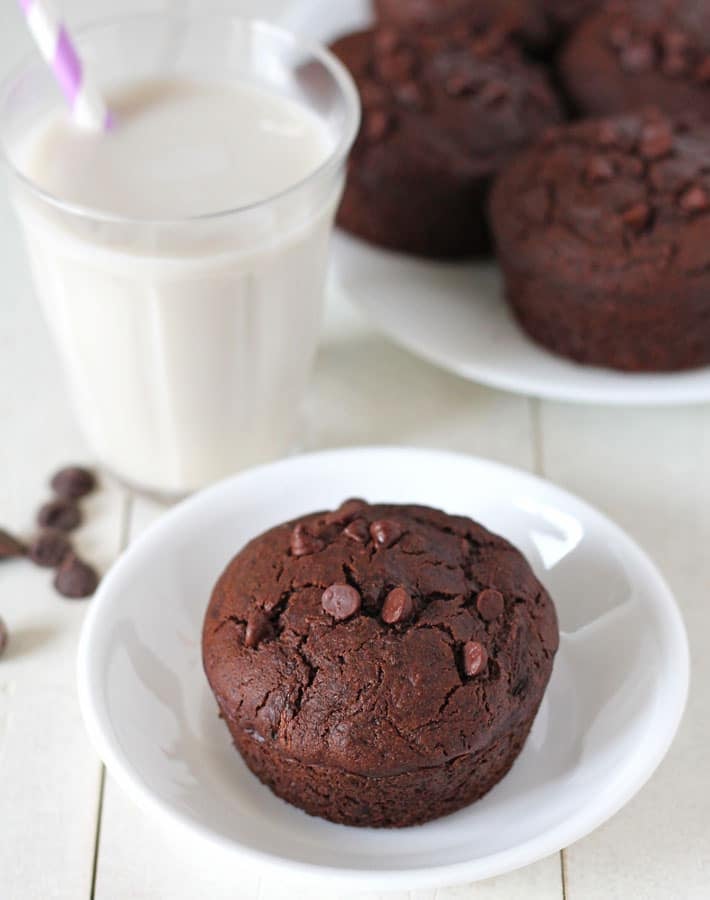 Gluten Free Chocolate Zucchini Muffins FAQ
I've covered some FAQ here, if you have any other questions, feel free to leave a comment below!
Can I use a different flour to make this recipe?
This recipe was tested with just two types of flour: this all purpose gluten-free flour and regular all-purpose flour. Since I have not tested with any others, I can't say for sure if the recipe will work out if you substitute with something else. I can say with certainty that this recipe, as written, will not work with coconut flour.
The recipe below is written for the gluten-free flour, but a few small modifications need to be made if using all purpose flour to make your vegan zucchini muffins. Info is included below in the recipe notes. NOTE: The video in this post shows the vegan gluten-free version of the muffins being made.
I don't have coconut sugar, can I substitute with something else?
Yes, brown sugar may be used in the place of coconut sugar.
Can I omit the chocolate and just make plain zucchini muffins?
If you prefer your zucchini muffins a little less chocolaty, instead of playing around with this recipe, check out this other recipe for Vegan Gluten Free Zucchini Muffins. Or if you prefer a chocolate free zucchini loaf, try this recipe.
What is a flax egg?
Flax eggs are my preferred egg replacement for baking. If you haven't worked with flax eggs before, be sure to read How to Make a Flax Egg (A Vegan Egg Substitute for Baking), for all the details you'll need!
And before you head down to the recipe, here's a look at the inner texture of these glorious gluten-free chocolate zucchini muffins: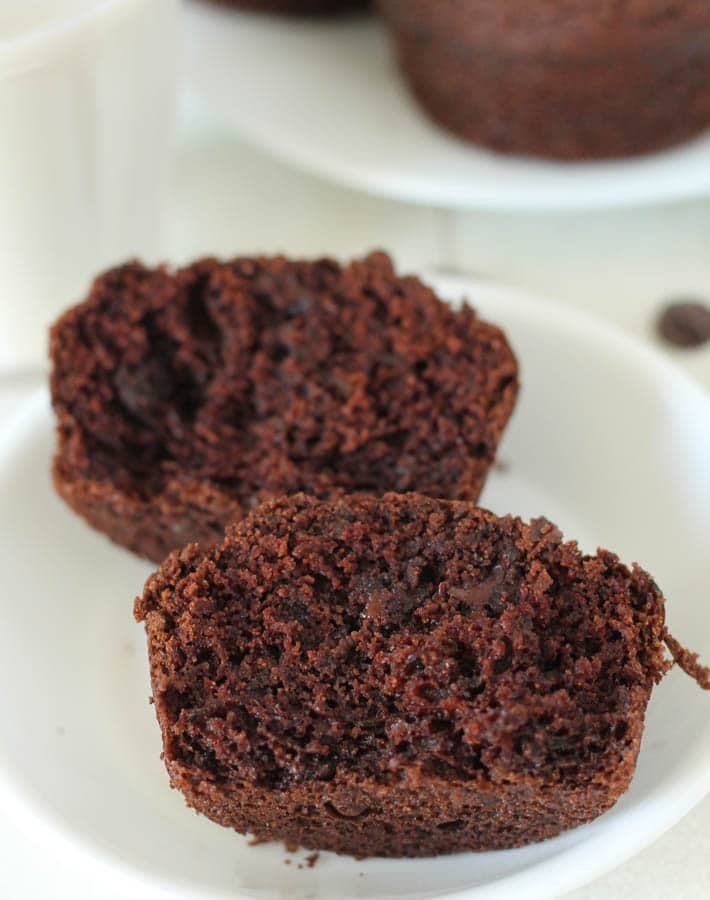 If you liked this Gluten Free Chocolate Zucchini Muffins recipe, you may also like these:
How to Make Vegan Gluten Free Chocolate Zucchini Muffins