Before I share a recipe here, it's important to me that it is on point—in every way possible. So that means it must taste great and look appealing. Since I make it a must for all recipes to contain multiple pretty photographs, it definitely has to look great so you can see what the end product is going to look like.
What's with those recipe books and websites that don't include any images of the finished product, anyways?!
So if the recipe doesn't turn out the first (or second, or third!) time for me, then it's back to the drawing board to figure out what went wrong and to fix it. My coconut raisin banana bread is the perfect example of a recipe fail that turned into a recipe success.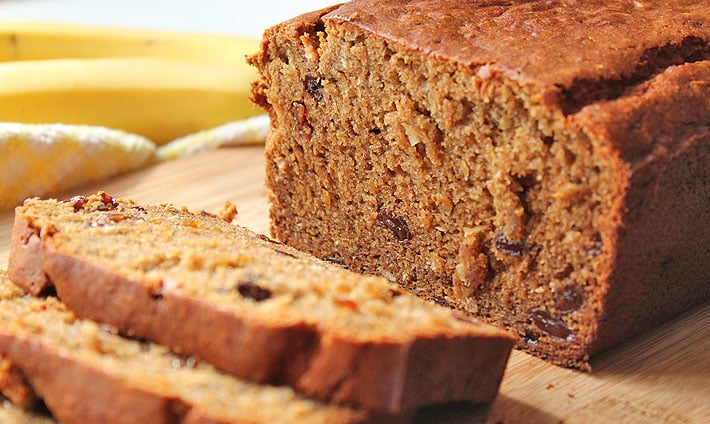 This recipe took me three tries to perfect. The taste was excellent every time but it was the texture of the inside and the look of the outside that was not so appealing. After a few adjustments, success! Finally!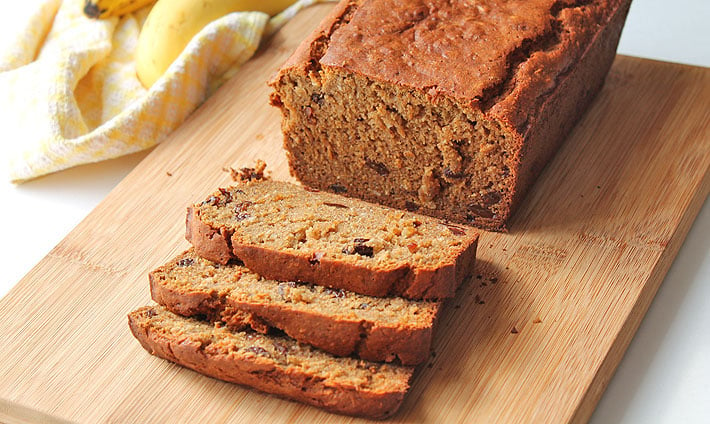 When developing new recipes that contain gluten-free flours, things can sometimes be a little tricky. Just a slight imbalance in the ingredient ratios can result in a gummy end product. Or one that is too loose. Or one that doesn't taste so great. Baking gluten free is not for the faint of heart when you are just starting out! But the good thing is that once you get the hang of it, it's easy. And if you do make a mistake, it's also easy to realize what was done wrong and fix it.
The good news is that I stuck with this recipe and came up with what is now my new favourite afternoon snack. A slice with a cup of tea in the afternoon is perfection, by the way.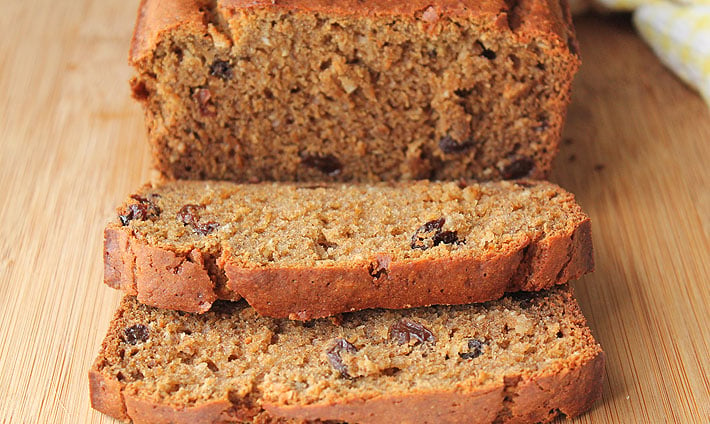 When deciding how to make regular banana bread a little different, I decided to add coconut and raisins. I love these two ingredients in baking and they're a natural pair, don't you think?
Tip
When you do get around to making this recipe, be sure to use my baking with raisins tip. It's a simple one but it makes a ton of difference.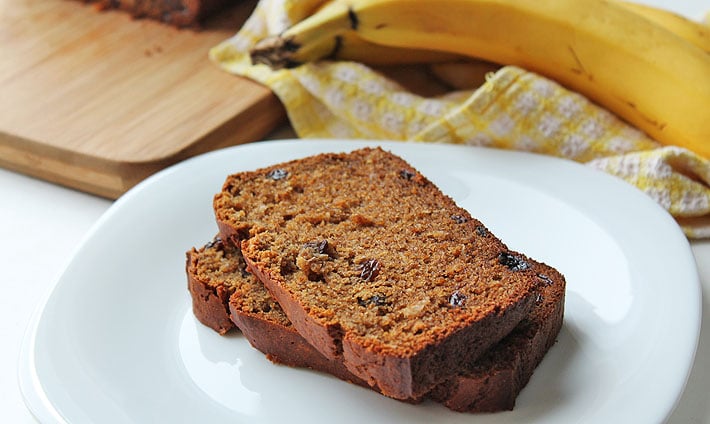 So try something a little different the next time a banana bread craving hits. And if you need a quick recipe to use up some of those overripe bananas you have sitting around in your freezer, mix things up a bit and try this vegan gluten-free coconut raisin banana bread. If you love coconut, raisins, and bananas, you're going to love this.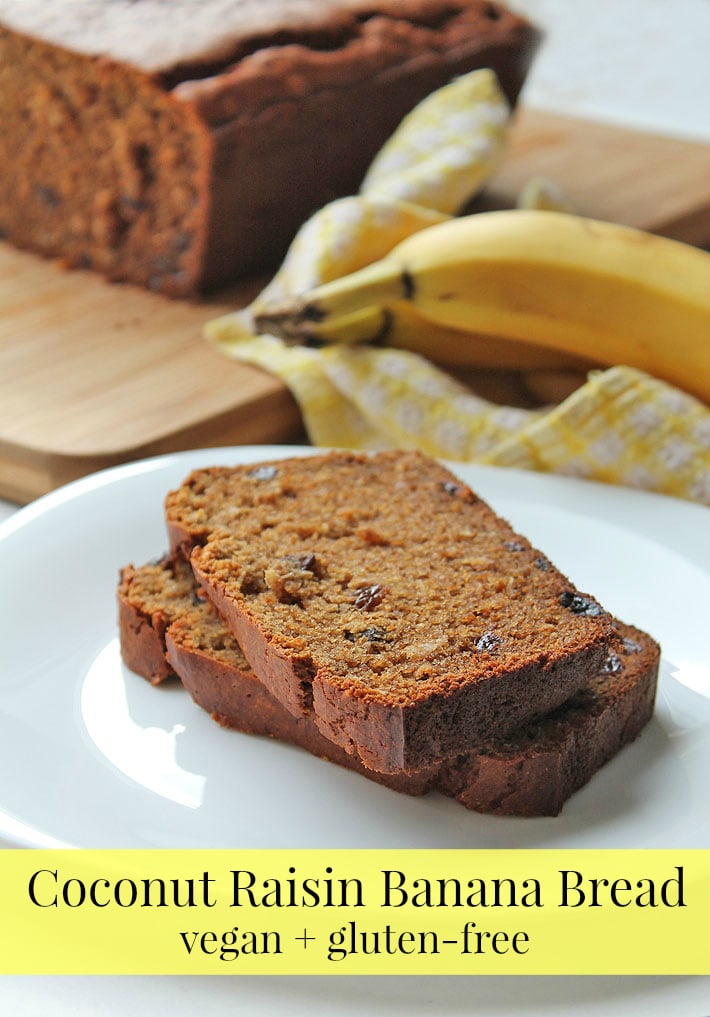 And you may also like my chocolate banana bread recipe , my cranberry orange bread, or my gluten-free banana zucchini bread, too!
How to Make Coconut Raisin Banana Bread
Coconut Raisin Banana Bread
Take a break from plain old banana bread and shake things up with this quick and easy vegan gluten free coconut raisin banana bread!
Instructions:
Preheat oven to 325°F degrees.

Grease a 5" x 9" (1.5 quart) loaf pan.

Prepare your flax eggs by whisking together ground flax seeds and water. Set aside to thicken.

In a large bowl, whisk the flour, coconut sugar, baking powder, baking soda, salt, cinnamon, and shredded coconut together.

In a small bowl, mix the melted coconut oil, pureed bananas, vanilla, and flax mixture together.

Pour wet ingredients into dry ingredients and mix well to combine.

Fold in the raisins (and the chopped walnuts, if using).

Pour into greased loaf pan.

Bake for 50 minutes to 1 hour or until a tester comes out clean. See note.
Recipe Notes:
Baking times will vary slightly depending on your oven and the type of bakeware you use. I use a glass loaf dish when making this recipe. Start checking around the 50 minute mark.
It's important to know that different gluten-free flour blends use different ingredients and ratios, so results will always vary if you substitute. I have never used any other brand of flour to make this recipe, other than Bob's Red Mill in the red bag, NOT the blue bag, so please know that your results may not be the same as mine if ingredients are substituted.
Fresh or dried coconut will both work fine in this recipe. Click to learn how to crack open and use a whole coconut.
Nutrition info is based on 1 of 12 slices and does not include the optional walnuts. Nutrition info is only to be used as a rough guide. Click here to learn how nutrition info is calculated on this website.
Nutrition Info:
Did You Make This Recipe?
If so, please share a picture with me on Instagram! Tag @delightfuladventures and hashtag #delightfuladventures. I can't wait to see!