This delicious Vegan Gluten Free Chocolate Zucchini Bread gets its deep chocolaty flavour from dark chocolate and cocoa powder! No one will ever know it contains a vegetable!
This page may contain affiliate links. Click to learn more.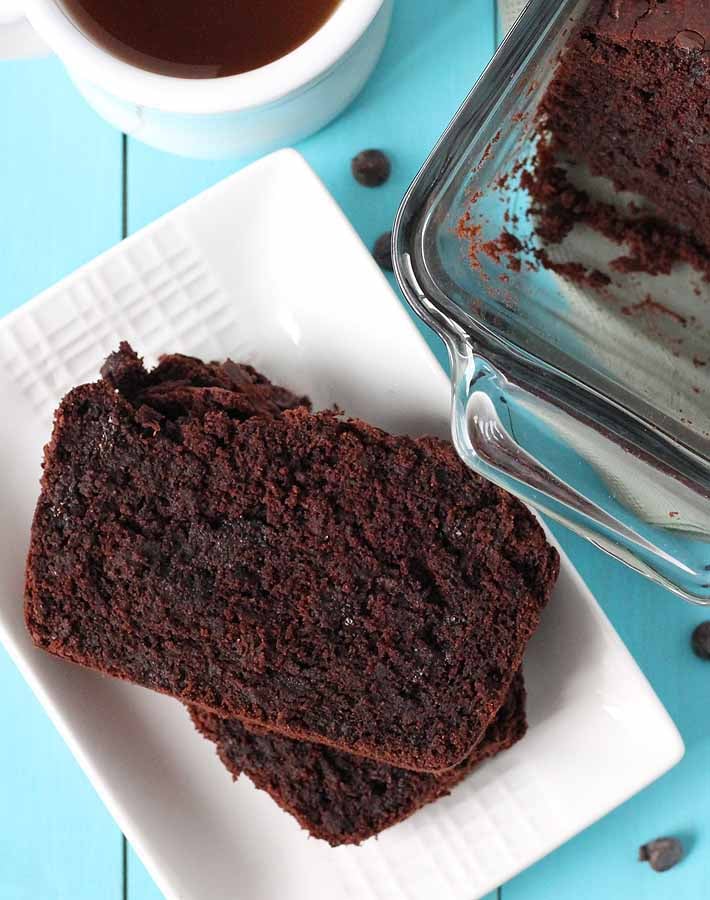 What do you do when you keep bringing in zucchini after zucchini from your garden?
You can make:
OR, you may also want to learn how to freeze zucchini so you can make use of it long past zucchini season has ended.
One thing you should definitely do with all that zucchini is make this gooey, chocolaty, vegan gluten free chocolate zucchini bread.
It's made in the shape of a loaf, but it's a vegan gluten free chocolate zucchini loaf that tastes like cake. Or even brownies. The first time I made it, the kids thought it was chocolate cake!
If you're a little nervous because it contains almost two cups of shredded zucchini, don't be! There is no hint that there's a vegetable in this decadent, chocolaty treat!
The shredded zucchini in this loaf provides an abundance of moisture which is what makes the texture so wonderful.
The texture is a little dense, due to the extra moisture and because of the chocolate chips. The cocoa powder gives it a deep, dark chocolaty flavour that will have you wanting to make it often.
Once you try it, I know it won't be just me making it over and over…and over again!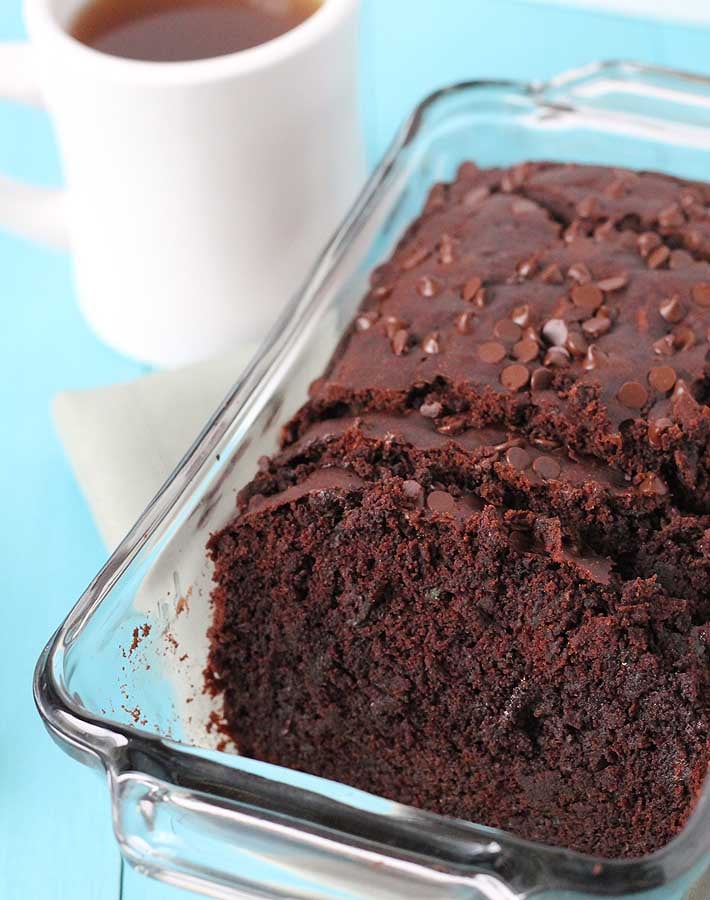 I mentioned above that I've been making this with my fresh zucchini from the garden, but if it happens to be the middle of winter as you're reading this and fresh zucchini is hard to find, frozen pre-shredded zucchini can also be used.
Frozen zucchini is not something you see in stores, so freeze up a batch on your own when zucchini season is at its peak and freeze so you can enjoy zucchini desserts year-round.
Learn how to freeze zucchini and be sure to read my note about using frozen zucchini in the recipe notes.
And finally, just before you put the loaf into the oven, feel free to sprinkle a handful of mini chocolate chips on top, you can never have too much chocolate, right?
If you like this vegan chocolate zucchini bread recipe, you'll probably like these too!
How to Make Vegan Gluten Free Chocolate Zucchini Bread