If you have a few overripe bananas begging to be used, I suggest making this moist, flavourful, and delicious vegan gluten-free banana zucchini bread. It's super easy to make and is perfect for snacks, to serve at breakfast or brunch, or to have with afternoon tea or coffee.
This page may contain affiliate links. Click to learn more.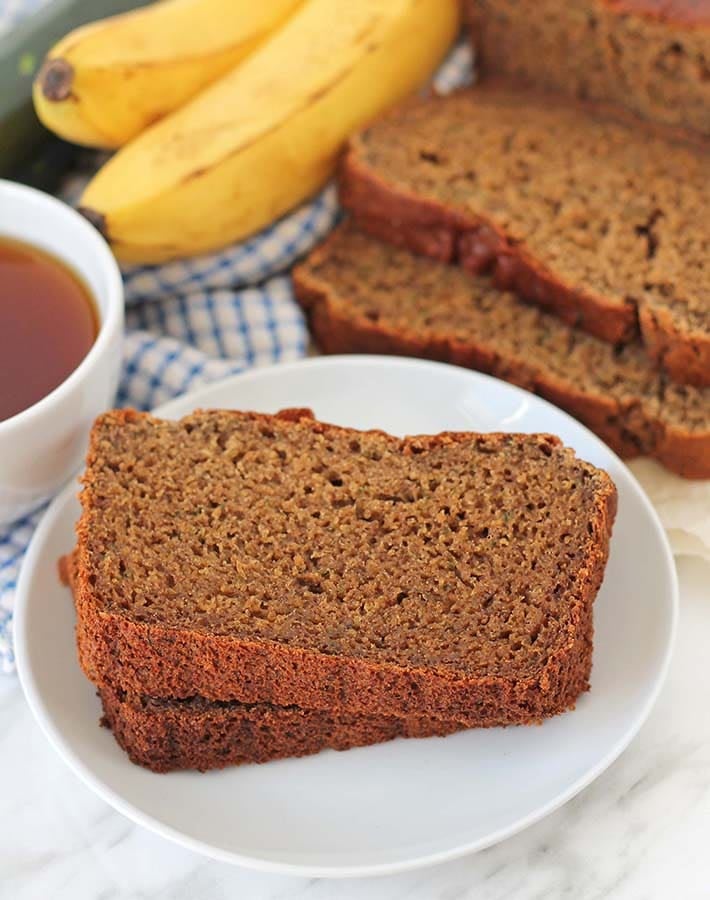 A little while back, a lovely reader (hi, Karen!) sent me a message asking if she could add zucchini to my vegan gluten-free banana bread recipe to make zucchini banana bread.
She wanted to make something similar to what her grandmother used to make so she could carry on the tradition with her daughter, who happens to have a bunch of food allergies, something I can relate to.
She also wanted to get her daughter to eat some more veggies, something I think ALL of us can relate to! This recipe has a healthy dose of shredded zucchini in it but leaves no flavour, at all. So this is a great "hidden veggie" recipe to make for your kids.
I wrote back letting her know that a few adjustments would need to be made but that I would work on a separate recipe. I also sent her my other gluten-free zucchini recipes for her to try, in the meantime:
(Since then, I've also added these zucchini fritters and this zucchini loaf that can be customized!)
How to Shred the Zucchini for Gluten-Free Banana Zucchini Bread
For this recipe, you need to finely shred the zucchini using the small shred side of your box grater (see picture below).
You also do not need to squeeze out the liquid in the zucchini for this recipe.
How Do You Make Vegan Gluten-Free Banana Zucchini Bread?
(Note: I've outlined the step-by-step here, but find the full recipe, ingredients, and directions at the end of this post.)
I mentioned above that this recipe is very easy to make…the steps are simple and follow the same method as all of my other muffin and loaf recipes.
Whisk the dry ingredients together, mix the wet ingredients together, combine the two, and pour into your baking dish. That's all!
I get a lot of questions about the consistency of the batter for my recipes. See the picture below to get an idea of what the batter should look like when you're pouring it into your baking dish.
I use Bob's Red Mill Gluten-Free All Purpose Baking Flour for this vegan zucchini banana bread recipe, their gf flour with the red label, not the blue label.
I have not tested with any other gluten-free flours since this one is my go-to for loaves and muffins, so if you substitute with another, your batter and result may be different from mine.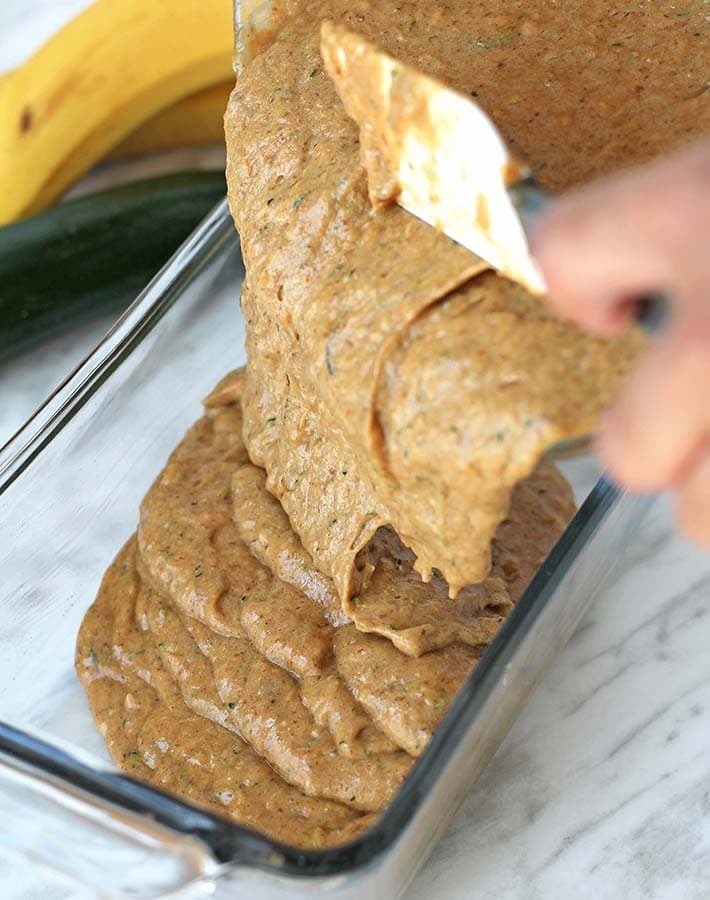 After your gluten-free zucchini banana bread is finished baking, you need to be patient and let it cool fully before slicing into it. THAT is the hardest part about this recipe 🙂
After you slice into it, you're in for a treat. This zucchini banana bread is moist (despite being eggless and dairy-free), and has a wonderful banana flavour with a hint of cinnamon. No one will know it's vegan, gluten-free, or that it contains zucchini!
Can I Use Add-Ins?
I did not add any extras to the loaf in the pictures, but you can definitely add one if you'd like. Here are some suggestions:
raisins (my favourite!)
chopped walnuts
chopped pecans
mini or regular chocolate chips
See the recipe below for info on add-in measurements.
If you're new to vegan gluten-free baking or are looking for some tips on how to get great results every time, be sure to read my gluten-free vegan baking tips. It's a long read, but it's packed with excellent info and you'll walk away with some great tips and answers to some of the questions you may have.
If you make this gluten-free zucchini banana bread recipe, leave me a comment below or share a pic on Instagram and tag me! I love seeing your remakes, A LOT 🙂 You can also help me to help others to find this recipe on Pinterest by pinning it to one of your recipe boards. Thank you!
If you like this recipe, you may also like my other vegan gluten-free banana recipes:
How to Make Gluten-Free Banana Zucchini Bread