These sweet little Old Fashioned Cake Doughnut Mini Muffins will become a lunch box and snack time favourite. These treats come together in less than 30-minutes!
This page may contain affiliate links. Click to learn more.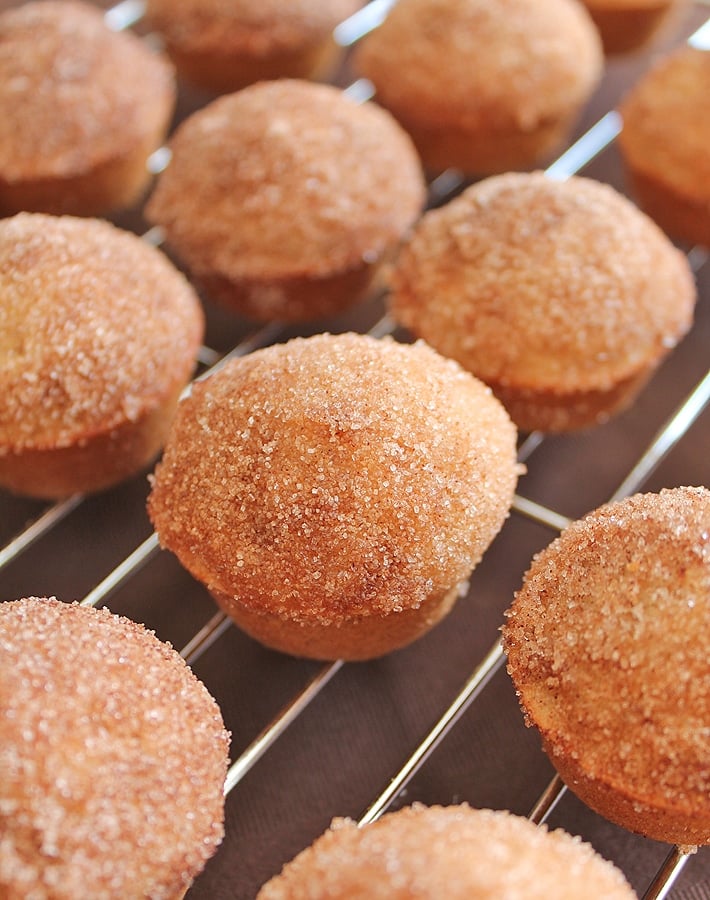 I'm smitten. So very smitten with these old fashioned cake doughnut mini muffins.
How smitten? Well, I don't think I've ever used the word smitten before. And I've used it 4 times in the last 5 seconds. So…
Let's back up a bit though so I can tell you how these delicious, sweet bites came to be.
I was scrolling through my Pinterest feed (something I do A LOT, are you following me over there yet?) and came across this pin for Cinnamon Sugar Donuts by Texanerin.
Instant heart eyes.
That recipe gives options to make it vegan but none to make it gluten-free so I thought, hmm…I'm up for this challenge!
And I tore that challenge up, if I must say.
I added my own unique spin by making my doughnut muffins gluten-free, changing the ingredient ratios to make it work as a gluten-free recipe, and adding nutmeg.
What kind of nutmeg is the best?
I don't buy the pre-ground stuff because by the time you get it in your kitchen, it has lost a lot of its beautiful, warm nutmeg flavour.
This is why I always use freshly grated nutmeg in all my recipes, freshly grated give the BEST nutmeg flavour. Here's a little more info on using nutmeg in your recipes.
Doughnut muffins were a favourite of mine back in the day, but I think these are so much better than the real thing (which is rare…when is a knock off ever better than the real thing?).
They also come together very easily and quickly. You can go from craving to satisfaction in less than 30-minutes.
At the end of the 30-minutes, you'll have 24 beautiful, sweet, sugary-spiced bites.
They don't last long here when I make them. I'm pretty sure the same will happen when you make them.
What kind of gluten-free flour should be used for this recipe?
I have only tested this recipe with Bob's Red Mill Gluten-Free All Purpose flour, the one with the red label (click the link to see it). Don't confuse it with their 1:1 blend which will not give you the same results as it is made with a different blend of ingredients.
If ingredients are substituted, your result may not be the same as mine, so please keep that in mind.
And one more important note about flour….this recipe will NOT work with coconut flour.
If you like this doughnut muffins recipe, pin it on Pinterest and then check out these other treats you may also like!
And if you make them, share a pic with me on Instagram! I'm @delightfuladventures over there and my hashtag is #delightfuladventures. Looking forward to seeing your remake!
How to Make Old Fashioned Cake Doughnut Mini Muffins