Delicious and easy-to-make vegan gluten free zucchini chocolate chip muffins that are perfect for school snacks or for snacking on at home!
Part of my Sunday mornings consist of baking school snacks for the kids' upcoming week. I like to bake some of their snacks because there are allergies to consider and it's healthier. I do also get them store bought snacks, but I enjoy making things for them.
Plus, they like the things I make, so it's a guarantee they'll eat their snacks at school and not throw them out or bring them back home.
One of those snacks is these Vegan Gluten Free Zucchini Chocolate Chip Muffins.
During zucchini season, my Sunday baking list usually includes a zucchini recipe, and most of the time it's these Vegan Gluten Free Zucchini Chocolate Chip Muffins, my gluten-free banana zucchini bread, plain gluten free zucchini bread, or my vegan gluten-free chocolate zucchini bread. If I feel like having something savoury, then the go-to is zucchini fritters.
I also make them when zucchini is not in season. Yes, they're that good! When you have a craving, sometimes it can't wait until an ingredient is back in season!
If you want to save summer zucchini to make muffins in January (like me), check out this post on how to freeze zucchini. It's super easy and you'll be baking up zucchini treats all year long.
For those of you who have never baked with zucchini and are a little hesitant because you think your kids (or you!) may not like the finished product, fear not! Your creations are going to be delicious and other than seeing a fleck of green here and there, you will not know they contain zucchini.
Oh, and one more thing...
I know that gluten-free recipes can produce all sorts of different textures, so baking gluten-free may make you a bit nervous.
When I look at recipes online or in recipe books, I love when the author includes a shot of the inside of the finished product so I can see what the texture is supposed to be like.
Here is that shot, just for you:
As you can see, these vegan gluten free zucchini chocolate chip muffins come out fluffy, not dense, and totally drool-worthy!
Exactly the way a muffin should be whether it's vegan, gluten-free, or vegan AND gluten-free!
If you like these gluten-free zucchini muffins, you may also like these other vegan gluten-free muffin recipes:
And if you make them, let me know how it went in the comments below or show me a picture on Instagram or Facebook!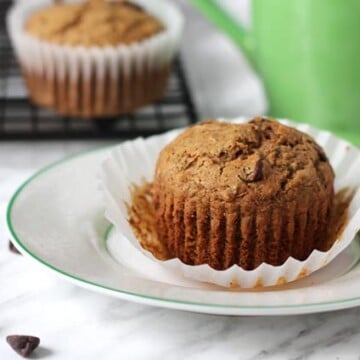 Print Recipe
Vegan Gluten Free Zucchini Chocolate Chip Muffins
These delicious and easy-to-make vegan, gluten free zucchini chocolate chip muffins are perfect for school snacks or for snacking on at home!
Instructions:
Preheat oven to 350°F

Line a muffin tin with liners or generously grease the inside of each cup with coconut oil.

Prepare your

flax eggs

by whisking together ground flax seeds and water. Set aside to thicken.

In medium bowl combine flour, baking powder, baking soda, salt, cinnamon, and nutmeg.

In a small bowl, mix the melted coconut oil, coconut sugar, vanilla, and flax mixture. Add in shredded zucchini and stir again until well combined.

Add wet mixture to dry mixture and stir until combined taking care not to over mix. Fold in chocolate chips.

Divide batter into the 12 muffin cups. Bake for 18-20 minutes or until toothpick inserted in the middle of the largest muffin comes out clean.
Recipe Notes:
Shred zucchini using the smaller of the two shredders on your box grater. After shredding DO NOT squeeze the liquid out of the zucchini.
It's important to know that different gluten-free flour blends use different ingredients and ratios, so results will always vary if you substitute. I have never used any other brand of flour to make this recipe (other than Bob's Red Mill in the red bag, NOT the blue bag), so please know that your results may not be the same as mine if ingredients are substituted.
This recipe will NOT work with coconut flour.
Raisins can be used in place of the chocolate chips if that is your preference. If you do use raisins, try using this raisin trick before adding them to the batter.
Nutrition info is based on the recipe as it is written and is to be used only as a rough guide. Click here to learn how nutrition info is calculated on this website.
Nutrition Info:
Serving:
1
muffin
|
Calories:
251
kcal
|
Carbohydrates:
30
g
|
Protein:
3
g
|
Fat:
14
g
|
Saturated Fat:
11
g
|
Sodium:
145
mg
|
Potassium:
118
mg
|
Fiber:
3
g
|
Sugar:
16
g
|
Vitamin A:
50
IU
|
Vitamin C:
4.1
mg
|
Calcium:
20
mg
|
Iron:
2.2
mg
Did You Make This Recipe?
If so, please share a picture with me on Instagram! Tag @delightfuladventures and hashtag #delightfuladventures. I can't wait to see!
Photos for this post were updated June 2017.