An easy recipe for gluten-free mini chocolate chip muffins that also happen to be vegan! They're soft, fluffy, and filled with chocolate chips.
You can have this fun treat ready in under 30-minutes and they're perfect for lunch box snacks and after-school snacks.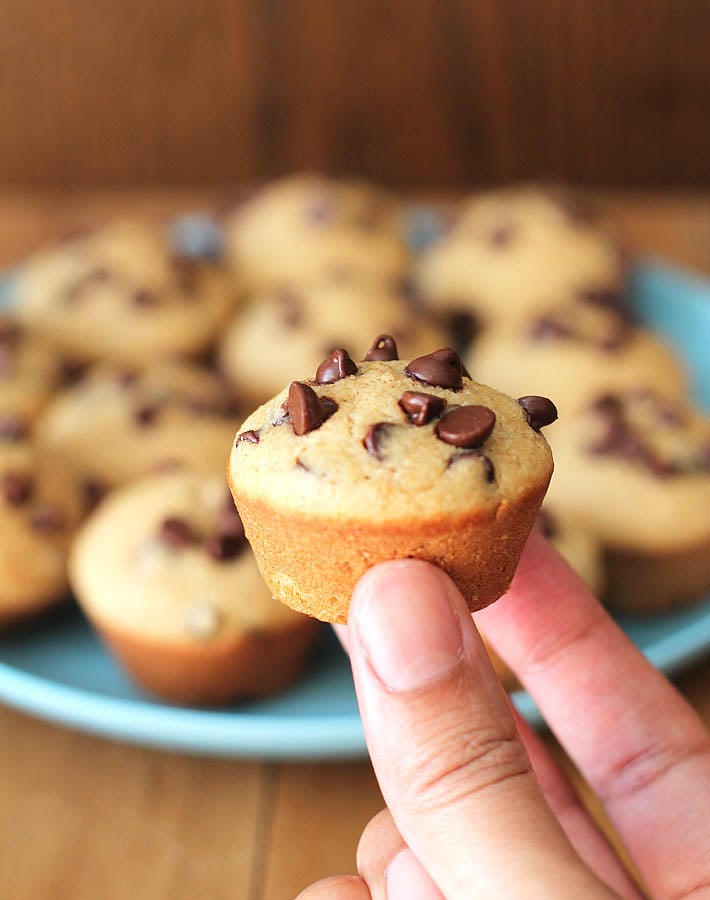 How perfect does that little muffin above look? Almost too cute and perfect to eat, right? Almost.
The next time you feel like baking, how about these gluten-free mini chocolate chip muffins?
Not only are they gluten-free, but they're also vegan, which means they're dairy-free, egg-free, and wheat-free making them perfect for school-safe snacks (at-home snacks, too, of course!)
Ingredients You'll Need
10 ingredients are all you need and you likely (hopefully!) have every single one of them in your pantry right now!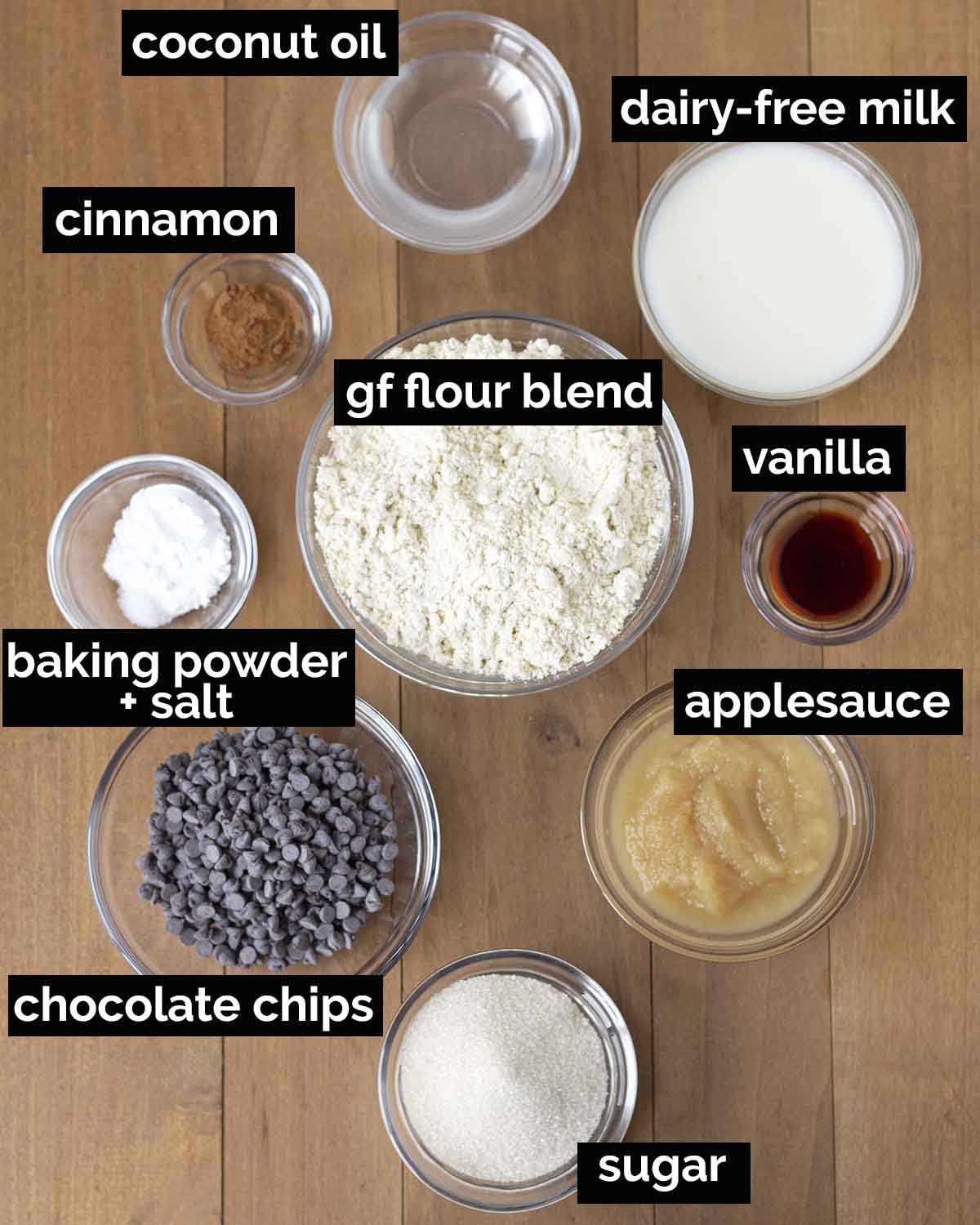 Ingredient Notes
As always, I recommend sticking with the recipe exactly as it is written for the very best results, but you'll find some info on substitutions below so you know what can and absolutely can't be swapped out.
Gluten-Free Flour Blend – I have only used Bob's Red Mill Gluten-Free All-Purpose Flour (the one in the RED bag) to make this recipe and have not tried any others. With gluten-free baking, it's always important to use the same flour the recipe calls for to get the expected results.
Granulated Sugar - Coconut sugar can be used instead of granulated sugar, the only difference will be that your muffins will turn out a little darker in colour than the pictures you see here. Liquid sweeteners cannot be used without altering the other ingredient measurements so avoid using those.
Coconut Oil - Any neutral flavoured oil can be used as a substitute for the coconut oil in this recipe.
Non-Dairy Milk - Any type can be used. Make sure that it's room temperature so the coconut oil does not harden.
Applesauce - Be sure to use unsweetened plain applesauce.
Chocolate Chips – I always use dark chocolate chips / semi-sweet for these cookies. One thing to keep in mind is to make sure the chocolate chips you use are vegan. It can be tricky to know which brands are vegan because they may not always be labelled as vegan or they were not intended to be vegan, they just happen to be "accidentally" vegan.
PC Organics bittersweet chocolate chips are vegan and there's also Enjoy Life, and Equal Exchange. For more vegan chocolate chip recommendations, read this article: Are Chocolate Chips Vegan? (These Brands Are!)
How to Make Them
(Note: I've outlined the step-by-step on how to make this recipe here and I've included a video in the post so you can SEE the muffins being made, but find the full recipe, ingredients, and directions at the end of this post.)
Start by mixing the dry ingredients in one bowl and the wet ingredients in another bowl.
Combine the two and then stir in the mini chocolate chips.
What is the Batter Supposed to Look Like?
This is a question I've received MANY times about my mini apple muffins, cake doughnut mini muffins and pumpkin spice mini muffins.
They are all similar recipes to this one, so let's talk about this.
If you follow the recipe below exactly as written and you use the gluten-free flour blend I recommend, this is what the batter should look like right before you're put the batter into the muffin pan: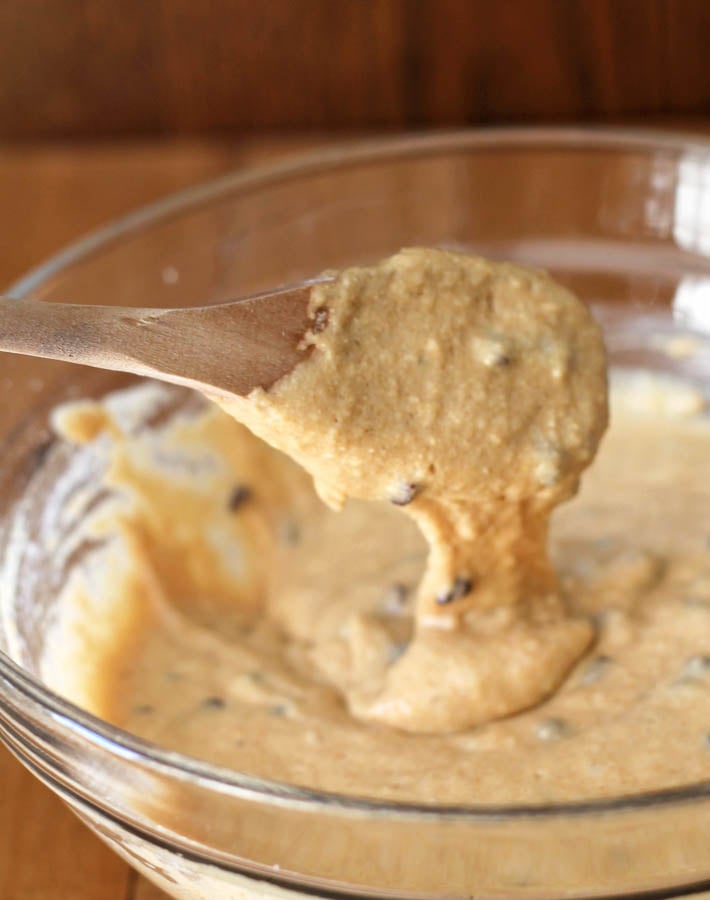 If you make substitutions, the batter may be thicker or thinner and the recipe may not work the same as mine does, so keep that in mind.
After the chocolate chips have been added to the batter, divide the batter evenly into a mini muffin pan. If using, sprinkle the mini chocolate chips on top of each muffin.
Your vegan chocolate chip muffins will take just 10 minutes to bake and when done, you'll have 24 perfect mini treats to share with everyone because there are 24 of them!
Expert Tips for Success
Please do not substitute the gluten-free flour blend I recommend with coconut flour. Coconut flour is not an easy flour to work with and this recipe will not work if you use it. A gluten-free flour blend must be used. Coconut flour (or any other single gluten-free flour like almond or oat etc.) will NOT work with this recipe without making major modifications.
The only gf flour blend I've tested this recipe with is Bob's Red Mill Gluten Free All Purpose Baking Flour. <– Click that link to see what it looks like. It's the one in the red bag, not the blue bag. You can buy it through that Amazon link or look for it at your grocery store. If this specific flour is not used, your results may not be the same as mine.
Note that the sugar calls for ¼ cup PLUS 1 tablespoon. The applesauce calls for ¼ cup PLUS 2 tablespoons Please don't miss those extra tablespoons of each ingredient.
Be sure that all ingredients are measured correctly. I highly recommend weighing your flour.
Don't overbake or they will dry out.
Follow the recipe exactly as it's written for the very best results.
Are you new to vegan gluten-free baking? If so, be sure to read all of my vegan gluten-free baking tips!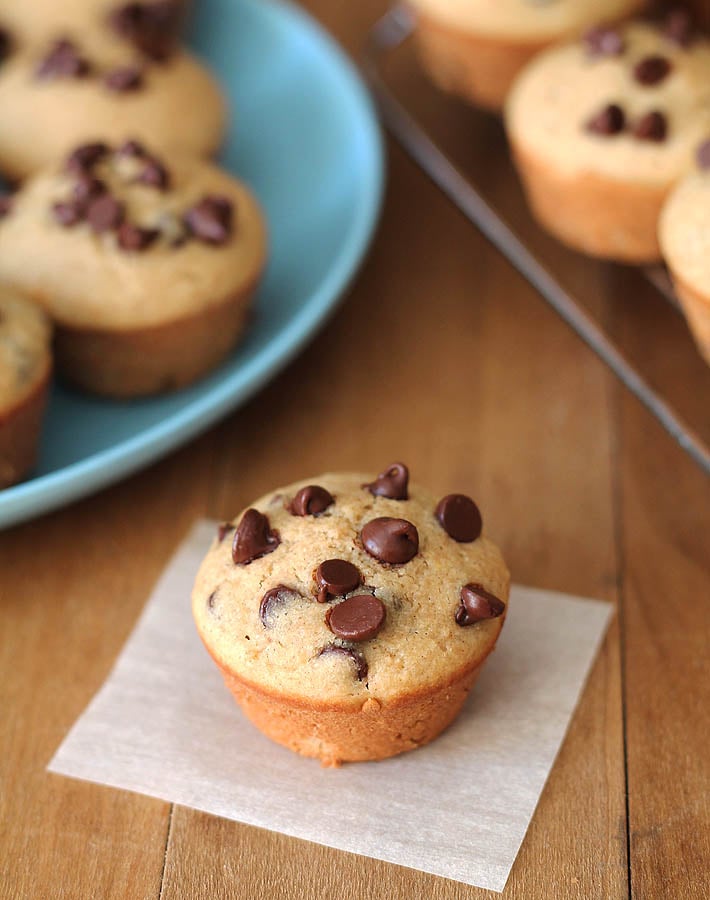 Storing Leftovers
Your muffins will keep for a few days if stored in an airtight container. I find that the things I bake with gluten-free flour blends tend to stiffen up as if they're stale the day after being made.
They're not stale, it's just the nature of the flour blend, so remember that if enjoying them any time after the day they were made. A quick few seconds in the microwave will bring them right back to the delicious freshness from day one.
And you know I always like to include a shot of what the inside of the finished treat looks like, so here you go!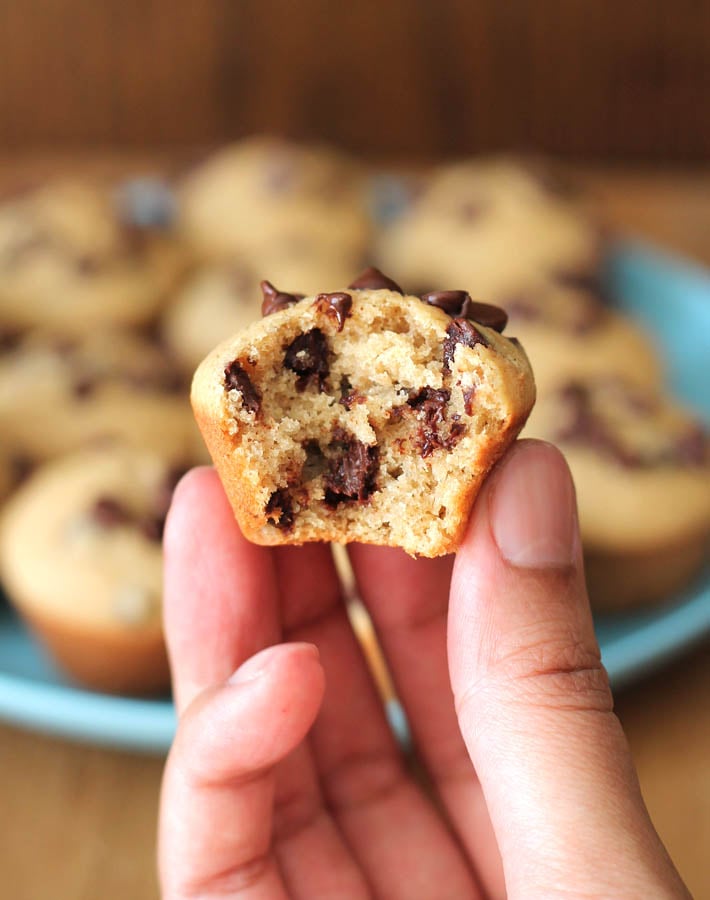 FAQ
Can These Muffins Be Made In a Regular-Sized Muffin Pan?
You can, but you will need to bake them for longer, roughly 18-20 minutes, same oven temperature. Check to be sure they are done by sticking a toothpick into the center of the largest muffin and if it comes out clean, they're done!
Will This Recipe Work with Coconut Flour?
No, coconut flour will NOT work in this recipe. This is another question I receive a lot.

Coconut flour definitely has its place, but I rarely use it (I do use a little of it in my coconut date squares recipe) because it's a tricky flour to work with and cannot be substituted 1:1. Coconut flour almost always needs to be used in conjunction with another flour and in many cases, lots of eggs, which I do not use. It also soaks up liquid like crazy and if you don't use it properly, you'll end up with a dry, crumbly recipe fail.

Coconut flour definitely has its place and can be amazing when used correctly, but unless called for specifically in a recipe, I would steer clear of substituting with it.
Delicious mini chocolate chip muffins with applesauce, without butter, without eggs, without milk, and without wheat. Vegan gluten-free baking is amazing, isn't it?
If You Make This Recipe...
Please, tell me about it! Leave me a comment and rating below and post a pic to Instagram and tag me so I can see your delicious cookie remake.
If You Like This Recipe...
You may also like these: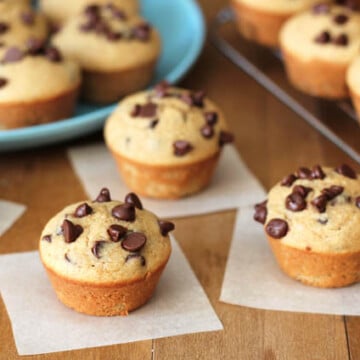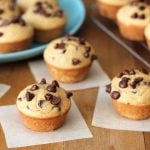 Print Recipe
Mini Chocolate Chip Muffins
An easy recipe for vegan gluten-free Mini Chocolate Chip Muffins that you can have ready in under 30 minutes!
Instructions:
Preheat oven to 375°F (177°C).

In a medium bowl, whisk the flour, baking powder, cinnamon and salt together.

In a large bowl, mix the non-dairy milk, applesauce, sugar, melted coconut oil, and vanilla together.

Pour dry ingredients into the wet ingredients and mix well to combine.

Fold mini chocolate chips into the batter.

Divide batter evenly between the 24 muffins cups.

If using, sprinkle mini chocolate chips on top of each muffin.


Bake for 8-10 minutes

Remove muffins from the oven and cool for 3 minutes in the muffin pan.

After time has passed, remove muffins from the muffin pan and place them on a cooling rack.
Recipe Notes:
Please read all of the info above and below before making this recipe to ensure success. Watching the video in this post will also be helpful so you can see them being made.
It's important to know that different gluten-free flour blends use different ingredients and ratios, so results can vary if you substitute. I've never used any other brand of flour to make this recipe (other than Bob's Red Mill with the red label, not the blue! Click that link to see the correct one), so please know that your results may not be the same as mine if ingredients are substituted.
This recipe will NOT work with coconut flour or any other single gluten-free flour, it must be a blend, the one mentioned above for best results.
Make sure your dairy-free milk is at room temperature or it will make the coconut oil become solid.
Any neutral flavoured oil can be used in this recipe instead of coconut oil.
Coconut sugar can be used in this recipe instead of granulated, your muffins will just turn out darker in colour than the muffins in the pictures above.
Nutrition info listed below is for 1 of 24 chocolate chip mini muffins without extra chocolate chips sprinkled on top. This info is to only be used as a rough guide. Click here for more info on how nutrition info on this website is determined.
Nutrition Info:
Serving:
1
muffin
|
Calories:
80
kcal
|
Carbohydrates:
12
g
|
Protein:
1
g
|
Fat:
4
g
|
Saturated Fat:
3
g
|
Sodium:
17
mg
|
Potassium:
36
mg
|
Fiber:
1
g
|
Sugar:
6
g
|
Vitamin C:
1
mg
|
Calcium:
20
mg
|
Iron:
1
mg
Did You Make This Recipe?
If so, please share a picture with me on Instagram! Tag @delightfuladventures and hashtag #delightfuladventures. I can't wait to see!