An easy recipe for gluten-free vegan Mini Chocolate Chip Muffins that you can have ready in under 30 minutes! They're perfect for lunch box snacks and after school snacks!
This page may contain affiliate links. Click to learn more. As an Amazon Associate I earn from qualifying purchases.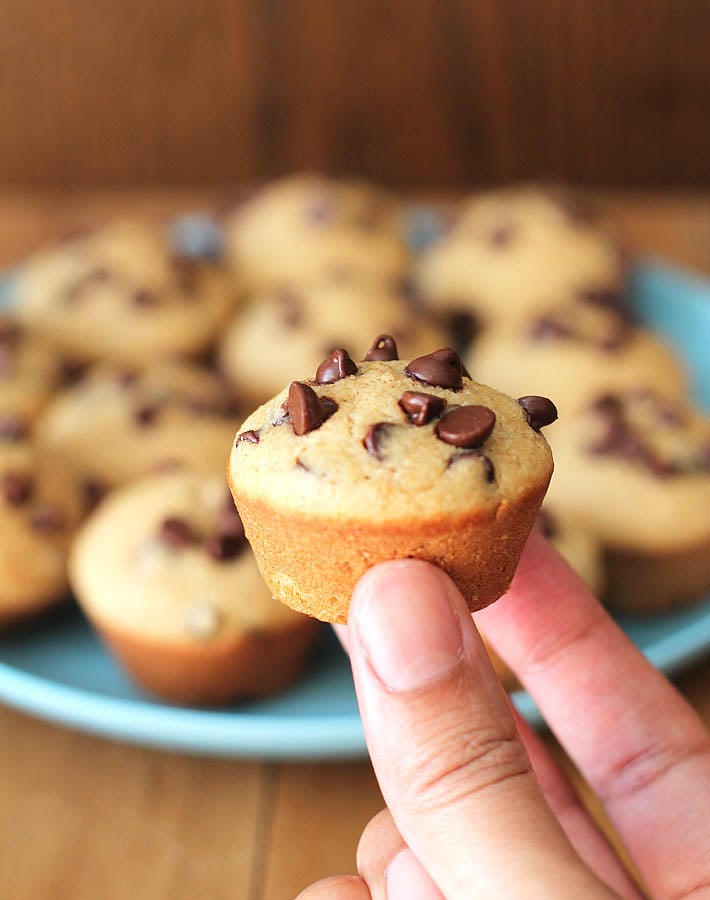 How perfect does that little muffin above look?
When I was shooting the photos for this recipe, I took that picture along with the last picture at the bottom, as extras, not thinking I'd use them.
But fell in love with them when I was editing my photos because they show how perfect these mini chocolate chip muffin gems really are.
Before we get to the finished treats though, let's talk about the preparation so you end up with the same lovely little muffins as I do.
What is the batter for these muffins supposed to look like?
This is a question I received MANY times about my cake doughnut mini muffins and pumpkin spice mini muffins They are similar recipes to this one, so let's talk about that.
If you follow the recipe below exactly as written and you use the gluten-free flour blend I recommend, this is what it should look like right before you're about to put the batter into the muffin pan: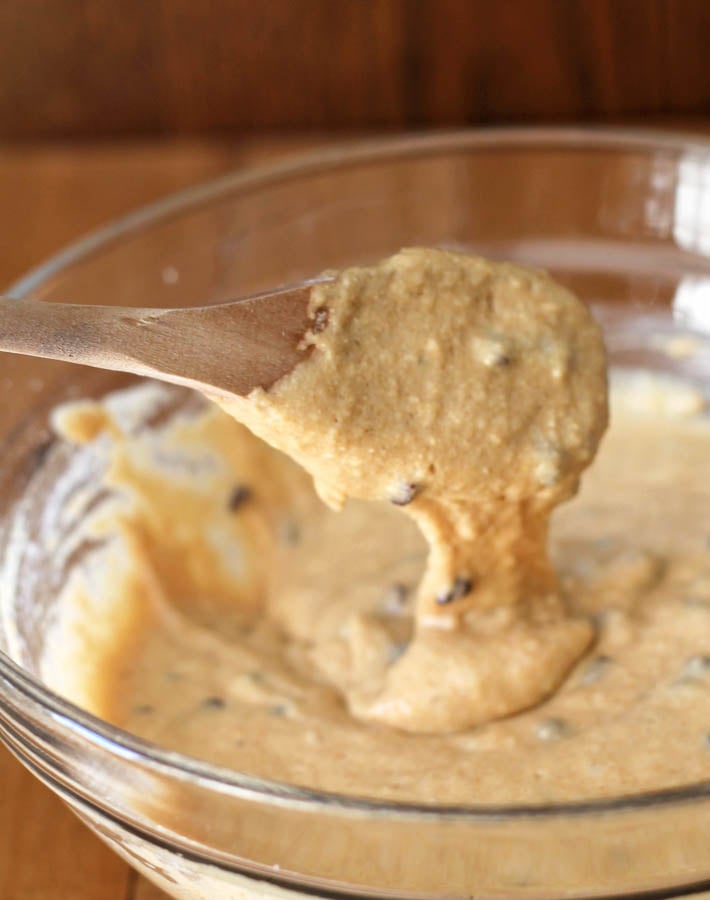 If you make substitutions, the batter may be thicker or thinner and the recipe may not work the same as mine does, so keep that in mind.
And speaking of substitutions….
Will this recipe work with coconut flour?
No, coconut flour will NOT work in this recipe. This is another question I receive a lot.
Coconut flour definitely has its place, but I rarely use it (I do use a little of it in my coconut date squares recipe) because it's a tricky one to work with and cannot be substituted 1:1.
Coconut flour almost always needs to be used in conjunction with another flour and in many cases, lots of eggs, which I do not use. It also soaks up liquid like crazy and if you don't use it properly, you'll end up with a dry, crumbly recipe fail.
As mentioned, coconut flour definitely has its place and can be amazing when used correctly, but unless called for specifically in a recipe, I would steer clear of substituting with it.
I'm stepping off my coconut flour education soap box now 🙂
So now that your mini chocolate chip muffin batter is done, the next step is to spoon it into your mini muffin pan. Sprinkling extra chocolate chips on top is totally optional, but recommended!
What brands make vegan chocolate chips?
A few readers have asked this question so I thought I'd share some info about this. There are many vegan chocolate chip brands on the market, to find one, be sure to read ingredient lists and look for dairy ingredients.
The vegan chocolate chips I use for this recipe is by Enjoy Life and all of their products are allergy-friendly and their chocolate chips are 100% vegan. (I link to the chocolate chips in the ingredients list below.) These shout-outs to Enjoy Life and their chocolate chips are not sponsored, I just really like their products and use them often!
Your vegan gluten free chocolate chip muffins will take just 10 minutes to bake and when done, you'll have 24 perfect mini treats to share with everyone because there are 24 of them!
Delicious mini chocolate chip muffins with applesauce, without butter, without eggs, without milk and without wheat. Vegan gluten-free baking is amazing, isn't it?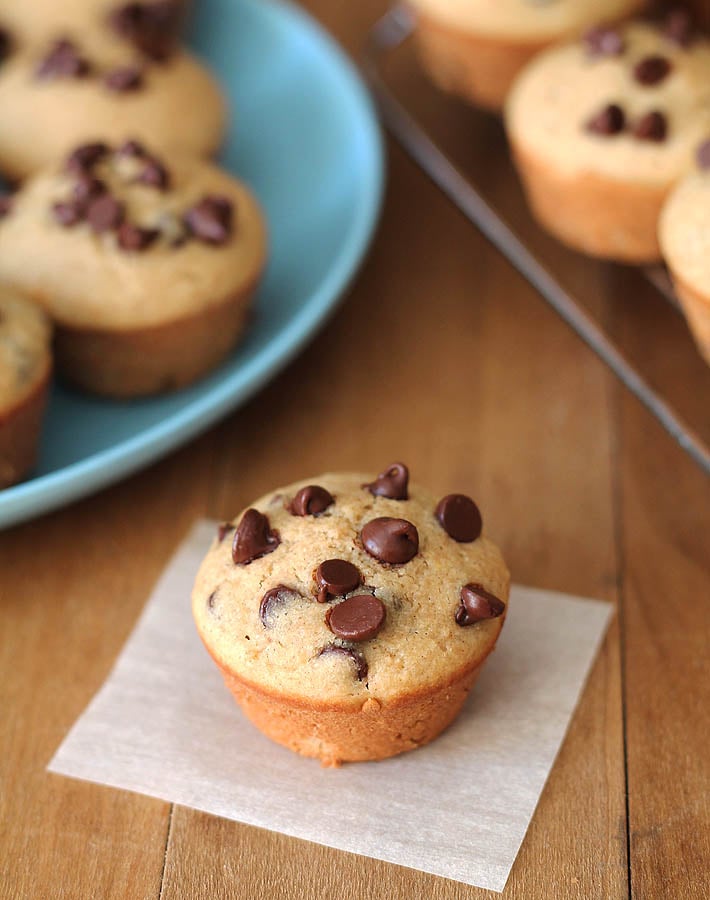 Your muffins will keep for a few days if stored in an airtight container. I find that the things I bake with gluten-free flour blends tend to stiffen up as if they're stale the day after being made.
They're not stale, it's just the nature of the flour blend, so remember that if enjoying them any time after the day they were made. A quick few seconds in the microwave will bring them right back to their delicious freshness from day one.
And you know I always like to include a shot of what the inside of the finished treat looks like, so here you go!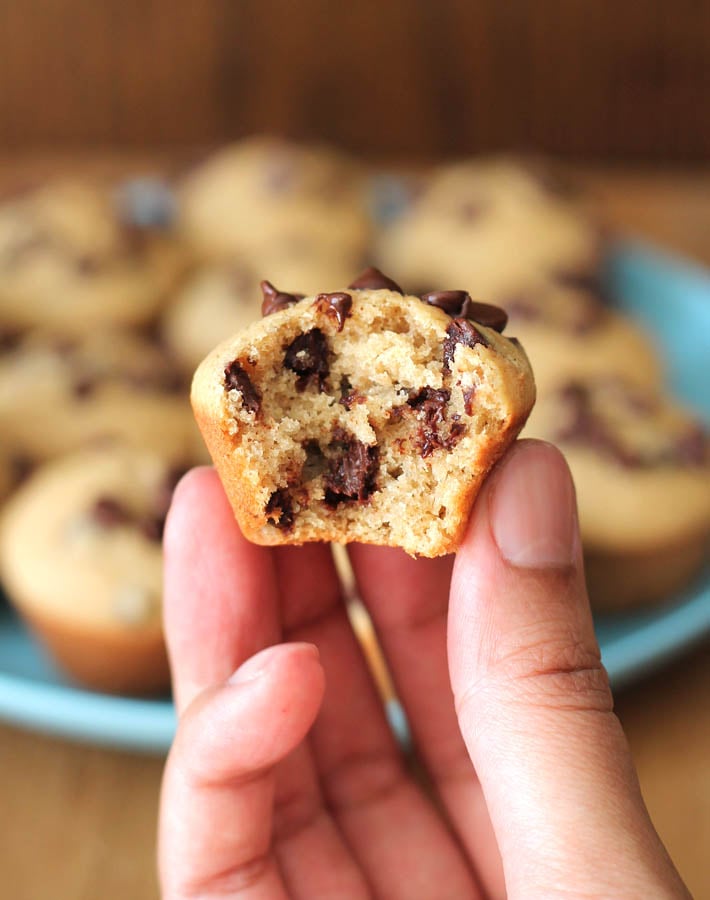 Fluffy vegan mini chocolate chip muffin perfection, right?
Can I make these muffins in a regular sized muffin tin?
You can, but you will need to bake them for longer, roughly 18-20 minutes, same oven temperature.
Check to be sure they are done by sticking a toothpick into the center of the largest muffin and if it comes out clean, they're done!
If you like this vegan gluten free chocolate chip muffin recipe, you may also like these:
Be sure to pin it to Pinterest so you have easy access to it and if you make them, tag me Instagram so I can see your remake! I'm @delightfuladventures over there 🙂
How to Make Mini Chocolate Chip Muffins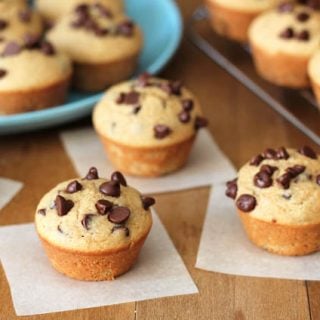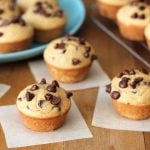 Print Recipe
Mini Chocolate Chip Muffins
An easy recipe for vegan gluten-free Mini Chocolate Chip Muffins that you can have ready in under 30 minutes!
Instructions:
Grease mini muffin tin (x 24)

In a large bowl, whisk the flour, baking powder, salt, sugar, and cinnamon.

In a small bowl, mix the melted coconut oil, non-dairy milk, applesauce, and vanilla together.

Pour wet ingredients into dry ingredients and mix well to combine.

Fold in mini chocolate chips.


If using, sprinkle mini chocolate chips on top of each muffin.


Bake for 8-10 minutes

Remove muffins from oven and cool for 10 minutes in tin.

Remove muffins from tin and place them on a cooling rack.
Recipe Notes:
It's important to know that different gluten-free flour blends use different ingredients and ratios, so results can vary if you substitute. I've never used any other brand of flour to make this recipe (other than Bob's Red Mill with the red label, not the blue! Click that link to see the correct one), so please know that your results may not be the same as mine if ingredients are substituted.
This recipe will NOT work with coconut flour.
Nutrition info listed below is for 1 of 24 chocolate chip mini muffins without extra chocolate chips sprinkled on top. This info to only be used as a rough guide. Click here for more info on how nutrition info on this website is determined.
Nutrition Info:
Serving:
1
muffin
|
Calories:
80
kcal
|
Carbohydrates:
12
g
|
Protein:
1
g
|
Fat:
4
g
|
Saturated Fat:
3
g
|
Sodium:
17
mg
|
Potassium:
36
mg
|
Fiber:
1
g
|
Sugar:
6
g
|
Vitamin C:
0.8
mg
|
Calcium:
20
mg
|
Iron:
0.7
mg
Did You Make This Recipe?
If so, please share a picture with me on Instagram! Tag @delightfuladventures and hashtag #delightfuladventures. I can't wait to see!