Once you get a taste of homemade slow cooker applesauce and see how easy it is to make, you won't want to buy store-bought applesauce ever again!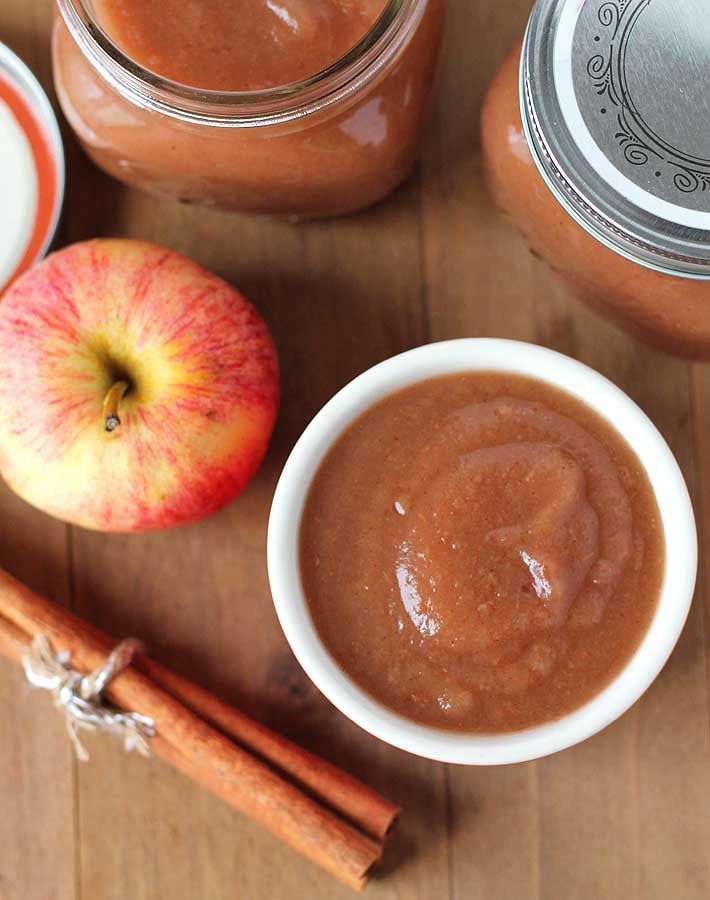 Do you know how to make homemade slow cooker applesauce?
I didn't until a few years ago and ever since that time, I've been making it quite often, especially during the fall when apples are everywhere.
I add applesauce to some of the recipes I make (like my apple cinnamon waffles, carrot coconut muffins, cake doughnut mini muffins, vegan baked oatmeal, and morning glory muffins!) so I can go through a lot of it, which makes homemade applesauce a money saver.
I used to buy store applesauce for my kids to have as school and at home snacks, but after making it at home for the first time, they declared that slow cooker applesauce is so much better than the the kind we bought at the stores and that this is their favourite. I agree.
So, now I find myself making this stuff...a lot!
One of the best things about making your own applesauce is that it's so easy. All you need is four simple ingredients, a slow cooker, and a blender. And there's no apple peeling involved!
Once the apples cook down, the skins get very soft and after you puree into applesauce, you'd never know that they weren't peeled!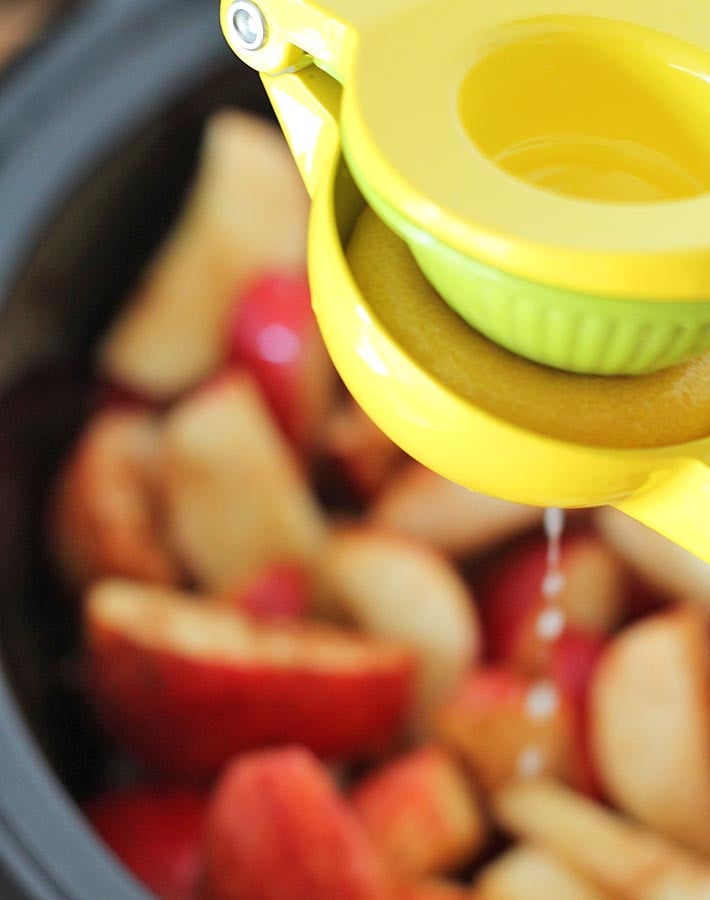 Another good thing about making your own applesauce is that you control the flavour, so if you want to experiment with different spices, other than cinnamon, try it!
For this recipe, I went with cinnamon (our favourite version) and I've left the nutmeg optional. (The cinnamon + nutmeg combo is another favourite!)
Cut the apples, throw in the spices, add a splash of lemon juice, let it cook for a few hours, puree when done, and you're set with school snacks for the week or for your next baking adventure.
What is the best type of apple to make applesauce?
Sweet, softer apples make the best applesauce because they're naturally sweet and require no added sugar.
I always use Gala apples when making applesauce, but feel free to experiment to figure out what type of apples you like best for your applesauce.
How to Store Homemade Applesauce
Whether you are making a spiced version for snacking on or a plain batch for baking (or snacking on, too!), you can store it in airtight jars or containers in the fridge.
Your applesauce will keep for about 7-10 days in the fridge.
How to Freeze Applesauce
If I know I won't be using my entire batch any time soon (either the spiced or plain versions), I freeze it.
To do that, I use airtight containers and leave a little space at the top when filling. If you don't have airtight containers, freezer bags can also be used.
Frozen applesauce will keep in the freezer for up to a year (I've never kept it in there that long, though!) When I'm ready to use it, I thaw overnight in the refrigerator.
If you make this recipe, let me know by leaving a comment below or share a pic on Instagram and tag me!
If you like this recipe, you may also like these as well:
How to Make Slow Cooker Applesauce
Once you get a taste of homemade slow cooker applesauce and see how easy it is to make, you won't want to buy store-bought applesauce ever again!

Ingredients:
½

cup

water

12

medium sized apples

(see note below about types of apples to use)

juice from ½ of a lemon

1

teaspoon

ground cinnamon

½

teaspoon

ground nutmeg

(optional, see note about nutmeg below)
Instructions:
Pour water into slow cooker.

Slice apples into eighths, place into slow cooker.

Pour lemon juice over apples.

Sprinkle cinnamon and nutmeg (if using) over apples.

Carefully mix, so spices coat the apples.

Cook for 8 hours on low or 3.5 - 4 hours on high.

Cool thoroughly and then portion out into containers. Refrigerate until ready to use.

Recipe Notes:
Be sure to read the FAQ (best apples to use, storing, freezing) above before making this recipe.
Feel free to reduce the amount of cinnamon in the recipe to ½ tsp, or to suit your tastes. In this recipe, I use 1 tsp. Your applesauce will be lighter in colour if you use less.
If you prefer plain applesauce, omit the spices.
I always buy whole nutmeg and grate it fresh for my recipes, as needed. You'll get the best flavour if you do it this way. If you are using the optional nutmeg in this recipe, click here to see how easy it is to do.
Nutrition info is for the recipe prepared as written. Data is to only be used as a rough guide, click to learn how nutrition info is determined on this website.
Nutrition Info:
Calories:
67
kcal
|
Carbohydrates:
18
g
|
Protein:
1
g
|
Potassium:
3
mg
|
Fiber:
3
g
|
Sugar:
13
g
|
Vitamin C:
1.7
mg
Did You Make This Recipe?
If so, please share a picture with me on Instagram! Tag @delightfuladventures and hashtag #delightfuladventures. I can't wait to see!
This Slow Cooker Applesauce recipe was originally published December 28, 2014, images were updated September 2017.