These fluffy vegan eggnog pancakes are the perfect addition to your holiday breakfast or brunch table. They can be made vegan only or vegan AND gluten-free, I've included instructions on how to make both versions below!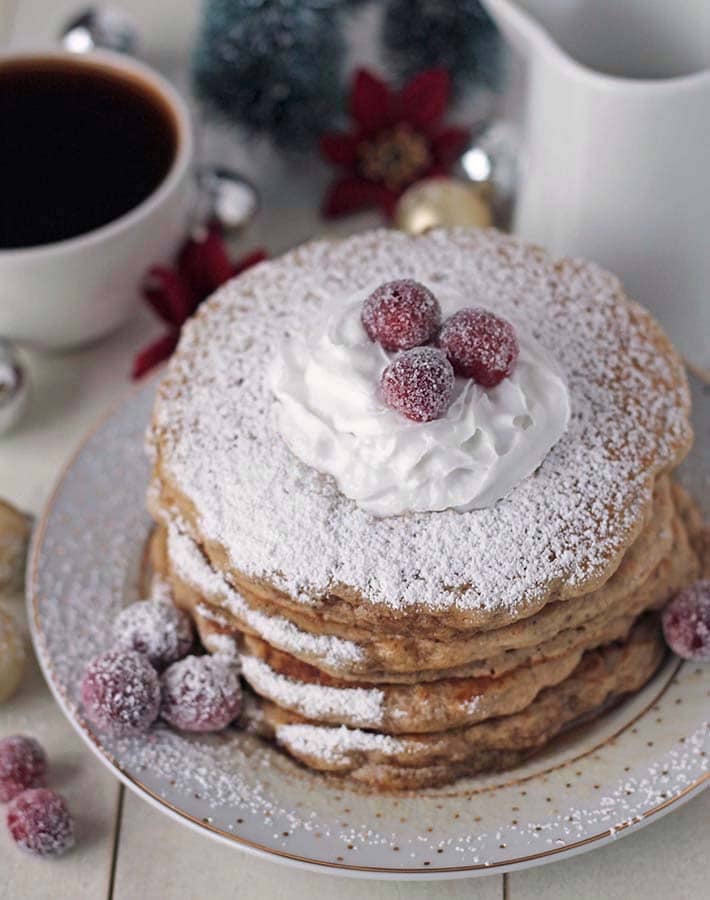 Do you like eggnog? I have to admit, I'm not a huge fan of drinking it as-is but I do like recipes using eggnog and recipes using eggnog leftovers like these eggnog pancakes.
This recipe is very easy to make and you can have your Christmas pancakes on the table in a short amount of time.
How to Make Them
As you can see by the visual steps below, it's just a matter of:
1. Combining the dry ingredients.
2. Combining the wet ingredients.
3. Adding the wet ingredients to the dry ingredients.
4. Mixing.
5. Cooking
See? Very easy so you can get breakfast out of the way and do other festive things with your family!
This recipe is based on my easy vegan gluten-free pancakes. I went back to that recipe and made a couple of small changes and here we have eggnog pancakes, perfect for the holiday season.
What Do They Taste Like?
They taste just like the holidays 🙂
But seriously, the eggnog flavour in these pancakes is not overpowering, it's subtle, but there. To enhance the flavour a bit more, I've added a little extra nutmeg and cinnamon to the recipe.
The result is pancakes that are festive and a great addition to your vegan, or vegan gluten-free breakfast lineup.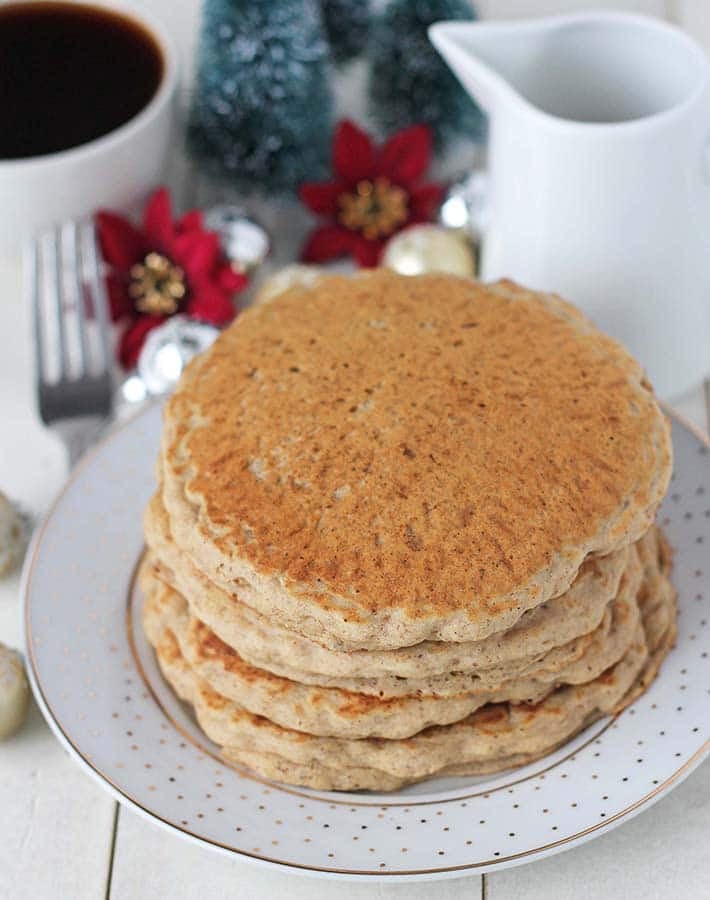 Of course, one of the essential ingredients for this recipe is the vegan eggnog.
What's the Best Vegan Eggnog to Use?
That's up to you! Use your favourite.
The brand I use to make this recipe is the So Delicious Holiday Nog (this one). It only makes its appearance in the stores in late fall through to the end of the holiday season (here in Canada, anyways).
The eggnog you use must be on the thinner side, it must have a consistency like almond or regular milk. If the eggnog you use is thicker than almond or regular milk and you find that the batter is too thick after combining the dry and wet ingredients, you can add a little unsweetened non-dairy milk to thin it out.
The So Delicious brand I use is coconut milk based, but there are others that are almond milk based. You can also make your own, but the key is that the eggnog not be thick like regular eggnog or you'll run into batter problems.
This Christmas pancake recipe can be made ahead of time and warmed up when you're ready to serve them, however, I do find that they're best when served fresh, right out of the pan or off the griddle.
Pancakes are always best when they're served fresh, aren't they?
How Should They Be Topped?
You can never go wrong with pure maple syrup, like in the picture above, but you can also top them with the following:
powdered sugar
cinnamon
sugared cranberries
vegan butter
fresh berries or fruit
pomegranate arils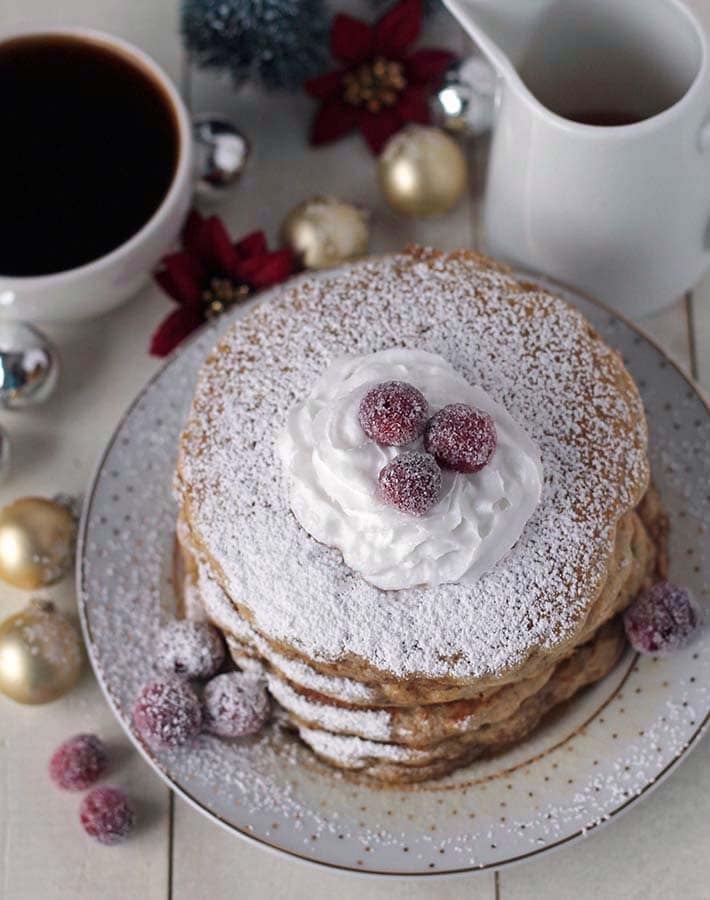 Are They Really Fluffy?
Yes, they are! You may think that vegan pancakes or vegan gluten-free pancakes can't be fluffy. That's not true. As long as your baking powder is fresh and you follow the recipe as it is written, your pancakes will be fluffy.
The vegan only version are slightly fluffier than the vegan gluten-free versions, but they are both very fluffy…and perfect. Have a look at the picture below, those are the vegan gluten-free pancakes:
See? They're SO fluffy. Just like pancakes should be!
If you like this vegan eggnog pancakes recipe, you may also like these other vegan gluten free pancake recipes:
And if you make these pancakes, tell me! Leave me a comment below or post a pic on Instagram and tag me, I would love to see your re-creations 🙂
Print Recipe
Easy Vegan Eggnog Pancakes
Fluffy vegan eggnog pancakes are the perfect addition to your holiday breakfast or brunch table. Instructions to make them gluten-free are also included!
Instructions:
Whisk eggnog, oil, vanilla, and ground flax seeds together in a medium-sized bowl, whisking enough to incorporate the flax seeds. Let sit for 5-minutes.

Heat pan over medium-high heat for at least 2 minutes.

Whisk flour, baking powder, baking soda, cinnamon, nutmeg, and salt together in a large bowl.

Slowly add wet ingredients to the dry ingredients, mixing well until incorporated.

Lightly coat surface of pan or griddle with a very small amount of oil. Ladle about 1/3 cup (or less for smaller pancakes) of the pancake mixture into the center your pan, cooking 1 at a time. Turn when ready.

Continue cooking until the batter is done, placing pancakes on a covered oven-safe plate in the oven as they finish to keep them warm.
Recipe Notes:
If you are making the vegan gluten-free version and using the gluten-free flour blend, follow these directions:
Other Notes:
This recipe makes 8-10 pancakes, depending on how large or small you make them.
When I make my pancakes, I use a thick, cast-iron pan. A griddle can also be used to make more than one at a time. I usually turn mine after about a minute and a half, when the edges start to look dry. Some experimentation may be necessary until you get a feel for it. Everyone's griddle/pan will cook differently.
This recipe will NOT work with coconut flour.
It's important to know that all gluten-free flour blends use different ingredients and ratios, so results will always vary when you use different blends. I have never used any other brand of flour to make these pancakes, other than this one from Bob's Red Mill, the one one with the red label shown in that link, not the blend with the blue label, so please know that your results may not be the same as mine if you substitute with a different flour.
Nutrition info is based on 1 of 8 pancakes made using the recipe as written, using So Delicious Holiday Nog, without garnishes or maple syrup, and is only to be used as a rough guide. Calorie count for 1 vegan gluten-free pancake is 197 calories. Click to learn how nutrition info is calculated on this website.
Nutrition Info:
Serving:
1
pancake
|
Calories:
180
kcal
|
Carbohydrates:
24
g
|
Protein:
3
g
|
Fat:
8
g
|
Saturated Fat:
2
g
|
Polyunsaturated Fat:
1
g
|
Monounsaturated Fat:
4
g
|
Sodium:
203
mg
|
Potassium:
15
mg
|
Fiber:
2
g
|
Sugar:
6
g
|
Calcium:
10
mg
|
Iron:
0.2
mg
Did You Make This Recipe?
If so, please share a picture with me on Instagram! Tag @delightfuladventures and hashtag #delightfuladventures. I can't wait to see!