These fluffy vegan eggnog pancakes are the perfect addition to your holiday breakfast or brunch table. They can be made vegan only or vegan AND gluten-free, I've included instructions on how to make both versions below!
This page may contain affiliate links. Click to learn more.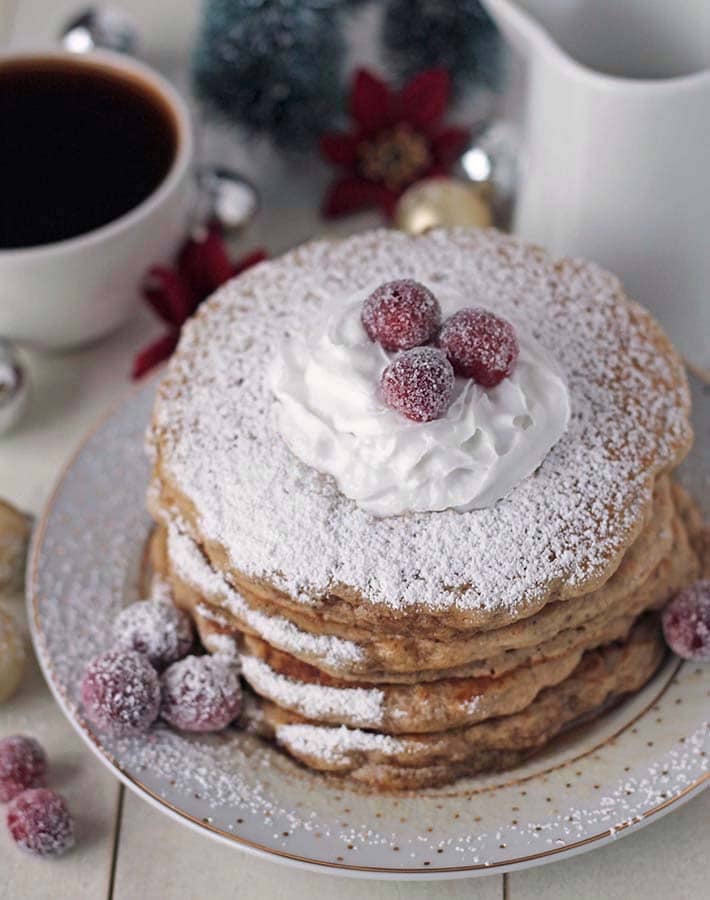 Do you like eggnog? I have to admit, I'm not a huge fan of drinking it as-is but I do like recipes using eggnog and recipes using eggnog leftovers like these eggnog pancakes.
This recipe is very easy to make and you can have your Christmas pancakes on the table in a short amount of time. As you can see by the visual steps below, it's just a matter of:
1. Combining the dry ingredients.
2. Combining the wet ingredients.
3. Adding the wet ingredients to the dry ingredients.
4. Mixing.
5. Cooking
See? Very easy so you can get breakfast out of the way and do other festive things with your family!
This recipe is based on my easy vegan gluten-free pancakes. I went back to that recipe and made a couple of small changes and here we have eggnog pancakes, perfect for the holiday season.
What Do They Taste Like?
They taste just like the holidays 🙂
But seriously, the eggnog flavour in these pancakes is not overpowering, it's subtle, but there. To enhance the flavour a bit more, I've added a little extra nutmeg and cinnamon to the recipe.
The result is pancakes that are festive and a great addition to your vegan, or vegan gluten-free breakfast lineup.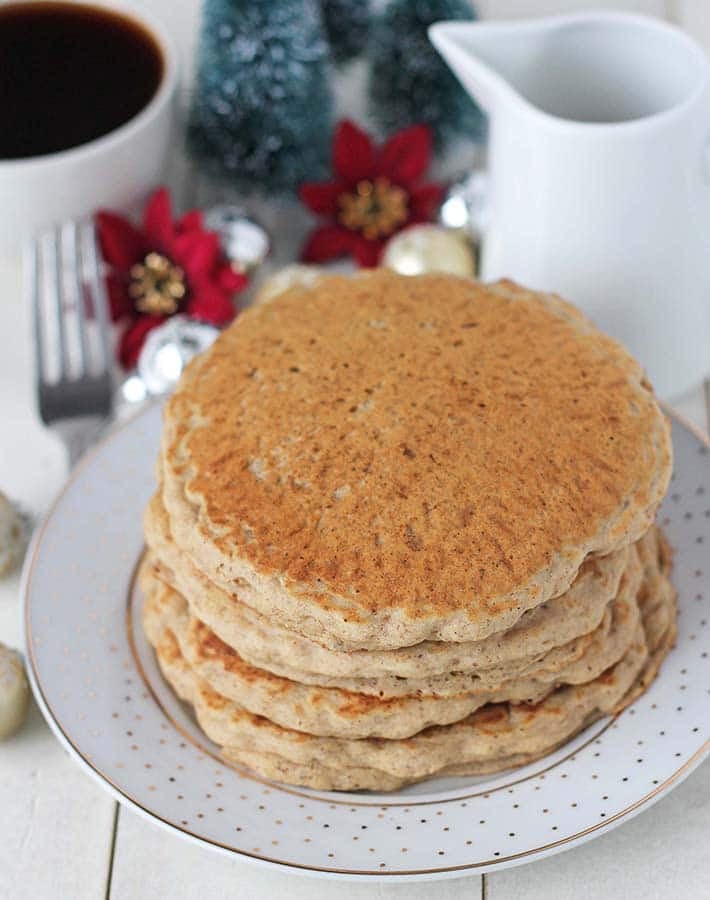 Of course, one of the essential ingredients for this recipe is the vegan eggnog.
What is the Best Vegan Eggnog to Use?
That's up to you! Use your favourite.
The brand I use to make this recipe is the So Delicious Holiday Nog (this one). It only makes its appearance in the stores in late fall through to the end of the holiday season (here in Canada, anyways).
The eggnog you use must be on the thinner side, it must have a consistency like almond or regular milk. If the eggnog you use is thicker than almond or regular milk and you find that the batter is too thick after combining the dry and wet ingredients, you can add a little unsweetened non-dairy milk to thin it out.
The So Delicious brand I use is coconut milk based, but there are others that are almond milk based. You can also make your own, but the key is that the eggnog not be thick like regular eggnog or you'll run into batter problems.
This Christmas pancake recipe can be made ahead of time and warmed up when you're ready to serve them, however, I do find that they're best when served fresh, right out of the pan or off the griddle.
Pancakes are always best when they're served fresh, aren't they?
How Should Eggnog Pancakes Be Topped?
You can never go wrong with pure maple syrup, like in the picture above, but you can also top them with the following:
powdered sugar
cinnamon
sugared cranberries
vegan butter
fresh berries or fruit
pomegranate arils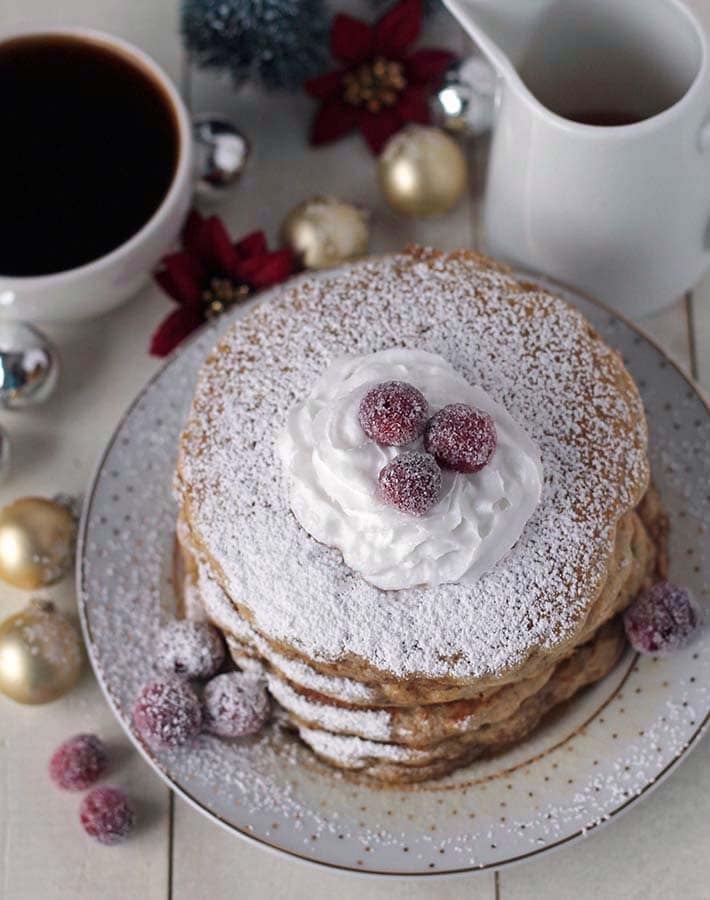 Are They Really Fluffy?
Yes, they are! You may think that vegan pancakes or vegan gluten-free pancakes can't be fluffy. That's not true. As long as your baking powder is fresh and you follow the recipe as it is written, your pancakes will be fluffy.
The vegan only version are slightly fluffier than the vegan gluten-free versions, but they are both very fluffy…and perfect. Have a look at the picture below, those are the vegan gluten-free pancakes:
See? They're SO fluffy. Just like pancakes should be!
If you like this vegan eggnog pancakes recipe, you may also like these other vegan gluten free pancake recipes:
And if you make these pancakes, tell me! Leave me a comment below or post a pic on Instagram and tag me, I would love to see your re-creations 🙂
How to Make Vegan Eggnog Pancakes