In my opinion, one of the perfect breakfasts to have during the fall is vegan gluten free pumpkin pancakes. Topped with a little vegan butter and real maple syrup? Maybe a little vanilla bean coconut whipped cream?
So dreamy.
This page may contain affiliate links. Click to learn more.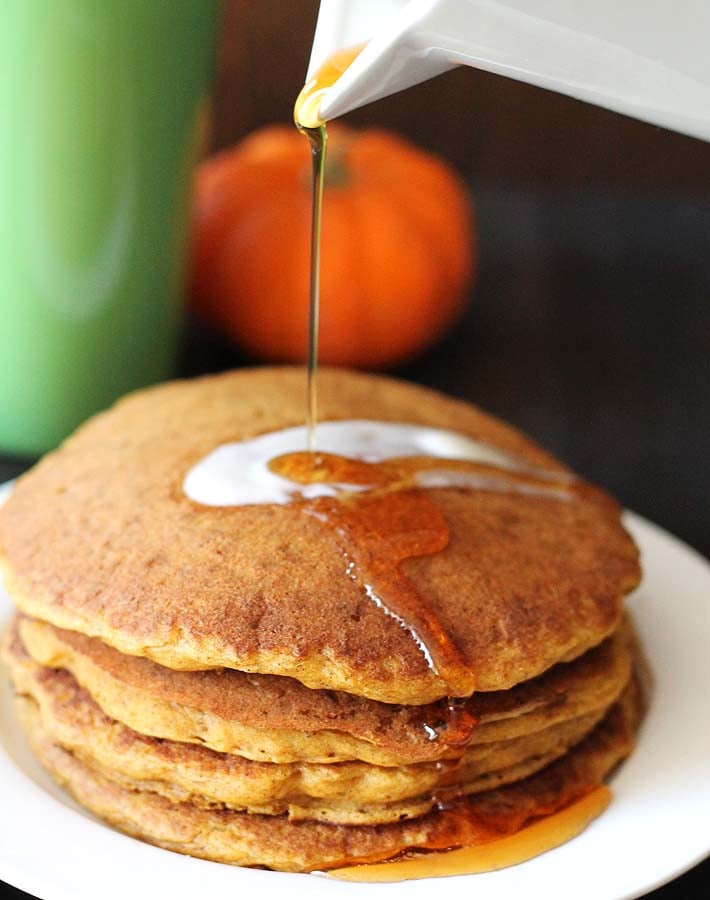 Each year, when fall rolls around, there are so many pumpkin recipes I want to share here with you, but I don't want you to go into pumpkin overload so I have to remind myself that fall flavours are so much more than pumpkin.
There's apples, cinnamon, butternut squash, ginger…and so much more. I'm trying my best to think outside the pumpkin box…
…But for today (and a few more times before fall is over!), we're sticking with pumpkins 🙂
And speaking of pumpkins, to make all of these pumpkin recipes, you need pumpkin puree. Have you ever tried making your own? Its very easy and will save you money, which is always a good thing! Learn How to Make Homemade Pumpkin Puree.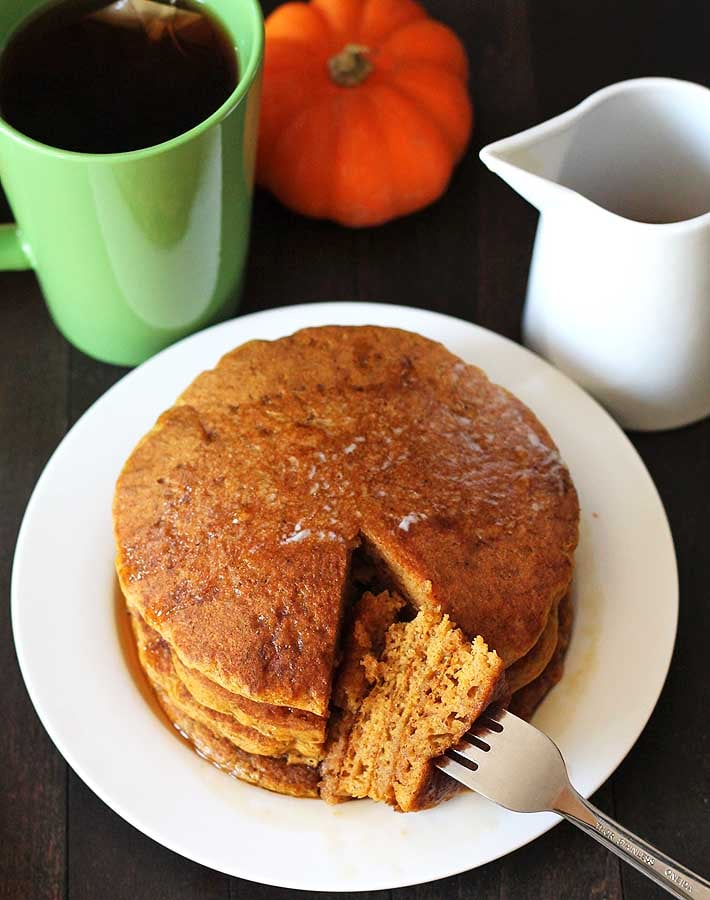 If you've never had gluten free pumpkin pancakes before, I hope you aren't thinking that because they're gluten free that they're going to be flat, or rubbery, or have a weird texture.
THESE gluten free pumpkin pancakes are none of those things. They're fluffy, filled with flavour, and will fool anyone into thinking that they're regular pancakes, just like all of my other vegan gluten free pancake recipes, check them out: banana, gingerbread, plain, sweet potato, eggnog, and banana oat.

Here's a shot of the inside of the pancakes so you can see how fluffy they are. I took these after they were doused with maple syrup, so they are a little weighed down, but if you follow my recipe exactly, you're going to end up with the most delicious vegan gluten free pumpkin pancakes you've ever had.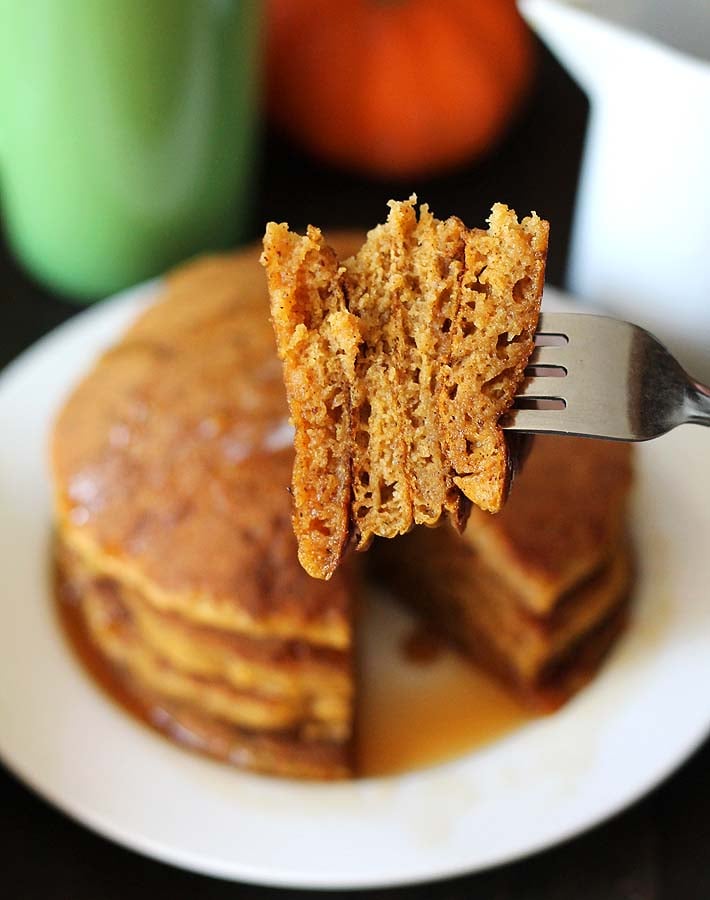 One thing that's really important when making pancakes, is to be sure your baking powder is fresh and active. Why? The baking powder is what helps to "lift" them as they cook and make them fluffy.
If you aren't sure how to check your baking powder, read this article on how to tell if your baking powder is still good.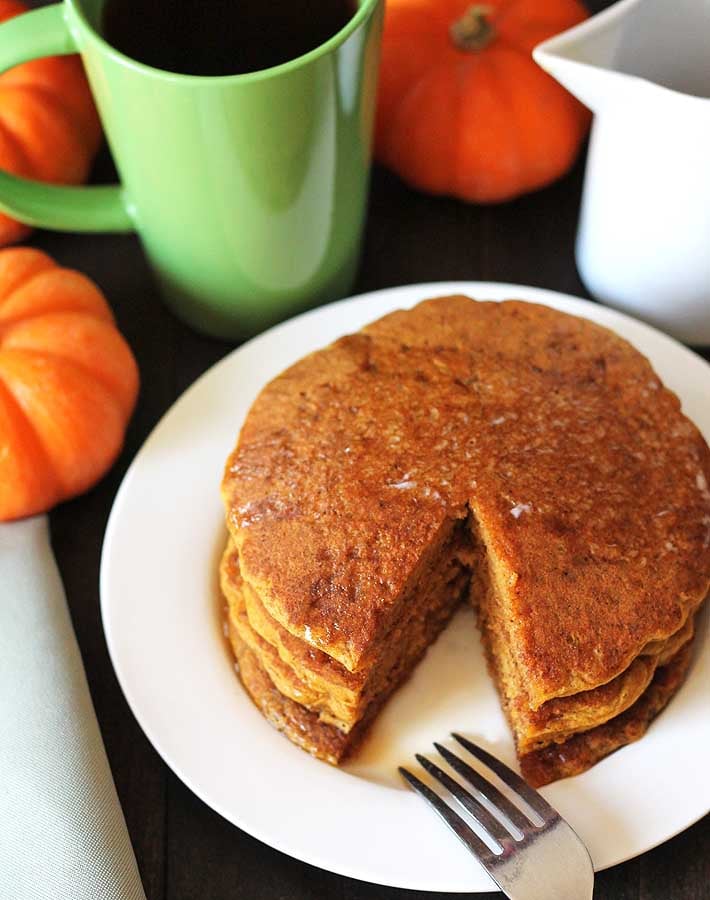 If you make these, share a pic on Instagram and tag me (@delightfuladventures). Seeing your remake pictures make me so happy, I love seeing them!
If you liked this pumpkin recipe, you may also like these other vegan pumpkin recipes:
How to Make Vegan Gluten Free Pumpkin Pancakes