This easy 4-ingredient strawberry chia seed jam is the simplest jam you can make! There's no boiling involved, it's vegan and gluten-free, and it only contains 4 simple ingredients.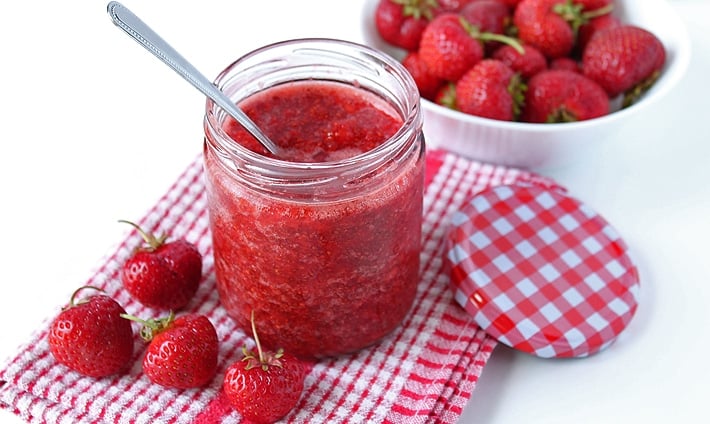 We went to pick strawberries at a local farm recently, and since then, it's been all about strawberries here at home. I have a large amount to use up (quickly!), so I've been looking for new recipes to make with our haul.
I found this new-to-me, perfect-for-summer strawberry lemonade slush recipe (yum!) and then there are the old recipes I fall back year after year — like my easy strawberry chia seed jam.
I call this recipe "easy" strawberry chia seed jam because it is ridiculously easy to make. It contains only 4 ingredients and when I say it's easy to make, easy, I mean really easy.
The only hard part about this strawberry chia seed refrigerator jam recipe is waiting the 6 hours for it to set in the fridge!
When processing the berries in your food processor, if you like to have some chunks of the fruit, pulse them until they get to the consistency you like. I prefer some pieces in my jam and for it to not be fully smooth, but of course, everyone is different, so blend until it's the way you like it!
You also control the sweetness of your strawberry chia seed refrigerator jam, based on your preference and how sweet your berries are. See the recipe notes for more info on this.
Another thing I love about this jam is that is contains chia seeds. I don't have to go into how good chia seeds are for you, right? If you don't already know, read this article. I add chia seeds to my recipes to bump up nutrition any time I can. I add them to muffins, granola recipes, and smoothies.
If you've never had chia seeds before, don't be scared because you think you may not like the taste - they are tasteless.
They have no flavour. The only way you'll notice they are part of this recipe is because you see them.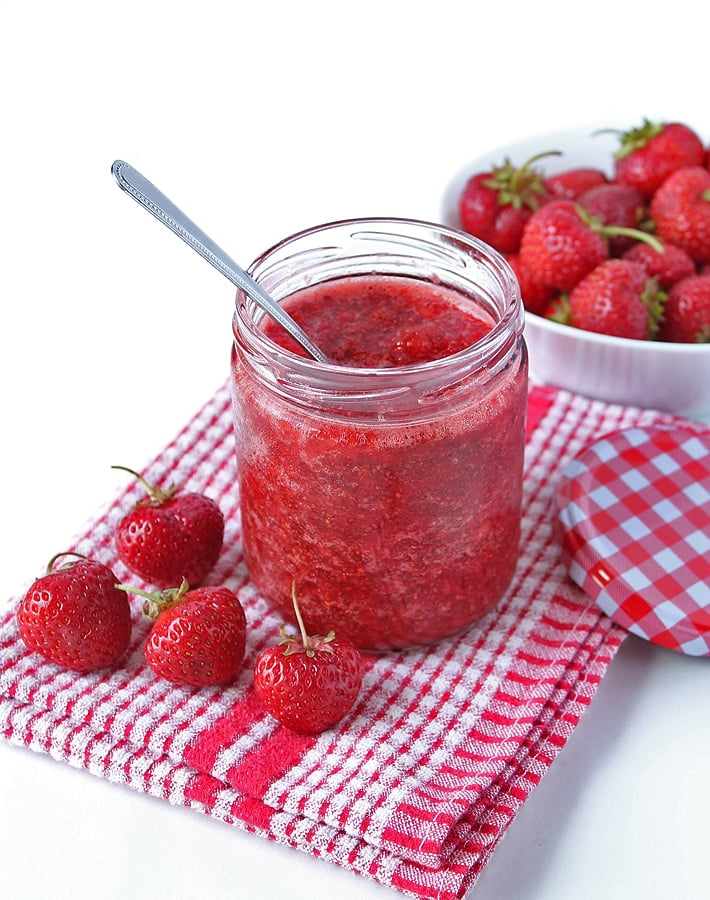 Now, if you aren't familiar with chia sees, you may be wondering:
Why are chia seeds are part of a jam recipe?
Fair question, because I don't think I've ever seen a store bought jam that contained chia seeds.
The chia seeds are the magical ingredient that transforms and sets the liquid berry mixture into a jam texture.
The seeds work in this strawberry chia seed refrigerator jam the same way they work in an overnight oats recipe. They serve as a thickener. So please don't omit them or your recipe won't work!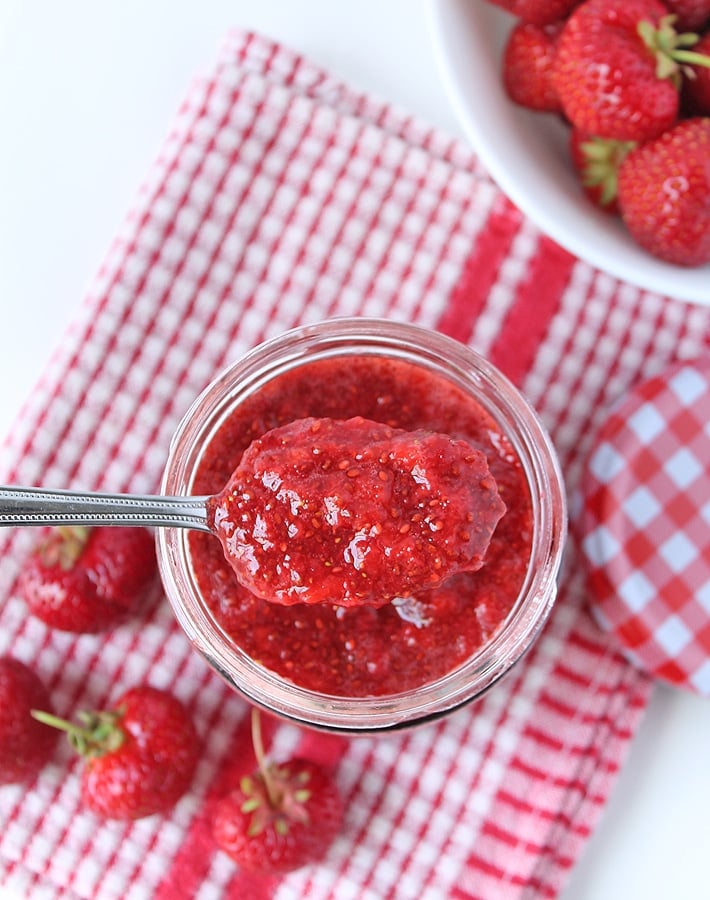 Is the consistency of chia jam like regular jam?
Chia jams are a little looser than store bought or regular jam and this has to do with the jam not being boiled to get evaporate some of the liquid.
You can make your strawberry chia seed refrigerator jam chunkier by processing the fruit only slightly. That being said, chia jams tastes just as good as any other, so don't let the runnier consistency turn you off, they can be used as any other jam.
How long does chia seed jam last?
Strawberry chia seed jam (or any chia seed jam) does not keep as long in the fridge as a store-bought jam. It will last about 2-weeks. So use it up as quickly as possible (it won't be hard to do once you see how delicious it is!)
Serve it at breakfast, brunch and any time jam fits with what you're serving and you'll have no problem using it up quickly.
Can I freeze chia seed jam?
Yes! You sure can. Once fully cooled, place in freezer-safe containers and freeze for up to three months. When you're ready to use it, thaw fully in the fridge before you use it.
If you have any further questions, leave them in the comments for me below. And if you make this recipe, post a pic to Instagram and tag me! I'd love to see. I'm @delightfuladventures.
If you like this recipe for Strawberry Chia Seed Jam, then you may also like these:
How to Make Vegan Strawberry Chia Seed Jam
Easy Strawberry Chia Seed Jam
A recipe for easy, no boil strawberry chia seed jam that just needs 4 ingredients and a little bit of patience!

Instructions:
Place strawberries in a food processor and pulse until the desired consistency is reached.

Transfer mixture to a bowl and add lemon juice and chia seeds. Mix until combined.

Add maple syrup, 1 tablespoon at a time and taste after each addition. Repeat until the desired sweetness is reached. See note below.

Transfer mixture to a jar.

Close jar and refrigerate for at least 6 hours for the jam to set.
Recipe Notes:
Please read the FAQ above before making the recipe for answers to questions you may have.
Depending on how sweet your berries are, the amount of maple syrup needed will vary. Add maple syrup, 1 tablespoon at a time. Taste after each addition until it reaches the level of sweetness you prefer.
Recipe makes 1 ½ cups of jam.
Nutrition info is based on each serving being 1 tablespoon of jam and 4 tablespoons of maple syrup being added to the jam when making the recipe. Nutrition info is only to be used as a rough guide, click here to learn how this info is calculated.
Nutrition Info:
Calories:
23
kcal
|
Carbohydrates:
5
g
|
Protein:
1
g
|
Potassium:
40
mg
|
Fiber:
1
g
|
Sugar:
3
g
|
Vitamin C:
16.5
mg
|
Calcium:
10
mg
|
Iron:
0.2
mg
Did You Make This Recipe?
If so, please share a picture with me on Instagram! Tag @delightfuladventures and hashtag #delightfuladventures. I can't wait to see!