Delicious nut free granola clusters with maple and coconut are are perfect to have for breakfast, in a yogurt parfait, or for snacking on in the afternoon! This easy-to-make breakfast (or snack!) can be made on the weekend, for use throughout the week.
This page contains affiliate links. Click to learn more.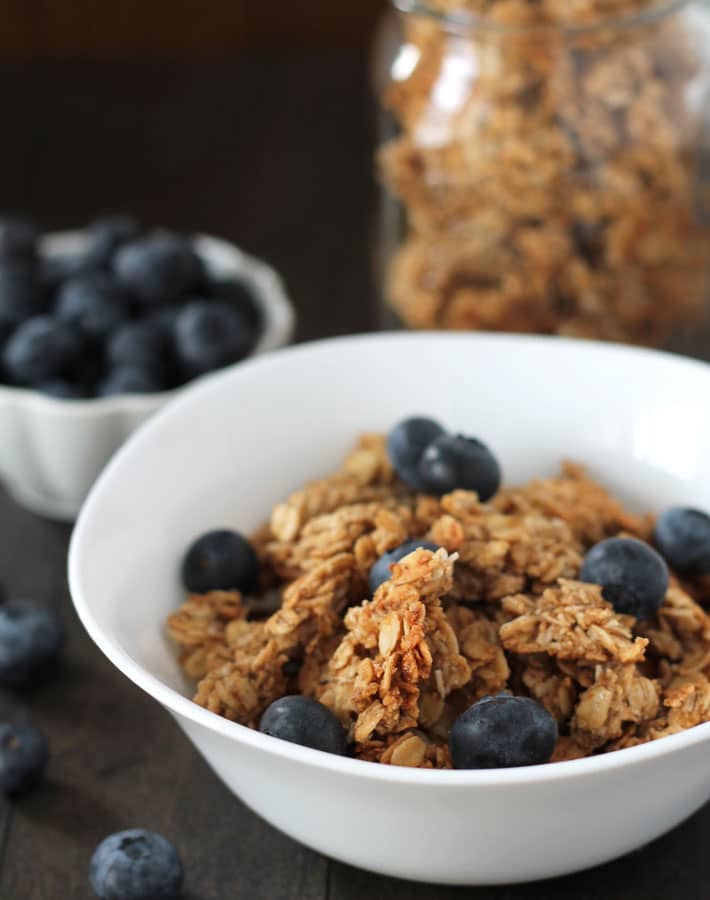 The kind of granola I like can't be too sweet, it needs to be crunchy, and the granola has to be clusters (I'm not a big fan of loose, crumbly granola). This is why I usually have a batch of this nut free granola in my cupboard.
I think my love of granola dates back to my childhood when my mom kept a granola stash all to herself. It was a store bought box that she only got when it was on sale because it was a little pricey.
When she brought a box home, we all knew it was off limits because it was her special thing. I specifically remember it being the cluster kind of granola and it was delicious.
Perhaps it was extra delicious because it was off limits to everyone? Maybe.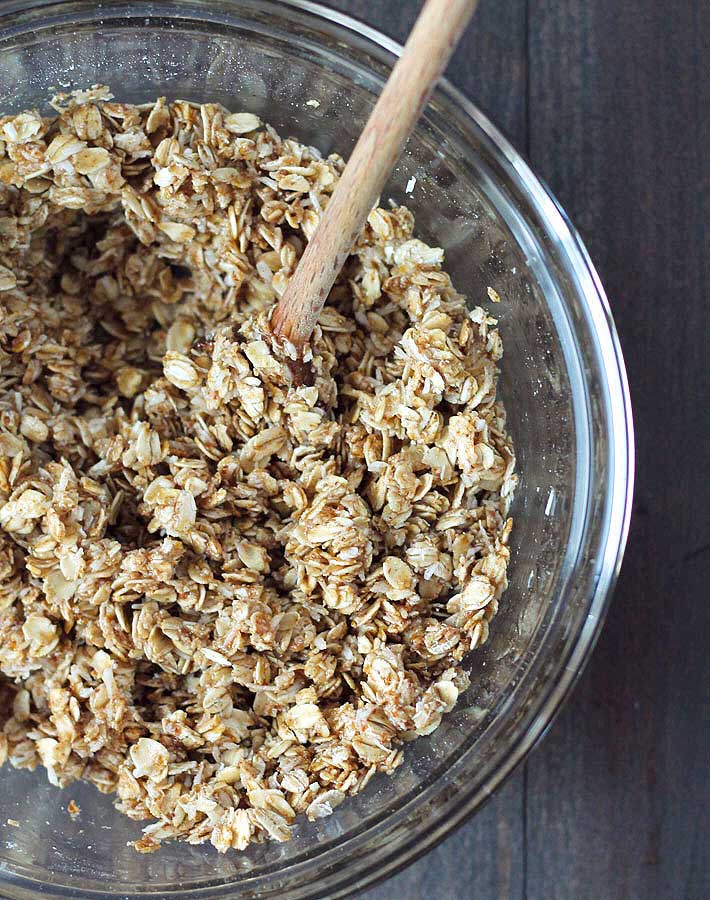 Nowadays, my own food stash that's off limits to others consists of chocolate, not granola…because of this recipe. (What do you keep in your own off-limit stash?!)
To make these homemade granola clusters, all you need is a few simple ingredients you probably already have in your cupboards. And they're very easy to make.
They're delicious to have for breakfast, of course, but you can also enjoy them as school snacks, afternoon snacks, travel snacks…any time snacks. It also makes a nice addition to yogurt parfaits and any other recipe that calls for pre-made granola.
Why Nut-Free? Can I Add Them Anyways?
I chose to make my nut free maple coconut granola clusters without nuts, so my kids can bring them to school (their school is 100% nut-free this needed to be a tree nut free granola) but you can add nuts if you'd like.
I have not made a nut version (yet) but I would use raw, un-roasted nuts since the granola spends some time in the oven. That oven time will toast the raw nuts up nicely.
Easy & Delicious
My homemade nut free granola is simple to prepare, and it's not pricey to make so I can make enough for the entire family to enjoy. (In fact, it's cheaper to make your own granola than to buy the store stuff!)
And the best part? Because they're clusters, they're so easy to grab and eat while you're on-the-go. Don't you want to grab a few of these golden, crunchy clusters right now?!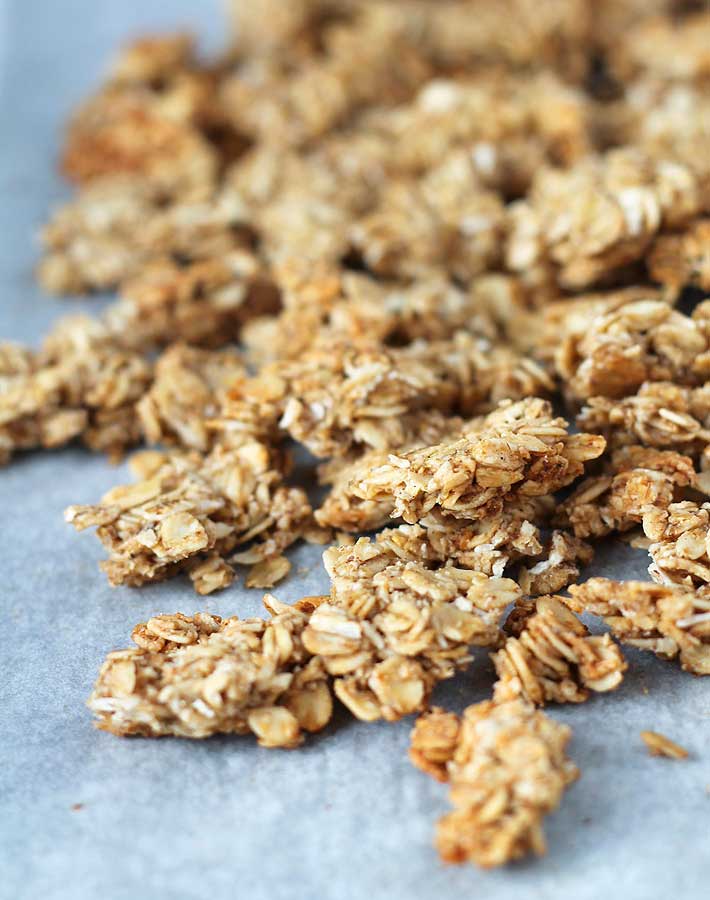 What About the Add-Ins?
We can't not give the maple and coconut a mention, because they contribute the majority of the flavour to this nut free granola recipe.
I chose to add these two ingredients because the flavour combo is so wonderful and perfect for granola. The pure maple syrup adds a nice sweetness and the shredded coconut add a rich and nutty flavour.
A few of the reasons why this is one of my top choices for a snack 🙂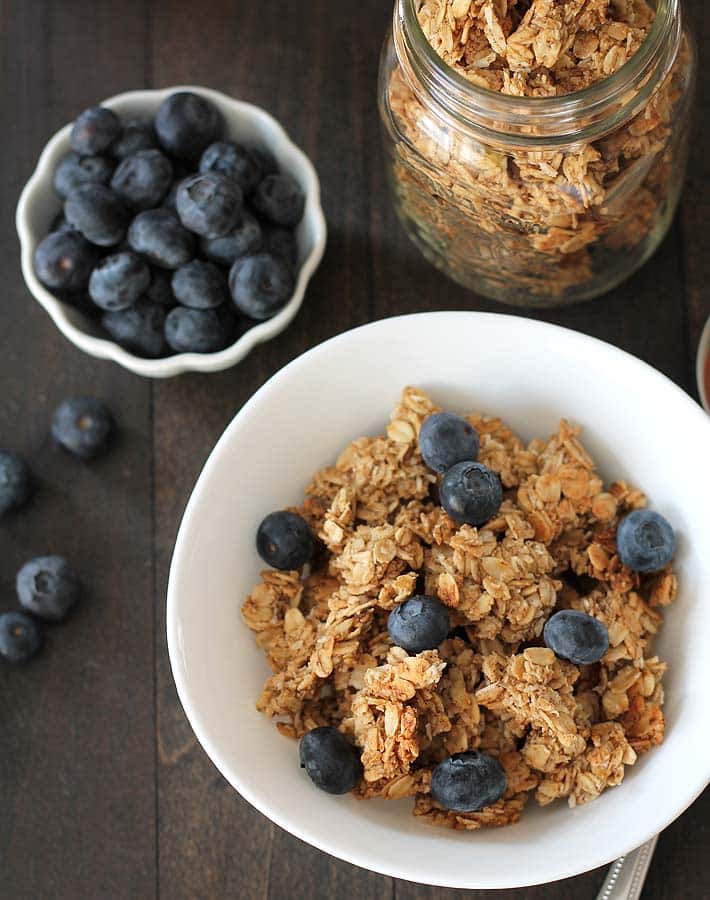 Before heading off to make your own granola clusters, click here for more delicious breakfast ideas!
If you make them, tell me about it below in the comments or share a pic on Instagram and tag me so I can see. You can also pin this recipe to Pinterest!
And finally! If you like this nut-free granola clusters recipe, you may also like these other recipes that use oats:
How to Make Nut Free Granola Clusters