This vegan mocha frappe recipe is sponsored by Caotina. As always, all opinions in this post are my own.
We all have those favourite drinks we like to get from the coffee shop…lattes, cappuccinos, espresso, just plain coffee…mine happens to be the mocha. If you haven't had one before, it's a mix of milk, coffee, and chocolate. Since summer is almost here, and we're going to need drinks to cool us down, I wanted to share this recipe for a delicious (and easy-to-make!) vegan mocha frappe that would rival any coffee shop mocha frappe.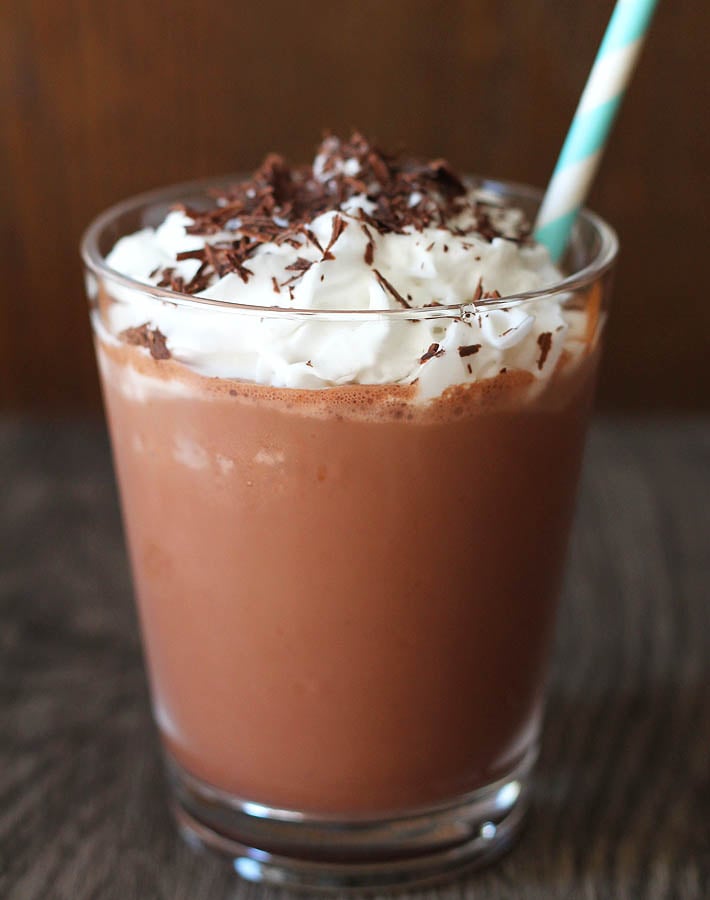 You may not realize just how easy it is to make some of your coffee shop favourites at home. It really is easy! And you probably already know that it's way cheaper. So making yourself a mocha frappe at home when a craving hits is going to save you some money. Bonus!
This recipe just needs 3 ingredients: frozen coffee cubes, milk, and chocolate drink powder. You can enjoy it as-is or you can add some optional toppings like coconut whip, dark chocolate shavings, or chocolate syrup, if you'd like.
For the chocolate powder, I used Caotina Chocolate Drink Mix. Caotina is a brand that has been around since 1963 but was only introduced to Canada this year. It's made with UTZ-certified cocoa made with delicious Swiss chocolate. What I love about this mix is that it blends perfectly in either hot or cold milk. You know how sometimes you add chocolate powder to your milk and you end up with clumps or bubbles filled with the dry powder? Caotina doesn't do that. I've tried it with cold and hot milk and it blends up nice and smooth every time!
Where to Buy Caotina in Canada
Lucky for us Canadians, we can now pick up Caotina at major grocery stores across Canada, including Sobeys, Foodland, Longo's, Highland Farms, and Coppa's! So you'll always be ready to whip up a homemade mocha frappe!
As mentioned above, you can enjoy your vegan mocha frappe as-is or you can add toppings. I love to add coconut whip and dark chocolate shavings to mine. Another popular option is chocolate sauce. It's really up to you!
So the next time you feel like heading out to the closest cafe to grab a cold, specialty coffee drink, save your money! Grab your coffee cubes out of the freezer (tip: always have some on hand and ready to go!), pour your milk, and scoop out your chocolate drink mix and you have yourself a mocha frappe that's just as crave-worthy and tasty as any other. And the best part? You didn't even have to leave home to get it.
If you like this recipe, I think you may also like these other homemade coffee shop drinks too!
How to Make a Vegan Mocha Frappe
Vegan Mocha Frappe
Skip the expensive cafe drink and make your own vegan mocha frappe at home with just 3 simple ingredients!

Cuisine:
Gluten-Free, Vegan
Ingredients
6

coffee ice cubes

1

cup

unsweetened non-dairy milk

2

tbsp

powdered chocolate drink mix

(I use Caotina)

sweetener of choice

(optional, see note below)

coconut whip, chocolate sauce, chocolate shavings

(for topping, optional)
Instructions
Add the coffee cubes, non-dairy milk and hot chocolate powder to a blender. Blend until smooth.


Pour into a cup, taste and if you would like it a little sweeter, add sweetener to taste.


Top with your toppings of choice, if using.



Recipe Notes
To make the coffee ice cubes, simply make your coffee, cool, pour into a standard ice cube tray, and freeze.
Caotina, like most other chocolate drink mixes, is already sweetened so I don't add any additional sweetener, I think it's perfect as-is but feel free to add more sweetness if you'd like.
If you don't have access to Caotina, any other chocolate drink mix can be used.
Calorie count is without any added sweetener, no toppings, and using unsweetened almond milk.
Nutrition Facts
Vegan Mocha Frappe
Amount Per Serving
Calories 211
* Percent Daily Values are based on a 2000 calorie diet.