If you love pumpkin recipes, a very good (and money-saving!) thing to learn is how to make homemade pumpkin puree.
Each fall, I make a big batch of it and I use it to make all of my favourite pumpkin recipes. As soon as I see those little sugar pumpkins (also called pie pumpkins) show up in the stores, it's homemade pumpkin puree time.
This page may contain affiliate links. Click to learn more.
After I make my puree, I feel like Bubba from Forrest Gump. Remember that scene where Bubba lists off all the dishes that can be made from shrimp. Have a look:
That's me, except with pumpkin, listing off all the things I can now make with my fresh batch of homemade pumpkin puree 🙂
There are SO many things you can make…from savoury dishes, to delicious desserts (like vegan gluten free pumpkin chocolate chip bread or gingerbread chocolate chip muffins , or pumpkin pudding!)—the possibilities are endless.
Typically, you should be able to find sugar pumpkins starting in September. Where I live in Canada, I'm only able to find them during the fall but perhaps they may be a bit easier for you to find at other times of the year where you live.
Homemade Pumpkin Puree vs Canned
Like most cases, the homemade stuff tastes so much better, and fresher, than the canned stuff. So when you see how easy it is to make, you'll never look back.
As you can see in my pictures, the colour of the puree will be paler than the canned stuff, which tends to be more on the dark orange side. This is because the pumpkins used for cans is a different sugar pumpkin variety (usually Dickinson pumpkins).
You MUST use sugar/pie pumpkins to make puree for recipes and not use carving pumpkins (the larger kind used to carve a jack o' lanterns). I haven't tried it myself, but I've read in multiple places that carving pumpkins produce bland, stringy puree. Not good.
After scooping out the insides, save them so you can roast the seeds. Click to learn how to roast pumpkin seeds.
Your puree will be a little runnier than the canned stuff which is more "packed." This will not affect your recipes but if you prefer for yours to be less runny, line a colander with a cheesecloth and put your finished puree in. Place the colander over a large bowl and let it sit for a while so some of the extra moisture drains out.
Here's how to make your own homemade pumpkin puree:
Snap off the stems and cut each pumpkin in half. Be careful when doing these steps!
Slice off the top or bottom to create a flat and more stable surface to cut the pumpkins. I always do two pumpkins at a time because of the size of my baking sheet. Feel free to do more if you have the space.
Scoop out the insides with a spoon or ice cream scoop and save the seeds for roasting!
Place the halves on a parchment-lined baking sheet and bake at 350°F for 1 hour or until a fork slides through easily.
Be sure that your sheet has raised edges because the pumpkins release a lot of moisture while baking.
When you take them out of the oven, the skin will be wrinkled, that's a sign that they are ready. To be 100% sure, stick a fork in them and it should slide through easily.
Let them sit for a while to cool off.
When cool, flip over and scoop out the insides.
Place the insides into a blender or food processor and puree until smooth.
Depending on the size of your pumpkins and how many you bake, the amount of pumpkin puree you end up with will vary.
My two pumpkins (shown at the top of this post) gave me 5 1/4 cups.
How to Store Homemade Pumpkin Puree
If you will be using up your puree quickly, store in glass jars in the fridge. It will last about a week and half.
If you want to store in the freezer for later use, separate your puree into 1 cup portions and freeze in air-tight freezer-safe containers or freezer bags. It will keep for 6-8 months so you can enjoy pumpkin desserts for months to come!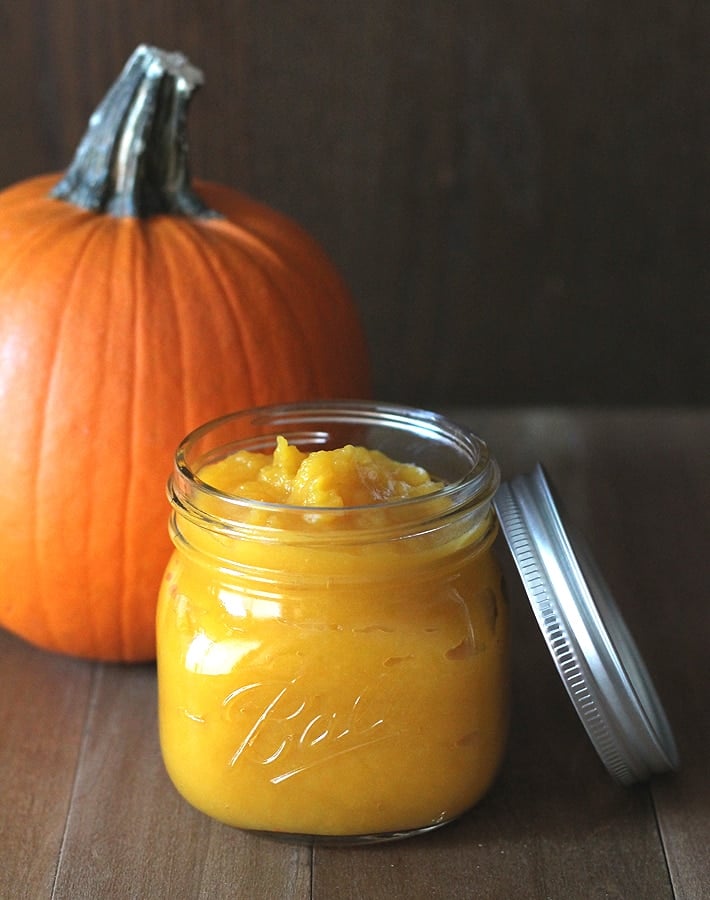 Now that you know how to make homemade pumpkin puree and you have a fresh batch waiting to be used, you're going to need recipes to make!
Some Pumpkin Puree Recipes to try:
How to Make Homemade Pumpkin Puree