Looking for easy vegan gluten-free dinner recipes perfect for any evening, especially busy weeknights? I have a list of quick vegan dinner recipes below that you (and your family!) will love. All of these simple plant-based meal ideas are delicious, family-friendly, and none of them call for a long list of unusual or hard-to-find ingredients. Keep reading and dig in!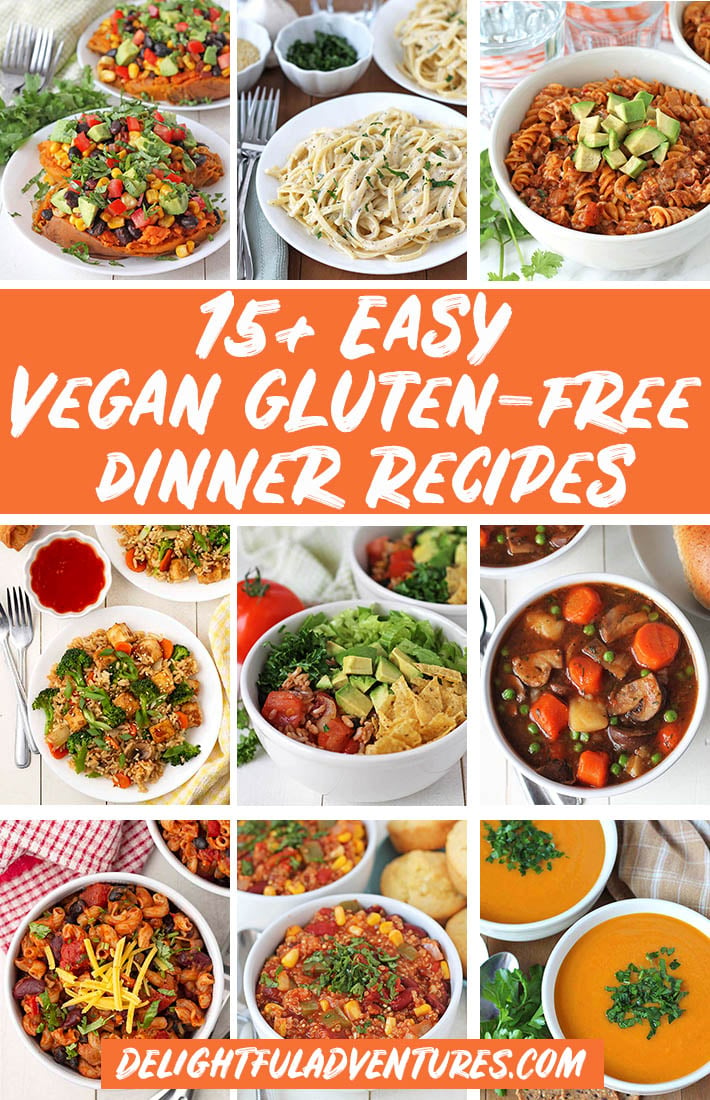 If you're new to vegan gluten free eating, you may feel like you're restricted in what you can eat or that it will be a challenge. Those two statements are so far from the truth!
What Can a Gluten Free Vegan Eat?
When it comes to breakfast, lunch, dinner, snacks, and desserts, the vegan AND gluten free possibilities are endless. 100% of the recipes on this website are vegan and 99% of them are gluten-free, so have a browse and find some new ones to try!
Nowadays, there's a substitute for pretty much any non vegan gluten-free food.
(I created a list of the best homemade vegan kitchen staple substitutes here and of course, there are countless options you can find in stores.)
Is Most Vegan Food Gluten Free?
The short answer to this question and the question "are vegan products gluten free?" is sometimes.
Just because something is vegan does not make it automatically gluten-free. This is where your label reading skills will come in.
Of course, fruits and vegetables are always vegan and gluten free, but when it comes to packaged foods, there are plenty you can buy that are both vegan and gluten free.
However, it can be a little confusing because some of the things you think wouldn't contain wheat actually does contain it.
For instance, soy sauce is vegan, but it contains wheat. But the good news is that there's a vegan gluten free soy sauce alternative and that is tamari. Like this example, there are alternatives to everything (not everything, but A LOT!)
So store bought items aside, there are LOTS of easy vegan gluten free dinner recipes you can make at home.
Whether you're looking for:
vegan gluten free recipes for a crowd
vegan dinner recipes for kids (parents, we can always use more kid-friendly plant-based dinner recipes, right??!)
gluten free dairy free vegetarian recipes
or even gluten free vegetarian recipes for dinner...
...all of these recipes fit those categories no matter how you phrase it. And did I mention they all taste amazing?
So let's get started with this delicious list of dinner recipes that are ALL vegan and gluten free!
Vegan Gluten-Free Dinner Recipes
Vegan Gluten Free Dinner Bowls
Meatless Gluten Free Soups and Stew Recipes
Plant Based Recipes for Dinner Featuring Pasta
But wait...is pasta gluten free?
Most dry pastas are naturally vegan but you need to specifically look for pastas that are labelled as gluten-free.
Most gluten-free pastas are corn and/or rice based and there are others made with lentils, and even chickpeas. Check out the labels before buying.
*****
So there you go! Over 15 easy gluten free vegan dinner recipes for you to try and add to your rotation! I hope you find some new favourites. And don't forget dessert!
I'll add even more ideas to this list as I publish more, so bookmark this page and check back often.
If you make any of these plant based dinner recipes, let me know in the comments below or share a pic and tag me on Instagram. I'm @delightfuladventures.
And if you liked this list of quick vegan recipes for dinner, you may also like these: