A quick and easy vegan mushroom stew that's hearty, and of course, delicious! This vegan stew will surely become a new favourite AND it can be made in your Instant Pot or on the stove top!
This page may contain affiliate links. Click to learn more.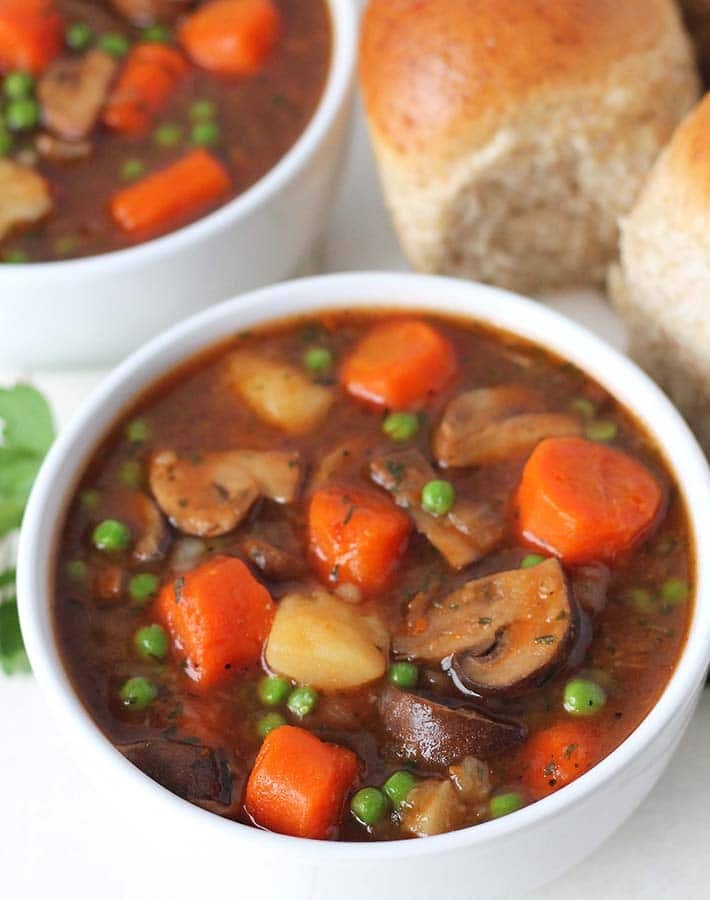 I've got a vegan winter stew (or any time stew!) dinner idea for you that comes together very quickly and will have you scraping your bowl wondering if there are any leftovers for lunch the next day…like I do each time I make it!
This mushroom stew is one that I've adapted from a beef stew recipe I came across in an issue of Canadian Living magazine. I get the majority of my inspiration from non-vegan magazine recipes and the Food Network. Any time I see a recipe that looks interesting, my first thought is: How can I veganize this? And then I get to work!
My recipes are proof that you can make a vegan and/or gluten-free version of almost anything. You just have to figure out the best ingredient swaps and then start testing. If things don't work out, test again until you've nailed it. This is a little glimpse into my food blogging life 🙂
For this beefless stew recipe, the major change I made was switching out the beef for mushrooms. I then made a few other smaller changes. This vegan stew recipe only requires a few simple ingredients that you probably already have in your kitchen: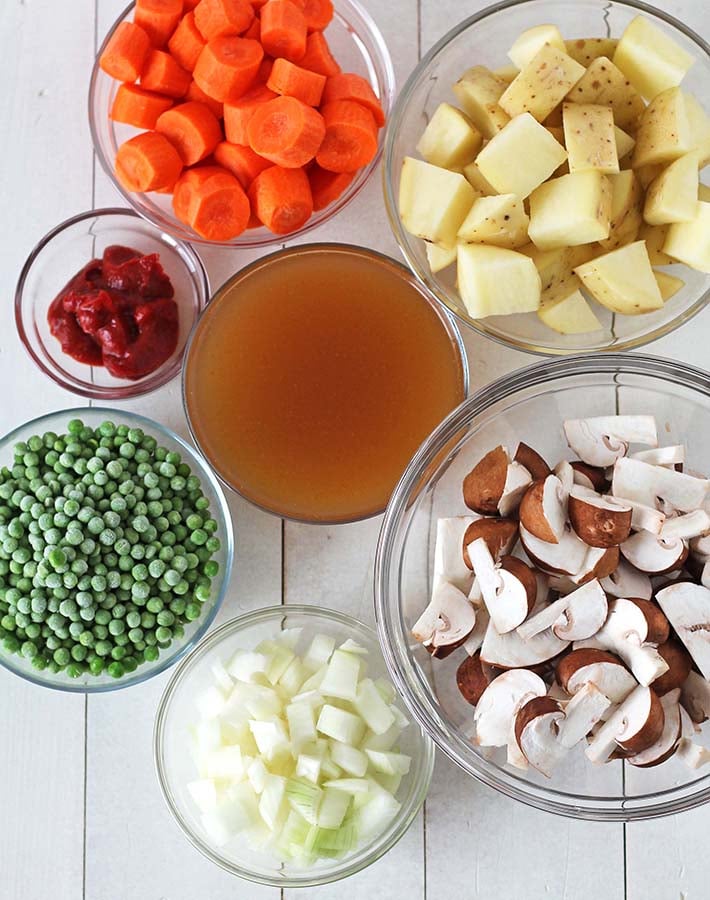 In addition to the ingredients above, you'll also need a few spices and herbs.
As mentioned, I've tested this recipe both in my Instant Pot and on my stove top, because I realize that not everyone has a pressure cooker. If you're on the fence about getting one, though…
Let's Talk About the Instant Pot
Before we get into the steps you'll need to follow to make your mushroom stew, let's discuss the amazing Instant Pot (<- Amazon link).
The one above is the one I own, it's the 9-in-1 6-quart and I have had it for a little over a year now. I can't imagine not having it since I prepare so many meals in it.
Earlier this year, I had to go without it for about a month and it was then that I realized how much I actually used it and how much it has become an essential part of my kitchen.
There are many things you can make in it, such as vegan Instant Pot stew recipes (like this one!), and:
And you can find even more vegan pressure cooker recipes here –> Instant Pot Vegan Recipes and if you're looking for some good vegan Instant Pot recipe books, check out this list of books you need to add to your collection.
I'm SO happy with my Instant Pot and if you get one, I'm sure you will be, too!
So now, let's discuss this stew recipe!
How Do You Make Mushroom Stew?
I've outlined the steps below but look for the full ingredient list and detailed instructions at the end of this post. Note that in my photos, I am making the stew in my Instant Pot and not on the stove top.
First, you'll add the onions to the pot and sauté for a bit. Then the mushrooms go in, followed by the spices and tomato paste.
Next, everything else goes in except the peas and you set your Instant Pot to pressure cook or if cooking on the stove top, you'll bring to a boil and then simmer.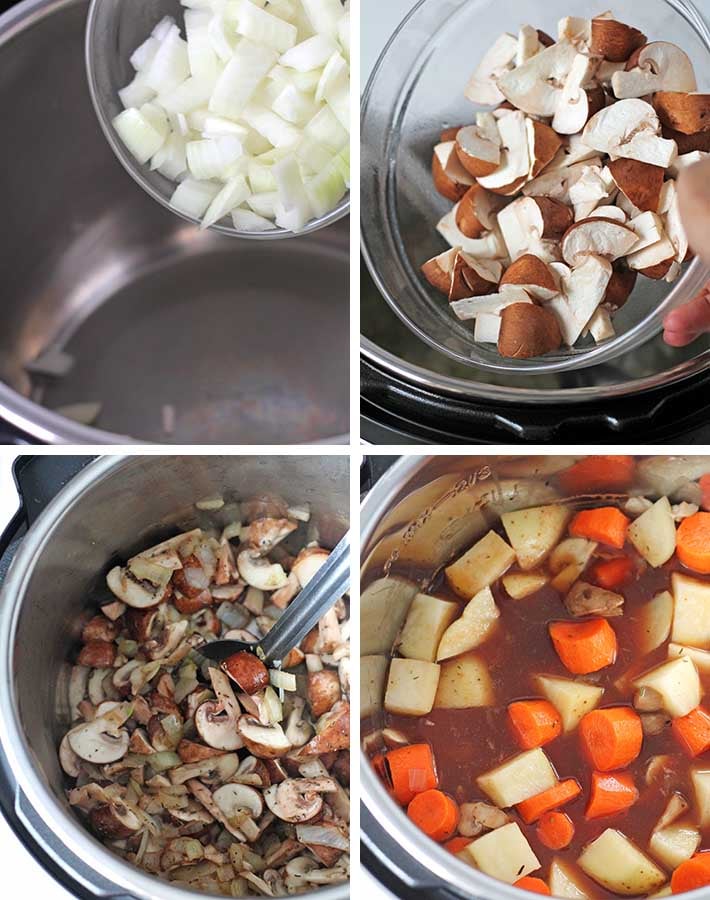 While your vegan stew is cooking, you'll prepare the slurry that will act as a thickener.
How to Make a Slurry for Stew
The general rule to making a slurry is one tablespoon water + one tablespoon arrowroot starch (or cornstarch) per one cup of liquid. This recipe calls for 2 1/4 cups of broth, so I did two tablespoons arrowroot starch + two tablespoons of water.
To make the slurry, you simply whisk the two ingredients together until they are fully combined. As the mixture sits, it will settle a little, so before adding to the stew, give it another quick whisk to combine everything, once again.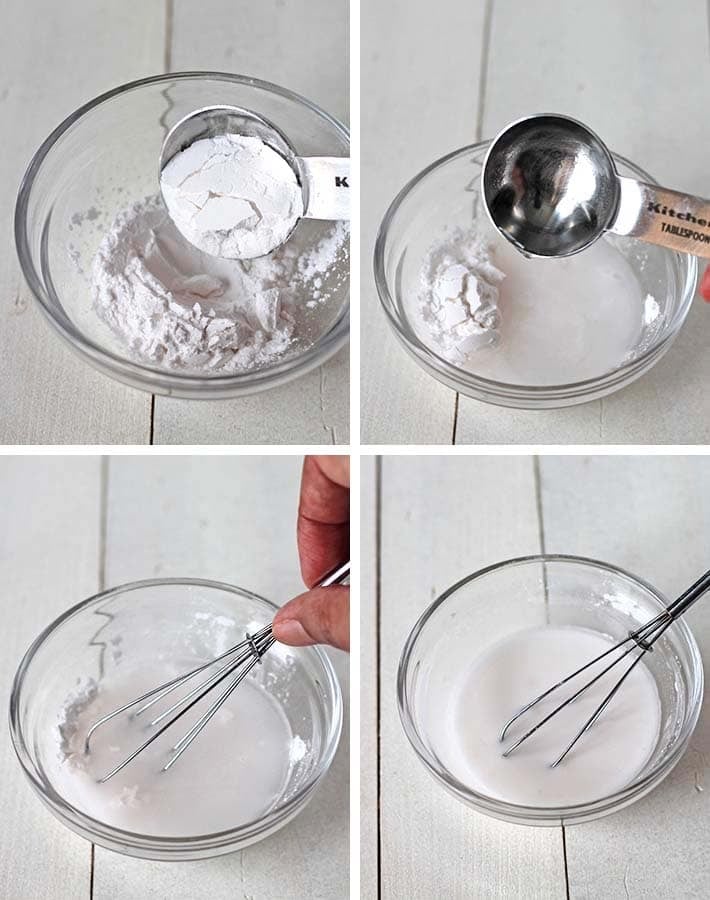 After the stew has finished cooking, you'll remove the bay leaf, stir in the slurry and add the peas and dried parsley. Give it all a final stir and your vegan mushroom stew is ready for serving!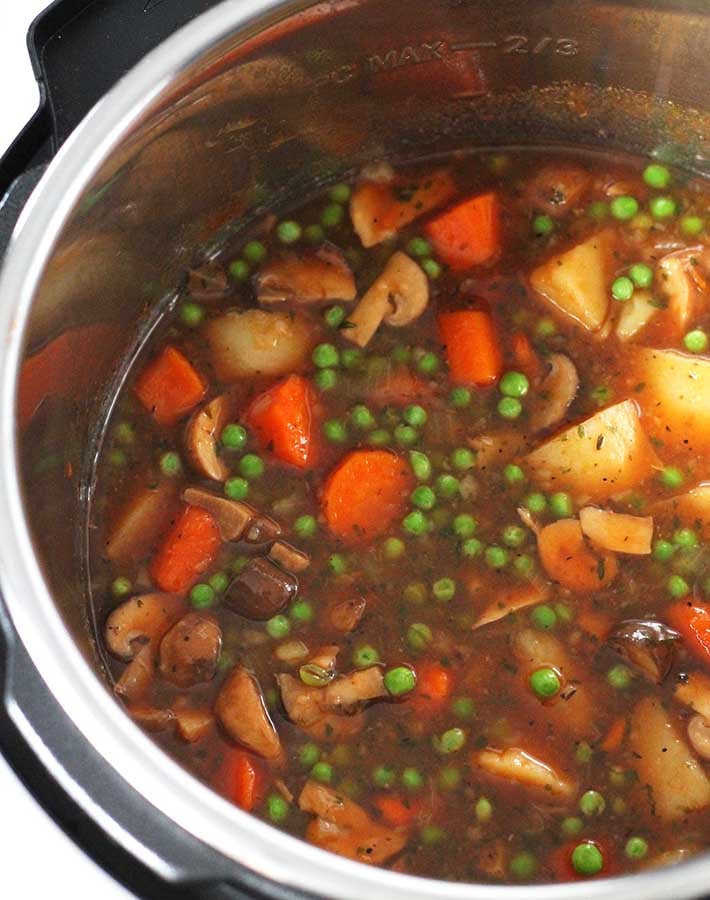 What to Serve with Mushroom Stew
This stew stands perfectly fine on its own, it really is a full meal by itself, but if you want to have a little something on the side, my vegan spelt rolls pair well. Some other ideas:
a salad
roasted or grilled vegetables
cornbread
fresh bread
crackers
Can I Refrigerate or Freeze Leftover Mushroom Stew?
Leftovers can definitely be refrigerated and reheated when ready and they will keep in the fridge in an airtight container for a few days.
As for freezing, this stew is best served fresh or within a couple days. If you do need to freeze, there are a few things to keep in mind.
Because the stew is thickened with arrowroot starch or cornstarch, the stew may separate after it has thawed and reheated. Once defrosted and reheated, the veggies will also be a little softer than they originally were, and will break apart more easily.
If you plan on making this recipe to freeze, I recommend NOT adding the slurry after it has cooked. Do all of the other steps except adding the slurry, cool and freeze. Then, once you have thawed (thaw in the refrigerator) and reheated, add the slurry to thicken it and enjoy.
If you make this stew, tell me! Share a pic with me on Instagram or comment below.
You can also pin this recipe to Pinterest so others can find my easy-to-make vegan recipes (thank you!).
And before you head down to the recipe, here are some other vegan dinner ideas you may also like!
How to Make Vegan Mushroom Stew