A quick and easy weeknight dinner recipe for flavour-filled vegan taco rice bowls. This dish is not only delicious, it's also gluten-free and packed with fresh, tasty ingredients!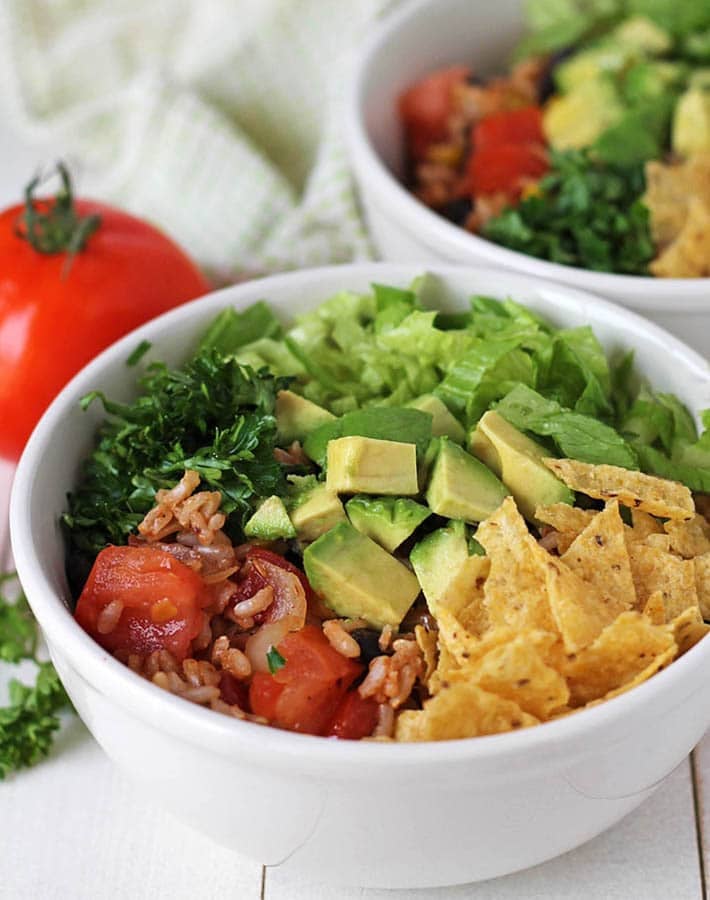 Whether you're looking for a few meatless meal ideas to add to your rotation, you're slowly transitioning to a vegan diet, or you're a seasoned pro when it comes to vegan cooking...whatever your situation may be, this recipe for taco rice bowls, a favourite of mine, will fit nicely into your meal plans.
Many years ago when I started moving over to a better-for-me way of eating, this recipe was one of the first I started making and it has stuck around for all these years, so that should tell you something...it's VERY good!
When I first started out, there weren't a lot of websites dedicated to vegan recipes, so I ordered recipe books online and I also borrowed books and magazines from the library. I did what I needed to do to get my hand on all of the amazing recipes out there.
The original recipe I used to evolve into this recipe you see here, was from a vegetarian taco salad in an issue of Eating Well magazine.
From what I remember, that recipe had a different preparation method and was not vegan. But I veganized it, changed a few things, and what I came up with became a favourite go-to.
I originally shared my adapted vegetarian taco salad recipe on an old website of mine. That old website was not a food blog but I shared a recipe every now and then.
Clearly, I had always been curious about having a food blog and those occasional food posts, thankfully, sparked the need to create this website!
My old website has since been closed down, but I still have access to the admin area. I recently logged in and was looking through my old posts and found this recipe. I thought that the recipe was a good one to share here. I also had a good laugh at the old photo I took of the dish, I've come a long way!
Why You'll Love These Taco Rice Bowls
What I love about them, and what I think you'll love too, is that they're so easy to make. The ingredients are fresh and they're filled with flavour and bright colours.
I also love the addition of crushed tortilla chips and lettuce to the tops because of the nice crunch they add. These bowls are full of different textures and flavours and they're filling! You won't be hungry for a while after eating.
So Good for Supper or Lunch
You can make these vegetarian rice bowls for supper and they're also great for lunches. The recipe will make you five servings so you may have leftovers which are perfect for lunches or another supper, much like my sweet potato broccoli chickpea bowls!
If you're going to save some for later, be sure to not store with the chips and avocado. Leave those off until you are just about to serve.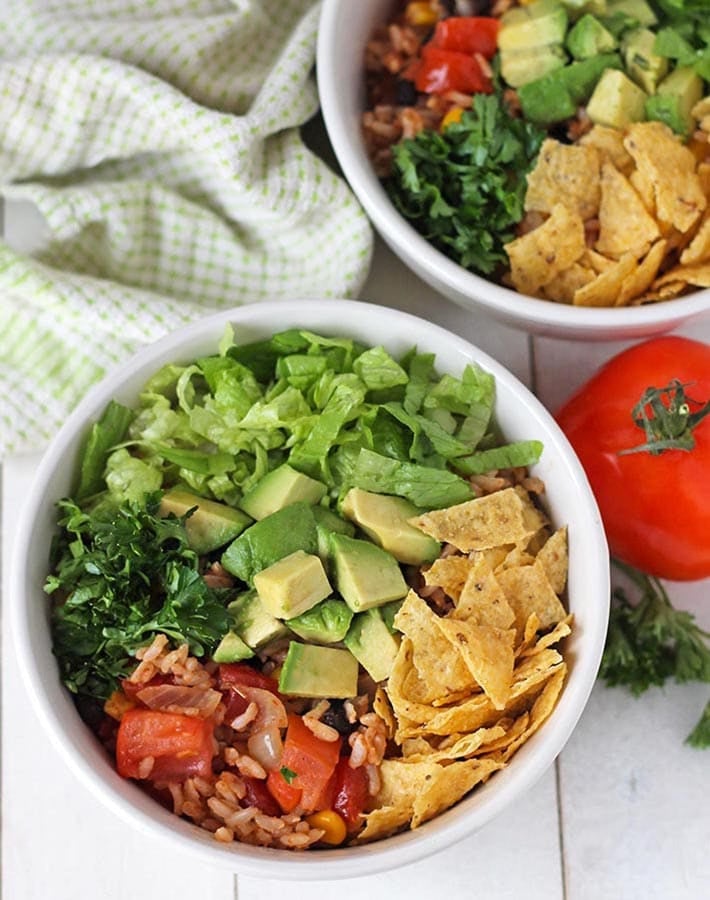 Can Other Toppings Be Used?
Yes, of course! anything you would add to a taco would work well. Here are some ideas, in addition to what's already in the recipe:
Vegan cheese shreds
Pico de gallo
Jalapeno slices
Red or green onions
Sliced olives
Diced peppers
Hot Sauce
If you make this recipe, tell me about it in the comments below and if you're on Instagram, I want to see a pic! So share one with me over there and tag me (@delightfuladventures).
If you like this taco rice bowls recipe, you may also like these:
Tasty Taco Rice Bowls (Vegan + Gluten-Free)
An easy recipe for flavour-filled vegan taco rice bowls. This dish is not only delicious, it's also gluten-free and packed with fresh, tasty ingredients.
Ingredients:
2

tablespoons

extra-virgin olive oil

1

medium

chopped yellow onion

1 ½

cups

frozen corn kernels

3

cups

cooked brown rice

1 x

398ml/14oz can of

black beans

rinsed, no salt added

1

tablespoon

chili powder

1

teaspoon

dried oregano

½

teaspoon

salt

2

medium

chopped tomatoes

¼

cup

prepared salsa

½

cup

chopped fresh cilantro or parsley
Toppings:
2

medium

diced avocados

2

cups

shredded romaine lettuce

1 ¼

cups

coarsely crumbled tortilla chips

½

cup

chopped fresh cilantro or parsley
Instructions:
Heat olive oil in a large skillet over medium heat. Add onion and cook for about 2 minutes. Add the corn and continue to cook for another 3 minutes, until the onion begins to brown.


Add cooked brown rice to the pan, along with black beans, chili powder, oregano, and salt. Stir mixture frequently and cook for about 5 minutes. Remove from heat and let cool slightly.

Add the chopped tomatoes, salsa, and cilantro/parsley to the rice mixture. Mix to combine.


Separate the rice mixture into bowls and top with avocado, lettuce, crumbled tortilla chips, and cilantro/parsley. Serve immediately.

Recipe Notes:
Onions can be sauteed in water or vegetable broth if you are oil-free.
I use long-grain brown rice for this recipe, but any type of rice can be used (white, basmati, etc.).
I use canned, no salt added black beans.
Nutrition info is based on 1 of 5 servings of the recipe prepared as written. Nutrition info is only to be used as a rough guide. Click to learn how nutrition info is calculated on this website.
Nutrition Info:
Serving:
1
g
|
Calories:
503
kcal
|
Carbohydrates:
69
g
|
Protein:
12
g
|
Fat:
22
g
|
Saturated Fat:
3
g
|
Polyunsaturated Fat:
2
g
|
Monounsaturated Fat:
10
g
|
Sodium:
408
mg
|
Potassium:
822
mg
|
Fiber:
14
g
|
Sugar:
6
g
|
Vitamin A:
4600
IU
|
Vitamin C:
56.9
mg
|
Calcium:
80
mg
|
Iron:
4.3
mg
Did You Make This Recipe?
If so, please share a picture with me on Instagram! Tag @delightfuladventures and hashtag #delightfuladventures. I can't wait to see!