This quick, tasty vegan garlic pasta is a creamy, easy vegan dinner idea that's perfect for busy weeknights. Plus, it can also be gluten-free if you use gluten-free pasta. To save time and to have this dish ready even quicker, you can pre-make and refrigerate the sauce until you're ready to use it!
This page may contain affiliate links. Click to learn more.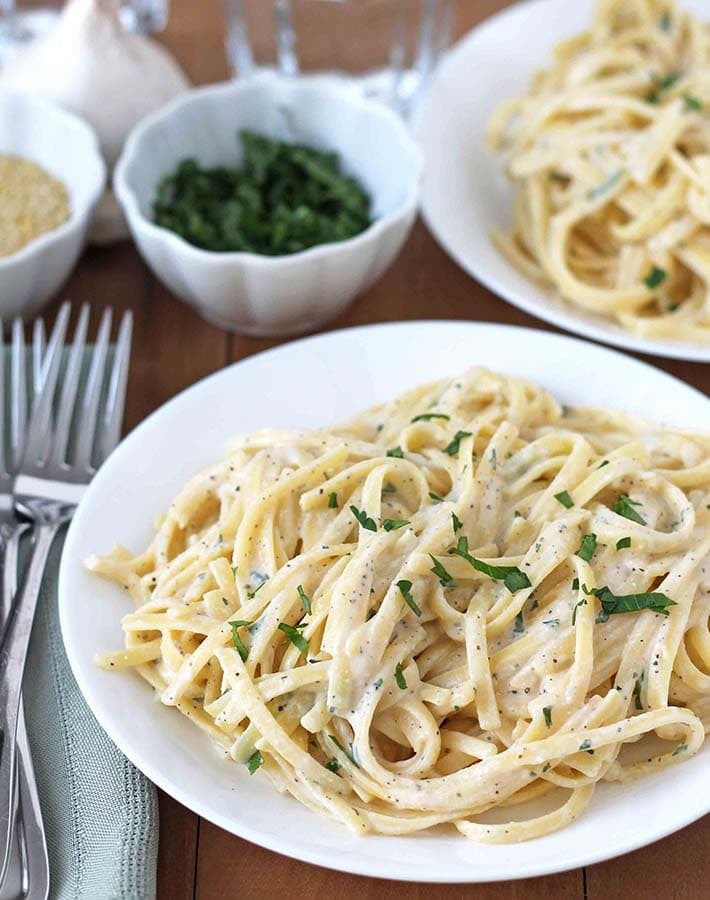 This vegan pasta recipe is a family-favourite that's always a hit, every time I make it (just like my one-pot cheesy taco pasta!). It's very similar to vegan garlic Alfredo, but not quite the same. This dish is creamy and filled with garlic and Italian spice flavours, and the best part? It's SO, SO easy and quick to make.
Most creamy pasta sauce recipes call for cashews or a non-dairy milk + flour mixture to achieve the creaminess, but this garlic sauce recipe is cashew free, nut-free, and flour-free.
The Vegan Garlic Pasta Sauce
The star of this recipe is definitely the sauce. It's where all the flavour lives and it contains a little bit of a secret ingredients: silken tofu (or soft tofu, same thing!). The tofu is the base of the sauce and gives it that creaminess we all love, without any oil, cream, or butter. (Just like my vegan veggie dip!)
The sauce also has a few other additions to build up the flavours that make this dish so delicious.
You can even make this oil-free creamy vegan garlic sauce and refrigerate it for later to make preparing your dinner even quicker.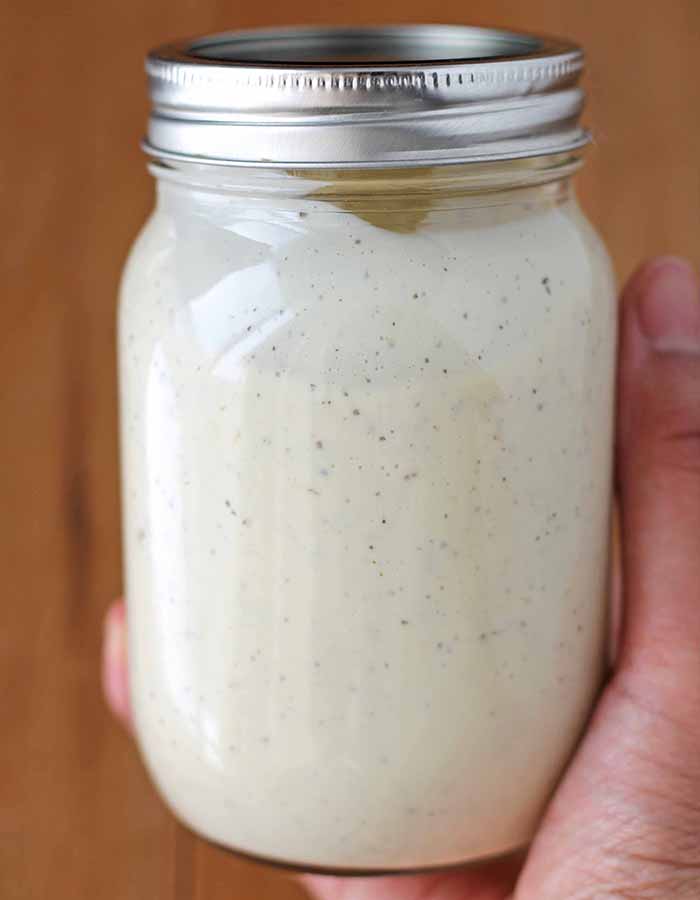 How Do I Make Creamy Vegan Garlic Pasta?
(Note: I've outlined the step-by-step here, but find the full recipe, ingredients, and directions at the end of this post.)
This is one of the quickest and easiest dinner recipes I make. There aren't many steps and the longest one is probably boiling the pasta.
First, you'll get the pasta started, when it's boiling, prepare the vegan garlic cream sauce by adding all of the sauce ingredients, except the parsley flakes, to a blender. Blend until it's smooth and creamy and then pour the sauce into a skillet that's on low heat, to warm it up.
You'll then whisk the parsley flakes into the sauce and then add the cooked pasta and toss to coat all the noodles with the sauce.
And that's all. See? Quick and easy!
Is There a Tofu Flavour In the Sauce?
Tofu on its own doesn't have much flavour, but it does have a very subtle "tofu" flavour that I would describe as "earthy?" There are some recipes that use tofu as a sub for something else but the dish ends up taking on that "tofu flavour" in the background.
If you make this recipe exactly as it's written, you'll end up with a creamy, garlicky sauce that contains no tofu flavour, at all.
Serve Your Vegan Garlic Pasta Immediately
This easy vegan pasta recipe is best served right away. I don't recommend combining the pasta with the sauce and then saving it for later. When this is done, the pasta absorbs the sauce as it sits and the leftovers end up not being very saucy.
If you do want to make this meal in advance of serving it, you can do so partially by making the sauce, putting it in a jar (see picture above), and refrigerating until you're ready to use it.
When ready, make your pasta, warm up the sauce, and serve fresh.
Garnishes and Sides for Your Vegan Pasta Dish
The pasta is great on its own, but you can add garnishes or enjoy it with a side, if you'd like. Here are some ideas:
freshly chopped parsley (like in the pictures!)
red pepper flakes
roasted Brussels sprouts
roasted broccoli
roasted garlic cauliflower (for a little extra punch of garlic!)
roasted asparagus
sautéed mushrooms
My favourite way to serve this creamy garlic pasta is with parsley, garlic cauliflower, and vegan Parmesan, but play around with different combos to see what you like best.
What Kind of Pasta Should Be Used?
I like to make this meal with long noodles. I always use gluten-free fettuccine, or spaghetti noodles, but any type of pasta will work. Just be sure to use the amount stated in the recipe.
Too much pasta will result in a dry pasta dinner with barely any sauce to coat all the noodles. If you want to use more pasta than what's called for, you can always double the sauce recipe
But feel free to use a little less pasta than what is called for. This will result in extra saucy noodles.
If You Make This Recipe…
…please let me know! You can do so by leaving me a comment below or by sharing a pic on Instagram and tagging me (I'm @delightfuladventures over there!)
If you like this vegan pasta recipe, you may also like these other easy vegan dinner recipes:
How to Make Vegan Garlic Pasta