If you're looking for a quick, simple, and filling vegan dinner idea that's also family-friendly, then this vegan chili mac recipe is for you! It can be made gluten-free (if you use gluten free macaroni) and it can be made in either your Instant Pot / pressure cooker or on the stove top. Keep reading for all the details!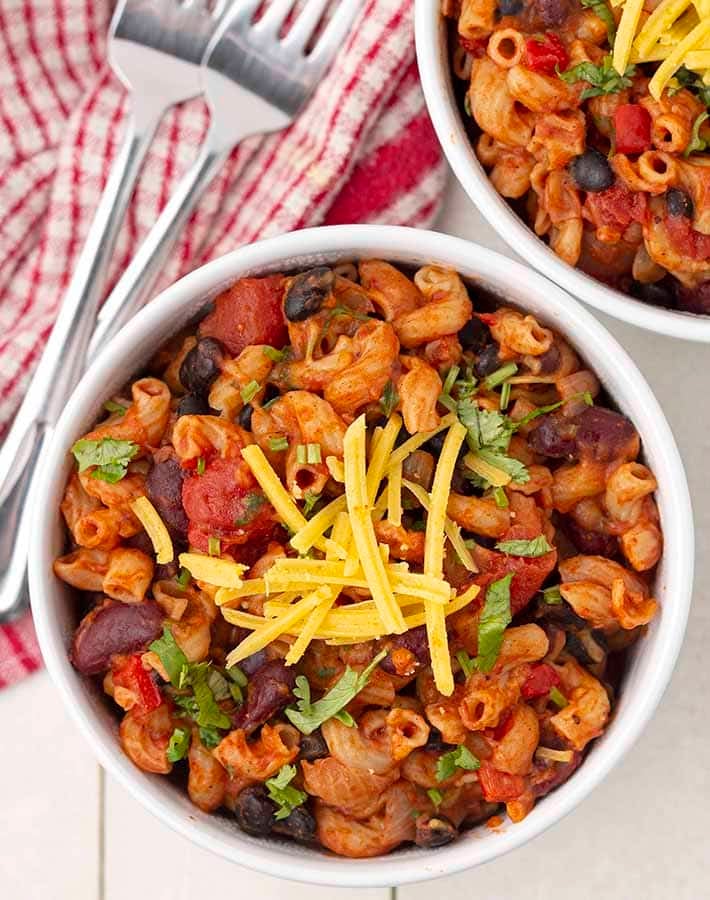 You know those dinner recipes you keep in your back pocket to turn to when you need to get something ready fast? Those recipes everyone will eat? And will fill them up?
Along with my mushroom stew, vegan bolognese, and my lentil sloppy joes, this vegan chili mac falls into that category, for me.
It's an easy vegan dinner that can be customized, based on what you and your family likes, and it's comfort food that's filled with good stuff. There are wins all around with this recipe.
So let's go over all you need to know so you can make it, too!
How to Make Vegan Chili Mac and Cheese
(Note: I've outlined the step-by-step for this vegetarian chili mac recipe here, but find the full recipe, ingredients, and directions for both cooking methods at the end of this post.)
The first thing I need to point out is that you can make this "Instant Pot chili mac" or "stove top chili mac." It's up to you, it will turn out perfectly both ways.
I know that not everyone owns a pressure cooker, so any time I share a recipe that calls for one, I always include the stove top method as well for you. (But if you don't have an Instant Pot, I highly recommend getting one, this is the one I have and love!).
The only difference between the two methods is the timing (just a few minutes difference) and, of course, the cooking. (In my pictures below, I'm making the recipe in my Instant Pot.)
The first step is to chop your onion, red pepper, and garlic. Sauté them and then add the spices and salt.
Next, add the remaining ingredients, except for the vegan cheese and cilantro, and set to pressure cook (image on the left, below).
After a few minutes, your cooked dairy free chili macaroni is ready for the final add-ins (image on the right, below).
Add the vegan cheese and the cilantro and mix well until everything has combined.
And that's it, dinner is ready!
When I make my vegan chili mac, I keep it simple, but you can customize it based on what you like.
Corn? Or No Corn?
I love adding corn to any chili, like my slow cooker chili recipe, but my house is divided on the addition of corn in this particular recipe, so I usually keep it out.
If you do want to add it, I've included instructions on when to add it in the recipe below.
Other Optional Add-Ins
You can also add vegan meat crumbles when sautéing the onions if you'd like.
The chili powder I use is mild and has no heat to it (I'm cooking for kids, too!), so you can add some heat by using a spicy chili powder, or by adding a small minced jalapeno pepper, or hot sauce.
What Kind of Pasta Should Be Used?
I always use elbow macaroni, but if you want something different, you can use any other small shaped pasta, just be sure to adjust the cooking time accordingly.
Regular pasta or gluten free pasta can be used (I always make mine gluten free chili mac by using gluten free elbow macaroni).
Pressure Cooker Timing for Regular Pasta
The rule for wheat pasta is to divide the time on the box by two. So if the pasta calls for 8 minutes of cooking time, cook for 4 minutes in the pressure cooker.
Pressure Cooking Time for Gluten-Free Pasta
I've found that the best timing, for the gluten free pasta brand I use, is to divide the boil time listed on the box by 2 and minus 1.
So if the pasta calls for 8 minutes of boiling time, the pressure cooking time would be 3 minutes.
These rules will not only work with this gluten free chili mac recipe, I've found that it applies to any gluten free pasta recipe prepared in the Instant Pot. (I've made LOTS of pasta based meals in my Instant Pot!)
Is There a Particular Pasta Brand That Works Best?
My preferred gluten-free pasta for my all of my recipes, pressure cooker recipes included, is Barilla. It's rice and corn based and holds up just like a wheat-based pasta.
It also has the same texture as wheat pasta. (This is not sponsored, I just love their gf noodles!)
This brand does not require constant stirring to prevent the pasta from sticking together, nor does it make a thick, pasty water while it cooks.
Since these things usually happen with brown rice based pastas, I would not recommend a brown rice based pasta for this one pot chili mac and cheese or any one-pot pasta recipe.

I have only made this recipe using Barilla's macaroni noodles, so I can only speak for that type of pasta. If you're using a different brand, you may need to do a little experimentation to find the perfect pressure cooker timing for that particular one, but using the guidelines above will help.
If you do end up trying another brand that works well for you, tell me about it in the comments!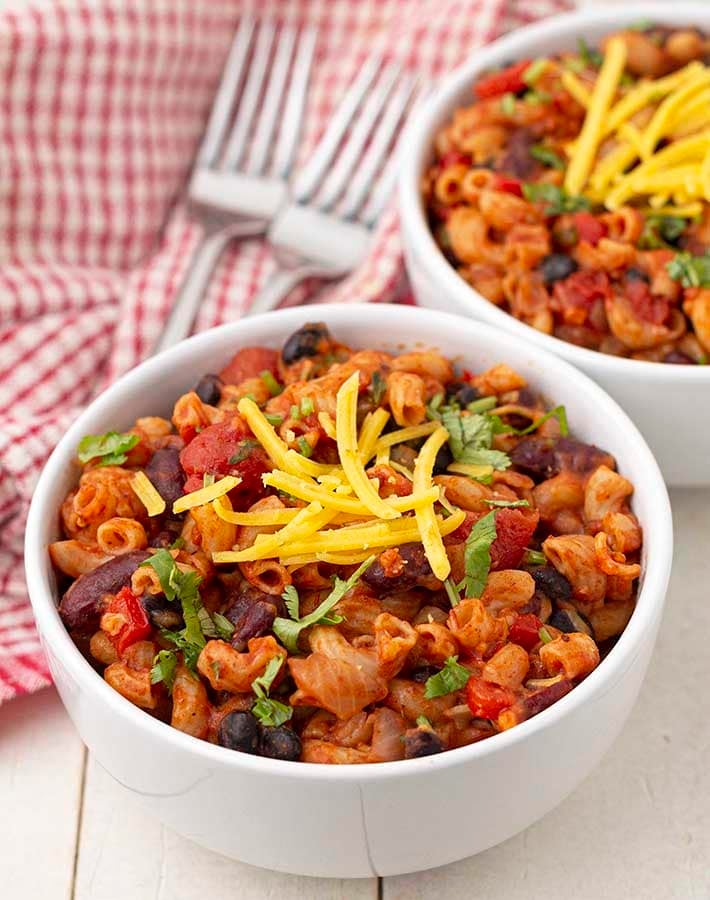 How to Serve Easy Vegan Chili Mac
You can serve it like I do in the pictures, with a little more cilantro sprinkled on top along with some more vegan cheese shreds.
If you want something different, try one or more of the following:
vegan sour cream
cashew cream
parsley
green onions
chives
sliced jalapenos
hot sauce
diced fresh tomatoes
diced red onion
diced avocado
guacamole
crumbled tortilla chips
What If I have Leftover Chili Mac and Cheese?
Leftovers are a good thing! After it has cooled completely, place in an airtight container and store in the refrigerator for up to 4 days.
Can I Make it Ahead and Freeze?
Yes! You can make a batch for vegan meal prep and freeze. Cool completely and place in an airtight container that's safe for the freezer.
When you're ready for it, thaw in the refrigerator overnight and then reheat when ready. You can add a little more vegan cheese to add a little moisture after it has heated.
Chili mac will keep in the freezer for up to 3-months.
Did You Make This Recipe?
If so, please leave me a comment and rating below, I'd love to hear from you!
You can also help me to help others find this simple vegan chili mac recipe by pinning this post to your recipe board on Pinterest! CLICK HERE TO PIN IT NOW!

If you like this easy vegan dinner recipe, you'll probably also like these:
And you may like these other Instant Pot related posts:
How to Make Vegan Chili Mac