You know those evenings where you don't feel like making dinner or you have NO IDEA what to make? Those nights where you kinda wish you could just skip over dinner time and go straight to bed time? THIS easy, tasty, vegan, one-pot cheesy taco pasta is the dinner you make on THOSE nights!
This page may contain affiliate links. Click to learn more.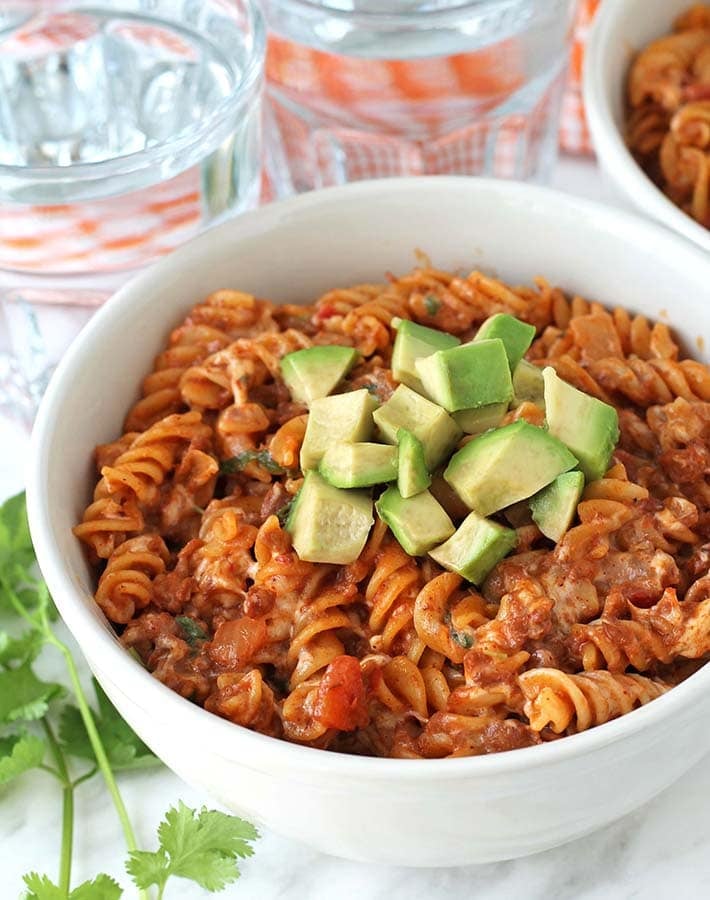 Just like my Taco Rice Bowls, Vegan Garlic Pasta, and my Lentil Bolognese Pasta, you can have this one-pot cheesy taco pasta on the table in under 30-minutes.
It's loaded with flavour, needs just a handful of simple ingredients, and can be made in your Instant Pot or on your stove top, directions for both methods are included!
This vegan pasta dish is:
SO tasty
a one-pot meal
extremely easy to make
super kid-friendly
ready in no time (under 30-minutes!)
pressure cooker-friendly

vegetarian / vegan / gluten-free (if you use gluten-free pasta!)
a meal that requires minimal prep
an 8-ingredient dinner
It really can't get any better than that!
Vegan Cheesy Taco Pasta Ingredients:
This is a recipe I first discovered in my Pinterest feed on one of those nights. I typically plan out what I'm going to make for the week, in advance, but this week in particular, things fell by the wayside and I was winging it as the week was coming to an end.
The recipe I adapted to make this recipe is a very non-vegan recipe, but as you know from some of my other recipes, "veganizing" non vegan recipes is something I love to do.
I also added a few extra ingredients to suit my tastes and I think what I've come up with is quite delicious.
Not to mention, the kids love it, and if you're a parent, you know that kid approval at dinner time is golden!
How Do You Make One-Pot Cheesy Taco Pasta?
(Note: I've outlined the step-by-step here, but find the full recipe, ingredients, and directions at the end of this post.)
The first step is to sauté the onions for a few minutes. You'll then add your vegan meat crumbles (you can use any brand you like, just be sure that if you are gluten-free, that the brand you buy is actually gluten-free).
Next, the taco seasoning and salsa gets added to the pot.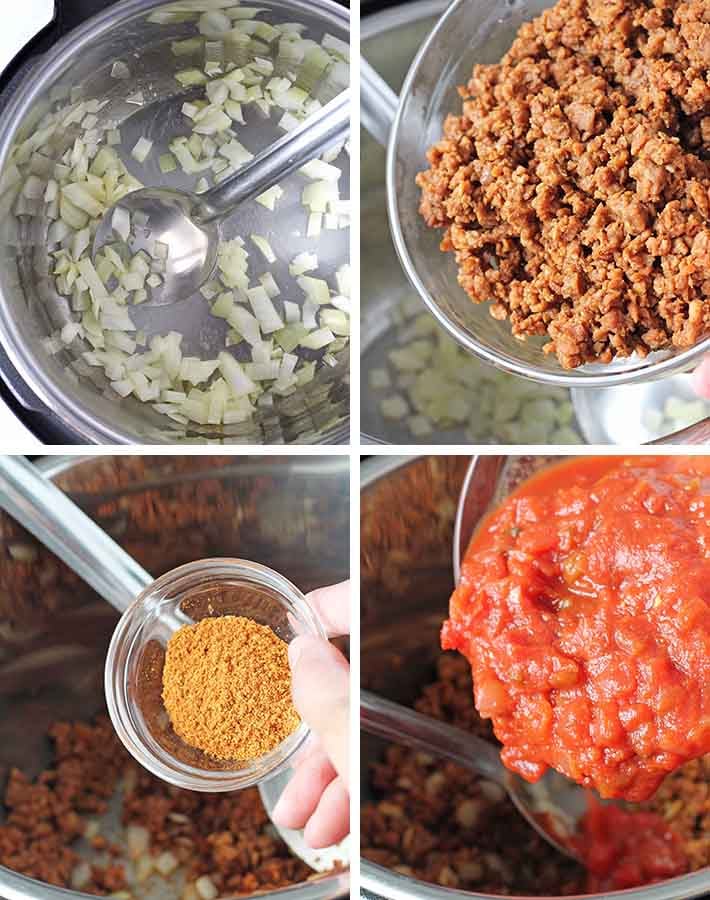 You'll then add the rotini pasta and the broth. If you're using an Instant Pot, set the time to pressure cook based on your noodles (see more about this below).
If you're cooking on the stove, bring to a boil, cover, and then simmer until the pasta is cooked through.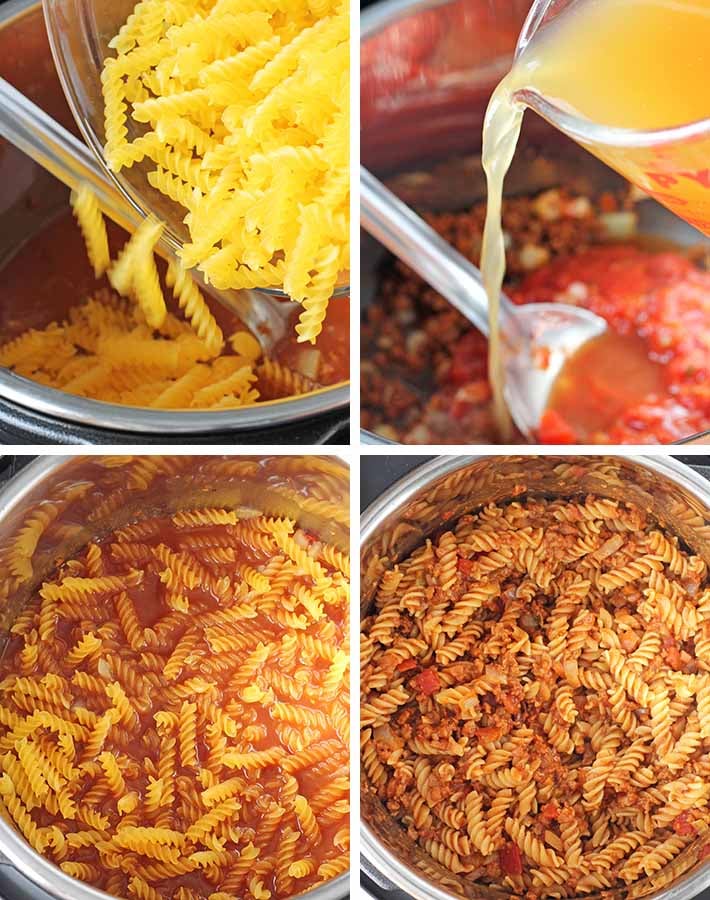 Next comes the vegan cheese shreds and the cilantro or parsley (it's up to you which one you use!)
Give it all a quick stir, add some toppings if you'd like (see below for some ideas!), and your quick and easy taco pasta dinner is ready to serve!
How Long Does it Take to Cook Pasta In a Pressure Cooker?
The answer to this question depends on the type of pasta you're cooking.
The general rule of thumb, for wheat pasta, is to look at the boiling time on the pasta box and divide by two. So if your wheat pasta needs to be boiled for 8 minutes, it would take 4 minutes in your pressure cooker. But…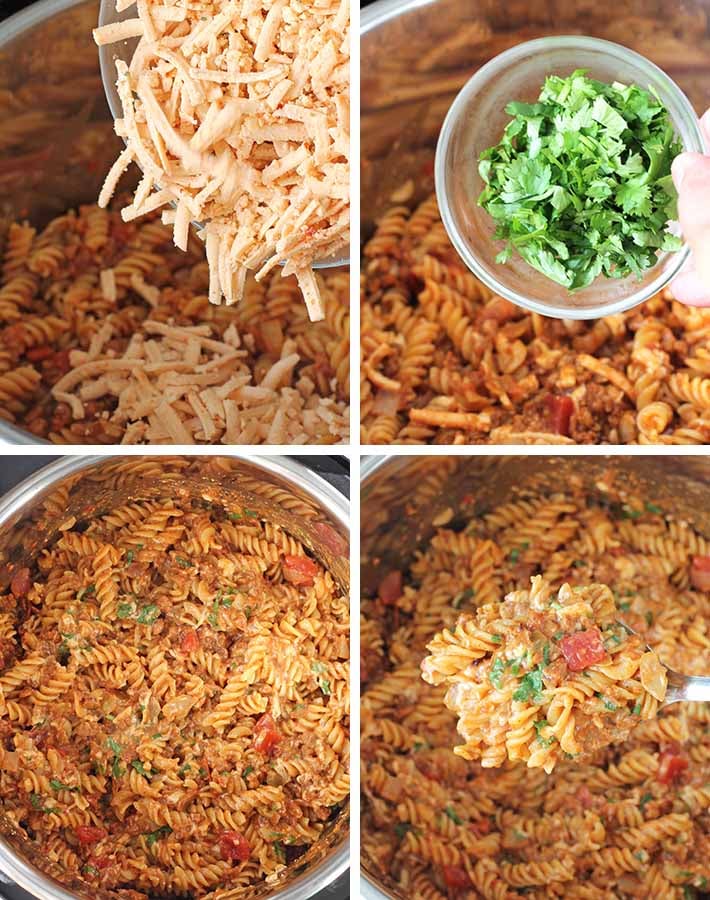 How About Gluten-Free Pasta?
My family has had to endure quite a few mushy pasta meals while I figured this out! It's easy to fix under cooked pasta but once it is overcooked, there's no fixing that.
I've found that the best timing, for the brand of pasta I use, is to divide the boil time by 2 and minus 1. So if a pasta calls for 8 minutes of boiling time, the pressure cooking time would be 3 minutes.
My preferred gluten-free pasta for my all of my recipes, pressure cooker recipes included, is Barilla. It's rice and corn based and holds up just like a wheat-based pasta. It also has the same texture as wheat pasta. (This is not sponsored, I just love their gf noodles!)
You know how some gluten-free pastas stick together unless you're constantly stirring the pot, or it creates a thick, pasty water as it cooks?
This brand does not do that. (These things usually happen with brown rice based pastas.) I would not recommend a brown rice pasta for one-pot pasta recipes.
I have only made this recipe using Barilla's rotini noodles, the noodles you see in the pictures, so I can only speak for that type of pasta. If you're using a different brand of gluten-free pasta, you may need to do a little experimentation to find the perfect time for that particular one, but using the guidelines above will help.
If you do end up trying another brand that works well for you, tell me about it in the comments!
And one more note about the pasta, I would stick to pasta shapes for this recipe and not use spaghetti or any other type of thin or long pasta. They require a whole other set of rules when pressure cooking that I haven't taken the time to figure out yet.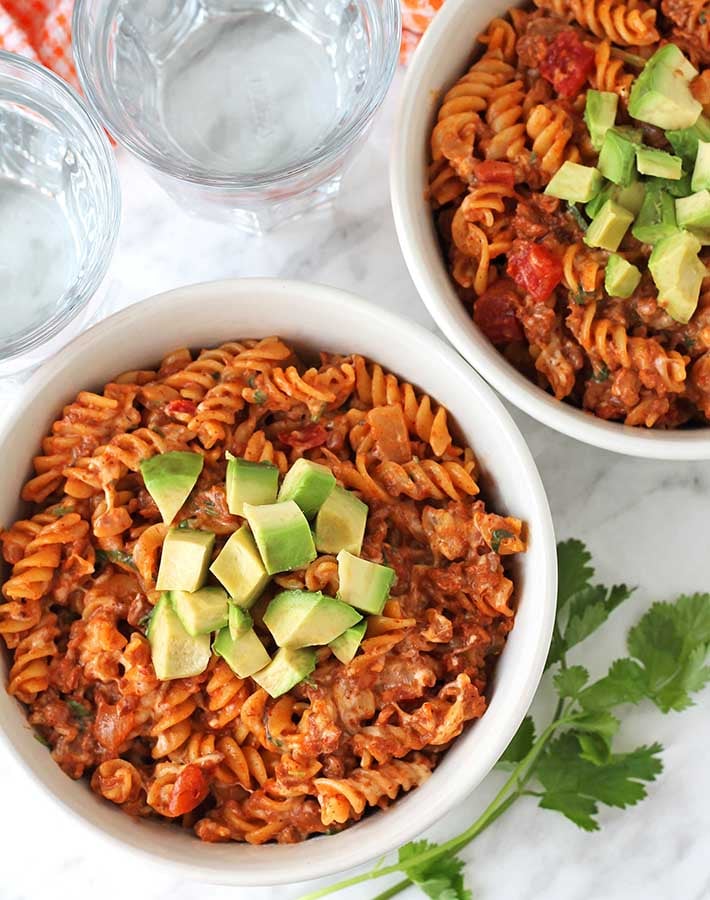 Toppings for Cheesy Taco Pasta
You can serve your taco pasta any way you'd like. Plain is perfect, but if you feel like taking things up a notch, then any of the following vegan toppings will complement your meal, very well:
diced avocados (my favourite!)
guacamole
vegan sour cream
more vegan cheese shreds
more fresh cilantro or parsley
crushed tortilla chips
diced tomatoes
diced red onions
green onions
jalapeño slices
corn
black beans
Basically, anything you'd put in or on a taco would go great with your easy cheesy taco pasta.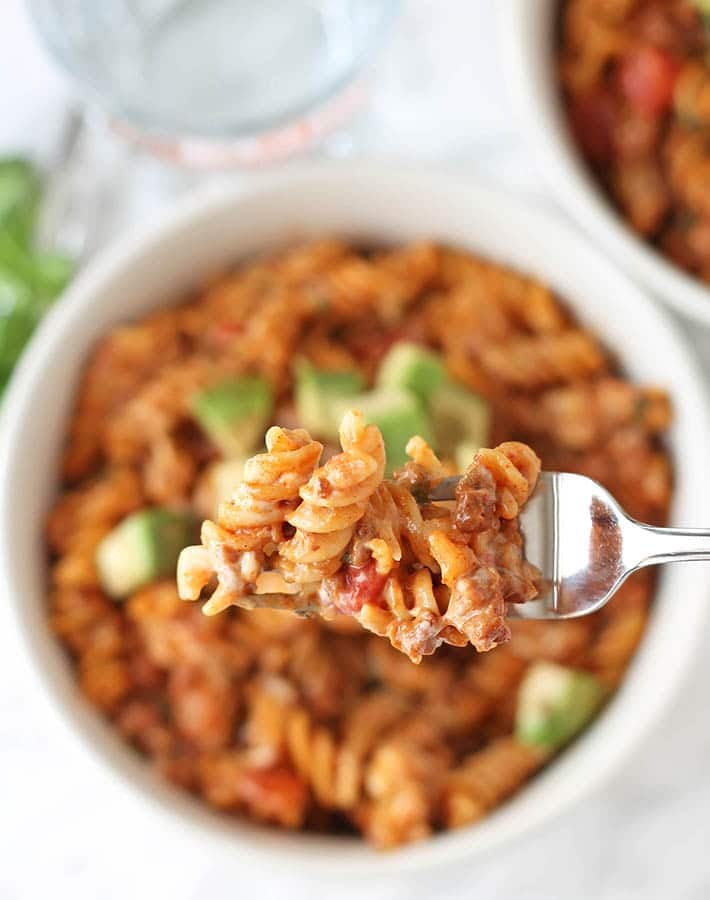 So…the next time you're dealing with the what to make for dinner conundrum, whip up this cheesy taco pasta in your Instant Pot or on the stove. After you taste it, you, and everyone else, won't believe that it took under 30-minutes to make!
If you make this easy one-pot cheesy taco pasta recipe, please let me know! Leave me a comment below and / or share a pic with me on Instagram! I want to see your dinner! (that's not weird, right? 🙂 )
You can also help me to help others find this recipe by pinning it to your recipe board on Pinterest. (thank you!)
If you like this easy vegan dinner recipe, you'll probably also like these!
How to Make One-Pot Cheesy Taco Pasta