A vegan slow cooker curried cauliflower sweet potato soup that's super easy to make and is the perfect lunch or supper for chilly fall and winter days (and evenings!)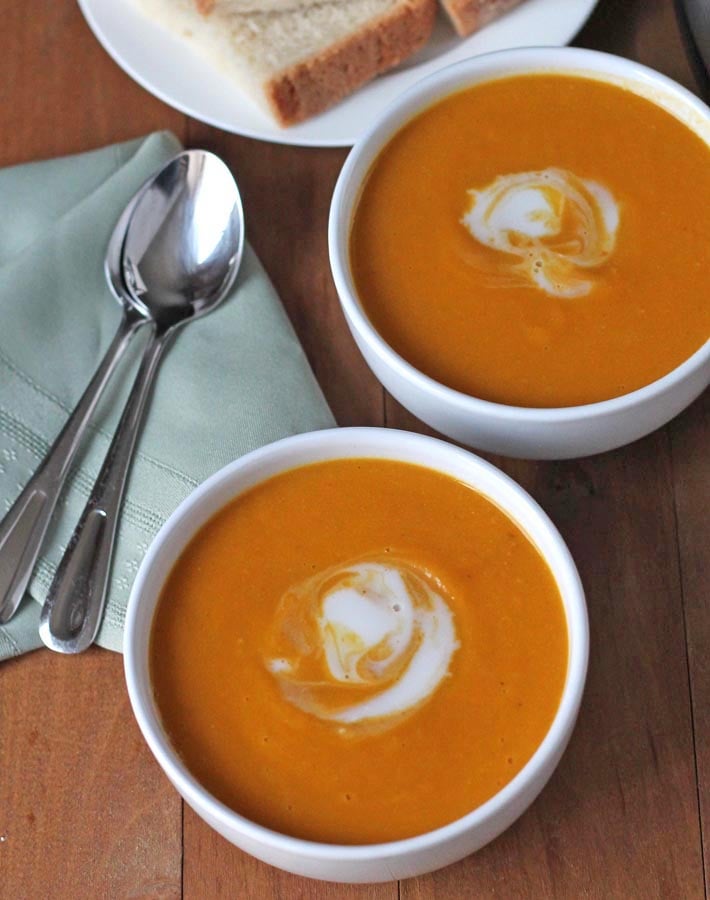 This past week, Ottawa has been in a deep freeze. And I don't mean a little cold. I mean COLD.
Like, your skin can freeze if it's not covered, cold...wind chill factors ranging between -30 and -40, cold.
So it's no joke. Cold weather like this and I are not friends. Never have been, never will be. BUT, I live in Ottawa, so what can I do?
Not much.
It's a fact that I'm going to experience weather like this each winter, so this is how I choose to deal with winter and cold weather:
Layers and layers of clothing when I go out.
Quick trips. No spending unnecessary time outside.
Daydream about summer and booking a vacation for a hot destination next winter.
Blankets, books, snacks, and Netflix.
And soup. Delicious, hot soup.
Do you have extremely cold winters where you live? How do YOU get through?
So I basically turn into a live-under-my-blankets-soup-eating hermit when the weather is like this. And I'm totally OK with that.
When I make soup, if it's a soup that can be made in the slow cooker, it gets huge bonus points. Like this curried cauliflower sweet potato soup.
I drew inspiration for this recipe from my butternut squash sweet potato carrot soup. Both recipes have a few common ingredients, they're both made in the slow cooker, they look pretty much the same, but that is where the similarities end.
Both soups have totally different flavours but are both equally delicious.
The great thing about this recipe is that you can adjust the spices, mainly the curry, to suit your tastes.
And you can garnish whichever way you like. I like to add a little spoon of coconut milk to the top and swirl it around to make it pretty, like in the pictures, but feel free to top how you like.
Some ideas:
Croutons
Fresh chopped parsley
Fresh chopped cilantro
Fresh chopped chives
Chopped roasted cauliflower
A light dusting of curry powder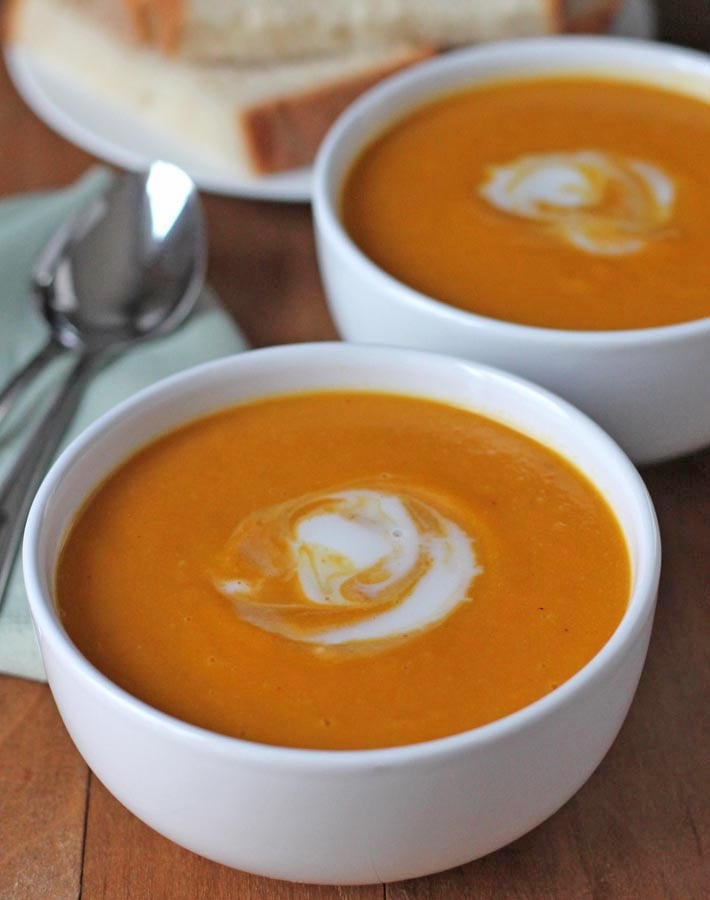 So whether or not it's ridiculously cold where you live or you're just craving soup, OR if you're simply looking for an easy, fix-it-and-forget-it slow cooker meal, this curried cauliflower sweet potato soup is just what you need.
If you make it, let me know by leaving me a comment below or posting a pic and tagging me on Instagram.
If you like this slow cooker soup recipe, you may also like these:
Curried Cauliflower Sweet Potato Soup
A vegan slow cooker curried cauliflower sweet potato soup that is easy to make and is the perfect lunch or supper for chilly fall and winter days.
Ingredients:
1

head of cauliflower

chopped

3

medium-sized sweet potatoes

peeled and cubed

3

medium-sized carrots

peeled and chopped

1

medium onion

chopped

2

cloves

garlic

chopped

6

cups

vegetable broth

½

cup

coconut milk

1-2

teaspoons

curry powder

½

teaspoon

cumin

salt to taste

coconut milk

(for garnish, optional)
Instructions:
Add the cauliflower, sweet potatoes, carrots, onions, garlic, and broth to the slow cooker. Set to low and let cook for 6 hours. (If you are in a rush, set to high and cook for 3 ½ - 4 hours or until vegetables are soft)

Add in the coconut milk, 1 teaspoon of curry, and the cumin. Blend again making sure that all spices are incorporated. If you'd like, add more curry to taste. Season with salt, to taste.

Allow the blended soup to cook on low for another 30 minutes.

If using coconut milk for garnish, drop a tablespoon of coconut milk in the center of each bowl of soup.
Recipe Notes:
I use a low sodium vegetable broth and canned coconut milk.
Nutrition info is based on 1 of 6 servings and is only to be used as a rough guide. Click to learn how nutrition info is calculated on this website.
Nutrition Info:
Calories:
160
kcal
|
Carbohydrates:
28
g
|
Protein:
4
g
|
Fat:
4
g
|
Saturated Fat:
3
g
|
Sodium:
344
mg
|
Potassium:
113
mg
|
Fiber:
3
g
|
Sugar:
11
g
|
Vitamin A:
16100
IU
|
Vitamin C:
77.6
mg
|
Calcium:
50
mg
|
Iron:
0.9
mg
Did You Make This Recipe?
If so, please share a picture with me on Instagram! Tag @delightfuladventures and hashtag #delightfuladventures. I can't wait to see!
This Cauliflower Sweet Potato Soup recipe was originally published January 9, 2015, images were updated September 2018.
Original Images before post update: