Easy-to-make, delicious Curried Instant Pot Split Pea Soup that will warm you up! This soup can be made either in your pressure cooker or on your stove top, instructions for both ways are included.
This page may contain affiliate links. Click to learn more.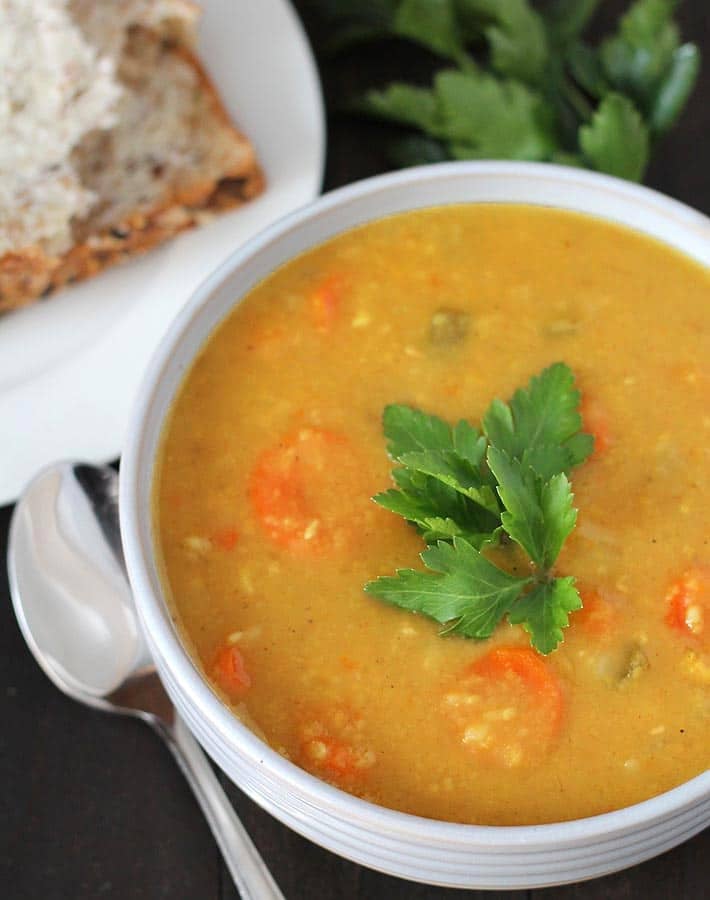 When I was little, there was a canned split pea soup my mom used to buy for us to have at lunch. She didn't buy it often, but when she did, I was happy.
Yes, I was a kid who loved pea soup. A little odd, I know. But I remember that soup tasting so, so good.
Maybe because it was a rare occasion kinda thing for us, or maybe because mostly everything we had was made from scratch and having something out of a can was a bit different. Who knows.
Whatever it was, it was a memorable soup since I clearly remember it all these years later.
Any time I make my vegan split pea soup, I think of that canned soup.
Vegan curried split pea soup is one of my stove top recipes that I make often, but since I treated myself to an Instant Pot not long ago, I've been using it to make my soups instead of making them on the stove.
What I love about the Instant Pot is that there's no babysitting, no constant stirring, and no monitoring.
Once that lid is locked, you walk away and take care of whatever needs to be taken care of, elsewhere.
Of course, you don't need an Instant Pot to make this recipe, I've included my stove top instructions as well, but if you're interested in getting one, I bought the 6-Quart 9-in-1 Duo model:
It has nine different functions (including yogurt!), and since buying it, I've been using it multiple times per week. I guess you can say I'm very happy with it!

Important: If you have Leftovers…
When you make your curried Instant Pot split pea soup, there's a good chance you'll have leftovers. If you do, there's something important to know…
Your soup will naturally thicken as it cools, but after it has been refrigerated, it's going to be a whole different kind of thick. You'll find that your soup is solid. Like the type of solid that can be sliced!
But not to worry, that's OK and totally normal! This has to do with the abundance of starch in split peas. You can read a more detailed explanation about why this happens here.
To fix, all you need to do is add a little vegetable broth or water, stir, warm up, and your soup will be good as new again.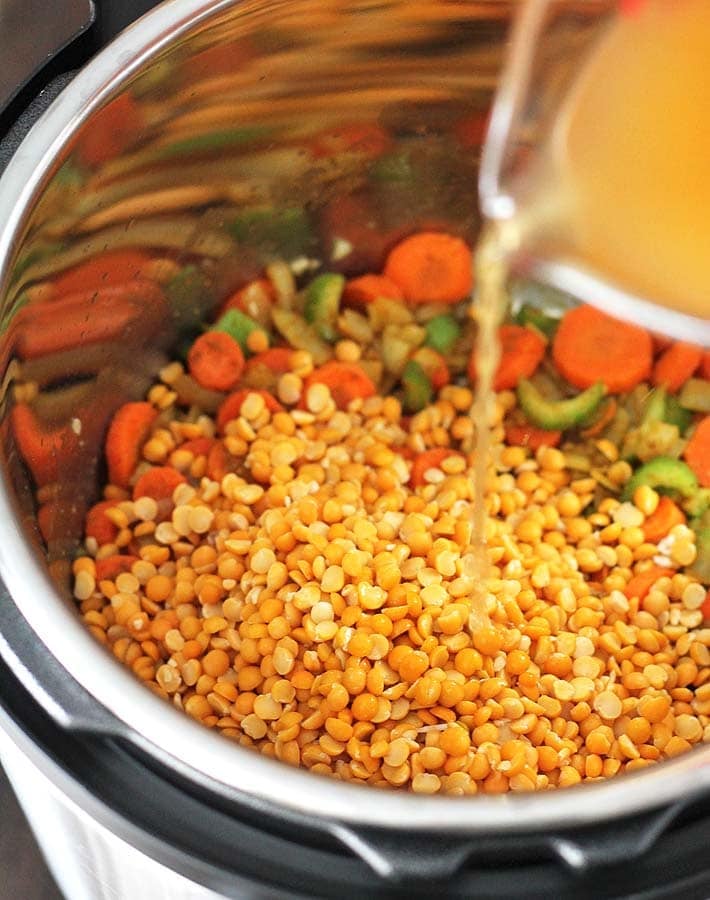 The cooking time for this soup is just 10 minutes, BUT, you have to also take into account the time the instant pot takes to come up to pressure and the time it takes to come down from full pressure.
So, in total, your soup will take roughly about an hour to finish.
In this case, there's nothing instant about making this soup in the Instant Pot because the stove version takes about the same time, but as mentioned above, your Instant Pot soup does not have to be monitored.
The texture of this soup is perfect when it's done, the split peas are no longer whole but they haven't totally broken down.
There's no need to purée it, but if you want a smoother soup, feel free to do so.
If you like this Curried Instant Pot Split Pea Soup recipe, you'll also like these:
If you like this recipe, pin it on Pinterest and if you make it, be sure to tag me on Instagram (@delightfuladventures) with a pic of your remake. I'd love to see!
How to Make Curried Instant Pot Split Pea Soup