This post, that's filled with delicious ideas for allergy-friendly, nut-free snacks and treats you can buy at the store, is sponsored by Mambo Sprouts for #LiveFreeFrom month. As always, all opinions in this post are my own. This page contains affiliate links. Click to learn more.

If you're familiar with my website, you already know that I love making allergy-friendly treats. Despite that love for making my own recipes, sometimes I have to go with store-bought snacks because of a lack of time or simply just for convenience.
Sometimes our Martha ways need a little break, right?

When you follow a special diet and also have a child with food allergies, making your own treats can bring you peace of mind because you know exactly what's in the things you make.
There's no reading labels in the store, or wondering about that ominous note on some packaging. You know the one:
May contain tree nuts. (or insert whatever ingredient you need to avoid in the place of tree nuts)

When you're responsible for someone who has a severe food allergy, those words are always ominous. I realize that this statement exists because of the facilities the particular product was made in.
In most cases, the snack may be fine, but most parents don't want to take the risk.
This is where brands like those participating in #LiveFreeFrom month come in.
Isn't it amazing to find a product at the store with packaging that contains this note, instead?
May is Free From (aka: allergy-friendly) month, and the people over at Mambo Sprouts have teamed up with some wonderful, allergy-friendly brands and bloggers to help spread the word about free from products they want you to know about.
What Exactly Does "Free From" Mean?
When you read the term "free from" on a product, this means that it is free from major food allergens, like the allergens you see listed in the image above.
All free from products are not free from the same allergens, though, so always be sure to read the label to be sure the ingredient you need to avoid is listed.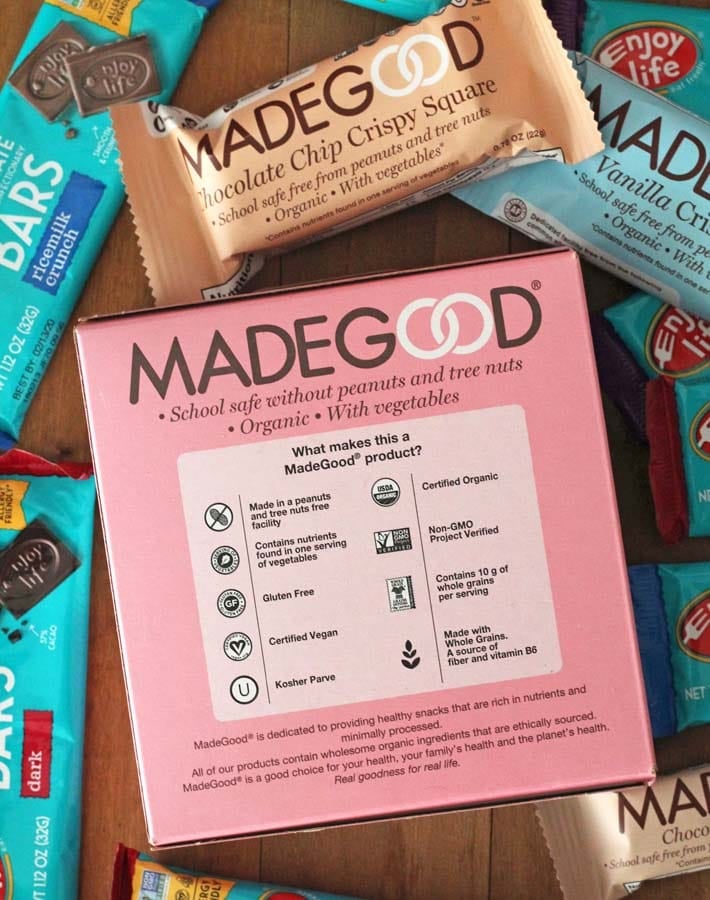 Store-Bought, Allergy-Friendly, Nut-Free Snacks
I was already familiar with many of the brands participating in Free From month and buy them often, but there were a few I had not tried.
I was sent a box of samples to try out and I'm glad I had the chance to test them because I now have even more trusted brands to turn to!
These are the brands are participating in Free From Month:
Enjoy Life
In the box of samples I received, I was very happy to see that Enjoy Life rice milk chocolate bars were included. I discovered them on our last trip to Disney and last Halloween, my grocery store stocked their mini chocolate bars (you don't want to know how many bags I bought, they are THAT good!).
They make a wide range of allergy-friendly, nut-free snacks and products, including baking mixes, nut-free seed and fruit mixes, and chocolate chips for baking. (I use their mini chocolate chips in my recipe for vegan gluten-free mini chocolate chip muffins.)
perfectlyfree
Products from perfectlyfree were to be included in my package of samples, but because I am in Canada and frozen foods don't ship well, I couldn't get them.
I checked out their website and learned a little about what they offer. They make allergy-friendly, non-dairy frozen bites and frozen desserts that are all big 8 free, meaning that their products are free from the top 8 allergens. If you have access to them, give them a try and let me know how you like them!
Made Good
Made Good is another brand often found in my cupboards (the chocolate chip granola bars, especially!)
Their individually wrapped snacks are perfect for school lunches and after school snacks. Something fun about them: each of their granola bars contains a full serving of vegetables, but the only way you would know is by reading about it on the package. You don't taste any of it, seriously.
They also make granola minis (see the pink box below), crispy squares, cereals, and their most recent offering, chocolate chips for baking!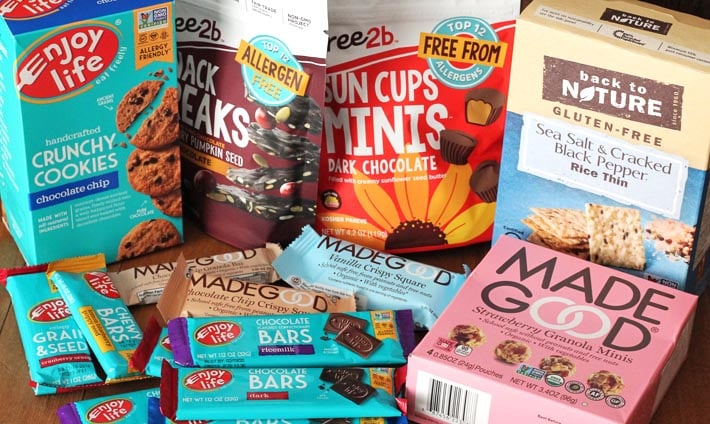 Back to Nature
Good gluten-free crackers are hard to come by, but Back to Nature makes some delicious crackers, especially their Brown Rice, Sea Salt & Cracked Black Pepper crackers (they're really good with hummus or your favourite dairy-free cheese!). I'm snacking on some as I write this!
Back to Nature also makes a wide range of other products, but not all of them are free from, so be sure to check the labels before buying this brand.
free2be
free2be is a brand I recently discovered when my grocery store expanded their "natural foods" section. They brought in a few new brands and Free2Be was one of them. I bought a pack of their full sized Sun Cups to try and cue the angels singing. They are so good.
When I saw a whole bag of the mini cups in my sample box, let's just say I was happy 🙂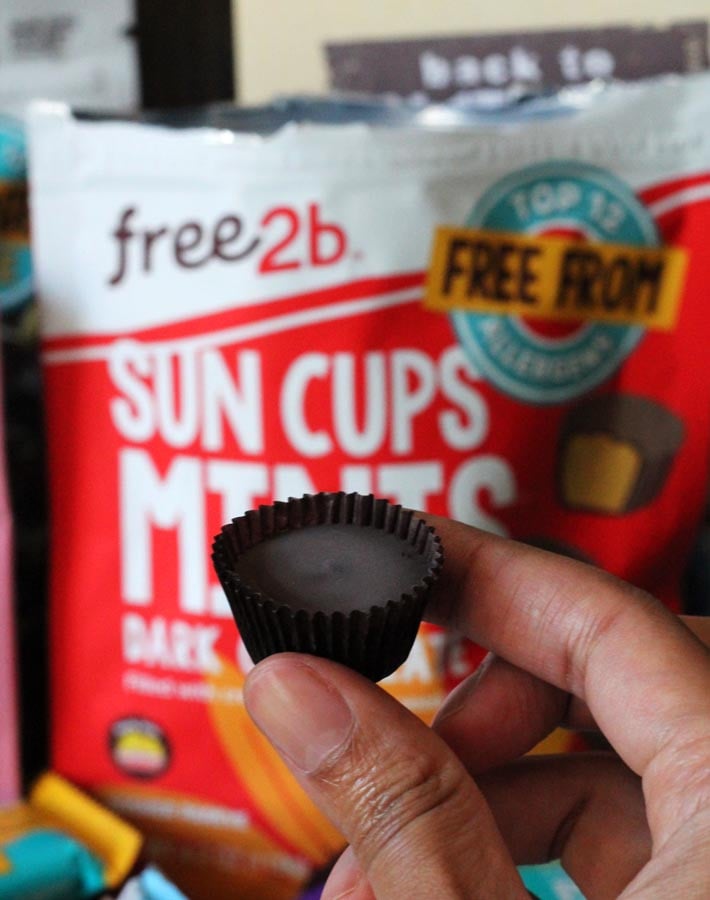 All of these products are fun, allergy-friendly snack and treat ideas and that don't taste like they're free from anything. Which is a huge plus for me, and you too, I'm sure!
---
For those times when you need a break from making your own snacks, I hope this post gave you some good ideas for allergy-friendly snacks and treats you can pick up at the store!
Do you have any favourite allergy-friendly, nut-free snacks not mentioned above? Tell me about them in the comments below!
If you like this post, you may also like these: