Who doesn't like a quick, healthy, and delicious weeknight dinner recipe? I know, and I'll tell you. NO ONE! This Vegetable Fried Rice with Crispy Ginger Garlic Tofu checks all of those boxes off.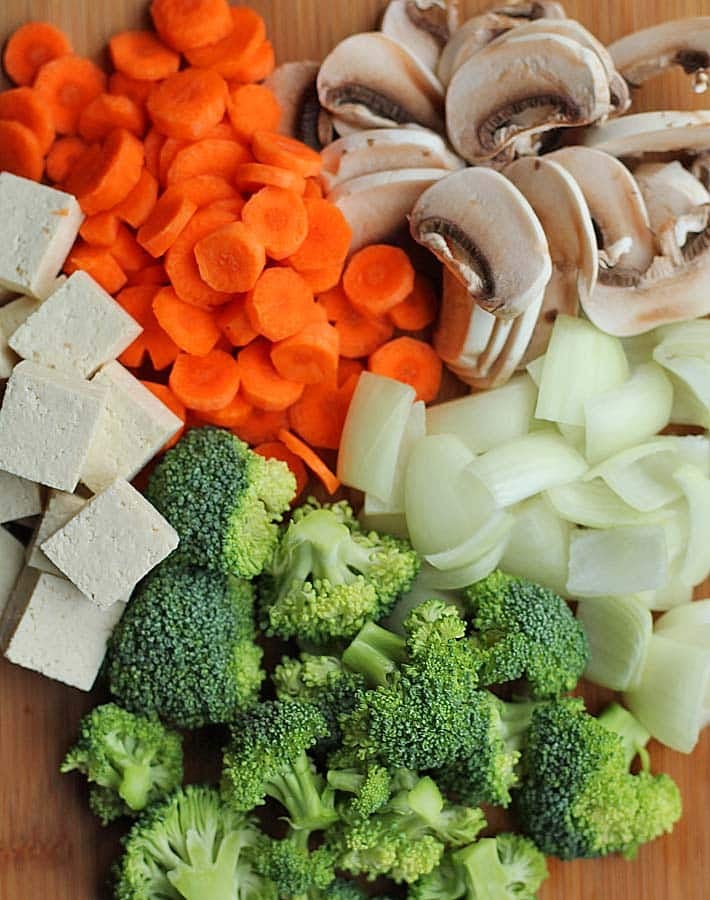 I make this recipe quite often…so often, I don't use a recipe. But the last time I made it, I took the time to measure everything out and write everything down for you. Lucky you, because this is a favourite here and I hope it will be come one of yours too!
What's great about this recipe is you can use whatever vegetables you have in your fridge that would be suitable for stir-frying. Each time I make this recipe, it's slightly different because it all depends on what vegetables I have. This particular time, I used the veggies you see above, but you can also use peppers (red, green or yellow, it doesn't matter!) You can also add in some kale or spinach, snow peas, zucchini, baby bok choy, cauliflower, baby corn, bean sprouts…see? Whatever you have available to use is fine and whatever combo you end up with will be delicious. Just be sure to adjust cooking times appropriately since some vegetable cook quicker than others.
The best part to me about this dish though, besides the healthy serving of vegetables, is the crispy ginger garlic tofu….
Oh, and the next best part? It makes lots. So you'll have leftovers for dinner later in the week when Thursday/Friday rolls around and you JUST. CAN'T when it comes to making supper…or lunches. The amount of leftovers will depend on how many people you have sitting around your table. If you don't want to deal with all the leftovers, the recipe works perfectly fine when halved.
Serve with a side of veggie spring rolls or have it without the side. No matter how you serve it, it's going to be good. And will hopefully become a new favourite in your home.
If you like this recipe, I think you'll also like my Sweet Potato Broccoli Chickpea Bowls. You can also click here for more delicious vegan dinner ideas!
How to Make Vegetable Fried Rice with Crispy Ginger Garlic Tofu