This simple vegan fried rice makes an easy and filling meatless meal. It's packed with tons of veggies and flavorful garlic ginger tofu. It's a simple but delicious vegan dinner recipe idea (it's also great for vegan meal prep!) that will make enough to feed your family and you'll probably still have leftovers for lunch the next day. Read on for all the details!
Who doesn't like an easy, delicious, veggie-filled, vegan weeknight dinner recipe? This vegan fried rice with garlic ginger tofu checks off all of those boxes!
If you've ever wondered how to make fried rice vegan, this is the recipe for you. Traditional fried rice contains eggs, but this recipe doesn't, making it 100% vegan (and gluten-free if you use tamari instead of soy sauce!)
I make this recipe quite often...so often, I don't follow a written recipe. But the last time I made it, I took the time to measure everything out and write everything down for you.
Lucky you, because this is a favourite here and I hope it will become one of yours too!
Vegetable Fried Rice Ingredients
Each time I make this recipe, it's slightly different because it all depends on what vegetables I have on hand. This particular time, I used the veggies you see below, but you can swap them out for what you have on hand.
This is a great "close-to-grocery-day" meal because you can use up whatever vegetables you have in your fridge that would be suitable for stir-frying and need to be used up quickly.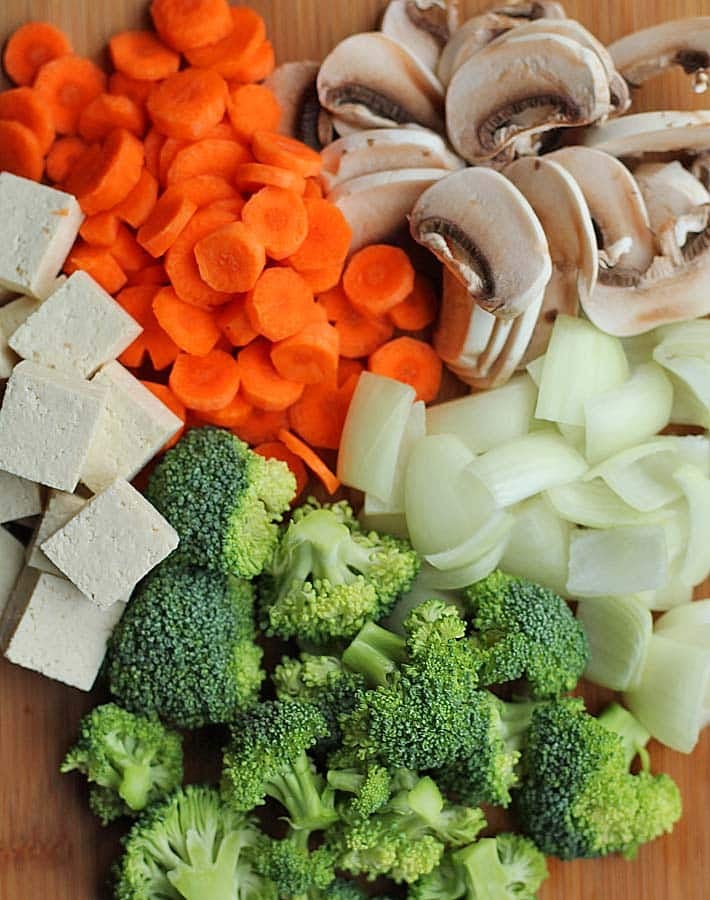 Whatever you have available to use is fine and whatever combo you end up with will be delicious. Just be sure to adjust cooking times appropriately since some vegetables cook quicker than others.
Here are some other vegetables you can use:
peppers (red, green or yellow, it doesn't matter!)
leafy greens like kale or spinach
baby bok choy
cauliflower
bean sprouts
green peas
snow peas
baby corn
zucchini
Brussels sprouts
celery
cabbage
and this is not a vegetable, but it would make a great addition: pineapple chunks!
How to Prepare the Tofu
One of the best parts about this dish, besides the big serving of vegetables, is the crispy ginger garlic tofu.
To make this recipe, the first step is preparing the tofu. To make sure your tofu turns out crispy, a very important step you cannot skip is pressing the tofu to get all the liquid out.
You can do that by wrapping the block of tofu in a dishcloth and placing something heavy on top of it. Leave it like this for at least 30-minutes.
Or, the easier way is to press it using a tofu press designed for this job, like this one.
After the tofu has been pressed, you'll slice the block into cubes and then toss them in cornstarch. After that, fry the cubes in a little oil and when done, toss the cubes in a garlic/ginger/tamari mix.
Note: If you don't want to make your vegan fried rice with tofu, that's okay, just skip the tofu steps.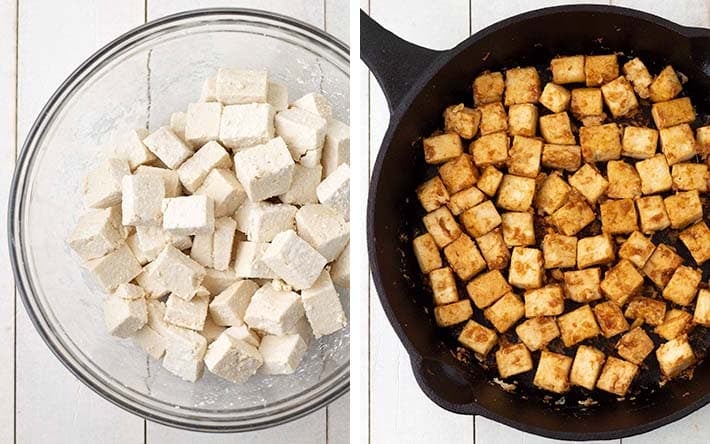 How to Make Vegan Veggie Fried Rice
(Note: I've outlined the step-by-step for this vegan fried rice recipe here, but find the full recipe, ingredients, and directions at the end of this post.)
After your tofu is finished, set it aside and then get the rest of the fried rice ready.
You'll start by stir-frying the vegetables, then add the cooked rice, and mix everything together. Next, add the tamari sauce, and finally, add in the tofu.
You can then serve your vegan tofu fried rice as-is, or you can garnish with sliced green onions and/or sesame seeds (and some veggie spring rolls with dipping sauce on the side!)
And another good thing about this vegan stir fried rice recipe? It makes lots.
So you'll have leftovers for dinner later in the week or for lunches. The amount of leftovers will depend on how many people you have sitting around your table.
If you don't want to deal with all the leftovers, the recipe works perfectly fine when halved.
What Kind of Rice Is Best for This Recipe?
I like to make it with long grain brown rice (vegan fried brown rice is delicious!), but long grain white rice can also be used, no problem.
It's also best to make this (and any) fried rice with leftover rice / day old rice that was refrigerated.
Why? Because if you make fried rice with rice that was freshly made and hot / warm, your fried rice will end up sticky and in some cases, mushy, which is not ideal.

The best fried rice has a texture that is dry and grainy and the grains should not stick together.
If you're in a hurry and you don't have leftover rice to use, you can make the rice the same day. Just be sure that it has had enough time to fully cool down before it gets added to the vegetables.
Did I miss any questions you need answered before you make this fried rice with tofu? Ask me below in the comments or send me a message!
If you like this recipe, I think you'll also like these other easy vegan dinner recipe ideas:
You can also help me to help others find this vegan vegetable fried rice recipe by pinning it to your recipe board on Pinterest.
CLICK HERE TO PIN IT NOW!
How to Make Vegan Fried Rice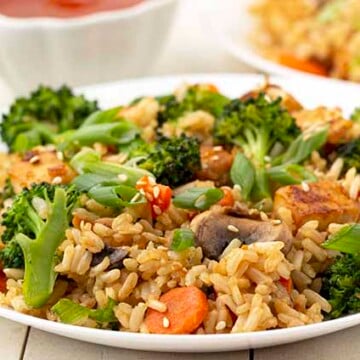 Print Recipe
Vegan Fried Rice with Garlic Ginger Tofu
This vegetable fried rice recipe is going quickly become a favourite weeknight meal! Packed with tons of veggies and flavorful garlic ginger tofu, this tofu fried rice is a simple but delicious vegan dinner recipe idea that makes enough to feed a family and still have leftovers for lunch the next day!
Ingredients:
Garlic Ginger Tofu
1

350g (12oz)

block of extra firm tofu, pressed

2

tablespoons

cornstarch

1

teaspoon

grated fresh ginger

3

cloves

garlic

(pressed or minced)

2

tablespoons

tamari or soy sauce

2

tablespoons

oil
Fried Rice
2

teaspoons

grated fresh ginger

3

cloves

garlic

(pressed or minced)

2

tablespoons

toasted sesame or regular oil

1

large head of broccoli cut into florets

(approximately 4 cups)

1

small yellow onion, chopped

4

carrots, peeled and thinly sliced

8

white mushrooms, sliced

¼

cup

low sodium tamari or soy sauce

4

cups

cooked brown rice

(day old, refrigerated is best, see info above and below)
Instructions:
Prepare the tofu:
Slice pressed block of tofu into bite-sized cubes and toss in a bowl, with cornstarch.

Whisk together the 1 teaspoon of grated ginger, 3 cloves of pressed or minced garlic, and 2 tablespoons of tamari or soy sauce. Set aside.

Heat a large metal or cast-iron skillet over medium heat.

Once the skillet is hot, add 2 tablespoon of oil and swirl to coat.

Place all pieces of tofu in the pan and fry. Once golden brown on 1 side, flip all of the pieces so the other sides get golden brown, as well.

Once both sides are crispy and golden brown, remove any excess oil from the pan and add the ginger/garlic/soy mixture.

Mix around with a spoon until all tofu pieces are coated.

Remove tofu from skillet and place in a bowl. Set aside.
Prepare vegetables and rice:
Heat a large wok or skillet on medium-high heat.

Once it's hot, add 2 tablespoon of oil and swirl to coat.

Add the 2 teaspoons of grated ginger and 3 cloves of mines or pressed garlic and fry for a minute.

Add the broccoli and carrots and stir fry for 2 minutes.

Add the onion and stir fry for another 2 minutes.

Add the carrots and mushrooms and cook for a few more minutes.

Add the cooked brown rice and mix so everything is evenly coated.

Add the 4 tablespoon of tamari or soy sauce and stir.

Add the cooked tofu. Mix again to evenly distribute the tofu pieces.
Recipe Notes:
Please read all of the helpful tips and FAQ above before making this recipe.
Leftover rice / day old rice that was refrigerated is best for this recipe so you end up with the best texture.
Use tamari instead of soy sauce if you need to keep this dish gluten free.
Leftovers will keep for up to 4 days in the refrigerator.
Recipe can be halved, if needed.
Nutrition info is based on 1 of 6 servings without any garnishes and using low sodium gluten-free tamari, toasted sesame oil for the vegetables/rice, and avocado oil for the tofu. Info is only to be used as a rough guide. Click to learn how nutrition info is calculated on this website.
Nutrition Info:
Calories:
392
kcal
|
Carbohydrates:
51.6
g
|
Protein:
15
g
|
Fat:
14.9
g
|
Saturated Fat:
1.9
g
|
Polyunsaturated Fat:
0.7
g
|
Monounsaturated Fat:
3.2
g
|
Sodium:
750
mg
|
Potassium:
227.7
mg
|
Fiber:
5.6
g
|
Sugar:
3.7
g
|
Vitamin A:
7127.3
IU
|
Vitamin C:
28.7
mg
|
Calcium:
74.6
mg
|
Iron:
2.6
mg
Did You Make This Recipe?
If so, please share a picture with me on Instagram! Tag @delightfuladventures and hashtag #delightfuladventures. I can't wait to see!
This vegetable fried rice with tofu recipe was originally published on May 30, 2016 and was updated in November 2019 with new images and text. Original images: