Whether you're reading this during the fall, when vegan pumpkin recipes are everywhere, or you're reading it when pumpkin spicy goodness isn't around every corner (like in May!), I've got you covered with a nice assortment of delicious vegan recipes with pumpkin puree and warm spices. So let's get started!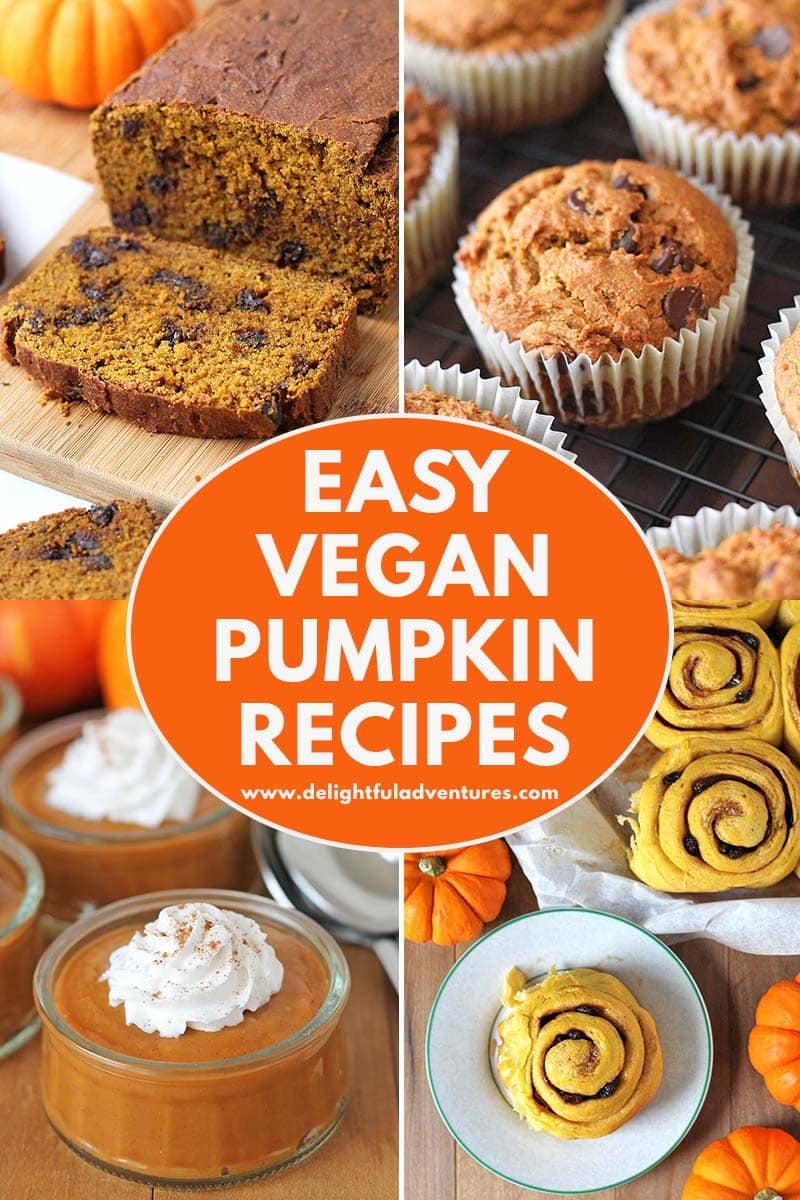 Pumpkin recipes go way beyond pumpkin pie. Of course, pumpkin pie is amazing (I have a few recipes for it below!) but if you want to step outside of the pumpkin pie box, these recipes will help you, a lot.
Many of them are vegan gluten-free pumpkin recipes, but there are also a few that are vegan only and many can be made just vegan if you don't need the recipe to be gluten-free. All recipes are sweet, but I'm working on adding some savoury pumpkin recipes and will update once they're ready.
All of these easy vegan pumpkin recipes are perfect for the fall season, Thanksgiving, and Christmas (yes! pumpkin recipes for Christmas, nothing wrong with that!).
So don't restrict yourself by saving these recipes just for the fall, make them any time of year as I do!
Before You Get Started...
All of these recipes call for pumpkin puree. You can also make these vegan recipes with canned pumpkin, but during the fall, when pumpkins can be found everywhere, I like to make my own and freeze it so I have it ready when I need it.
Here's a step-by-step, easy vegan recipe for pumpkin puree:
And if you do make your own pumpkin puree, save the pumpkin seeds to make this easy vegan snack:
And a Few Expert Tips for Success with These Recipes:
Before you make any of the vegan gluten-free pumpkin recipes, be sure to read through the ingredients and directions before starting, and always use the flour(s) the recipe calls for to avoid disappointment.
If vegan gluten-free baking is new to you, read all of my vegan gluten-free baking tips and give the recipe(s) you choose a test run before making them for a special occasion.
Vegan Pumpkin Recipes
These are the few pumpkin recipes I have that are written to be vegan and not gluten-free.
Pumpkin Recipes for Breakfast
There isn't much better than waking up on a chilly fall morning to a warm, spiced pumpkin-themed breakfast. Here are a few ideas:
Vegan Gluten-Free Pumpkin Recipes for Snacks
Snack time can never be boring during pumpkin spice season. The following recipes are all tasty ideas to grab while you're on the go, when you want something small and fast, or to pack in lunches.
Vegan Pumpkin Dessert Recipes
I saved the best part for last, the icing on the cake, the cherry on top, the perfect ending to any meal, the vegan pumpkin desserts!
And finally, if you want a hot drink to enjoy alongside your pumpkin treats, how about a warm, cozy vegan pumpkin spice latte?
So there you go! A handful of some of the best vegan pumpkin recipes I have to offer. I hope you love them as much as I do. Pumpkin breakfast, snacks, lots of treats, and even gluten-free pumpkin desserts for Thanksgiving and the holidays.
If you do try any of these recipes, please share a pic with me on Instagram!
And finally, if there are some other pumpkin recipes you'd like to see on this website, please tell me about them in the comments below!