Can't decide between banana bread and pumpkin bread? Then make this Vegan Gluten Free Pumpkin Banana Bread which blends the flavours of both, perfectly.
This page may contain affiliate links. Click to learn more.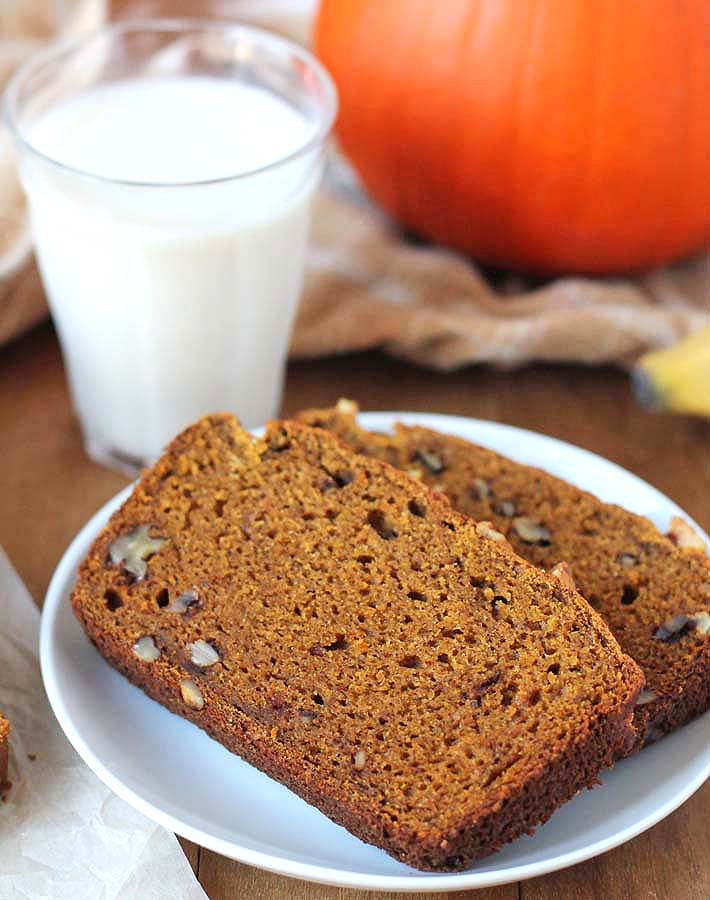 If you're looking to add a little flavour twist to your next baking project, then I've got the recipe for you: Vegan Gluten Free Pumpkin Banana Bread.
This recipe takes the best things about banana bread (banana flavour) and pumpkin bread (the spices) and mixes them together to give you this delicious pumpkin banana bread that you will want to make over and over again. Not just during the fall, but all year.
I had been working on this vegan gluten free pumpkin banana bread recipe since last year. I made it once and liked it, but wanted to make it once more to be sure the recipe was perfect (I make all of my recipes multiple times, just to be 100% sure they work before sharing them with you!).
I then got distracted with another fall recipe (these vegan gluten free apple cinnamon waffles!) and the holiday season quickly rolled in and I moved on to holiday recipes.
This is just a tiny peek into the life of a food blogger…
Then, a few weeks ago, I received an email from a reader asking if I had any recipes that included both pumpkin and banana and I remembered I had been working on this, so I went back to it. Thanks for the reminder, Nicole!
So…have you been wondering?
What does pumpkin banana bread taste like?
I wondered the first time I heard about it, too.
Even though this pumpkin banana bread has a whole cup of pumpkin puree in it, there isn't a whole lot of pumpkin flavour, but the distinct pumpkin spice flavour you'd get in regular pumpkin bread is very present. Because banana is such a dominant flavour, the bread does have a banana flavour.
So if I had to describe the taste, I would say it tastes like banana bread but with pumpkin spice flavour. Which may seem a little odd, but you have to trust me on this.
It's very good. So good, I've made it three times in the past few weeks!
When it comes to add-ins, you have several options.
You can go with walnuts, like I did in the pictures you see here. You can also choose chocolate chips, raisins, or pumpkin seeds. Chopped pecans would also work well.
Or, you don't have to add anything in if you don't want to. (My favourite version is the one with raisins!)
I hope you enjoy this little twist on banana bread and pumpkin bread, but if you prefer regular banana bread, try my Coconut Raisin Banana Bread or my vegan gluten free banana bread.
And if you want pumpkin bread, try my Vegan Gluten Free Pumpkin Chocolate Chip Bread. or my Gluten-Free Chocolate Pumpkin Bread. I've got you covered no matter what you're looking for!
If you like this pumpkin banana bread recipe, you may also like these:
How to Make Vegan Gluten Free Pumpkin Banana Bread