An easy recipe for Vegan Gluten Free Gingerbread Loaf that's perfectly spiced and will become a favourite recipe to make (and give!) during the holidays.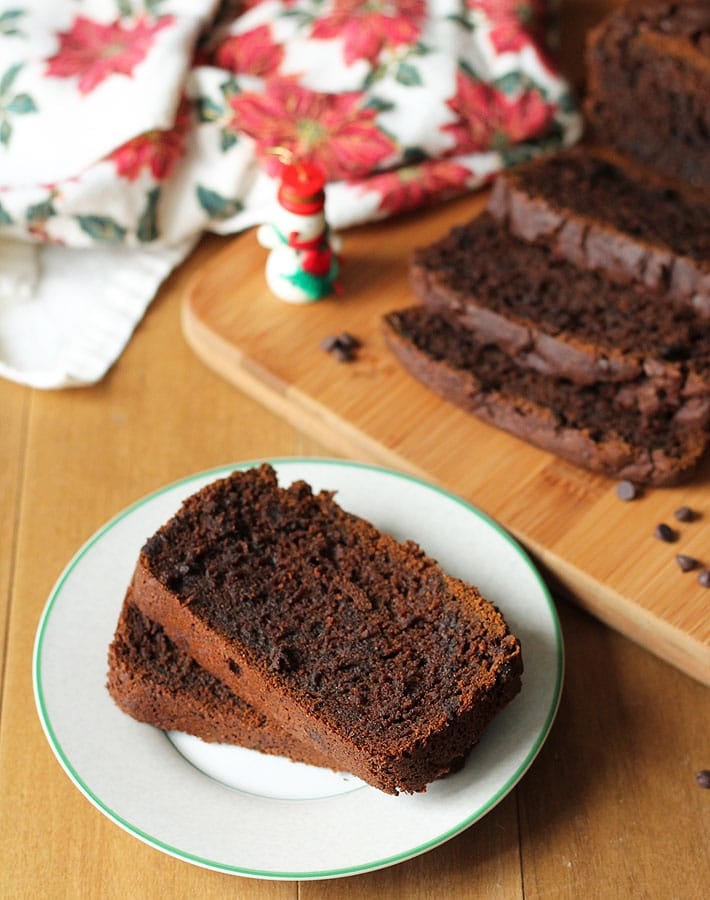 I was scrolling through my Facebook feed a few weeks ago and came across a recipe for this Pumpkin Gingerbread.
I took a quick glance and thought it sounded interesting and that it would be a good recipe to "re-do" (aka: make 100% plant-based and gluten free so it would be a vegan gluten free gingerbread loaf) and share with you when we're all transitioning from all of the fall pumpkin recipes to holiday recipes.
Pumpkin + gingerbread, what better way could there be to move from fall to the holidays?
I wasn't quite sure if the changes I had in mind would work but I went ahead anyways, I always love a challenge. And guess what? I did it.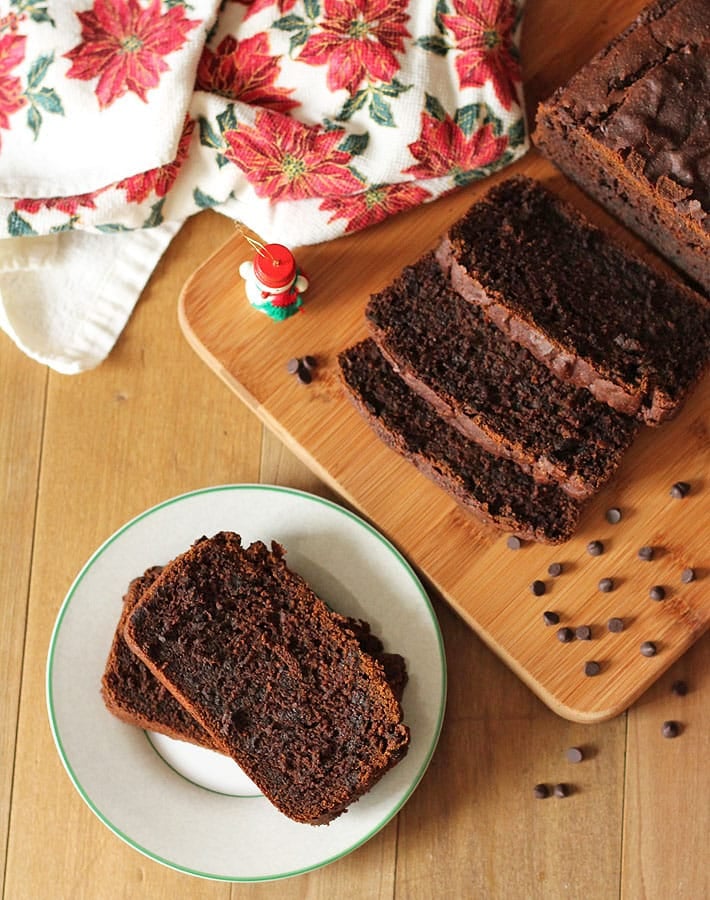 I'm so happy with the result and although it did not turn out to be the transition recipe I had in mind, this vegan gluten free gingerbread loaf is PERFECT to make and serve (or give!) during the holiday season (just like this vegan gluten free cranberry orange bread!).
The original recipe did not contain molasses but I think molasses is essential in any gingerbread recipe. So I added some in which made the loaf darker than the original.
I also kept the pumpkin in because it adds a moistness that you would not otherwise get if you were to leave it out. BUT...note that this loaf has no pumpkin flavour whatsoever, it's simply used as an ingredient to make the loaf tender (and I guess it also adds some nutrition!).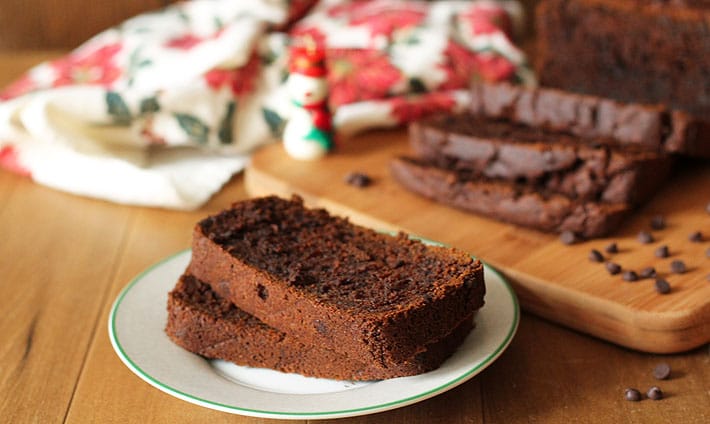 And a tip...don't buy canned pumpkin puree! If you can, make your own large batch in the fall and freeze it so you can use when needed. Here's a step-by-step on how to make homemade pumpkin puree.
The mini chocolate chips in the loaf are totally optional, it's up to you if you want to add them or not, but I like adding them because it makes the gingerbread loaf more kid-friendly and because why not? The flavours pair well, so I went for it!
If you want even more chocolate, you can also sprinkle a bit on top of the loaf before putting it in the oven.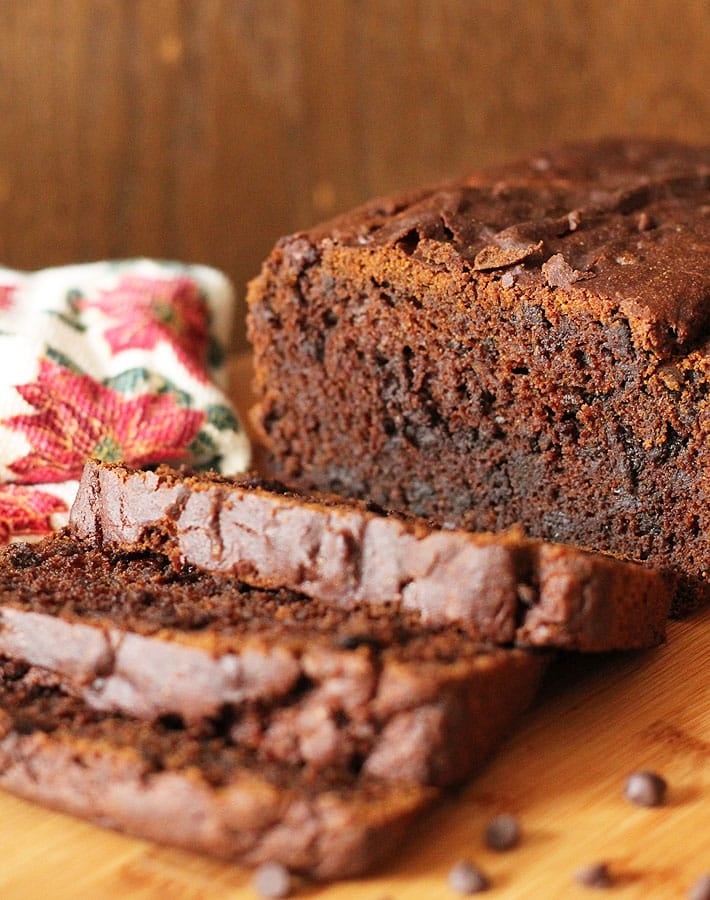 Serve up your vegan gluten free gingerbread loaf with a vegan gingerbread latte or a decadent vegan hot chocolate and curl up under a blanket to watch holiday specials with the family (the way I like to spend evenings during the holidays season!).
You can also bake a few, package them pretty, and give them to friends and family. Who doesn't love to receive food gifts during the holidays (or any other time, really!)
If you like this recipe, I think you'll also like these:
And if you make it, tell me about it below in the comments or share a pic with me on Instagram!
Vegan Gluten Free Gingerbread Loaf
This Vegan Gluten Free Gingerbread Loaf is perfectly spiced & will become a fave during the holidays. A great recipe to make and give (or enjoy yourself!).
Instructions:
Preheat oven to 325 degrees.

Grease a 5" x 9" (1.5 quart) loaf pan.

Prepare your flax eggs by whisking together ground flax seeds and water. Set aside to thicken.

In a large bowl, whisk the flour, coconut sugar, baking powder, baking soda, salt, ginger, cinnamon, cloves and all spice together.

In a small bowl, mix the melted coconut oil, molasses, pumpkin puree, and flax mixture together.

Pour wet ingredients into dry ingredients and mix well to combine.

Fold in the mini chocolate chips, if using.

Pour into greased loaf pan.

Bake for 50 minutes to 1 hour or until a tester comes out clean. See note.


Allow to fully cool before cutting.
Recipe Notes:
Baking times will vary slightly depending on your oven and the type of bakeware you use. I use a glass loaf dish when making this recipe. Start checking around the 50 minute mark.
It's important to know that different gluten-free flour blends use different ingredients and ratios, so results will always vary if you substitute. I have never used any other brand of flour to make this recipe (other than Bob's Red Mill in the red bag, NOT the blue bag!), so please know that your results may not be the same as mine if ingredients are substituted.
This recipe will NOT work with coconut flour.
Nutrition info listed below is for 1 of 12 slices and for the recipe made as written. Info is only to be used as a rough guide. Click here for more info on how nutrition info on this website is determined.
Nutrition Info:
Serving:
1
slice
|
Calories:
186
kcal
|
Carbohydrates:
33
g
|
Protein:
2
g
|
Fat:
11
g
|
Saturated Fat:
8
g
|
Sodium:
190
mg
|
Potassium:
264
mg
|
Fiber:
3
g
|
Sugar:
17
g
|
Vitamin A:
1650
IU
|
Vitamin C:
5
mg
|
Calcium:
40
mg
|
Iron:
1.8
mg
Did You Make This Recipe?
If so, please share a picture with me on Instagram! Tag @delightfuladventures and hashtag #delightfuladventures. I can't wait to see!