This recipe for festive, easy vegan gluten free gingerbread waffles are perfect to serve on Christmas morning (or any other morning during the holidays!).
This page may contain affiliate links. Click to learn more.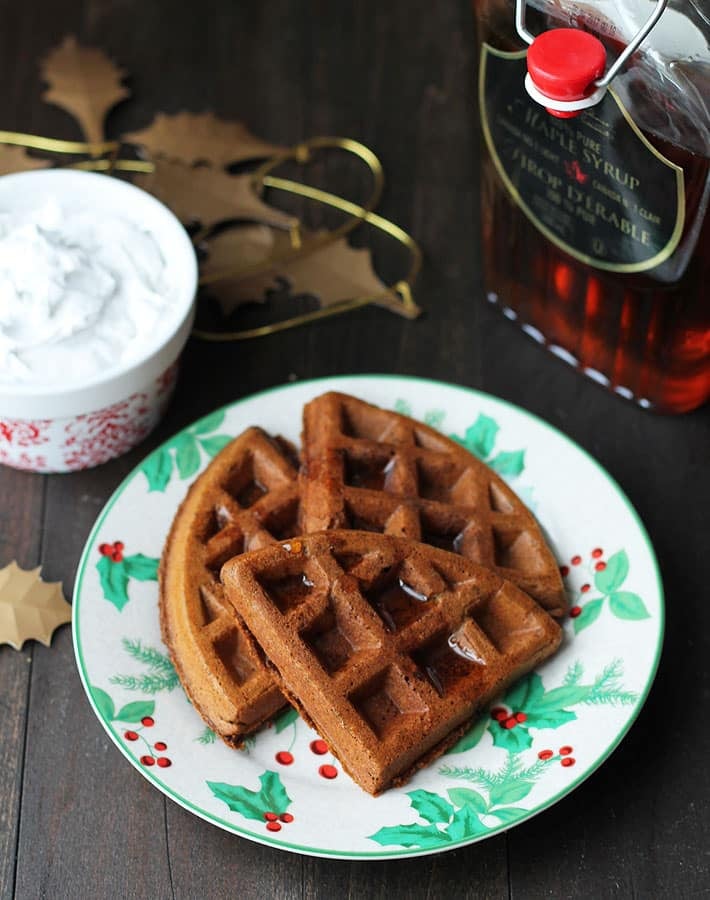 When I shared my recipe for my easy vegan gluten free waffles a while back, I teased that I would be sharing a new gingerbread waffle recipe closer to the holidays. Well, here it is: Vegan Gluten Free Gingerbread Waffles in all its glorious deliciousness. Trust me, it was worth the wait!
Building gingerbread houses during the holidays isn't really my thing. They're pretty, but I don't have the patience for something so intricate. I'll do the quick little kits with my kids but that's as far as I can go (huge credit to those of you who make gingerbread houses like these!).
I prefer to fix my gingerbread cravings with things like: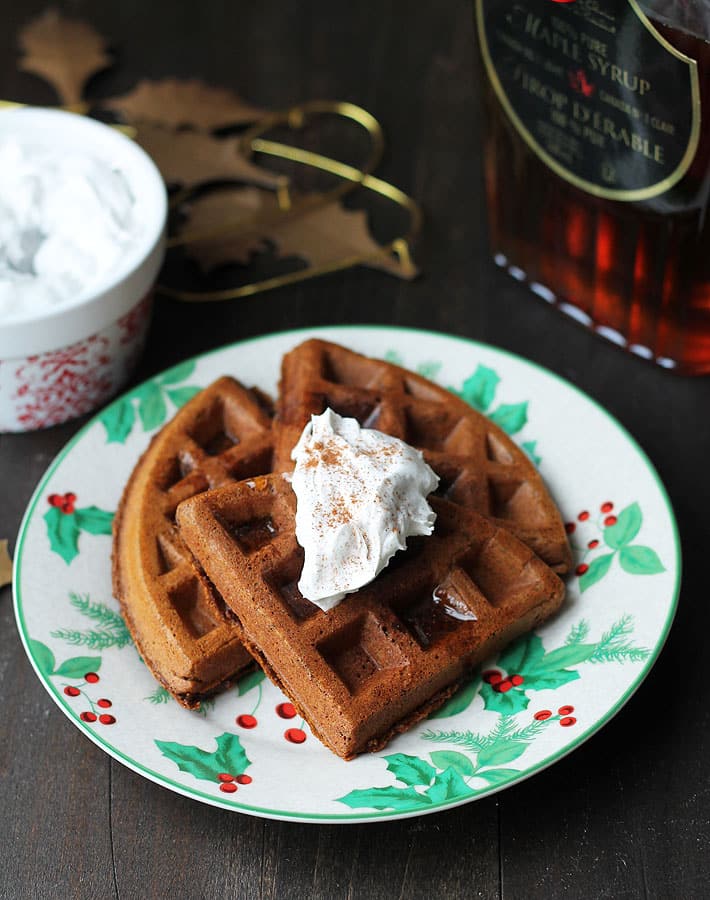 I made these waffles for our Christmas morning breakfast the first year I had a waffle maker and they were a hit so they make return appearances each holiday. I think I've started a new holiday family tradition! They turned out so well this year, the kids asked me to make them again the next day. Well, children…if you insist…you don't have to ask twice…!

Unfortunately, to make them again, I didn't have a key ingredient so it had to wait a few days. When I did make them again, it was for lunch this time.
Because, why not? It's the holidays, treat yo'self.
I also took that time as an opportunity to snap these pictures so I could finally share the recipe here with you.
The mix for these vegan gluten free gingerbread waffles comes together quickly, the hardest part is waiting for the entire batch to cook (they smell amazing as you will soon see!).
They're filled with warm gingerbread spices and flavour, so the first bite, and every other bite, will taste just like the festive season.
Like my other waffle recipes, these are also crispy on the outside and soft on the inside. That's just the way waffles should be, right?
Is There a Waffle Maker You Recommend?
Yes. This is the one I own and love:
I have had it for quite a few years now and it's still going strong, It's inexpensive and the non-stick coating is Teflon free and very durable. It's still non-stick after all this time!
What is The Best Way to Keep Waffles Crisp and Warm While Cooking the Entire Batch?
I've outlined my favourite way to do this here: How to Keep Homemade Waffles Crisp Because no one wants a soggy waffle!
Can I Freeze These Waffles?
Yes! These vegan gingerbread waffles freeze very well.
To enjoy them later, simply cool the waffles after they've been made, cut into quarters as shown in the picture, and freeze in an airtight bag or container. When you're ready to enjoy them, quickly heat in the toaster, oven, or toaster oven.
What Should They Be Served With?
Whatever you like! Here are some suggestions on what to serve them with:
They're such a great treat for the holidays! And…if you have the ingredients and a craving that's strong enough, serve them in the middle of July too. Why not? I'll never judge you for that (because I will likely be doing the same :)).
If you like this vegan gingerbread waffle recipe, Check out all of my other gingerbread recipes and these others you may also like:
How to Make Vegan Gluten Free Gingerbread Waffles