An easy gluten free cranberry orange bread that's packed with amazing flavours courtesy of the classic, delicious flavour combo: tart cranberries and citrusy oranges. This is one of the best treats to bake for Christmas morning, Thanksgiving, or any other time of year! It's moist, it's easy-to-make, and it's a simple, tasty gluten free quick bread family and friends will love.
This page may contain affiliate links. Click to learn more.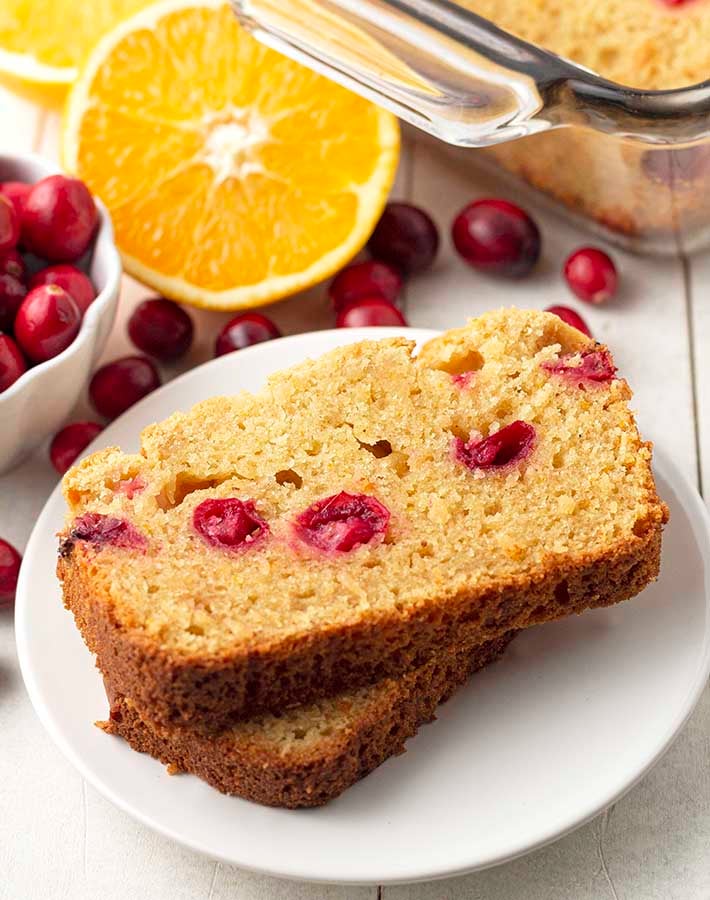 Surprisingly, I didn't try cranberries until I was a teenager (I have no idea why!) Today? I love them.
Cranberries are one of my favourite ingredients to include in my recipes. They're great to throw into smoothies, like this cranberry apple beet smoothie.
And in sweet recipes, they add a nice tartness to balance the sweetness (like in this pear cranberry crisp or these oatmeal cranberry chocolate chip cookies, and especially this delicious gluten free cranberry orange bread.
This is a nice gluten free cranberry recipe to make during the holiday season for guests, to give as a gift, or just to have as a snack available for the family. But it's not JUST for the holidays, it's also great to make year-round.
Ingredients You'll Need…
Everything you'll need can be seen below. For the orange juice, you can squeeze the juice from the same orange you get the zest from, or you can use store-bought orange juice.
Note that I use granulated sugar and golden flax seeds for this recipe instead of my usual go-tos (coconut sugar and brown flax seeds) so the final loaf will have a golden colour.
However, if you prefer to use brown flax seeds and coconut sugar, feel free to do so, the recipe will still work, the batter and the final loaf will just be a little darker.
Can Frozen Cranberries Be Used? How About Dried Cranberries?
Yes, frozen cranberries can be used. Don't thaw them, or they'll get soggy, just throw them into the batter as-is.
If you do use frozen cranberries, I would use a different neutral flavoured oil other than coconut, since coconut oil will harden and your batter will be stiff. You can use safflower, avocado, etc.
I haven't tried making this recipe with dried cranberries, but I do think it would work fine. You just won't get the juicy bursts of fresh cranberries, which is one of the things that makes this vegan cranberry loaf so good, so keep that in mind.
Tip: Around Easter, Thanksgiving, and Christmas, grocery stores stock up on fresh cranberries and each time, I buy a few bags to throw in the freezer. Of course, you can skip a step and just buy cranberries that are already frozen, too!
Whole Cranberries? Or Chopped?
I like to keep the cranberries whole for this loaf, but feel free to chop them before adding them to the batter.
How to Make Gluten Free Cranberry Bread
(Note: I've outlined the step-by-step for this vegan cranberry orange bread here, but find the full recipe, ingredients, and directions at the end of this post.)
The first step is to whisk together the dry ingredients, after that, you'll mix all the wet ingredients together.
Next, add the wet ingredients to the dry ingredients, mix, then add the cranberries.
Fold the cranberries in and if you'd like to make this a gluten free cranberry nut bread, you can also add some chopped walnuts at this point.
Stir until everything has combined and now it's time to add the batter to the baking dish.
Have a look at the picture below to get an idea of what the consistency of the batter should look like.
It should not very runny, and not too thick. If you follow the recipe as it's written and use the same gluten-free flour blend I use, then your batter should look the same.
After pouring the batter into the baking dish, smooth out the top and put it in the pre-heated oven.
Once your gluten free orange cranberry bread has finished baking, remove it from the oven and let it cool for about 10 minutes in the baking dish.
After that time has passed, carefully remove the loaf from the pan and place it on a cooling rack.
Allow it to fully cool before slicing.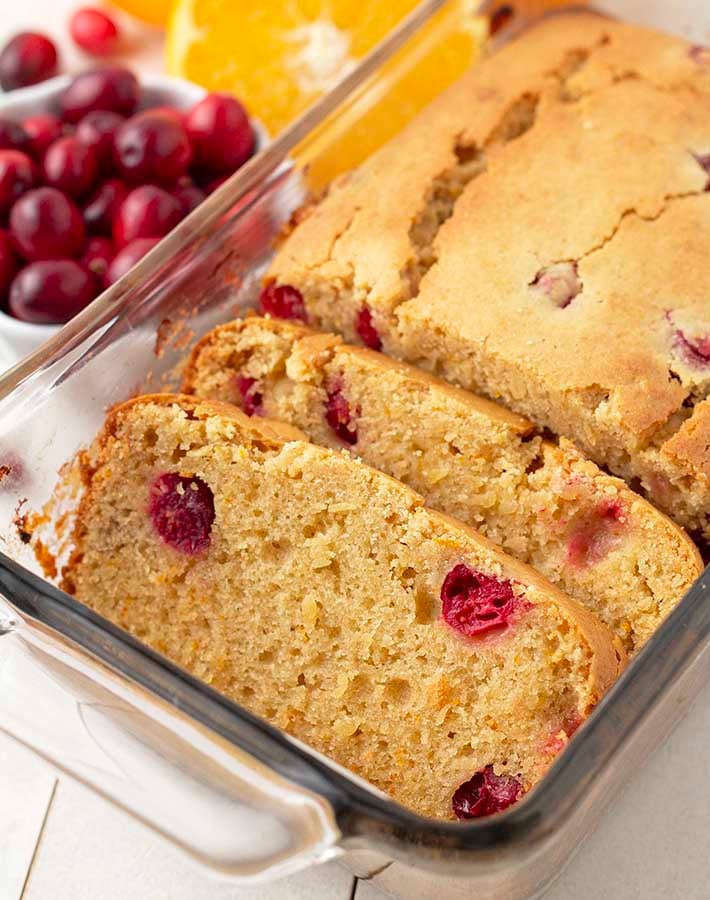 Can a Different Flour Be Used?

I have only tested this recipe with Bob's Red Mill Gluten Free All Purpose Baking Flour (Amazon link), the one with the red label, not the blue label.
If you want to use a substitute gluten-free flour blend, proceed with caution since I have not personally tested any others. The Bob's blend I use does not contain any gums, like xanthan gum, so if you don't have access to this flour and must use another, keep those things in mind.
Another thing to keep in mind is that this gluten free vegan cranberry orange bread recipe will not work with one single gluten free flour, it must be a blend. AND it will definitely not work with coconut flour.
How Long Will This Gluten Free Dairy Free Cranberry Bread Last?
After it has cooled, store it in an airtight container at room temperature, for two to three days.
If it lasts longer than that, wrap it tightly and store in the refrigerator for up to another two days. When you're ready to serve, warm up the slices or bring them to room temperature before serving.
If you'd like to freeze your gluten free cranberry loaf, cool it completely, wrap tightly, place in a freezer bag, and freeze for up to one month. When you're ready for it, let it thaw in the refrigerator or at room temperature.
If You Make This Recipe…
Let me know! Leave a comment and rating below or you can post a pic of your own gluten free cranberry orange loaf and tag me on Instagram (I'm @delightfuladventures!)
If you're looking for more vegan gluten free loaf recipes, how about one of these:
You can also help me to help others find this gluten free cranberry bread recipe by pinning it to your recipe board on Pinterest!
CLICK HERE TO PIN IT NOW!
How to Make a Gluten Free Cranberry Orange Bread
Print Recipe
Gluten Free Cranberry Orange Bread
A simple vegan gluten free orange cranberry bread that's packed with amazing flavours courtesy of tart cranberries and citrusy oranges. It's the one of the best treats to make for Christmas morning, Thanksgiving, or any other time of year! This loaf is moist, it's easy-to-make, and it's a delicious gluten free quick bread you can make to treat your family and friends.
Instructions:
Preheat oven to 325°F (165°C).

Grease a 5" x 9" (1.5 quart) loaf pan.

Prepare your flax eggs by whisking together ground flax seeds and water. Set aside to thicken.

In a large bowl, whisk the flour, baking powder, and salt together.

In a small bowl, mix the sugar, applesauce, melted coconut oil, orange juice, orange zest, vanilla, and flax mixture together.

Pour wet ingredients into dry ingredients and mix well to combine.

Fold in the cranberries.

If using, fold in the chopped walnuts.

Pour into greased loaf pan.

Bake for 50-55 minutes or until a tester comes out clean.

Allow the loaf to fully cool before cutting into it.
Recipe Notes:
Please read all of the FAQ info above before making this recipe.
It's important to know that different gluten-free flour blends use different ingredients and ratios, so results will always vary if you substitute. I have never used any other brand of flour to make this recipe (other than Bob's Red Mill Gluten Free All Purpose Baking Flour (Amazon link) with the red label, NOT the blue label), so please know that your results may not be the same as mine if substitute with another gluten-free flour blend.
This recipe will NOT work with coconut flour.
1 tablespoon of orange zest will be the amount you get from a large orange.
Cranberries can be chopped if you prefer smaller pieces.
If using frozen cranberries, don't use coconut oil or the batter will stiffen, use another neutral flavoured oil such as avocado or safflower.
Baking times will vary slightly, depending on your oven and the type of bakeware you use. I use a glass loaf dish when making this recipe. Start checking around the 50 minute mark. Be sure that you are using a 9x5-inch loaf pan like this one, or this one, and not an 8x4-inch loaf pan (or any other size) or your cranberry orange bread will not bake properly.
Store wrapped in an airtight container for 2 to 3 days. For more storage info, see above.
Nutrition info listed below is for 1 of 12 slices of the recipe made as written above and without walnuts. Info is only to be used as a rough guide. Click here for more info on how nutrition info on this website is determined.
Nutrition Info:
Serving:
1
slice
|
Calories:
166
kcal
|
Carbohydrates:
26
g
|
Protein:
2.3
g
|
Fat:
6.9
g
|
Saturated Fat:
5.3
g
|
Polyunsaturated Fat:
0.2
g
|
Monounsaturated Fat:
0.2
g
|
Sodium:
148
mg
|
Potassium:
119
mg
|
Fiber:
2.5
g
|
Sugar:
10.5
g
|
Vitamin A:
18.2
IU
|
Vitamin C:
5.4
mg
|
Calcium:
44
mg
|
Iron:
0.8
mg
Did You Make This Recipe?
If so, please share a picture with me on Instagram! Tag @delightfuladventures and hashtag #delightfuladventures. I can't wait to see!
This post was originally published on December 18, 2014 and was republished with new pictures in December 2019.