Surprisingly, I didn't try cranberries until I was a teenager (I have no idea why!) Now? I love them. Especially when they're in this Cranberry Orange Loaf.
Peppermint, gingerbread, cranberry…those are just *a few* of the flavours that say "holiday season" to me.
Cranberries have become one of my favourite ingredients to bake with. In sweet recipes, they add a nice tartness to balance the sweetness. They're also great to throw into smoothies, like my cranberry apple beet smoothie.
I usually make this recipe as muffins, but decided to change some of the ingredients up slightly and turn it into a loaf. And I was so happy with the result.
It's the perfect mix of sweet (but not too sweet!) and tangy and pairs great with a nice cup of tea or a vegan gingerbread latte. And Netflix…or a good book!
It's also a nice recipe to make during the holiday season for guests, to give as a gift, or just to have as a snack available for the family. But it's not JUST for the holidays, it's also great to make year-round.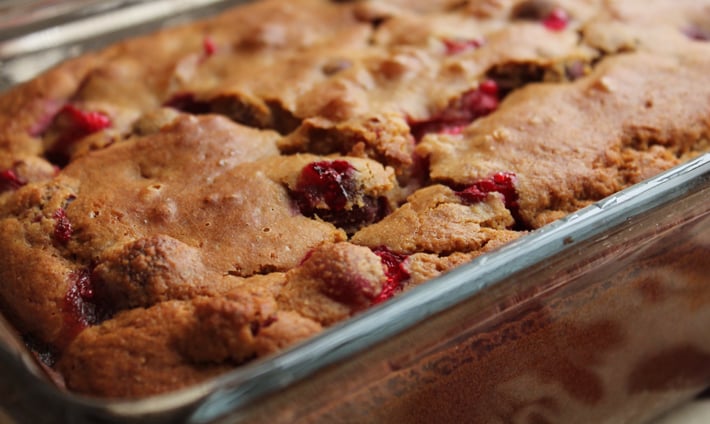 Around Easter, Thanksgiving, and Christmas, grocery stores stock up on fresh cranberries and each time, I buy a few bags to throw in the freezer. So when I want to make this recipe, I have my cranberries ready to go—and no need to thaw (unless the recipe calls for it). Of course, you can skip a step and just buy cranberries that are already frozen, I just like doing it this way!
If you're looking for more loaf recipes, how about one of these:
This page contains affiliate links. Click to learn more.
How to Make a Cranberry Orange Loaf
Print Recipe
Cranberry-Orange Loaf
This vegan, gluten-free, cranberry-orange loaf bursts with tart and sweet flavours. A perfect combo! Easy to make, delicious to eat.
Instructions
Preheat oven to 350°F.

Grease a 5" x 9" (1.5 quart) loaf pan.

Prepare your flax eggs by whisking together ground flax seeds and water. Set aside to thicken.

In a large bowl, whisk the flour, coconut sugar, baking powder, baking soda, salt, and cinnamon together.

In a small bowl, mix the melted coconut oil, orange juice, vanilla, and flax mixture together.

Pour wet ingredients into dry ingredients and mix well to combine.

Fold in the cranberries.

Fold in the chopped walnuts, if using.

Pour into greased loaf pan.

Bake for 50 minutes or until a tester comes out clean.
Recipe Notes:
Baking times will vary slightly depending on your oven and the type of bakeware you use. I use a glass loaf dish when making this recipe. Start checking around the 45 minute mark.
It's important to know that different gluten-free flour blends use different ingredients and ratios, so results will always vary if you substitute. I have never used any other brand of flour to make this recipe (other than Bob's Red Mill), so please know that your results may not be the same as mine if ingredients are substituted.
Nutrition Info: