Not only is this vegan gluten free banana bread delicious, it's also oil-free, healthier-than-most banana breads, super easy to make, and can be customized with your favourite add-ins!
This page contains affiliate links. Click to learn more.
Most of my baking recipes contain oil, but I get a lot of questions from those of you who follow a WFPB (Whole Foods Plant Based) diet asking how to substitute the oil in some of my recipes.
With most recipes, if you're comfortable with baking, it's easy to figure out, but with some, recipes, it's not always an easy swap to make.
So I experimented a little with my tried-and-true banana bread recipe that I have been making for ages (I don't know why I'm just sharing it here now!). I usually make it with coconut oil, but this time, I swapped it out for an ingredient that I've had lots of luck with when I want to cut down on the oil in a particular recipe.
Plain, unsweetened applesauce.
Yes, this is a vegan banana bread made with applesauce. That's the secret! There are many other ways to swap out oil in a recipe, but in this particular recipe, this is the ingredient that worked very well.
So this recipe is for healthy vegan banana bread, BUT…you would never know it.
This gluten free dairy free banana bread is full of flavour, it's moist, and it's exactly how banana bread should be. If you didn't tell anyone that it's healthy vegan banana bread, they'd never know.
I know that's a bold claim, but you're going to have to make it and see what I mean 🙂
Something else that you will also like about this recipe is that you can throw in some add-ins if you like. I created the blank slate here and you can customize your gluten free dairy free banana bread just how you want.
Make it plain like I did here, or throw in some chocolate chips, raisins, or some walnuts. See the recipe below for full details.
So…what's the texture like since this is an oil-free banana bread?
The texture is great, but I find that it's not as dense as when I make it with oil (have a look at these pictures of my coconut raisin banana bread to see the texture when oil is used). I also found that when I make it oil-free, this healthy vegan banana bread ends up being a little more delicate until it has fully cooled off. So handle with care.
In the pictures above and below, you'll notice there's a little chunk missing from the bottom right of the slice on the plate.
Oops. That was my fault.
I got a little too excited to see what the inside looked like and sliced into it while it was still too warm and ripped a piece. I will never learn. So don't be like me, wait until your vegan gluten free banana bread has cooled off enough before cutting into it to avoid any mishaps!
Can I still use oil instead of the applesauce?
Yes! You sure can, just replace the applesauce with your favourite neutral flavoured oil (I usually use melted coconut oil).
Can I use a different gluten-free flour?
Another gluten-free blend may work, but I have not tested with any others. The only one I have tried is the one I link to below and it works perfectly, so I didn't need to try others. Note that coconut flour will not work for this recipe.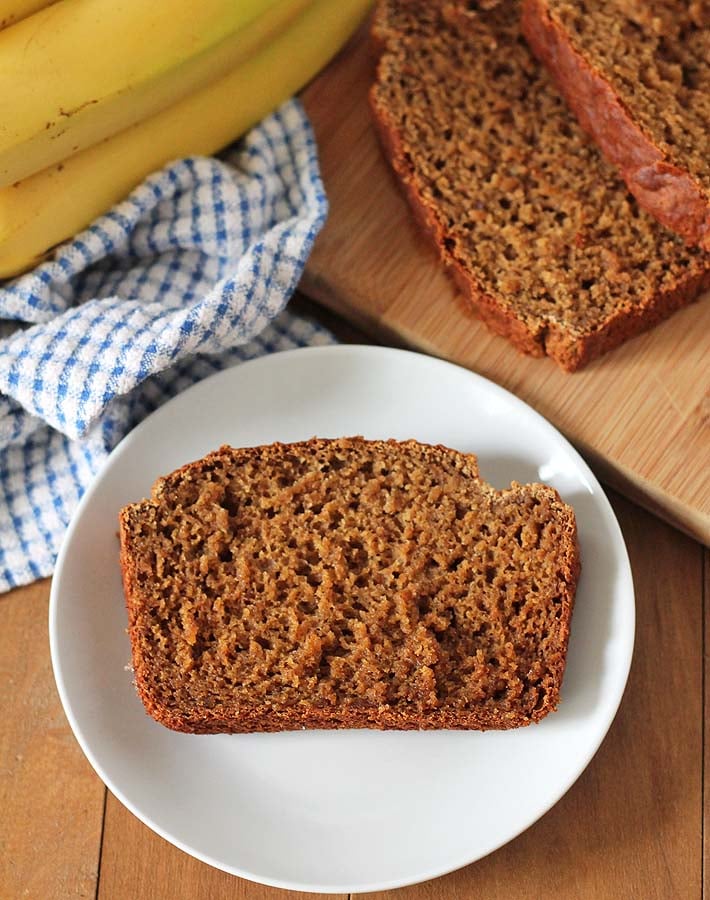 I hope you like this recipe for vegan gluten free banana bread! If you do, you may also like these:
If you make it, please leave me a comment below or share a pic with me on Instagram. AND, if you want to keep up with all of my latest recipes, sign up for my newsletter.
How to Make Vegan Gluten Free Banana Bread