This post and recipe for vegan apple bread, is sponsored by Ontario Ambrosia. Ambrosia apples are proudly grown in Ontario by Martin's Family Fruit Farm and other apple growers in Ontario. I was compensated for my time, and as always, all opinions in this post are my own.
A super easy recipe for vegan apple bread that's not only vegan, it's also gluten free. It's a moist, homemade loaf that's filled with fresh apples, applesauce, and a sweet cinnamon swirl. It's a great recipe to make for breakfast, brunches or for enjoying with coffee or tea. I'm pretty sure it will become a new favourite treat in your home, as it has in mine!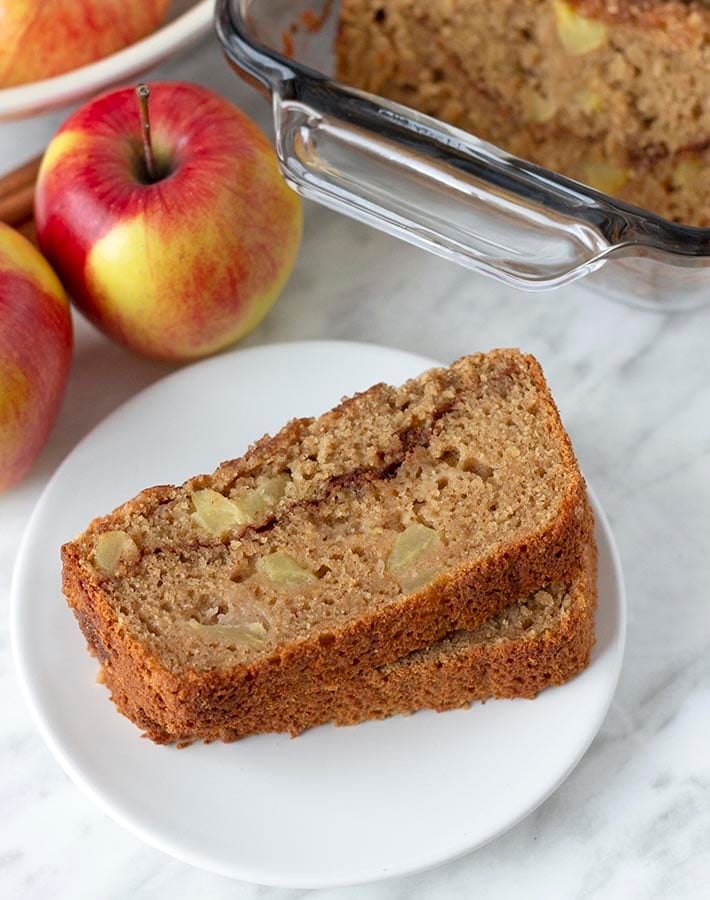 I usually share all of my apple recipes in the fall months because it's all about apples (and pumpkins!) during that time of year.
But, when it's February and the "sweetheart of all apple varieties," Ontario Ambrosia apples are available almost all year round (not just at harvest time, you can find them at fine grocery retailers all across Ontario right now!), there's no need to wait, which is why I'm sharing this amazing, crave-worthy vegan apple bread with you today.
It's filled with warm spices, tender apple pieces, a sweet cinnamon swirl, and tons of flavour. I guess you can also call it apple pie in bread form…a vegan apple pie bread! This is an any-time-of-year treat for us, definitely not one that should be reserved for just the fall.
Let's jump right into everything you need to know before making this recipe.
How to Prepare the Apples
You'll start out by washing and peeling the apples. Next, cut the apples into eighths and then slice each segment into small pieces as shown in the picture below.
Be sure not to cut them too thick so they don't cook through and to not cut them too thin so they're barely noticeable.
Cutting them like how they're cut in the picture will give you the perfect pieces in every bite of your vegan apple cinnamon bread
The Best Variety of Apple to Use for This Recipe
For this recipe, I used, you guessed it, Ontario Ambrosia apples. It's a favourite to use for my vegan apple crisp, vegan baked apples, and my baked cinnamon apple slices.
I always recommend Ambrosia as an option in my apple recipes because they're flavourful and sweet, plus, they're also crisp and firm, so they hold their form after being baked.
They also don't brown as quickly as other apple varieties which is a nice bonus, especially if you send your kids to school with sliced apples in their lunches!
Ingredients You'll Need
Traditional apple bread contains eggs, butter, and sometimes milk, but none of those ingredients are necessary to make a moist, delicious, gluten-free, egg-free, and dairy-free apple bread. I'm pretty sure no one will know this recipe is vegan and gluten free (unless you tell them!).
To make apple bread vegan, you'll need everything you see below: a gluten-free flour blend, applesauce, apples (of course!), sugar, oil, sugar, cinnamon, spices, baking powder, vanilla, and flax eggs.
How to Make Gluten Free Apple Bread
(Note: I've outlined the step-by-step here, but find the full recipe, ingredients, and directions for this vegan apple bread recipe at the end of this post.)
The first steps are to prepare the flax eggs, the cinnamon swirl, and the topping, if you'll be using it, and set them aside.
After you've done those things, mix together the dry ingredients in one bowl, the wet ingredients in another, and combine the two. After that, add the apples and stir them into the batter.
Next, you'll pour half of the batter into your prepared loaf dish, sprinkle on the cinnamon swirl mixture, then pour the rest of the batter on top.
The last step is an optional one. If you'd like, you can add a little crunch and even more cinnamon flavour by sprinkling turbinado sugar and cinnamon on top.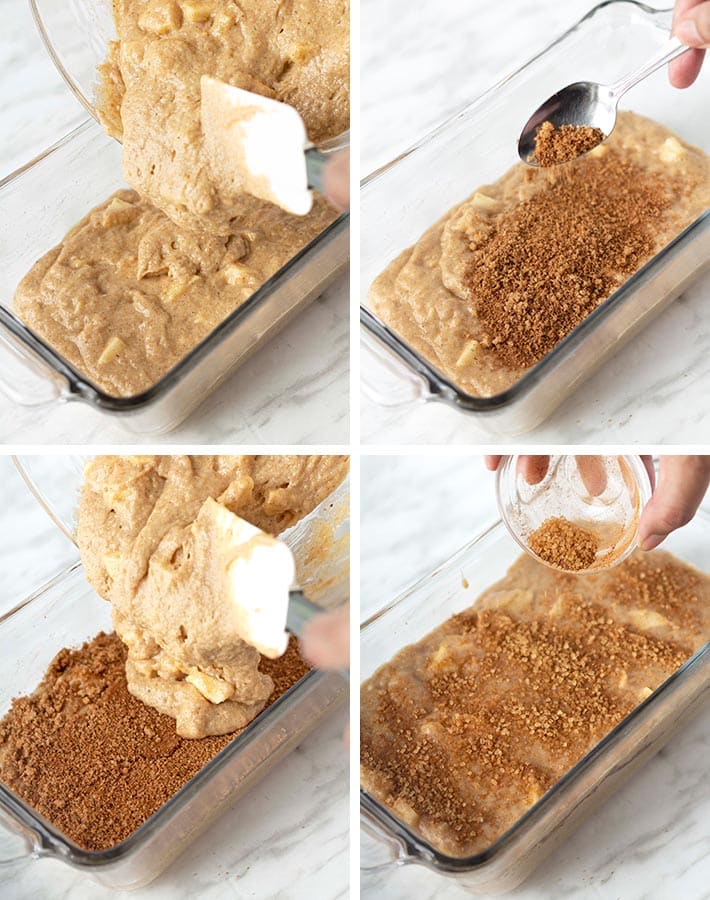 Next, place the dish in the oven, enjoy the scent the loaf fills your home with as it bakes, and then when it's done, remove from the oven, cool completely, slice, and enjoy!
This gluten free vegan quick bread pairs perfectly with a cup of tea or coffee, and it's also great to serve at brunch, breakfast, or as a snack.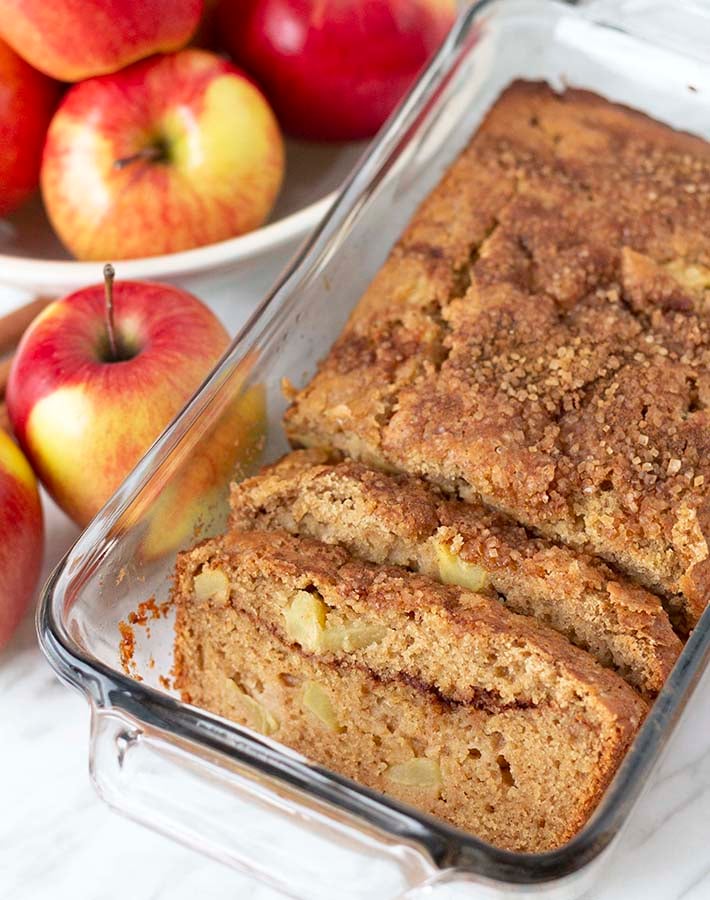 Can a Different Flour / Sugar / Oil Be Used?

Flour – I have only tested this recipe with Bob's Red Mill Gluten Free All Purpose Baking Flour (Amazon link), the one with the red label, not the blue label.
If you want to use a substitute gluten-free flour blend, proceed with caution since I have not personally tested any others. The Bob's blend I use does not contain any gums, like xanthan gum, so if you don't have access to this flour and must use another, keep those things in mind.
Also note that this recipe will not work with one single gluten free flour, it must be a blend, AND it will definitely not work with coconut flour without having to make major modifications to the recipe.
Sugar – I used white granulated sugar and brown sugar in this recipe, but coconut sugar will work perfectly fine in their place. If you do use coconut sugar, just keep in mind that the colour of your gluten free apple cinnamon bread will be a little darker than mine.
Oil – I used coconut oil but any neutral flavoured oil like avocado or safflower, can be used.
For those of you who are oil free, you may be able to replace the oil with more applesauce, but I have not given that version a try yet, so I'm unsure of what the texture will be like and can't guarantee it will work well.
How to Store Your Apple Bread
Since this loaf is naturally moist and has that extra added moisture from the apples, it will only keep for up to two days in an airtight container at room temperature.
If it's going to last longer than two days, wrap it up and store it in the refrigerator for an additional 2-3 days. You can either bring individual slices up to room temperature before serving, or you can warm them up.
If you like this recipe, you may also like these other vegan apple recipes:
You can also help me to help others find this gluten free apple bread recipe by pinning it to your food / recipes board on Pinterest! CLICK HERE TO PIN IT NOW!
And you can follow Ontario Ambrosia on Facebook and Instagram to keep up with the latest on the delicious Ambrosia apple!
How to Make Vegan Apple Bread