Moist, delicious, and not-too-sweet gluten free zucchini bread that has a warm hint of cinnamon. And the best part? It's super easy to make!
You can make it plain or customize it with your favourite add-ins like nuts, chocolate chips, or raisins. Keep reading for all the details about my vegan gluten free version of this classic favourite!
This page may contain affiliate links. Click to learn more.
I plant zucchini in my garden every year and usually, I end up with a lot of them to make all of my favourite gluten free zucchini recipes, like these:
BUT…this year, my zucchini did not do well. To date, I've brought in a grand total of…ZERO.
The blossoms would bloom, the zucchini would start growing and then, like clockwork, something (likely a squirrel), would come along and nibble on the growing zucchini. It didn't eat the whole thing, it would just take a few bites and then be on its way.
We tried some of the tips and tricks to keep the squirrel away, but they didn't work. So I'm going to have to work on that next year. I missed my garden zucchini!
So this year, I had to rely on store bought zucchini, which is just fine since they're currently abundant and in season.
One of the things I make every year is the recipe I'm sharing with you today, my gluten free zucchini bread. It's wheat free, egg free, dairy free, and SO delicious!
How Do You Prepare and Shred Zucchini for Vegan Gluten Free Zucchini Bread?
When making my zucchini bread, I don't peel the zucchini, I like to see those little pieces of green in the bread, but if you have a picky eater who won't appreciate seeing the green, feel free to peel.
I shred the zucchini on the smaller shred side of my box grater (see the picture below to see exactly what I'm talking about). You can also use a food processor if you have a shredding disc that will shred the zucchini to this same size.
And one last very important thing: DO NOT SQUEEZE THE LIQUID OUT OF THE SHREDDED ZUCCHINI!
Other recipes call for you to squeeze the moisture out after shredding, but you'll need all of that zucchini liquid for this recipe. If you squeeze it out, the batter won't have enough moisture and the recipe will not turn out.
Ingredients for GF Zucchini Bread
The ingredients are simple, like they are for all of my other recipes!
You'll need a gluten free flour blend (see below for more info), coconut sugar (brown sugar can be used, instead), coconut oil, zucchini, flax eggs, spices, vanilla, baking powder, baking soda, salt, and your favourite add-ins.
I like to change my add-ins every time I make this recipe, but my absolute favourite combo is walnuts and raisins together (I love this combo for banana bread, too!)
You can add chocolate chips to make it a gluten free chocolate chip zucchini bread, but feel free to experiment with the add-ins to find what you like best.
What Kind of Gluten Free Flour Blend Should I Use?
I make my zucchini bread with gluten free flour, Bob's Red Mill Gluten-Free All-Purpose Baking Flour, to be exact (the one with the red label, not the blue label!)
If you want to use a substitute gluten-free flour blend, proceed with caution since I have not personally tested it. The Bob's blend I use does not contain any xanthan gum, so if you don't have access to this flour and must use another, keep those things in mind.
Another thing to keep in mind is that this recipe will not work with one single flour, it must be a blend.
If you're new to gluten-free baking, be sure to read all of my vegan gluten free baking tips.
How to Make Vegan Zucchini Bread
(Note: I've outlined the step-by-step for this easy gluten free zucchini bread here, but find the full recipe, ingredients, and directions at the end of this post.)
First, you'll whisk all the dry ingredients together in one bowl, mix the wet ingredients in another, add the wet ingredients to the dry ingredients, mix, and then fold in your add-ins.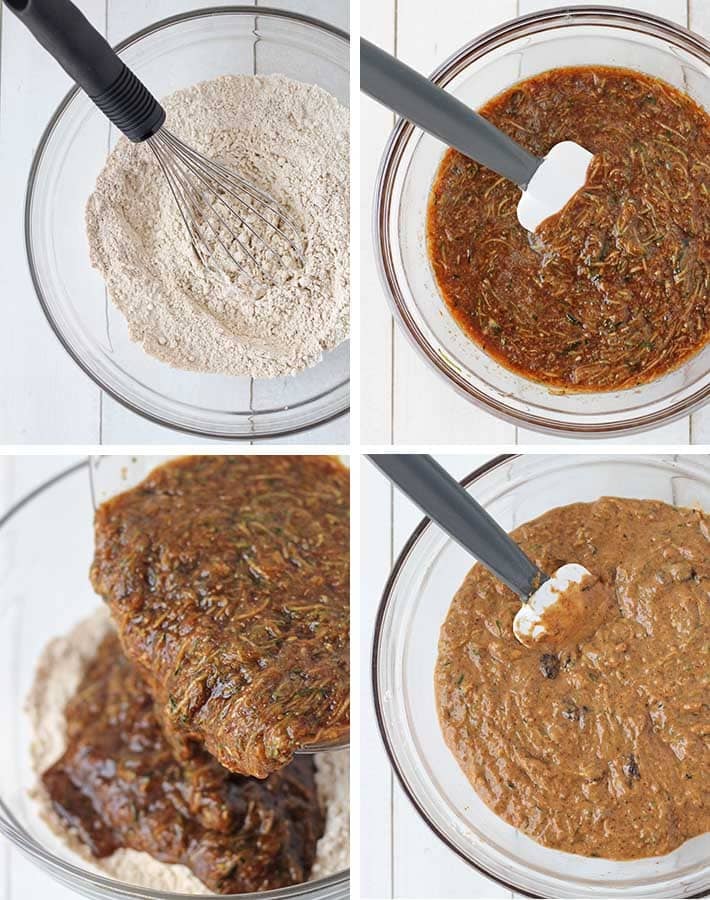 Then, you'll pour the batter into a loaf pan and bake. Told you it was a simple gluten free zucchini bread! So easy!
What Should the Batter Look Like?
I often get questions asking what the consistency of the batter for my recipes should look like. Because of this, I've been trying to include pictures so you can see how your loaf and muffin batters should look to let you know you're on the right track, so see below!
Note that if you go rogue and make a bunch of substitutions (especially with the type of gluten-free flour blend!), your batter and final result may not look like mine, so best to always stick to the recipe as it's written 🙂
Can I Use a Different Oil? Or Omit the Oil
The coconut oil in this recipe contributes to the moistness of your gluten free zucchini loaf, but if you don't have coconut oil, you can use another oil that does not have a strong flavour, such as avocado or safflower.
If you're trying to stay away from oil, then to make this a more healthy gluten free zucchini bread, you can replace the oil with plain, unsweetened applesauce.
And instead of greasing your baking dish, you can use a high-quality non-stick baking pan (like this one!) or line your pan with parchment paper.
With this substitution, the loaf will end up a little less moist, but still delicious.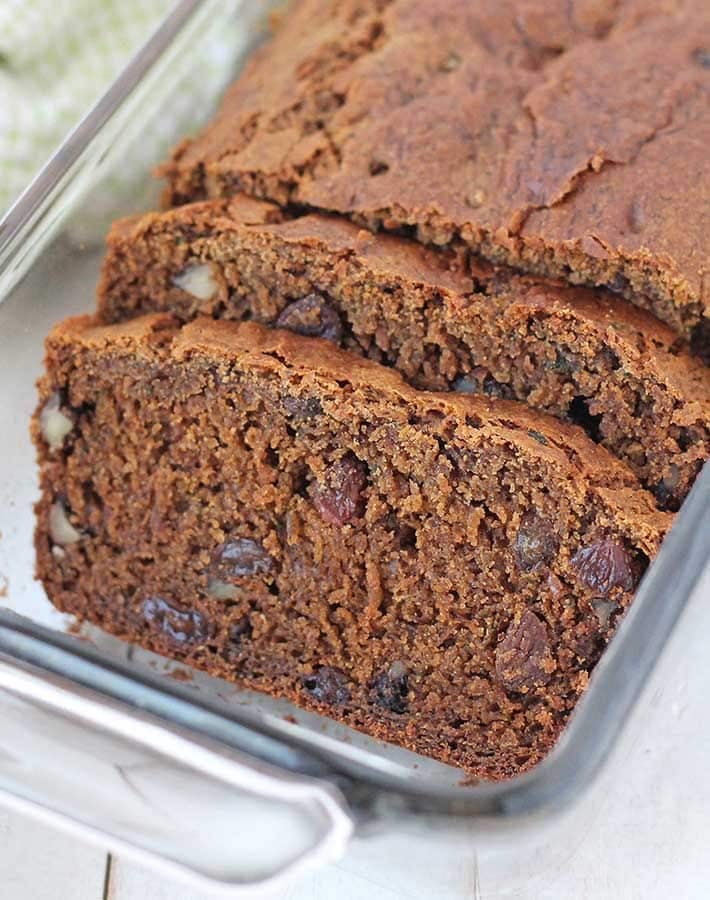 How to Store Gluten Free Dairy Free Zucchini Bread
You can store it in an airtight container or wrapped up, at room temperature, for two to three days.
If it lasts longer than that, wrap it tightly and store in the refrigerator for up to another four days.
If you'd like to freeze it, cool completely, wrap it tightly, place in a freezer bag, and freeze for up to one month. When you're ready for it, let it thaw in the refrigerator or at room temperature.
If you like this gluten free zucchini bread recipe, you may also like these other recipes (all of them are also vegan and gluten-free!):
And if you make this recipe, let me know about it in the comments below!
You can also help me to help others find this gluten free zucchini loaf recipe by pinning it to your recipe board on Pinterest!
CLICK HERE TO PIN IT NOW!
How to Make Gluten Free Zucchini Bread