A rich, chocolaty, crave-worthy vegan chocolate banana bread that also happens to be gluten-free…and SO easy to make!
This page may contain affiliate links. Click to learn more.
Have you tried my coconut raisin banana bread yet? If you haven't, I highly recommend that you make it. And don't let the fact that raisins are part of that recipe turn you off, they can be omitted (but why would you want to leave them out?!)
That recipe is one of my favourites on this site. It's so easy to make, it tastes amazing, and the best part? No one would ever guess it's vegan and gluten free. The same can be said for this gluten free vegan chocolate banana bread.
My youngest is actually the reason why I made this recipe, the first time I made it. It was a Sunday morning and I was trying to decide what to make for school snacks for the upcoming week. It was her suggestion to make chocolate banana bread.
She'd never had it before but thought it sounded like a good idea. Smart child. Because chocolate + banana is a great combo. Almost as good a combo as my favourite chocolate + mint!
Another reason why it was a good idea is because of all the overripe bananas I had sitting in my freezer. The part of the freezer I keep them in was overflowing, so banana bread making was the perfect idea for that day.
It's not just me that stores loads of overripe bananas in the freezer for future baking, right?
Ever since making it that first time, it has become a keeper recipe and vegan chocolate banana bread has become one of the more requested recipes for me to make. The kids love, I love it, and I hope you will, too!
As mentioned above, a loaf of vegan chocolate banana bread is perfect to make on the weekends to enjoy for snacks during the week. You can even have it for breakfast or at a brunch, even though it's like dessert!
It's rich, decadent, not overly sweet, and filled with deep chocolate flavour that any chocolate lover will appreciate. It's also fluffy…but at the same time, a little dense. I think that has to do with all the chocolate chips!
I know that doesn't really make sense (fluffy but dense?), so you'll have to make it yourself to see what I mean!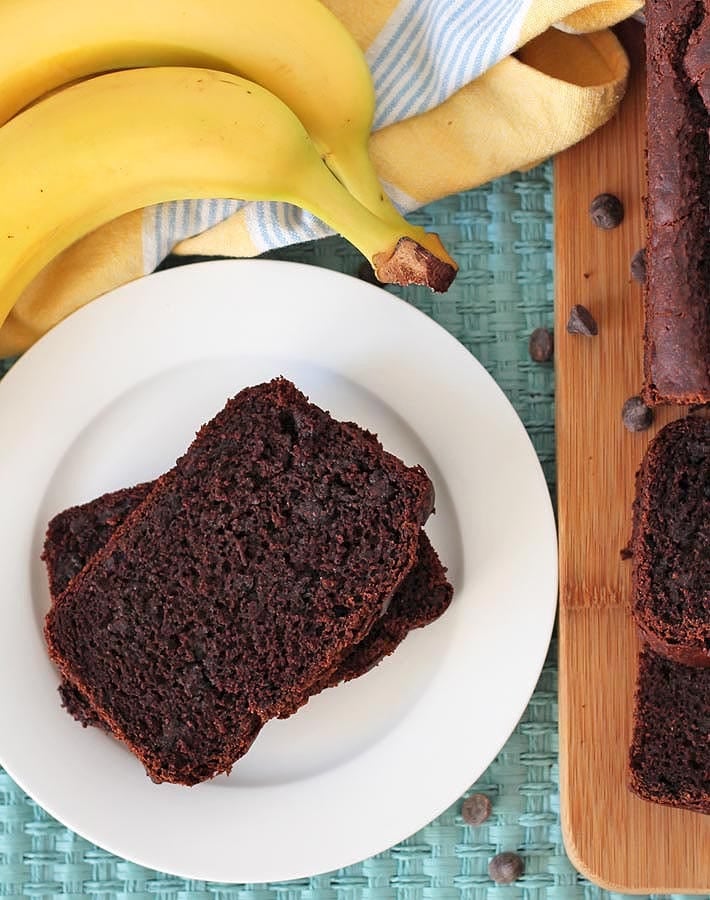 If you love the chocolate/banana flavour combo, be sure to check out my Chocolate Banana Coconut Chia Pudding recipe, another breakfast or snack idea that tastes like dessert!
And be sure to check out these others that you may also like!
If you make it, please show me a picture on Instangram, I want to see! I'm @delightfuladventures over there!
How to Make Gluten Free Vegan Chocolate Banana Bread