Have you tried my coconut raisin banana bread yet? If you haven't, I highly recommend that you make it. And don't let the fact that raisins are part of the recipe turn you off, they can be omitted (but why would you want to leave them out?!) That recipe is one of my favourites on this site. It's so easy to make, it tastes amazing, and the best part? No one would ever guess it's vegan and gluten free. The same can be said for this gluten free vegan chocolate banana bread.
My youngest is actually the reason why I made this recipe, the first time I made it. It was a Sunday morning and I was trying to decide what to make for school snacks for the upcoming week. It was her suggestion to make chocolate banana bread. She'd never had it before but thought it sounded like a good idea. Smart child. Because chocolate + banana is a great combo. Almost as good a combo as my favourite chocolate + mint!
Another reason why it was a good idea is because of all the overripe bananas I had sitting in my freezer. The part of the freezer I keep them in was overflowing, so banana bread making was the perfect idea for that day.
Ever since making it that first time, it has become a keeper recipe and it has become one of the more requested recipes for me to make.The kids love it and I love it too!
As mentioned above, a loaf of gluten free vegan chocolate banana bread is perfect to make on the weekends to have for snacks during the week. It can even be enjoyed for breakfast or at a brunch, even though it's like dessert! It's rich, decadent, not overly sweet, and filled with deep chocolate flavour that I hope you'll love. It's also fluffy…but at the same time, a little dense. I think that has to do with all the chocolate chips! I know that doesn't really make sense (fluffy but dense), so you'll have to make it yourself to see what I mean!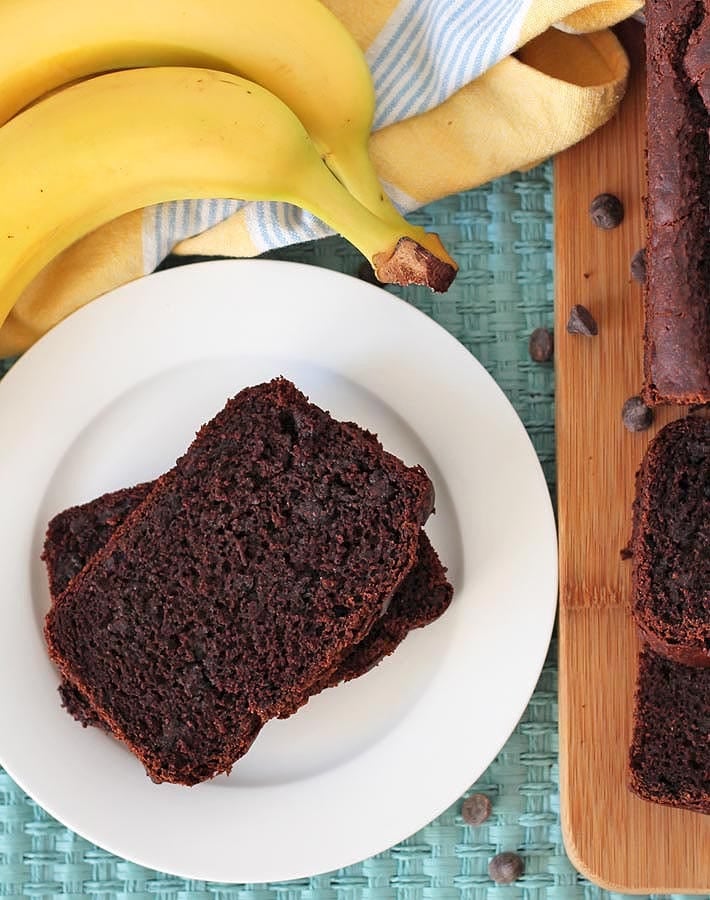 If you love the chocolate/banana flavour combo, be sure to check out my Chocolate Banana Coconut Chia Pudding recipe, another breakfast or snack idea that tastes like dessert!
This page contains affiliate links. Click to learn more.
How to Make Gluten Free Vegan Chocolate Banana Bread
Vegan Chocolate Banana Bread
Bake a loaf of this easy, chocolaty, gluten free, vegan chocolate banana bread and enjoy a slice at breakfast, brunch, with tea, or for snacks!
Course:
Breakfast, Brunch, Dessert, Snack
Cuisine:
Gluten-Free, Vegan
Instructions
Preheat oven to 325 degrees.

Grease a 5" x 9" (1.5 quart) loaf pan.

Prepare your flax eggs by whisking together ground flax seeds and water. Set aside to thicken.

In a large bowl, whisk the flour, cocoa powder, coconut sugar, baking powder, baking soda, and salt together.


In a small bowl, mix the melted coconut oil, pureed bananas, vanilla, and flax mixture together.

Pour wet ingredients into dry ingredients and mix well to combine.

Fold in the chocolate chips.


Pour into greased loaf pan.

Bake for 50 minutes to 1 hour or until a tester comes out clean. See note.
Recipe Notes
Baking times will vary slightly depending on your oven and the type of bakeware you use. I use a glass loaf dish when making this recipe and it takes 50 minutes. Start checking around the 50 minute mark and don't over bake.
It's important to know that different gluten-free flour blends use different ingredients and ratios, so results will always vary if you substitute. I have never used any other brand of flour to make this recipe (other than Bob's Red Mill), so please know that your results may not be the same as mine if ingredients are substituted.
Nutrition Facts
Vegan Chocolate Banana Bread
Amount Per Serving
Calories 258
* Percent Daily Values are based on a 2000 calorie diet.