A Banana Berry Granola Yogurt Parfait that's easy and quick to make and is a nice change from what's on your usual breakfast menu.
Weekday breakfasts around here can be a bit boring for me. On the weekends, when everyone is at home, it's all about waffles, pancakes, and all the delicious things that take time to make—the things that I can't make on a busy weekday morning.
On those weekday mornings, after everyone is out the door, that's when I have my breakfast and it's usually cereal, or a smoothie. I love my smoothies, but cereal? Ugh. I can do better than that. So I've been trying and it started with a Banana Berry Granola Yogurt Parfait.
I don't think I had ever had a yogurt parfait before this (yeah, I know). I had just made a new batch of my maple coconut granola clusters (you have to try that recipe!) and I had some berries in the fridge that I had bought on sale (it's January here in Canada and these berries are FAR from being local but I needed a summer fix!).
I had also recently found a new vegan coconut yogurt that I actually like and can't get enough of (I had given up on yogurt before this discovery, but that is a whole other story!). I was excited to try the yogurt with something else and not just eat it plain.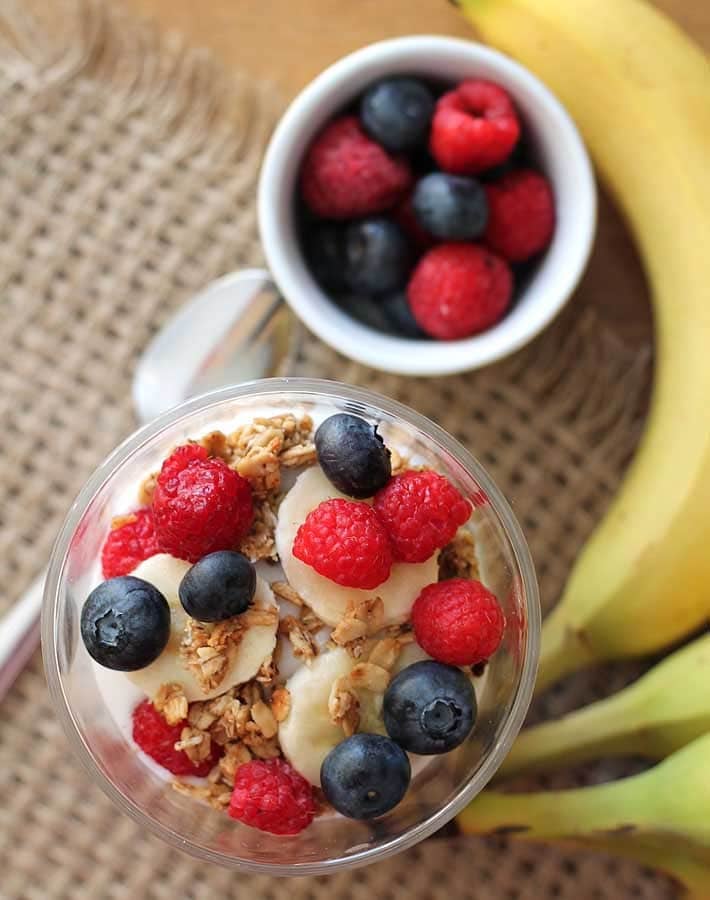 Along with the granola, berries, and yogurt, I added a banana and it only took about 5-minutes to make. It's delicious, SO MUCH better than cereal, and so simple to put together (even your kids can make it).
You probably don't even need a recipe for this, you could wing it by using whatever berries you have, using only one type of berry, or adding another fruit into the mix…it's up to you and what you like. But for me, this is the way I like it.
Make your banana berry granola yogurt parfait as described in the recipe or use this recipe as a springboard for your tastes and what you have on hand.
I like to use unsweetened coconut yogurt and I don't add any sweeteners, but if you want, you can drizzle on some maple syrup if you prefer a little more sweetness. Your call!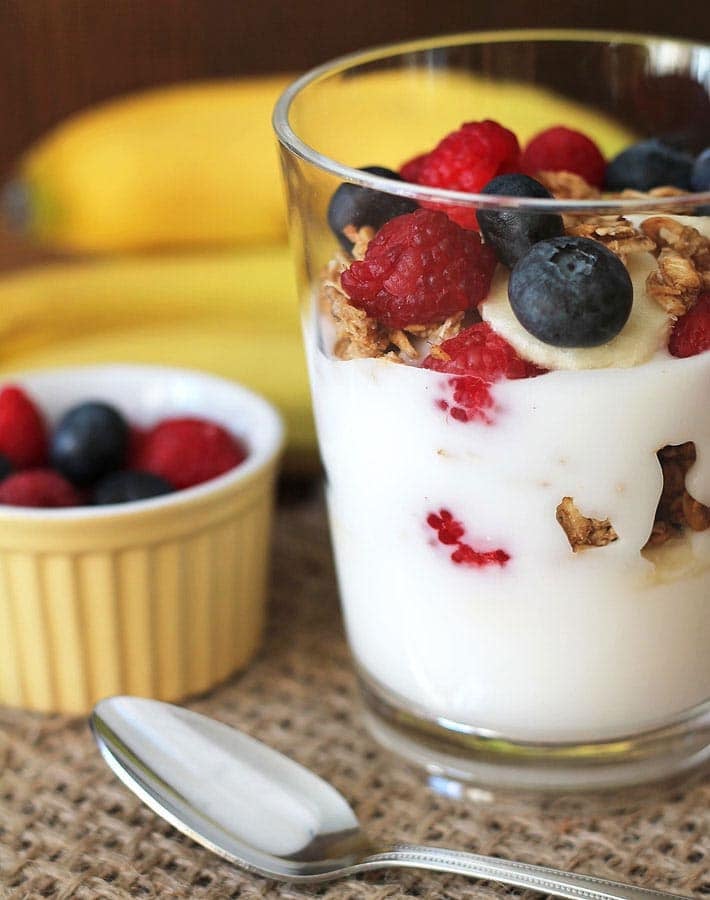 This parfait isn't only great for breakfast, I also have it as an afternoon snack when I need something to keep me going. It's better than grabbing chips!
I said above that you probably don't need a recipe because of the simplicity, but I still chose to share to serve as a reminder to myself and to you. The reminder is that if you ever get stuck or are already stuck in a breakfast rut, to step outside of the (cereal) box and think of other delicious and different things to make with the ingredients you have on hand!
If you like this granola yogurt parfait recipe, be sure to pin it and then check out these other recipes you may also like:
Click for more delicious breakfast and snack ideas and be sure to follow my vegan breakfast Pinterest board for even more ideas.

How to Make a Banana Berry Granola Yogurt Parfait